The Cayman Islands, particularly Grand Cayman, is a breathtaking destination with its stunning seven-mile beach, a plethora of water sports, and luxurious beachfront resorts. This paradise offers an array of exciting activities for visitors, from underwater adventures to culinary delights. In this comprehensive guide, we will explore the top 10 exciting things to do in the Cayman Islands.
1. Seven Mile Beach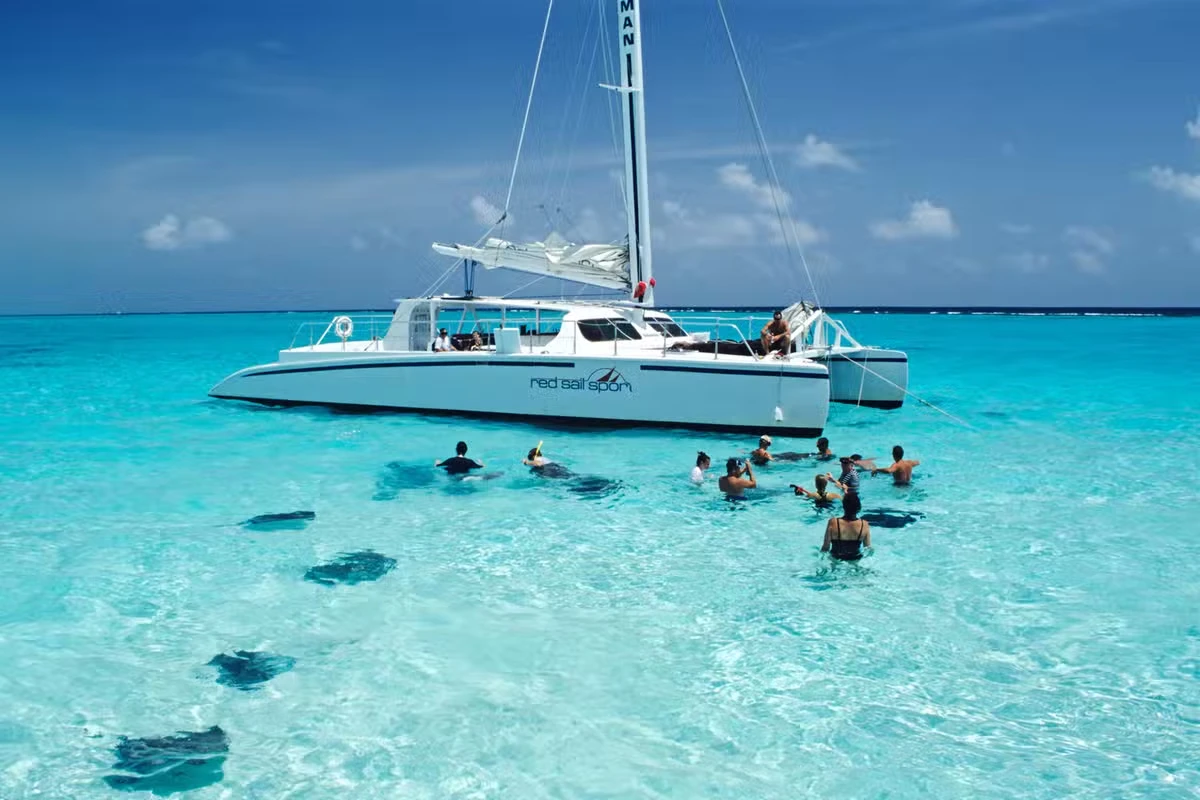 Seven Mile Beach is a world-renowned gem, boasting crystal-clear waters, soft sand, and a tranquil atmosphere. It offers a myriad of thrilling activities for visitors of all skill levels. From snorkeling to surfing, here are the highlights:
Snorkeling
One of the primary draws of Seven Mile Beach is its fantastic snorkeling opportunities. The crystal-clear waters make it an ideal location to explore the underwater world. Whether you're a seasoned snorkeler or a beginner, you'll be captivated by the marine life that calls this area home. Vibrant corals, tropical fish, and even the occasional sea turtle can be spotted during your underwater adventure.
Swimming
The gentle, azure waters of Seven Mile Beach invite you to take a refreshing dip. The pristine conditions make it a perfect spot for swimming. Whether you prefer a leisurely float or a more vigorous swim, the beach provides the ideal setting.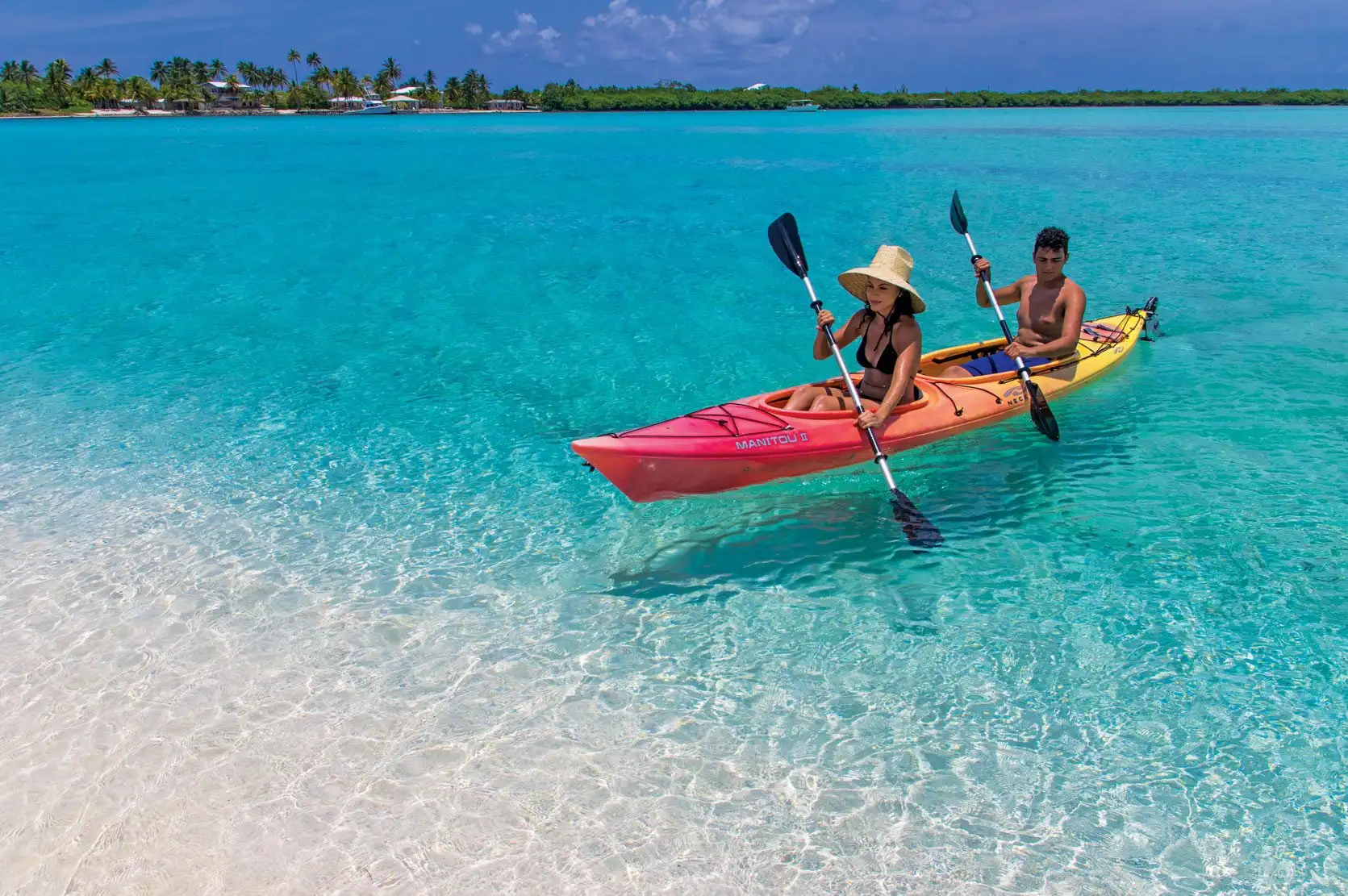 Surfing and Jet Skiing
For those seeking a bit more excitement, the beach offers excellent conditions for both surfing and jet skiing. The consistent waves make it a popular spot for surfers, and you can rent equipment or take lessons if you're new to the sport. Jet skiing is another thrilling way to experience the water, and you can rent jet skis right on the beach.
Paddle Boarding
Paddle boarding has gained popularity worldwide, and Seven Mile Beach is an excellent place to give it a try. With its calm waters, you can paddle along the coastline, taking in the stunning views. It's not only a great workout but also a peaceful way to explore the surroundings.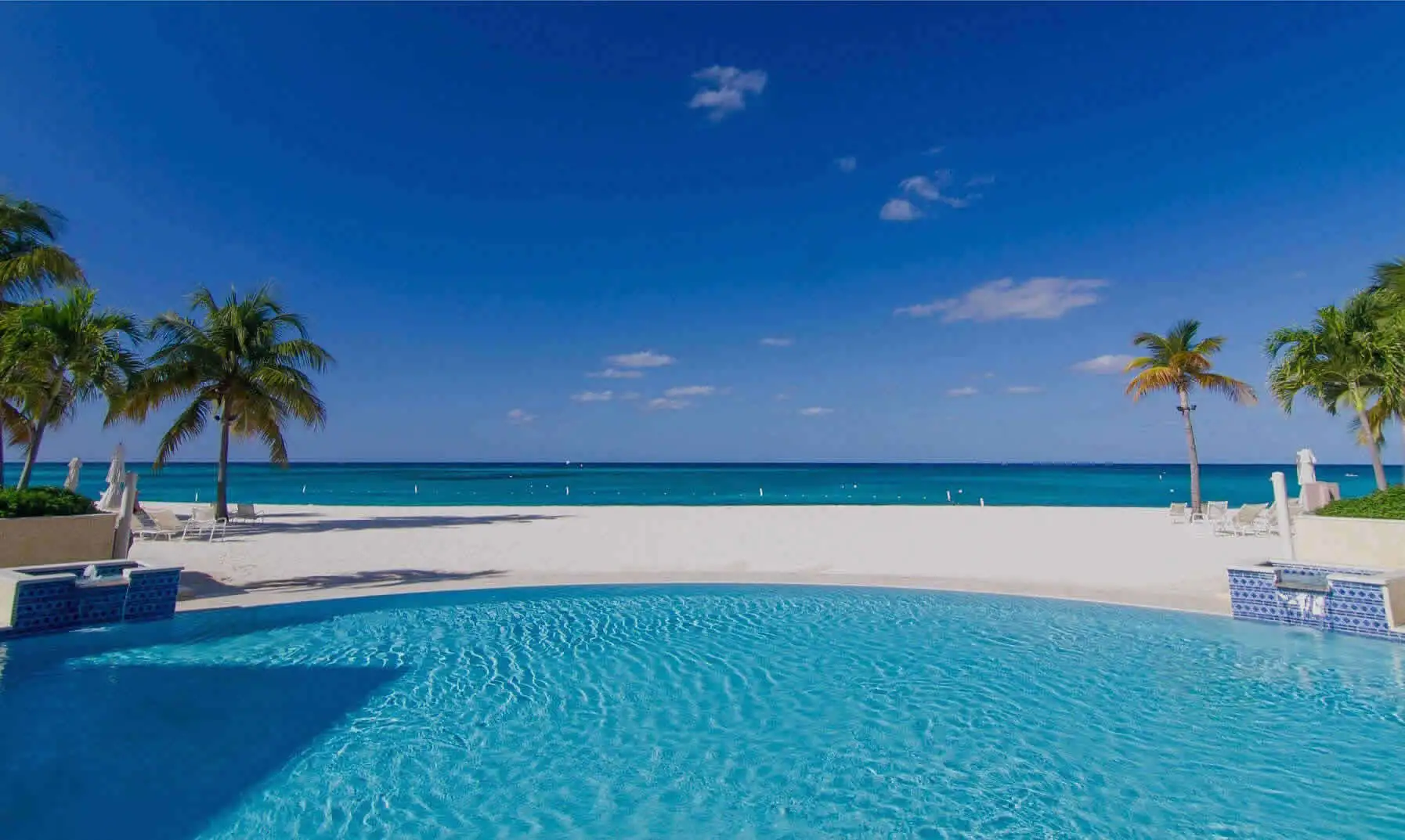 Kayaking
Exploring the coast by kayak is a fantastic way to connect with nature. You can rent kayaks at various spots along Seven Mile Beach and venture out to sea. You might even encounter some friendly marine life during your journey.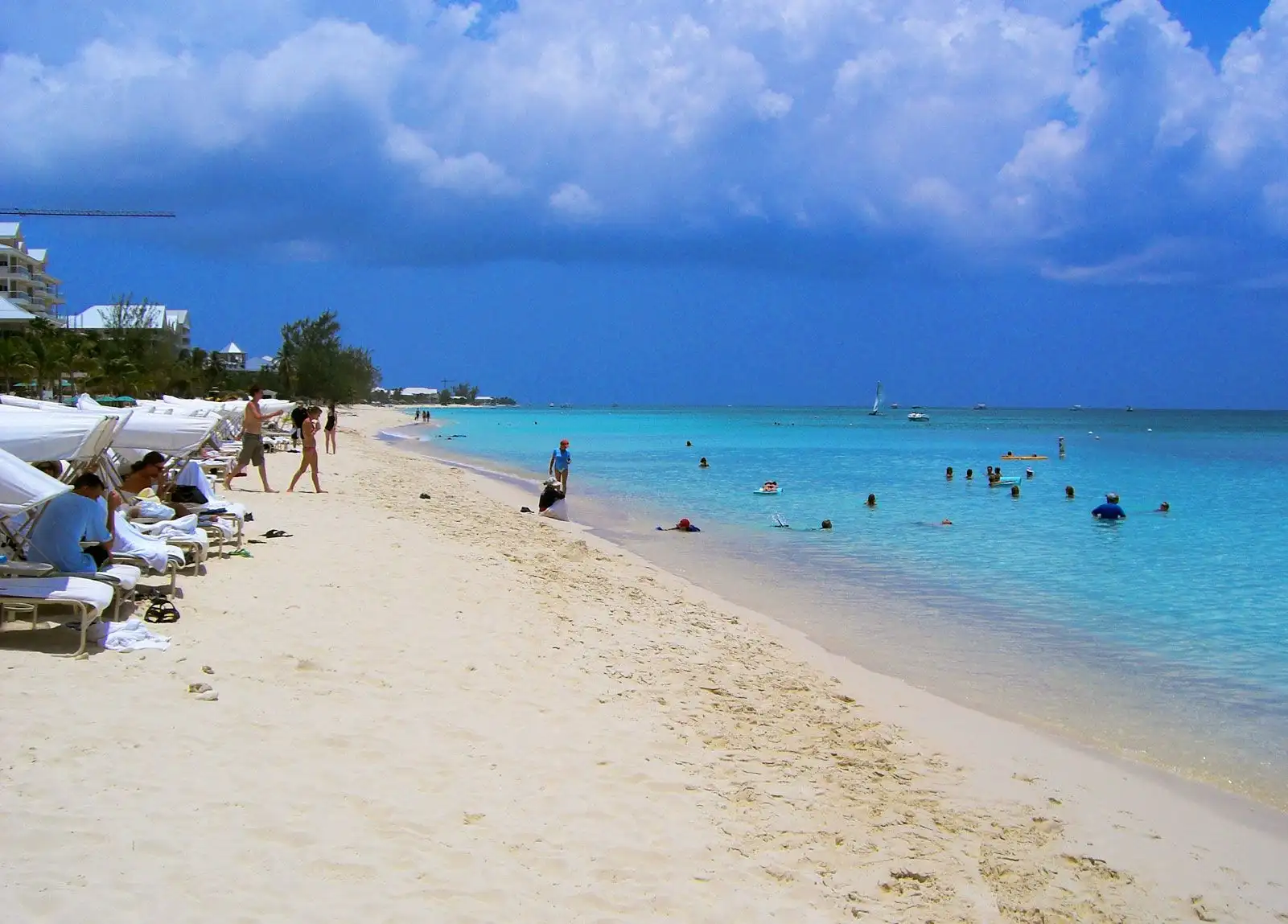 Windsurfing
Windsurfing is a thrilling water sport that combines elements of surfing and sailing. Seven Mile Beach's steady breezes and warm waters create ideal conditions for windsurfing. If you're new to the sport, you can take lessons from experienced instructors.
The best time to visit Seven Mile Beach is between March and June when hotel prices are more budget-friendly.
2. Cayman Turtle Centre: Island Wildlife Encounter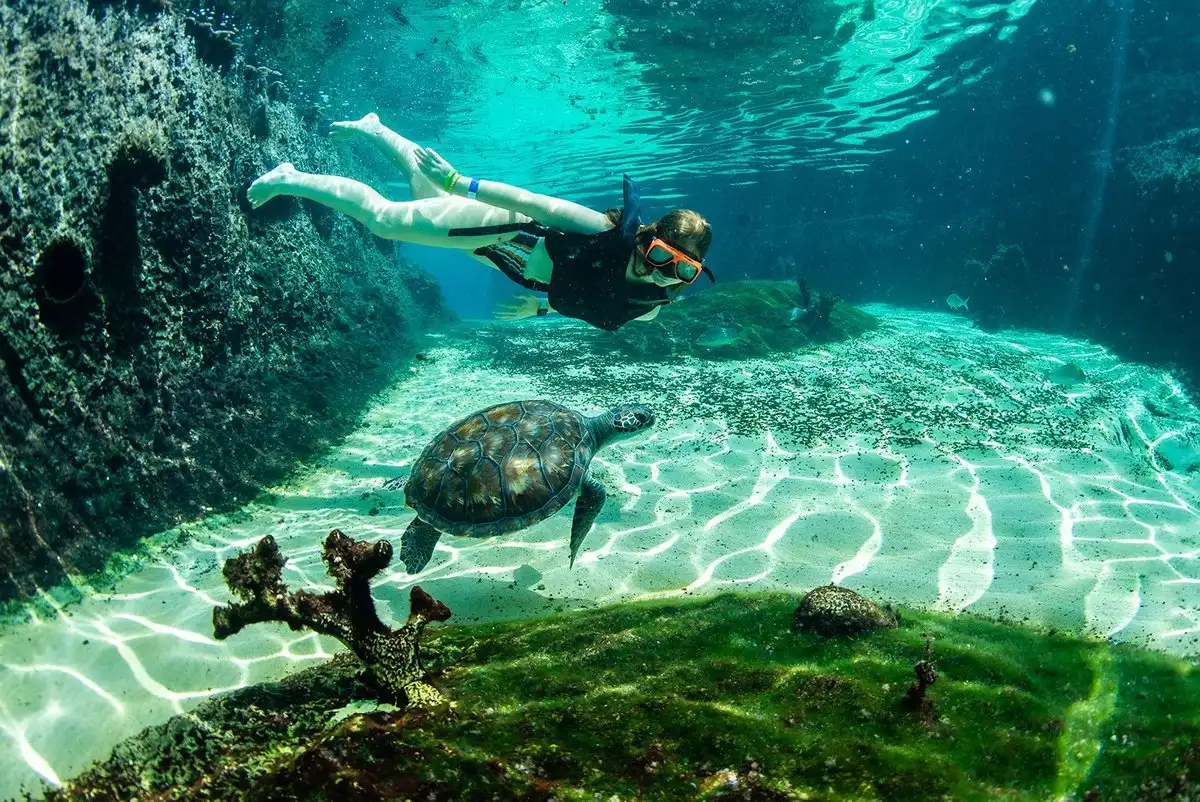 If you're seeking adventure and a close encounter with unique wildlife, the Cayman Turtle Centre should be on your must-visit list. This remarkable place allows you to get up close and personal with various species and turtles indigenous to the region. Here's what to expect:
Shark-Feeding Frenzies
One of the most thrilling experiences at the Cayman Turtle Centre is the shark-feeding frenzy. Witness these majestic creatures up close as they're fed by expert staff. It's a heart-pounding experience that will leave you in awe of these apex predators.
Green Sea Turtles
The Cayman Turtle Centre is renowned for its work in turtle conservation. You can interact with green sea turtles and even have the opportunity to feed them. It's an educational and heartwarming experience that highlights the importance of protecting these magnificent creatures.
Blue Hole Nature Trail
For those who enjoy exploring nature, the Blue Hole Nature Trail at the Cayman Turtle Centre offers a glimpse into the natural habitats of various animals. Stroll through lush greenery and discover the wonders of this unique ecosystem. It's an excellent opportunity for photography and wildlife observation.
The educational center at the Cayman Turtle Centre plays a vital role in protecting the underwater population, making it a must-visit for both adventure seekers and animal lovers.
3. Stingray City and Starfish Point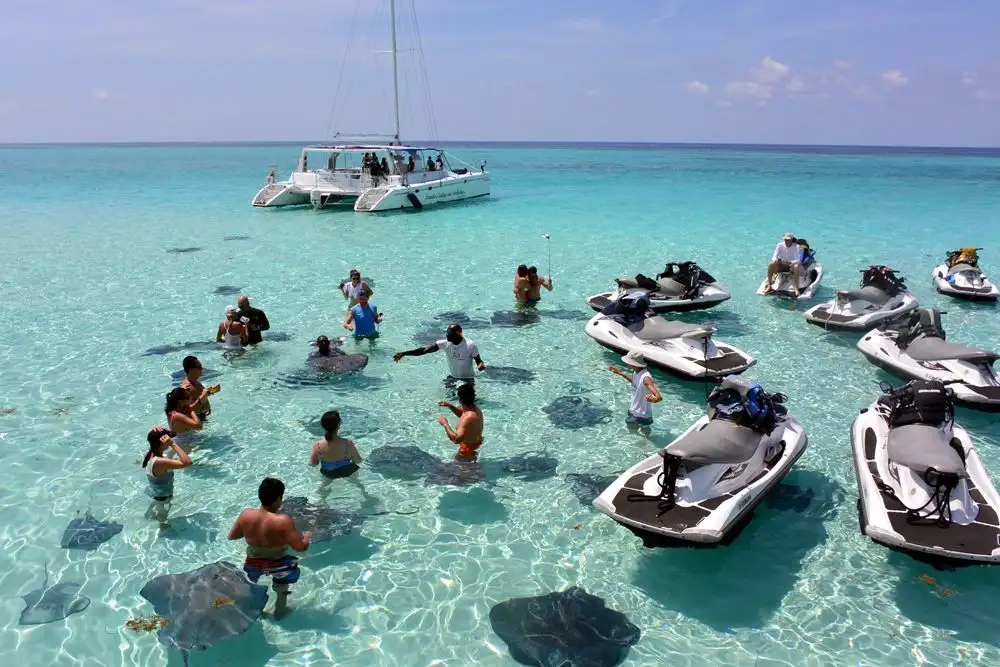 The Cayman Islands are renowned for their stingrays and starfish points, making it an ideal destination for those with a fascination for marine life. Visitors have the unique opportunity to play with wild stingrays and interact with starfish at these locations:
Stingray City
Stingray City is one of the Cayman Islands' most famous attractions. Located in the North Sound, it's a shallow sandbar where wild stingrays gather. Here, you can feed, swim with, and even kiss the stingrays. Knowledgeable guides provide instructions on how to interact with these graceful creatures, making it a safe and unforgettable experience.
Starfish Point
After your encounter with the stingrays at Stingray City, head to Starfish Point, which is located near the center of the island. Witness the abundance of starfish in their natural habitat, an experience unique to the Cayman Islands. The crystal-clear waters and sandy bottom make it easy to spot these fascinating creatures.
4. Culinary Destination
Cayman Island is a culinary haven, offering a premium dining experience with over 200 restaurants throughout the Caribbean. Here, you can savor world-class dishes with exceptional diversity and quality. Here are some culinary highlights:
Seven Mile Beach Restaurants
The capital of Caribbean cuisine, Seven Mile Beach offers a delectable array of options for food enthusiasts. You can explore a wide range of culinary delights, including fresh sushi and ceviche served up fresh at Woo in the Westin Grand Cayman Seven Mile Beach Resort.
Grand Old House
The Grand Old House is a beloved establishment among locals. This historic restaurant serves traditional, mouthwatering dishes with an impressive wine collection. It's an ideal spot for those seeking a taste of authentic Cayman cuisine.
5. Cayman Crystal Caves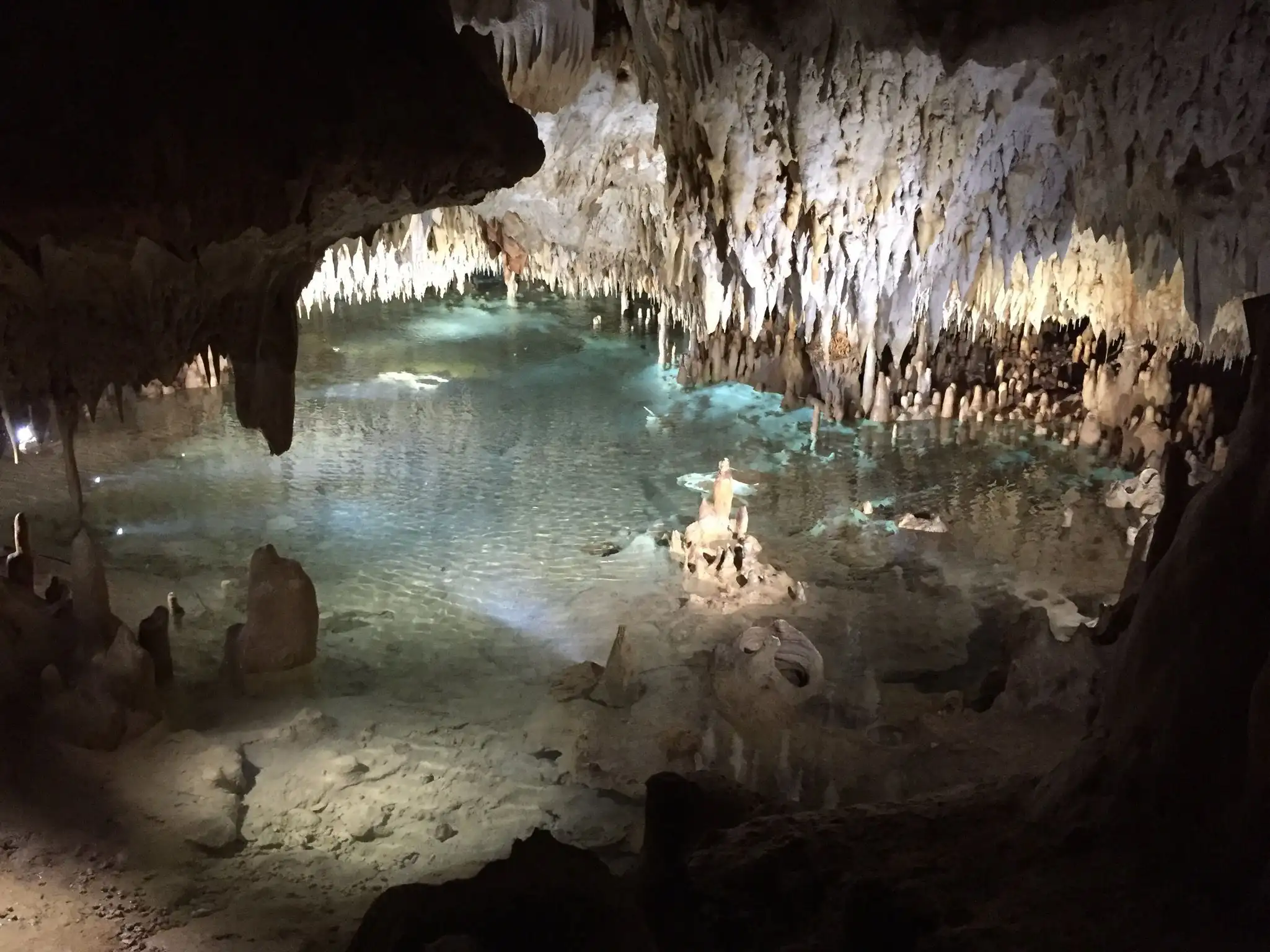 For history enthusiasts and those who appreciate natural wonders, the Cayman Crystal Caves are a must-visit. Located in the tropical forest of Old Man Bay, these caves are filled with striking stalactites, stalagmites, and mysterious black diamonds. While there are areas with colonies of bats, they are rarely seen, ensuring a worry-free visit.
The Cayman Crystal Caves offer a journey into the past, where you can explore the remarkable formations created over centuries. Marvel at the crystal structures, stunning stalactites, and stalagmites that adorn the cave's interior.
Pirates' History
To make your tour even more memorable and informative, consider making a one-hour reservation. During this guided tour, you'll learn about the history of the caves, including their use by pirates who once sought shelter in their depths. It's a fascinating journey into both geological and human history.
6. Queen Elizabeth II Botanic Park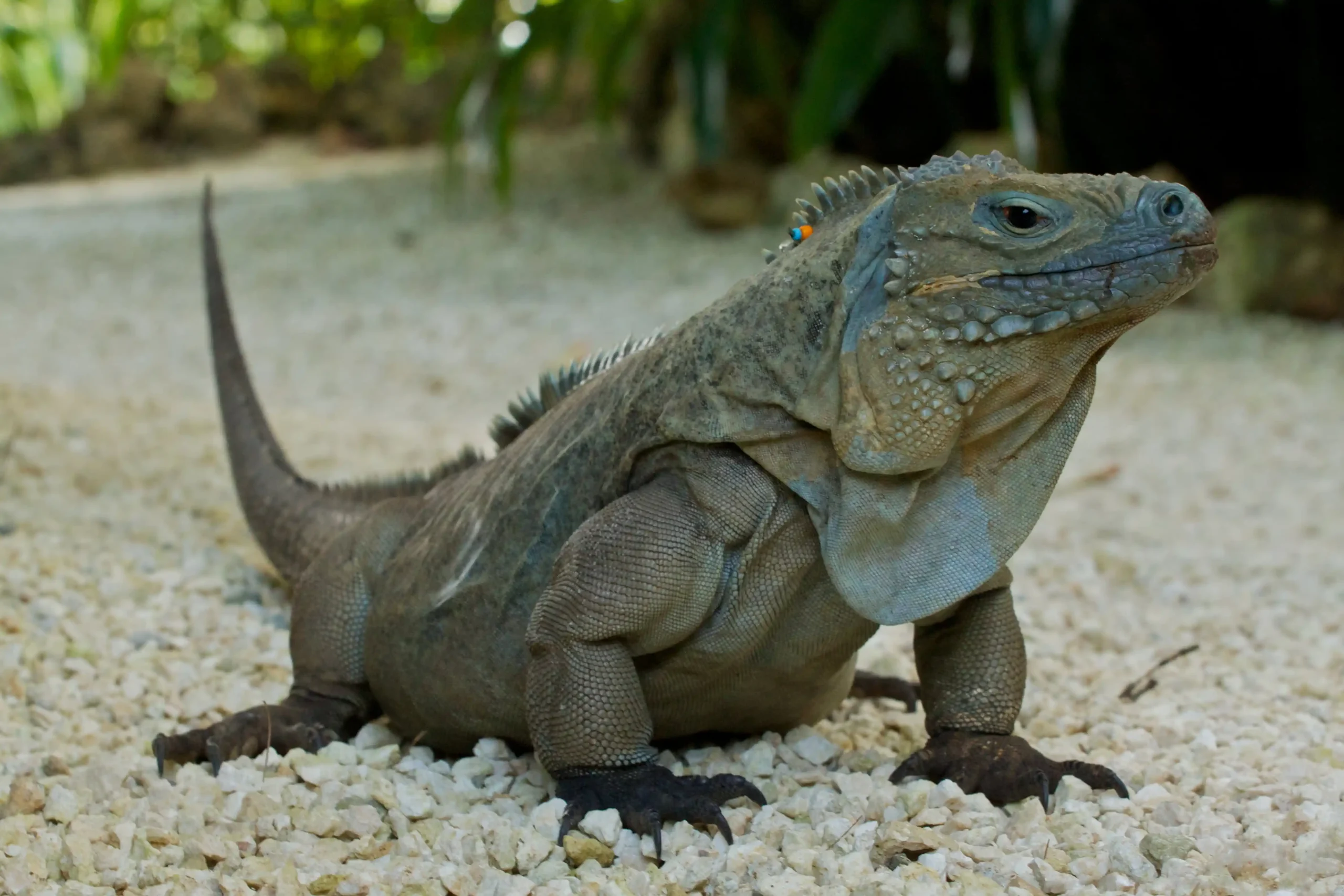 The Queen Elizabeth II Botanic Park on Grand Cayman is a nature lover's paradise. Established in 1944, it features an array of flowers and gardens, enhancing its natural beauty. Here's what you can do in this park:
Garden Exploration
The park offers a serene and beautiful environment for garden enthusiasts. You can take leisurely walks along peaceful garden paths, visit Lilly-topped ponds, and immerse yourself in the vivid colors of the diverse plant life that surrounds you.
Palm Gardens
Admire the colorful array of palm trees and orchids in the Palm Gardens. It's a stunning showcase of botanical diversity, and a feast for the eyes of plant enthusiasts and photographers.
The Queen Elizabeth II Botanic Park is home to the endangered blue iguana. These unique reptiles are a conservation success story, and the park offers an opportunity to spot them. Knowledgeable tour guides can assist in locating these rare and fascinating creatures.
7. Diving & Snorkeling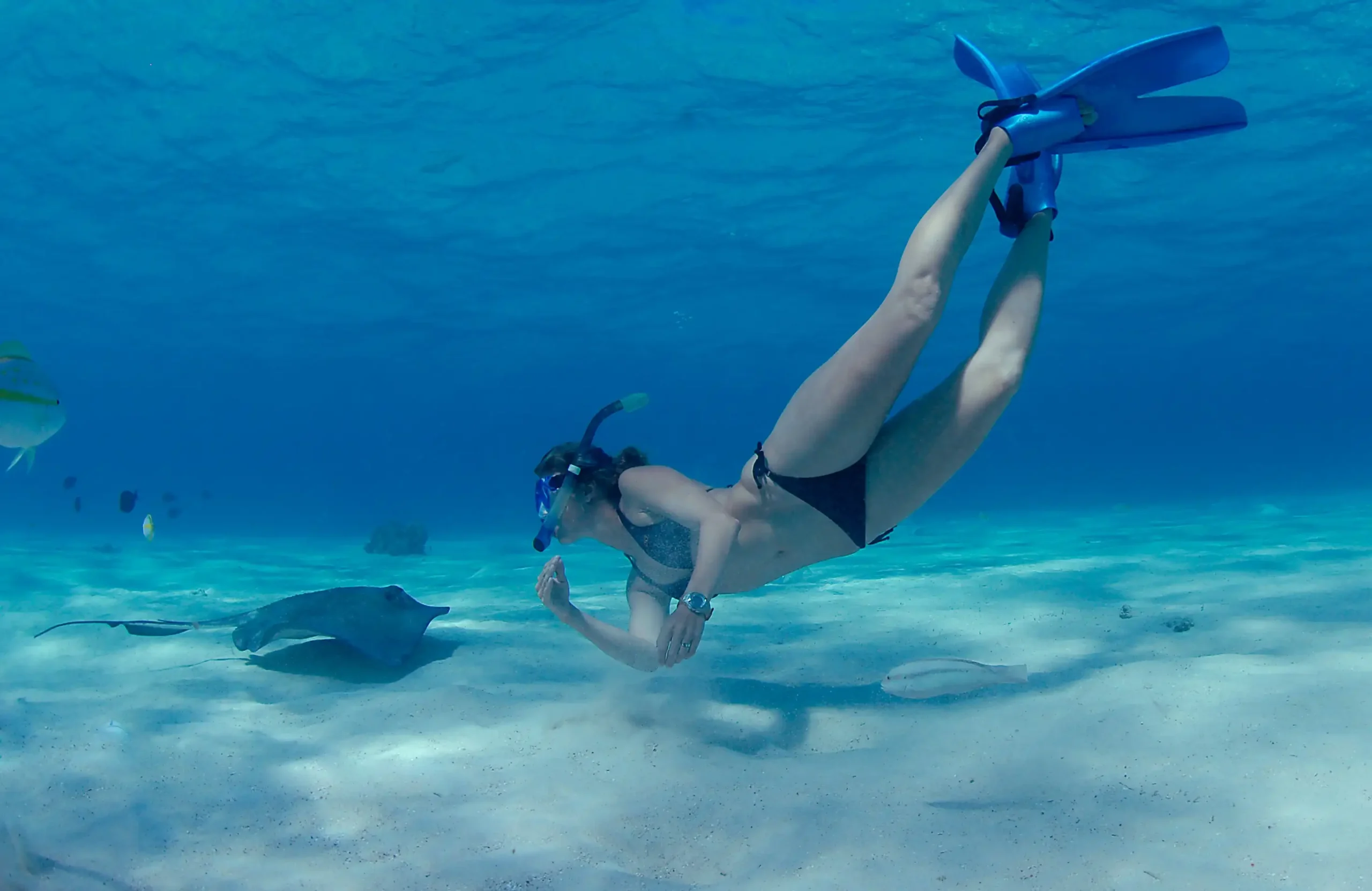 The Cayman Islands offer a remarkable blend of both above-water and underwater experiences. Diving enthusiasts will find 365 different diving sites, each offering a unique underwater adventure. Here's what you can expect:
Underwater Wonders
Diving in the Cayman Islands is a dream come true for underwater enthusiasts. With 365 different diving sites to choose from, you can explore a diverse range of marine environments. From accessible caves and wrecks to more challenging deep walls and vibrant coral reefs, there's a diving experience for every skill level.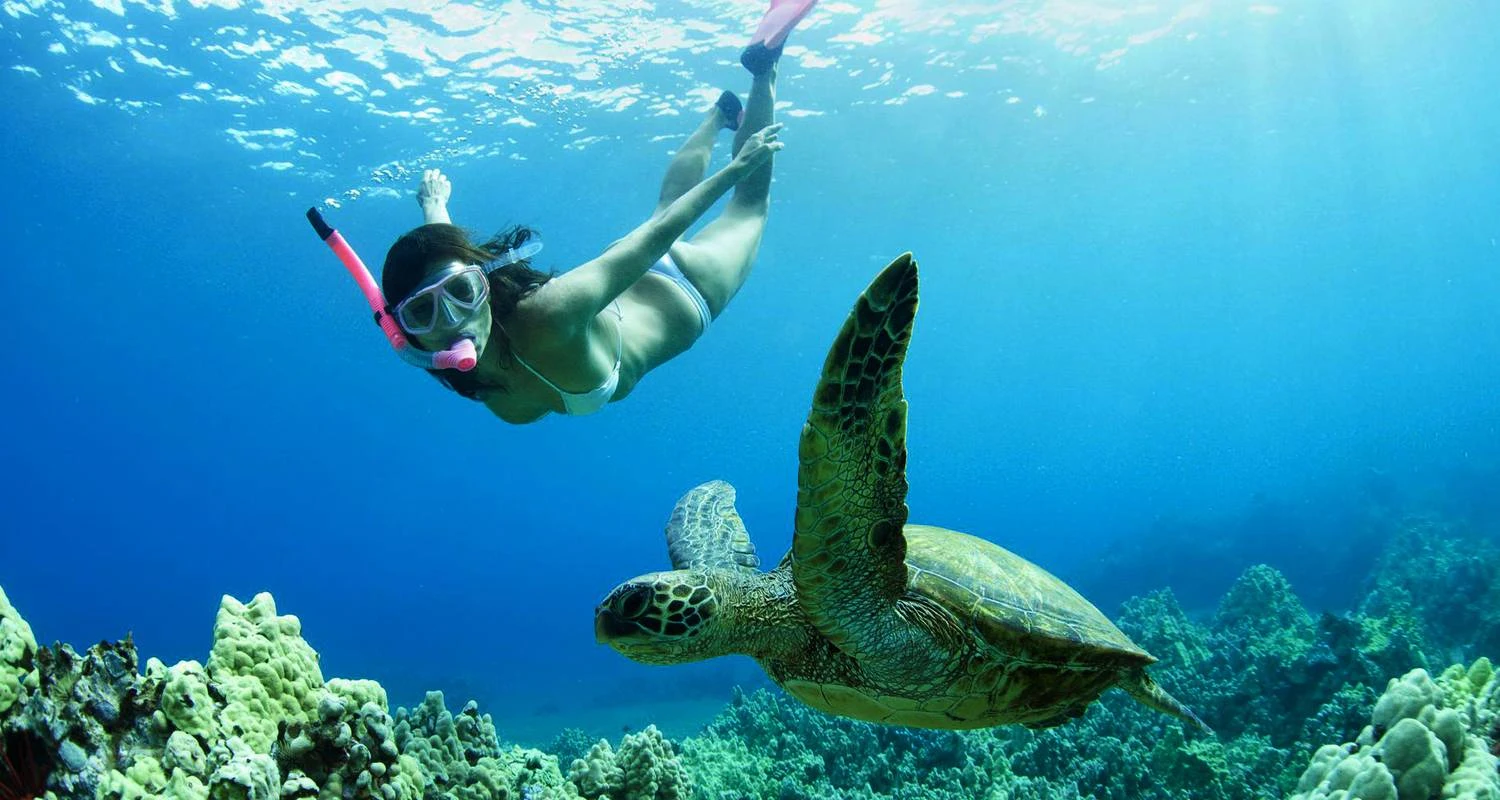 Marine Life
The crystal-clear waters of the Cayman Islands provide a window into a world teeming with marine life. Divers can expect to encounter stingrays, turtles, tropical fish, moray eels, occasional sharks, and lobsters. The diversity of marine species makes every dive a memorable experience.
Snorkeling
In addition to diving, snorkeling is a delightful experience in the Cayman Islands. You don't need to be a certified diver to explore the underwater beauty. There are plenty of snorkel sites where you can have a view of coral reefs and swim with the tropical fishes. It's an activity that the whole family can enjoy.
8. Dolphin Discovery Grand Cayman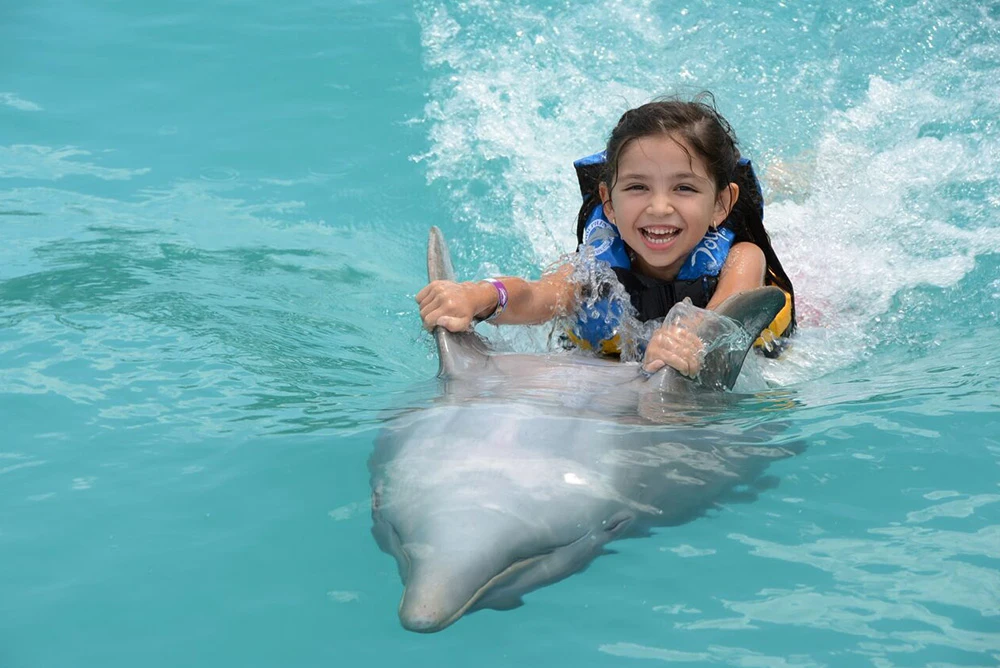 Swimming with dolphins is a dream for many, and the Cayman Islands offer a unique opportunity to make this dream come true. Dolphin Discovery Grand Cayman is the perfect place for families and tourists of all ages to interact with these friendly marine mammals.
Dolphin Encounters
Dolphin Discovery Grand Cayman offers a range of interactive experiences with dolphins. Whether you want to swim with a dolphin while riding a boogie board or hope to share a friendly kiss with a dolphin, there are many things to do in the Cayman Islands for your family. These encounters are not only fun but also educational, as they promote understanding and appreciation of these remarkable animals.
9. Follow the Mastic Trail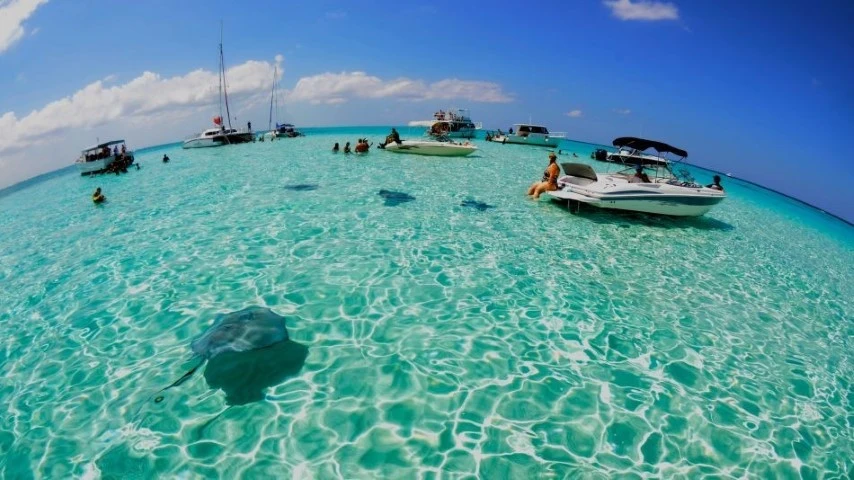 If you're looking to escape the beach and explore the natural wonders of Grand Cayman, consider visiting the Mastic Trail. This scenic trail is an attractive natural attraction, offering a glimpse into the island's dry subtropical forests.
Scenic Hike
The Mastic Trail is a 3.7-kilometer path that winds its way through jagged iron shores, dry forests, black mangrove wetlands, and silver thatch palm groves. It offers a fantastic opportunity for hiking and birdwatching.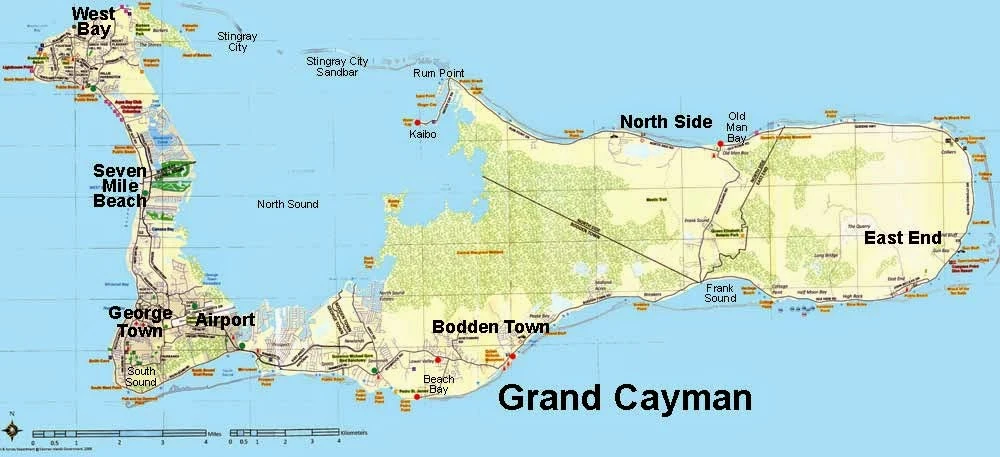 Historical Significance
Originally built over 100 years ago, the Mastic Trail was reopened in the mid-1990s to provide visitors with a chance to explore the island's natural beauty. Today, the trail remains a popular destination for those looking to experience the island's unique ecosystems and connect with its history.
10. National Gallery of the Cayman Islands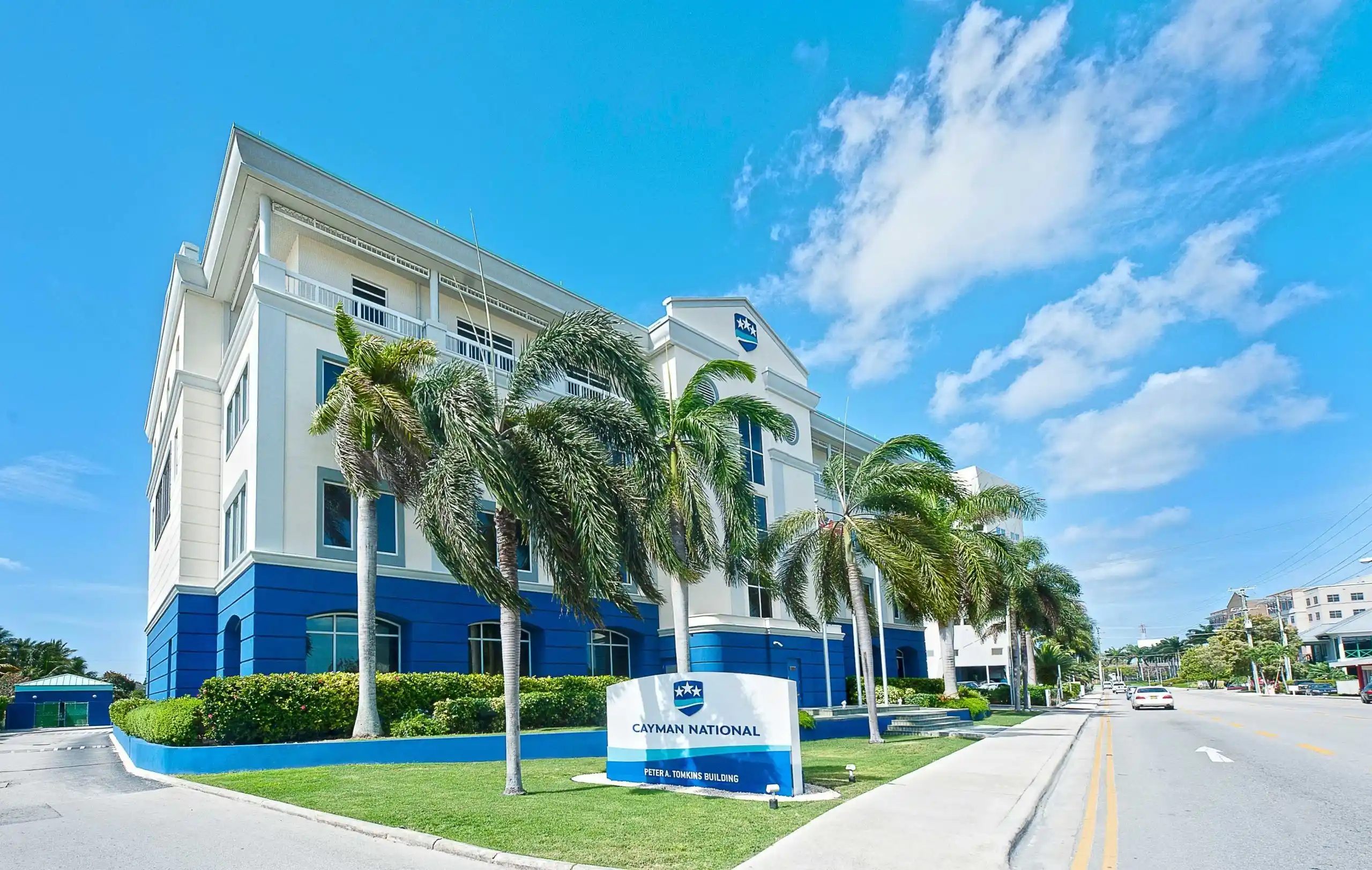 For those interested in exploring the history and culture of the Cayman Islands, the National Gallery is a must-visit. Located near Seven Mile Beach, this gallery offers interpretations of the island's history and culture through art.
Miss Lassie's Art
One of the highlights of the National Gallery is the work of Gladwyne Bush, known as "Miss Lassie." She began her artistic journey in her 60s after a visionary experience, and her art covers the walls of her home, which you can visit. Her paintings provide a unique perspective on Caymanian culture and history.
Over to You
The Cayman Islands are brimming with exciting activities and attractions, from natural wonders to underwater adventures, culinary delights, and encounters with exotic wildlife. If you're planning a vacation to this stunning destination, be sure to include these top 10 things to do in the Cayman Islands on your itinerary. These experiences promise unforgettable memories and a deep appreciation for the beauty and culture of the Cayman Islands.
FAQs
1. Is Seven Mile Beach suitable for families with children?
Absolutely! Seven Mile Beach is a family-friendly destination with calm, clear waters perfect for children. The beach offers a safe and enjoyable environment for families.
2. Are there lifeguards on duty at Seven Mile Beach?
Yes, Seven Mile Beach is well-equipped with lifeguards, ensuring the safety of beachgoers. Their presence adds an extra layer of security for visitors of all ages.
3. Can I bring my snorkeling gear, or can I rent it on Seven Mile Beach?
Both options are available. You can bring your snorkeling gear, but if you prefer not to, you can easily rent equipment from various vendors along the beach.
4. What's the best time to spot green sea turtles at Cayman Turtle Centre?
Green sea turtles are active during the day, so visiting the Cayman Turtle Centre in the afternoon is ideal for seeing them in action.
5. Is it safe to interact with stingrays at Stingray City?
Yes, it is safe to interact with stingrays at Stingray City. Knowledgeable guides are on hand to ensure your safety and provide instructions for a memorable experience.
6. Can I purchase souvenirs at Stingray City and Starfish Point?
While you may not find traditional souvenir shops at these natural attractions, many tour operators offer souvenir items and photographs to commemorate your visit.
7. Is there a dress code for dining at Seven Mile Beach restaurants?
Most Seven Mile Beach restaurants have a casual dress code, making it convenient for beachgoers. However, some upscale dining establishments may have a more formal dress code.
8. Do I need diving experience to explore the diving sites in the Cayman Islands?
While there are diving sites suitable for all skill levels, it's beneficial to have some diving experience, especially for more challenging sites. If you're new to diving, consider taking a beginner's course from local dive shops.
9. Is there a best season for hiking the Mastic Trail?
The best time to hike the Mastic Trail is during the dry season, which typically falls between November and April. This period offers more comfortable hiking conditions.
10. Are there guided tours available for the National Gallery of the Cayman Islands?
Yes, the National Gallery of the Cayman Islands often offers guided tours to enhance your understanding of the art and history presented in the gallery.
Weather: The Cayman Islands enjoy a tropical climate, with warm and sunny weather throughout the year. However, it's essential to stay updated on weather forecasts, especially during hurricane season from June to November.
Currency: The official currency is the Cayman Islands Dollar (KYD), but the United States Dollar (USD) is widely accepted. Credit cards are also commonly used.
Language: English is the official language, making it easy for English-speaking travelers to communicate.
Transportation: Renting a car is a convenient way to explore the islands, but remember that they drive on the left side of the road. Taxis and public buses are also available.
Health: Ensure you have comprehensive travel insurance that covers medical expenses. The Cayman Islands have excellent healthcare facilities, but it's always best to be prepared.
Electricity: The Cayman Islands use the same electrical standards as the United States, with a voltage of 120V and plug types A and B. If you're coming from a different region, you may need an adapter.
Respect Local Customs: The Cayman Islands are known for their friendly and welcoming culture. Be respectful of local customs and traditions, such as dressing appropriately when visiting religious sites.
Safety: The Cayman Islands are considered safe for tourists. However, it's wise to take the usual precautions, such as safeguarding your belongings and avoiding isolated areas at night.
Duty-Free Shopping: George Town is famous for its duty-free shopping. Don't forget to check out the diverse selection of items, from jewelry to luxury goods.
Time Zone: The Cayman Islands are in the Eastern Time Zone (ET). Be sure to adjust your watches accordingly.