Scrolling through endless lodging options on the Internet, you find it difficult to decide on a place to stay while on vacation. You have everything picked out, the clothes you'll wear, the activities you'll do, some hot spots you want to visit, but you can't decide where to stay.
One option for lodging is a vacation rental. Vacation rentals are like hotels except instead of renting one or two rooms, you reap the benefits of renting an entire house. Some benefits of vacation rentals versus hotels are;
Price
A Cost-Effective Choice
When it comes to choosing between vacation rentals and hotels, price is often a deciding factor. While the average cost for a vacation home may be close to or equivalent to a hotel's rate, you get more bang for your buck at a villa, especially if you choose to rent for an extended stay.
In a hotel, you pay for a room, but when you rent a vacation home, you're paying for an experience. You get the entire property, not just a small portion of it. Also, there are additional amenities a vacation home provides that a hotel does not.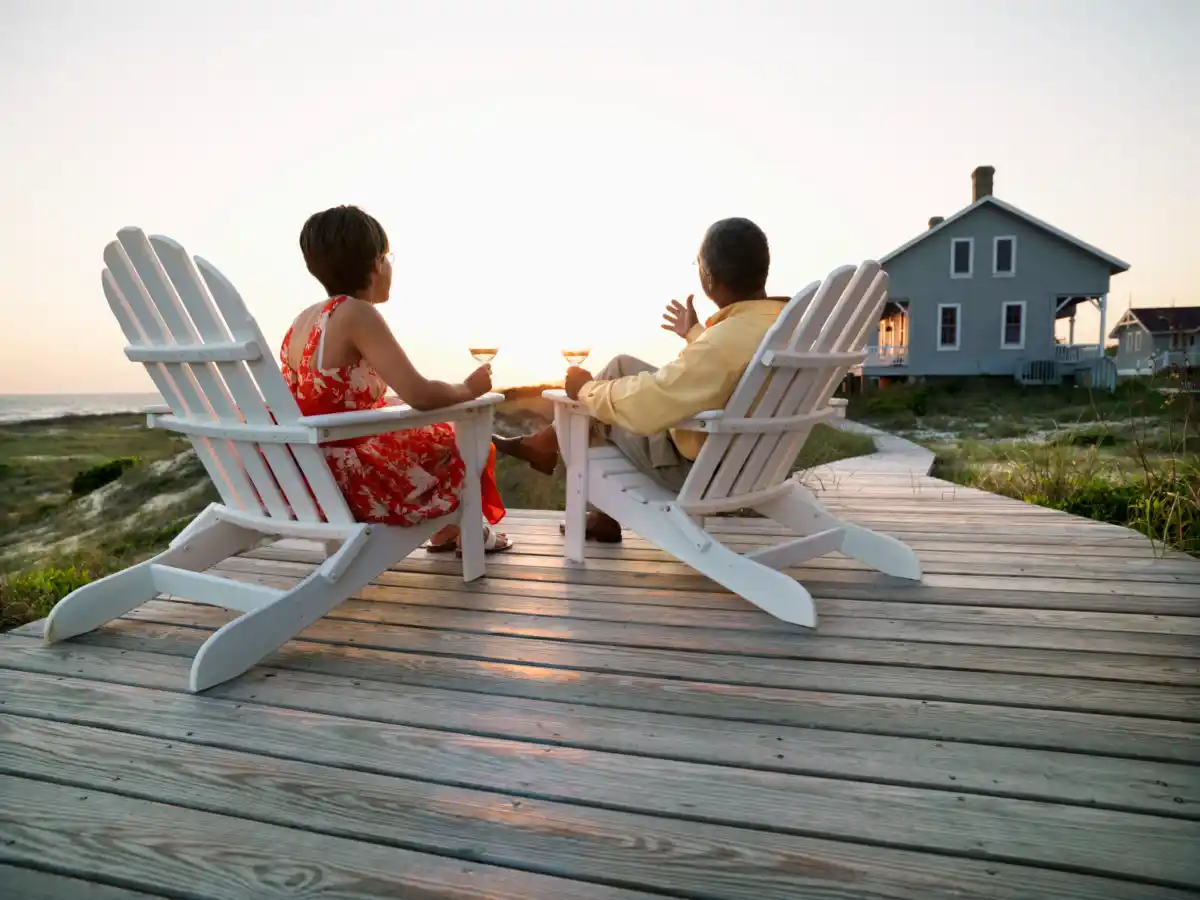 Additional Amenities
Hotels often offer the basics: a bed, a bathroom, and perhaps a small television. In contrast, vacation rentals go above and beyond. They typically come with a full kitchen, extra bedrooms, more living space, a yard, and sometimes a workout room and a workspace if you need it.
Imagine the convenience of having a full kitchen at your disposal. You can cook your meals, which can save you money compared to dining out for every meal. The extra space is a significant advantage, especially for families or groups of friends traveling together.
Ideal for Extended Stays
If you're planning an extended vacation or you simply prefer a longer escape, vacation rentals make more sense economically. Hotels can become quite expensive over extended periods, and the limitations of a small hotel room can become frustrating. With a vacation rental, you have the space, amenities, and privacy you need for an extended stay without breaking the bank.
More Privacy
The Sanctuary of Seclusion
One of the best features of renting a vacation home is the level of seclusion it offers. Not only will you experience the utmost privacy inside the home, but the entire property as well. Most vacation homes offer some sort of lawn or yard for you to enjoy.
Privacy is a precious commodity, especially if you're looking for a romantic getaway, a family vacation, or a trip with friends. Hotels can be crowded, and you may find yourself surrounded by other guests. In a vacation rental, you have the place all to yourself.
Enjoying Your Own Yard
Having access to outdoor space is another significant advantage. You can lounge in your private yard, have a barbecue, or just enjoy a quiet morning coffee in the fresh air. This level of privacy and outdoor freedom is hard to come by in a hotel.
More Activities
Exploring the Surroundings
Renting a villa or vacation home gives guests the opportunity to explore the surrounding area and enjoy the activities the city offers. Vacation rentals also offer plenty of activities inside the home. Some villas offer entertainment and activities like a projector screen for movie night, gardens, canoes, kayaks, spas, and swimming pools.
The variety of activities available in a vacation rental can enhance your overall vacation experience. You can explore the local attractions, and when you return "home," you can continue to have fun with the in-house activities.
In-House Entertainment
In many vacation rentals, you'll find a range of entertainment options. From a large-screen TV to a game room with a pool table or even a private swimming pool, these amenities add to the enjoyment of your stay. If you have children, having these entertainment options can be a lifesaver on a rainy day or during downtime.
More Amenities
Beyond the Basics
The average amenities in a hotel room are relatively standard and often limited. You can expect a microwave, television, hair dryer, vending machines, and parking. Some hotels don't even provide all the amenities listed above.
In contrast, vacation rentals offer a more comprehensive range of amenities. These often include a fully equipped kitchen with modern appliances, grills for cooking, extra living space, sizeable bedrooms, and spacious porches and decks. You'll find all the comforts of home and then some.
A Fully Equipped Kitchen
One of the standout features of vacation rentals is the kitchen. Imagine having a full kitchen at your disposal, complete with a stove, oven, refrigerator, and all the cooking utensils you need. This allows you to prepare your meals, whether it's a hearty breakfast or a gourmet dinner. It can save you money and provide a more flexible dining experience.
Spacious Living Areas
Space is another area where vacation rentals shine. You get more room to spread out and relax. Instead of being confined to a single hotel room, you have separate living areas, bedrooms, and even outdoor spaces. If you're traveling with a group or family, this extra space can make a significant difference in your comfort.
Better Setting
Escaping the Complex
Hotels are typically located within complexes or crowded city areas. While this might be convenient for some, others prefer a more tranquil and secluded setting. Vacation homes offer a better setting with seclusion and a picturesque view.
Depending on your vacation hotspot, you can find a vacation rental virtually anywhere. Each vacation rental is different, so be sure to check with the area and see what benefits you can reap. For example, if you want to vacation in the Virgin Islands, search "benefits of staying at St. John vacation rental".
Vacation rentals often have more remote locations, which can be perfect for those seeking peace and quiet. You can escape the hustle and bustle of city life and enjoy the serenity of nature.
In conclusion, choosing between a vacation rental and a hotel depends on your preferences and the type of vacation you're planning. If you value privacy, space, and a home-like environment, a vacation rental is an excellent choice. On the other hand, if you prefer the convenience of hotel services and don't mind a more communal atmosphere, a hotel may be the better option. The key is to consider your priorities and what will make your vacation the most enjoyable and memorable.
FAQs About Vacation Rentals vs. Hotels
Before we delve into some essential travel tips, let's address some common questions that travelers often have about choosing between vacation rentals and hotels.
What is the main difference between a vacation rental and a hotel?

A vacation rental is typically a fully furnished property, such as a house or apartment, that you can rent for a short-term stay. In contrast, a hotel offers individual rooms with various services.

Are vacation rentals more cost-effective than hotels?

Vacation rentals can be more cost-effective, especially for longer stays and larger groups. You often get more space and amenities for your money.

Do vacation rentals offer the same level of service as hotels?

Vacation rentals may not provide the same level of service as hotels, such as daily housekeeping. However, many offer self-check-in and ample resources to make your stay comfortable.

How do I find the right vacation rental for my needs?

To find the perfect vacation rental, consider your destination, the size of your group, and your budget. Online platforms like Airbnb, VRBO, and Booking.com are great places to start your search.

Are vacation rentals suitable for families?

Yes, vacation rentals can be ideal for families, as they offer more space, kitchens, and often additional amenities like game rooms or swimming pools.

Can I book vacation rentals for a single night, or are they for longer stays only?

While some vacation rentals have minimum stay requirements, many allow single-night bookings. It depends on the property and the owner's policies.

Are vacation rentals safe and secure?

Most vacation rentals are safe and secure, but it's essential to research the property and its location. Reading reviews from previous guests can provide valuable insights.

Do vacation rentals provide Wi-Fi and other modern amenities?

Yes, many vacation rentals offer Wi-Fi, modern appliances, and other amenities, similar to what you'd find in a hotel.

Are vacation rentals pet-friendly?

Some vacation rentals are pet-friendly, while others are not. If you're traveling with pets, be sure to check the property's pet policy.

Can I cancel or modify my reservation for a vacation rental?

The cancellation and modification policies vary by property and owner. Be sure to review the terms and conditions before booking.
Travel Tips for Choosing Between Vacation Rentals and Hotels
Now that we've explored the advantages of vacation rentals and hotels let's look at some valuable travel tips to help you make the right choice for your next vacation.
Define Your Priorities: Before making a decision, determine what matters most to you. If you prioritize space, privacy, and a home-like environment, a vacation rental is an excellent choice. If convenience, service, and communal facilities are more critical, opt for a hotel.
Consider Your Travel Group: The size of your travel group can significantly impact your decision. Vacation rentals are ideal for larger groups, as they offer multiple bedrooms and communal areas, making it more cost-effective than booking multiple hotel rooms.
Duration of Stay: The length of your stay also matters. For short getaways, a hotel can be a hassle-free option. For longer trips, vacation rentals can offer a more comfortable and economical experience.
Research the Location: Research the location of your accommodation. Vacation rentals often provide a more immersive local experience, while hotels are typically found in well-traveled areas. Consider whether you want to be in the heart of the action or prefer a quieter, more secluded setting.
Read Reviews: Before booking any accommodation, read reviews from previous guests. This will give you valuable insights into the property's condition, the responsiveness of the owner or management, and the overall guest experience.
Check Amenities: Pay attention to the amenities offered. Vacation rentals often come with fully equipped kitchens, outdoor spaces, and unique features like hot tubs or game rooms. Hotels offer on-site services like restaurants, bars, and concierge assistance.
Budget Wisely: Be realistic about your budget. Vacation rentals can be cost-effective for groups, but make sure to account for any additional fees, such as cleaning or security deposits. Hotels may have a set price, but be aware of added costs like dining and parking.
Ask Questions: Don't hesitate to contact the property owner or hotel staff with any questions or special requests. It's essential to clarify any doubts before booking to ensure your expectations are met.
Booking Platforms: Use reputable booking platforms to find and secure your accommodation. Platforms like Airbnb, VRBO, Booking.com, and well-known hotel chains provide a wide range of options and secure payment methods.
Pack Accordingly: Your choice of accommodation may influence what you need to pack. Vacation rentals with laundry facilities can reduce the amount of clothing you need to bring. Hotels often provide toiletries and other essentials.
Be Mindful of Local Laws: Some locations have regulations regarding vacation rentals. Ensure that your chosen rental complies with local laws and regulations to avoid any potential issues during your stay.
Flexibility: Stay flexible with your plans. Unexpected changes can occur, so having a backup option or alternative dates can save you stress and money.