Are you planning a vacation to San Diego but hesitant because you don't want to leave your furry friend behind? Fret not! San Diego is not just a paradise for humans but also for pets. There are several pet-friendly motels in this beautiful beach town, ensuring that your pets can accompany you on your journey of exploring the city parks and beaches. In this comprehensive guide, we've compiled a list of cozy and pet-friendly motels in San Diego that will make your stay a tail-wagging experience.
Motel 6
Pet-Friendly Policy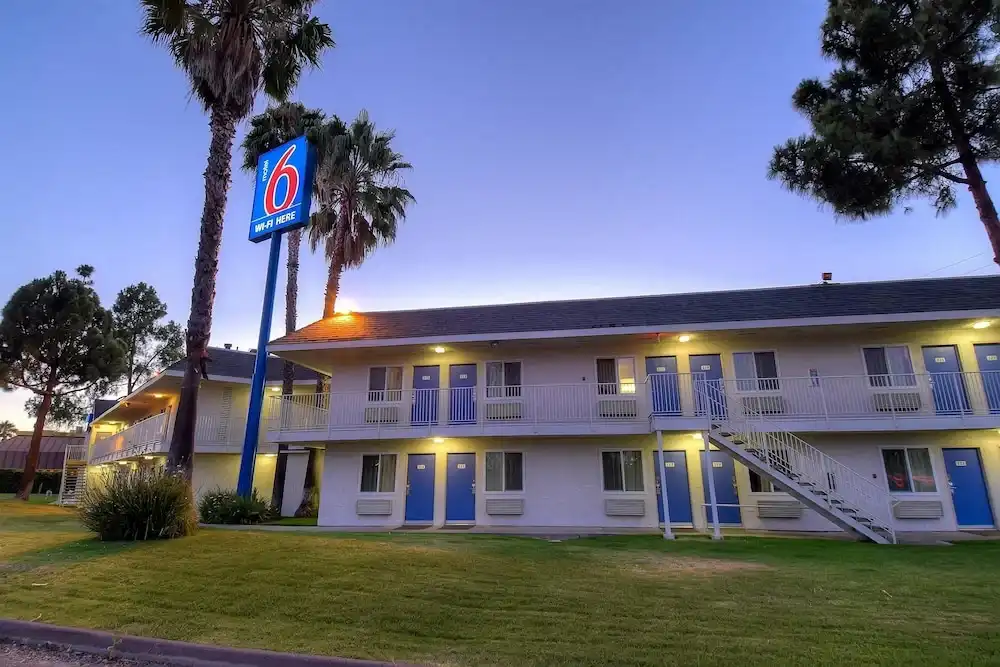 Motel 6 is a name synonymous with budget-friendly accommodation, and the good news is that they are pet-friendly too. The best part? Your pet can stay here for free! This pet-friendly motel in San Diego is a great choice for pet owners on a budget. They allow you to keep up to two pets per room, which means your furry friends can enjoy the trip with you.
However, there's a small caveat – your pet should not pose any health or safety risks. After all, safety is a priority for both humans and pets. And remember, service dogs that assist physically challenged individuals are always welcome in this motel.
When you stay at Motel 6, you can expect a comfortable and hassle-free experience. The rooms are simple and no-frills, but they offer all the basic amenities you need. You and your pet can make the most of your time in San Diego by exploring the city's parks and beaches during the day and returning to the cozy comfort of your room at night.
Watching your pet happily chew on sticks and bask in the sun patches is an experience worth cherishing. The spacious rooms and pet-friendly atmosphere will make you feel right at home, even when you're away from home.
Nearby Attractions
Motel 6's strategic location in San Diego makes it easy for you and your pet to access various attractions. Whether you want to explore the city's vibrant neighborhoods, relax on the beach, or enjoy some outdoor adventures, you'll find everything within reach. So, pack your bags, bring your furry friend, and embark on a memorable journey in San Diego.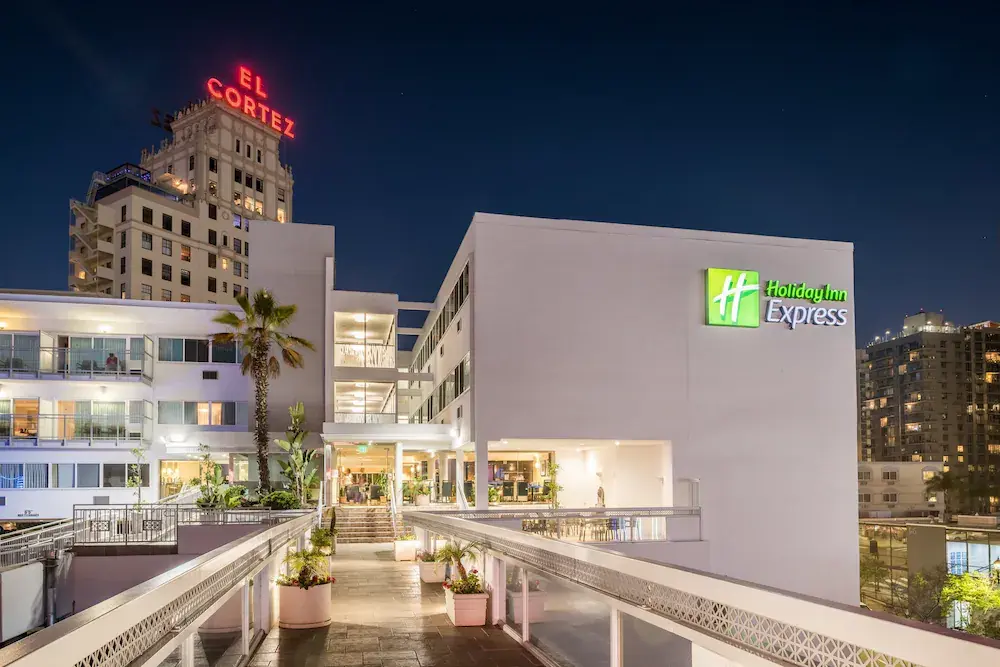 Pet Policy and Pricing
Holiday Inn Express boasts 469 pet-friendly locations in the United States, including San Diego. This motel offers short-term lodging with limited services at affordable rates. They charge between $15 to $35 per pet, and each room can accommodate up to two pets. While there's a nominal fee for your furry companions, the convenience and comfort make it a fantastic choice for pet owners.
Comfort and Convenience
When you choose Holiday Inn Express, you're not just selecting a pet-friendly motel; you're opting for a delightful experience. The rooms are well-appointed, and the staff is known for their warm hospitality. Imagine sipping on a cup of freshly brewed coffee while your entire family, including your furry friend, is by your side. This is the kind of experience that turns a trip into a cherished memory.
Location Benefits
The strategic location of Holiday Inn Express ensures that you have easy access to various attractions in San Diego. Whether you're planning to visit the beach, explore the city's landmarks, or indulge in some retail therapy, you and your pet will find yourselves in the perfect spot.
Best Western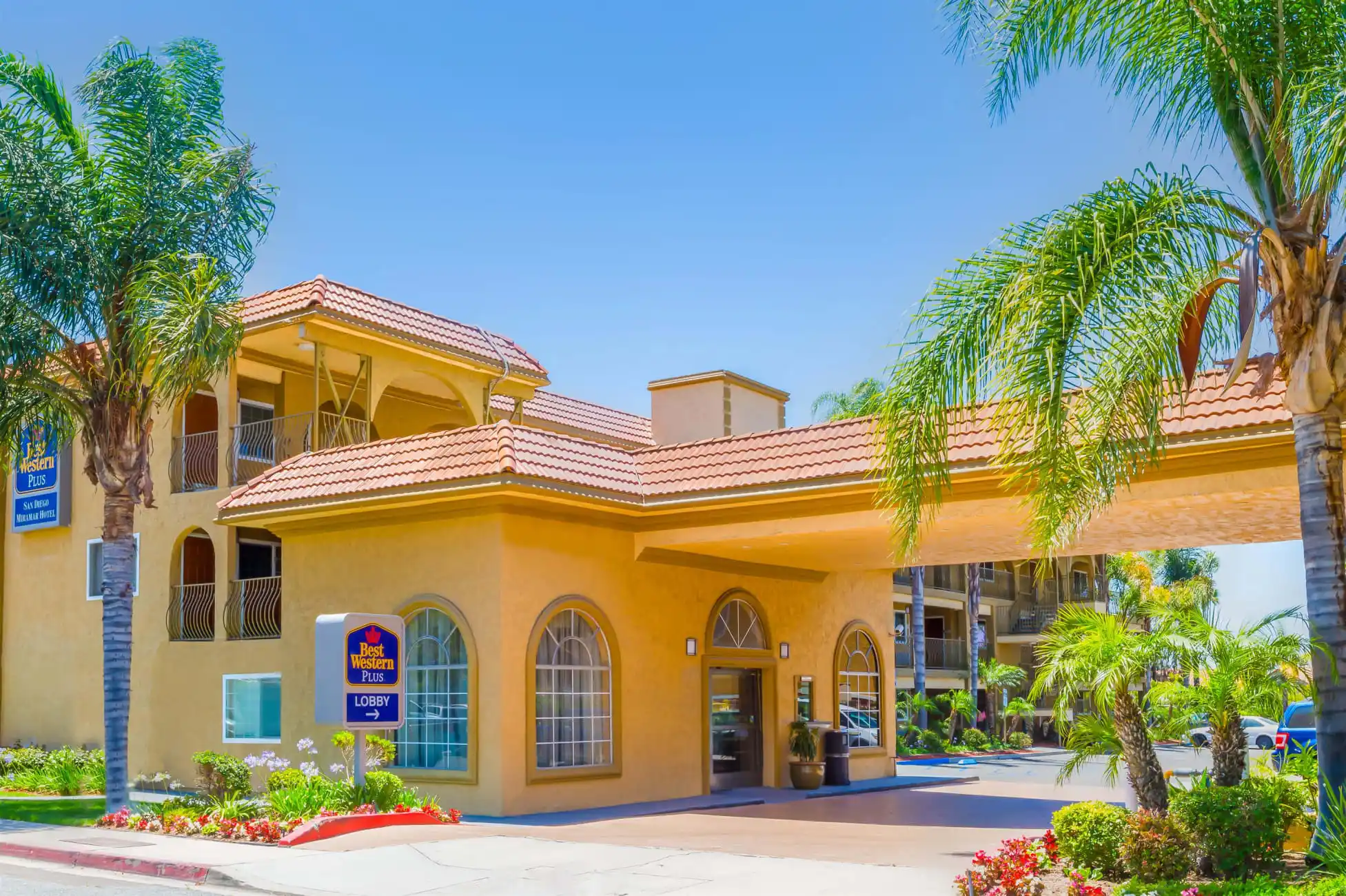 A Home Away from Home
Best Western understands that pets are like family, and they strive to provide a cozy place that feels like home. This pet-friendly motel in San Diego opens the door to an extended family vacation. Not only is Best Western welcoming to pets, but it also offers you an opportunity to explore nearby destinations.
Pet Regulations and Charges
At Best Western, you can bring up to two dogs, with a combined weight not exceeding 80 lbs, in one room. For each room with multiple pets, you'll be charged $30 per day. This reasonable fee ensures that your pets can enjoy a comfortable stay along with you.
Explore Nearby Destinations
Best Western's central location in San Diego allows you to explore nearby destinations easily. Whether you're interested in visiting Temecula, Dana Point, Huntington Beach, Los Angeles, or Palm Springs, you're just a short drive away. Your pets will love the change of scenery as much as you do.
Red Roof
Affordable and Welcoming
If you're looking for an affordable pet-friendly motel in San Diego, Red Roof should be at the top of your list. They go the extra mile to make pet owners feel welcome. The best part is that they allow one well-behaved pet to stay in your room free of charge, as long as it doesn't exceed 80 lbs in weight.
Pet Policy and Advantages
Red Roof understands that pet owners are looking for a hassle-free experience, and they deliver just that. Upon your arrival at the motel, simply inform the front desk about your pet, and they'll ensure you have a comfortable stay with your furry friend.
Central Location
Red Roof's central location in San Diego means you're never far from the city's top travel destinations and crystal-clear beaches. This convenience makes it a fantastic choice for pet owners who want to explore the city without breaking the bank.
Conclusion
Traveling with your pet is made easy when you have access to the best pet-friendly motels in San Diego. These motels serve as vibrant urban oases with all the amenities you and your pets need for a comfortable stay. Some of them even offer complimentary stays for your pets, while others have nominal charges as per their pet policies.
Before making your reservation, it's essential to read and understand the policies of the pet-friendly motels to ensure a smooth and enjoyable experience for both you and your furry friend. We hope you find these pet-friendly spots in San Diego helpful and that they make your trip a memorable one.
FAQs
Q1: Can I bring any pet to these motels?
A1: While most of these motels are pet-friendly, it's essential to check their specific pet policies. Generally, dogs and cats are welcome, but there might be restrictions on the number of pets allowed per room. Always inform the motel about your pet when making a reservation.
Q2: Are there any additional charges for bringing my pet?
A2: Yes, some motels charge a nominal fee for accommodating pets. These fees typically range from $15 to $35 per pet per night. Best Western, for example, charges $30 per day for each room with multiple pets. Red Roof, on the other hand, allows one pet to stay for free.
Q3: Can I leave my pet alone in the room?
A3: Most motels request that you do not leave your pet unattended in the room. This is for the safety and comfort of your pet, as well as the consideration of other guests. If you need to step out without your pet, check with the motel's front desk for guidance on pet-sitting services or nearby pet-friendly attractions.
Q4: Do these motels provide pet amenities?
A4: Some pet-friendly motels offer amenities such as pet beds, food and water dishes, and pet-friendly welcome kits. However, these offerings can vary from one motel to another. It's a good idea to inquire about specific pet amenities when making your reservation.
Book in Advance: To secure your stay at one of these pet-friendly motels, it's advisable to book in advance. Popular travel seasons and limited pet-friendly rooms can fill up quickly.
Read the Policies: Before checking in, take the time to read and understand the motel's pet policies. This will ensure a smooth and enjoyable experience for both you and your pet.
Bring the Necessities: Don't forget to pack your pet's essentials, including food, water, toys, and any medications. Having familiar items will help your pet feel more at home.
Exploration Time: San Diego is a pet-friendly city, so plan some time to explore the beautiful parks and beaches with your furry friend. They will appreciate the adventure as much as you do.
Respect Other Guests: Be mindful of other guests and their potential allergies or concerns. Keep your pet leashed in common areas, and clean up after them.