Mauritius, a jewel in the Indian Ocean, beckons travelers with its promise of a perfect blend of sun-soaked landscapes, crystal-clear waters, and an abundance of cultural richness. From the allure of white sand beaches to the vibrancy of its cultural tapestry, Mauritius stands as a testament to nature's beauty and human creativity. This article serves as a guide for those seeking not only tan lines but also memorable experiences under the Mauritian sun.
Booking Your Mauritius Tour Package from the USA
Before we dive into the enchanting destinations that Mauritius has to offer, it's essential to stress the significance of meticulous planning. Opting for a tour package from the USA not only streamlines the process but also ensures that every moment of your holiday is optimized for enjoyment. The advantages of such packages extend beyond convenience; they provide a curated experience, blending the best of Mauritius into a seamless itinerary.
1. Trou Aux Biches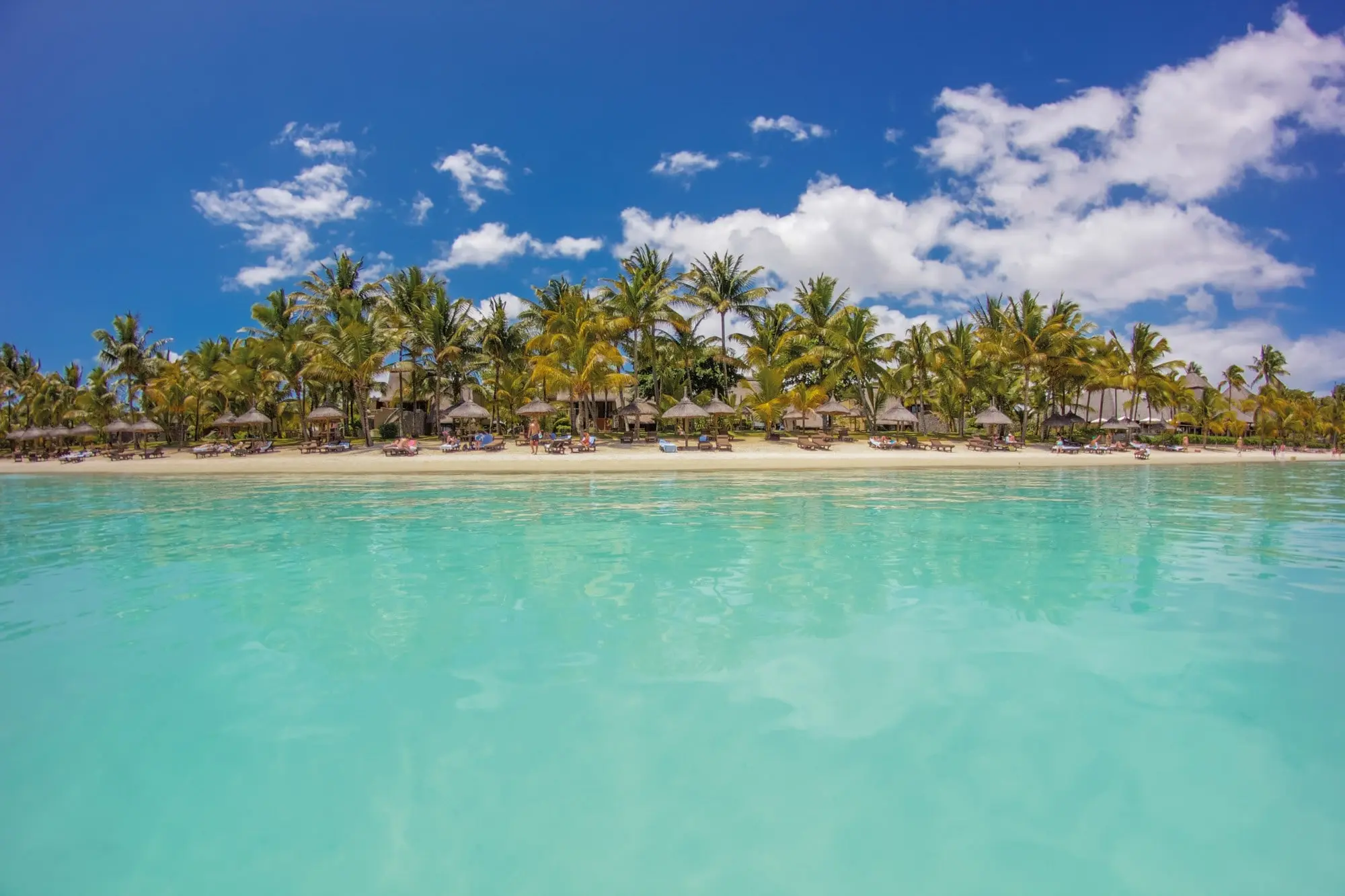 Location Overview: Nestled on the northwest coast of Mauritius, Trou Aux Biches unfolds like a tropical paradise. The sprawling beach, lapped by the azure waters of the Indian Ocean, provides an ideal canvas for a day under the sun.
Activities and Attractions: Trou Aux Biches isn't just a beach; it's an adventure waiting to unfold. From snorkeling in the vibrant coral reefs to paddleboarding along the coast, the options are as diverse as the marine life beneath the surface. The lively atmosphere, coupled with the stunning marine panorama, makes Trou Aux Biches a must-visit destination.
Unique Features: What sets Trou Aux Biches apart is not just its sandy shores but the blend of activities and natural beauty. The coral reefs near the beach offer a kaleidoscope of colors, making it a snorkeler's paradise. The vibrant marine life and the lively atmosphere make Trou Aux Biches a haven for those seeking both relaxation and excitement.
2. Pointe d'Esny and Blue Bay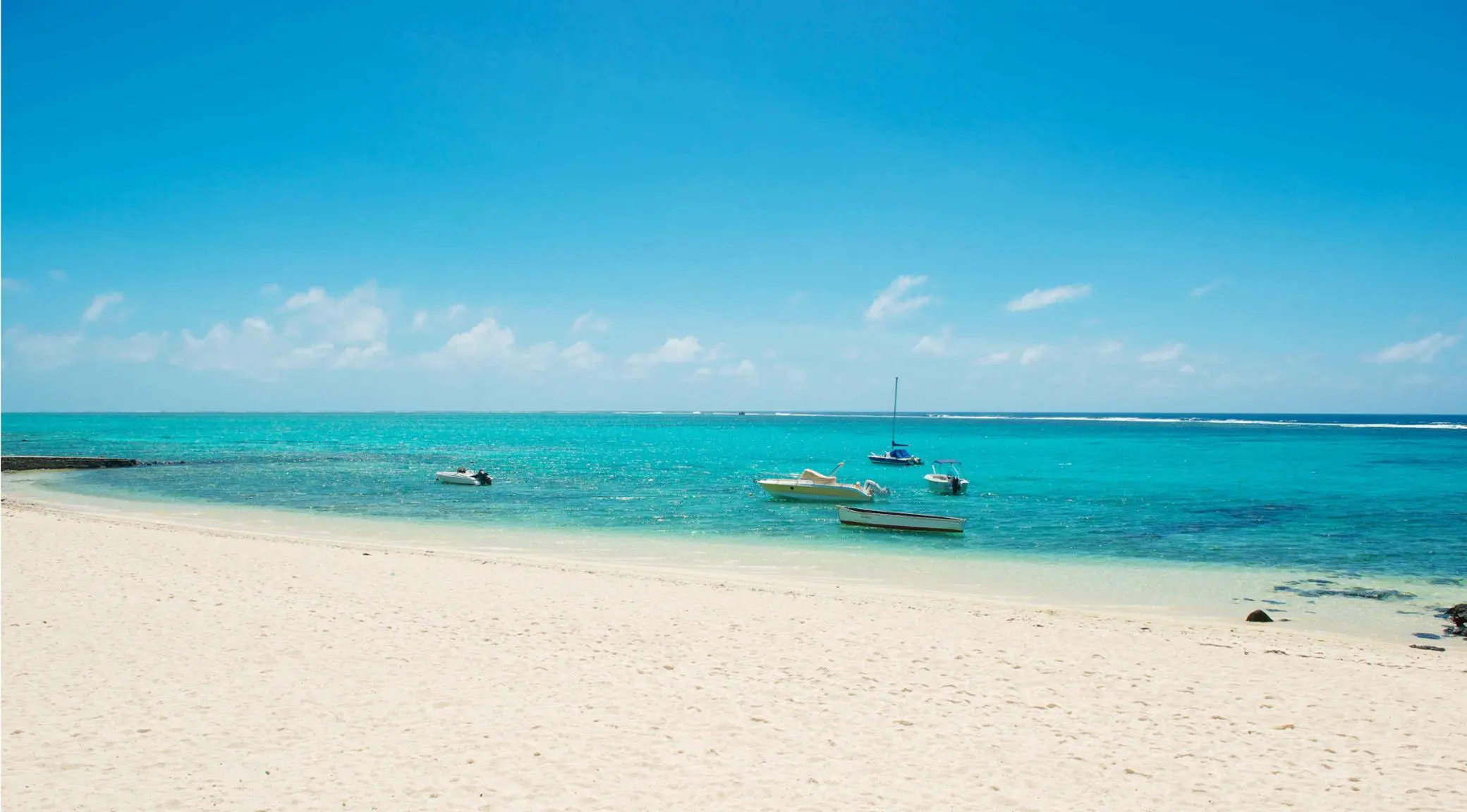 Southeast Coast Gems: On the southeast coast lie the gems of Pointe d'Esny and Blue Bay. These locations, known for their tranquility and pristine beaches, offer a different facet of the Mauritian experience.
Comparative Analysis: Pointe d'Esny charms with its calmness, while Blue Bay boasts vibrant marine life. A comparative analysis reveals that these destinations cater to distinct preferences. Pointe d'Esny offers solitude seekers a quiet escape, while Blue Bay beckons underwater enthusiasts with its lively marine ecosystem.
Water Activities and Relaxation: Whether kayaking in the gentle waters or unwinding on the soft sands, Pointe d'Esny and Blue Bay promise relaxation. These locations are not just about tan lines; they're about finding serenity in the embrace of nature.
3. Constance Belle Mare Plage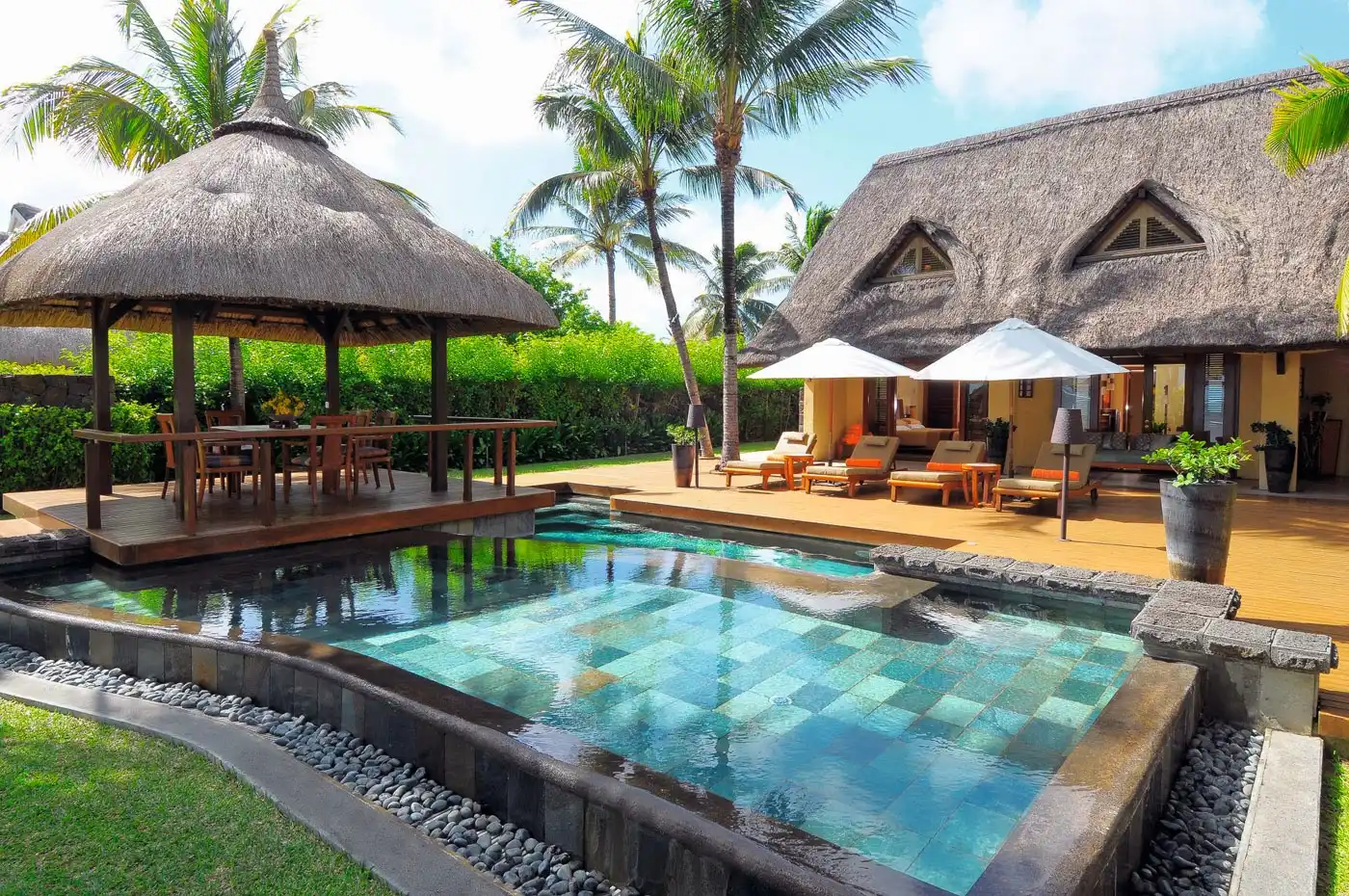 Luxury Unveiled: For those who seek luxury under the Mauritian sun, Constance Belle Mare Plage stands as an epitome of opulence. This resort on the east coast offers not just a place to sunbathe but an experience that transcends the ordinary.
Resort Facilities and Services: Indulge in spa treatments, savor gourmet cuisine, and partake in exclusive water sports – Constance Belle Mare Plage is a haven for those seeking more than just a tan. The resort's world-class amenities and impeccable service ensure that your time under the sun is not only enjoyable but also laden with luxurious experiences.
Immersive Experiences: From private beach dinners to personalized excursions, Constance Belle Mare Plage goes beyond standard offerings. It crafts a narrative of luxury that complements the natural beauty of Mauritius, creating an immersive experience for every guest.
4. Ile Aux Cerfs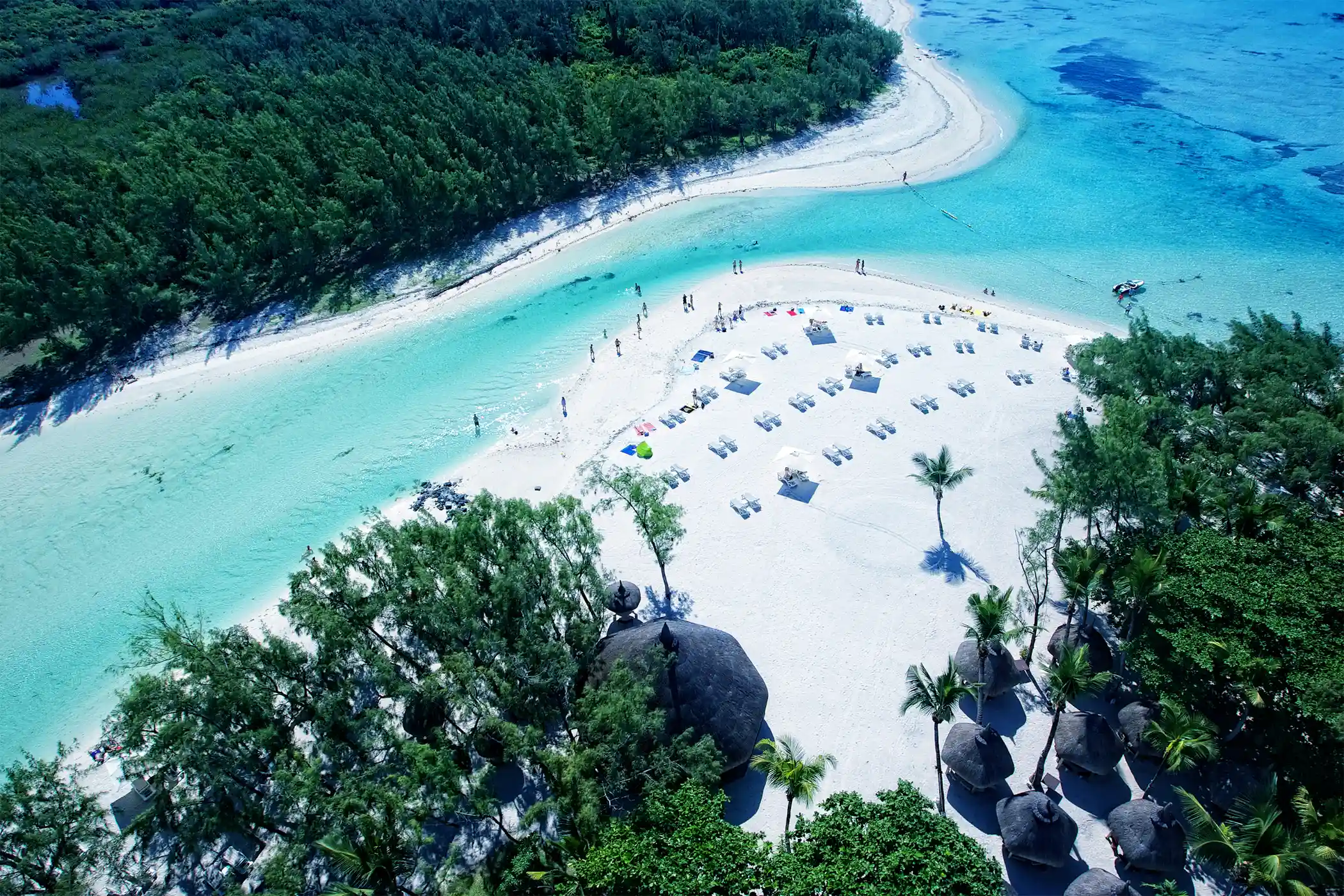 Picturesque Island Retreat: Embark on a boat journey to the postcard-perfect Ile Aux Cerfs, an island surrounded by turquoise waters and adorned with lush greenery. This destination isn't just about tan lines; it's about discovering an island paradise.
Water Sports and Leisure Activities: The pristine beaches of Ile Aux Cerfs provide the perfect backdrop for a myriad of water sports. Whether it's parasailing to catch panoramic views or snorkeling to explore the underwater world, this island caters to adventure seekers and those yearning for leisure.
Scenic Beauty and Unique Offerings: Ile Aux Cerfs is not merely a destination; it's an exploration of scenic beauty and unique offerings. From beachside picnics to exploration of the island's interior, every moment adds to the tapestry of memories you'll weave on this picturesque island.
5. Pereybere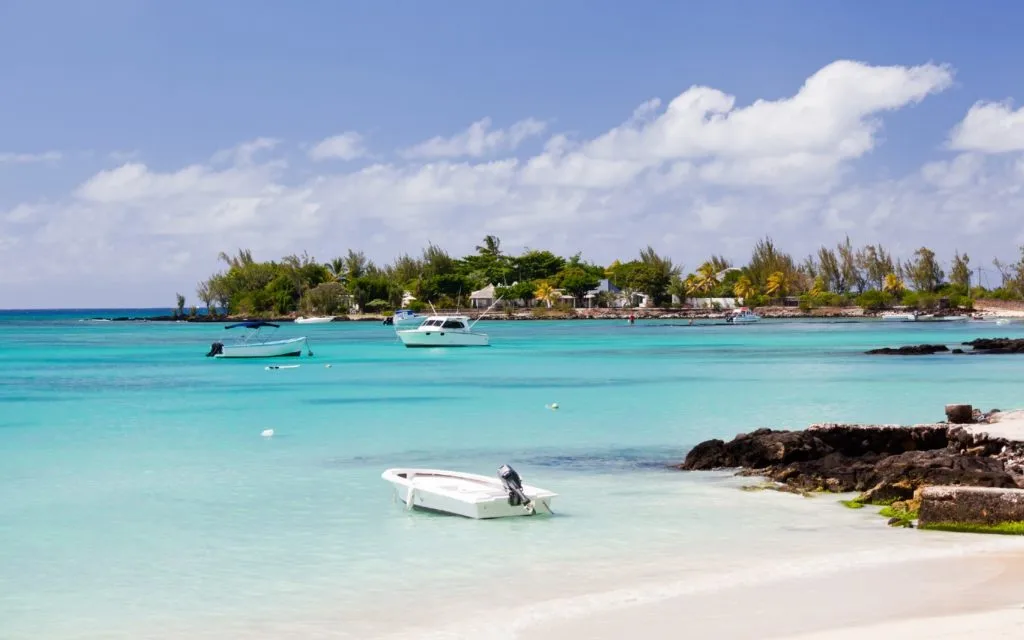 Charm on the Northern Coast: Nestled on the northern coast, Pereybere stands as a charming beach spot that captivates with its dynamic atmosphere and inviting waters.
Atmosphere and Ambiance: Pereybere isn't just a beach; it's a community. The vibrant atmosphere, coupled with the inviting turquoise waters, creates an ambiance that beckons both locals and tourists. From beachside vendors selling local delicacies to water sports facilities, Pereybere is a lively tapestry of Mauritian life.
Local Attractions and Activities: Dive into the turquoise waters for a refreshing swim or bask in the sun on the sandy shores. Pereybere's dynamic ambiance extends beyond the beach, with local attractions and various activities ensuring there's never a dull moment.
6. Grand Baie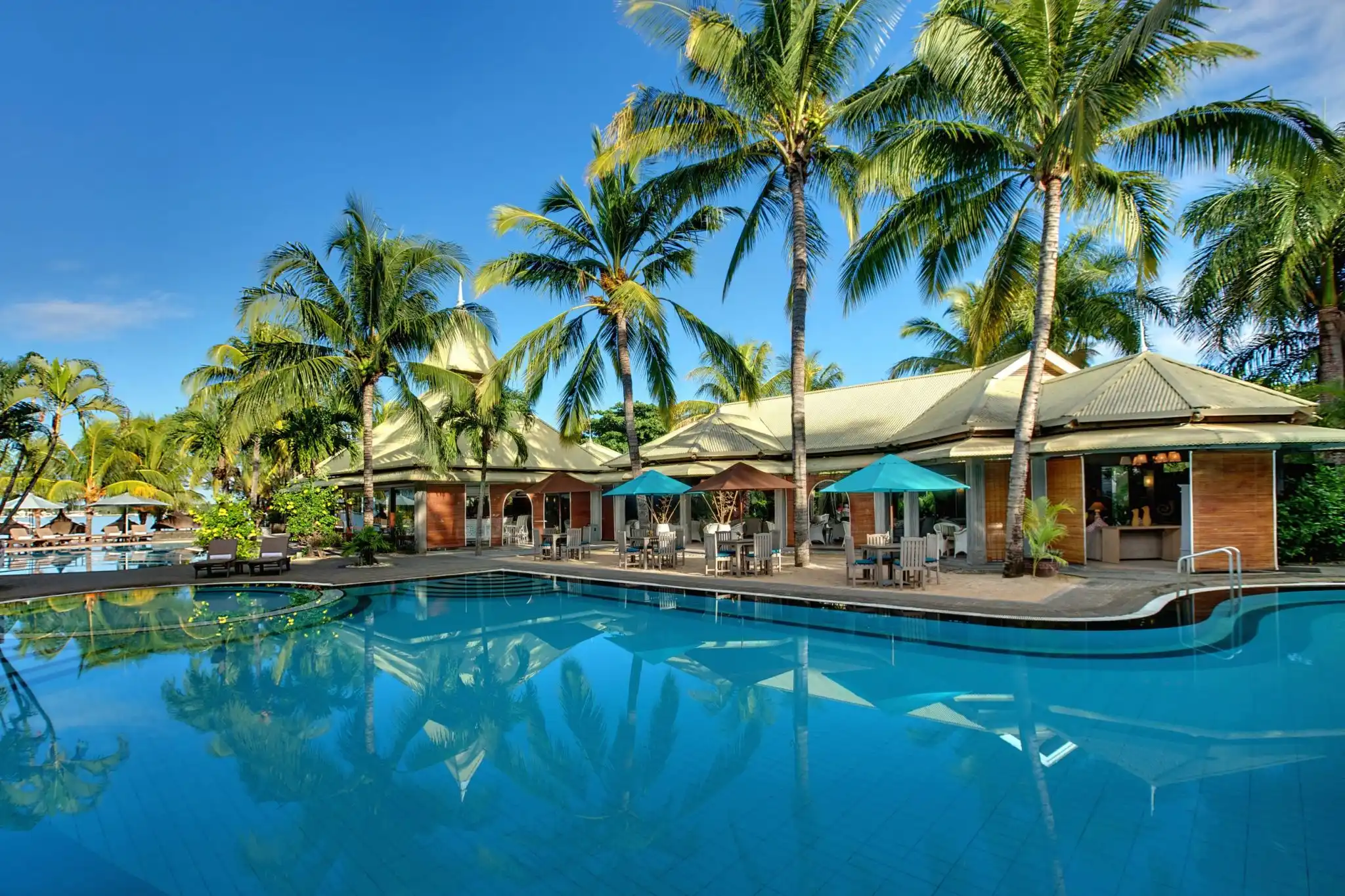 Bustling Tourist Hub: Situated on the northwest coast, Grand Baie emerges as a bustling tourist hub that seamlessly blends urban excitement with coastal charm.
Shopping, Dining, and Nightlife: Grand Baie isn't just a beach destination; it's a lifestyle. The town pulsates with energy, offering a plethora of shopping, dining, and nightlife options. Explore local markets, indulge in culinary delights, and revel in the vibrant atmosphere that makes Grand Baie a destination in itself.
Waterfront Attractions and Activities: Beyond the urban buzz, Grand Baie's waterfront presents a different allure. Enjoy boat trips that showcase the coastal beauty, explore local markets for unique finds, and engage in water-based activities that add a touch of adventure to your urban escapade.
7. Chamarel Coloured Earth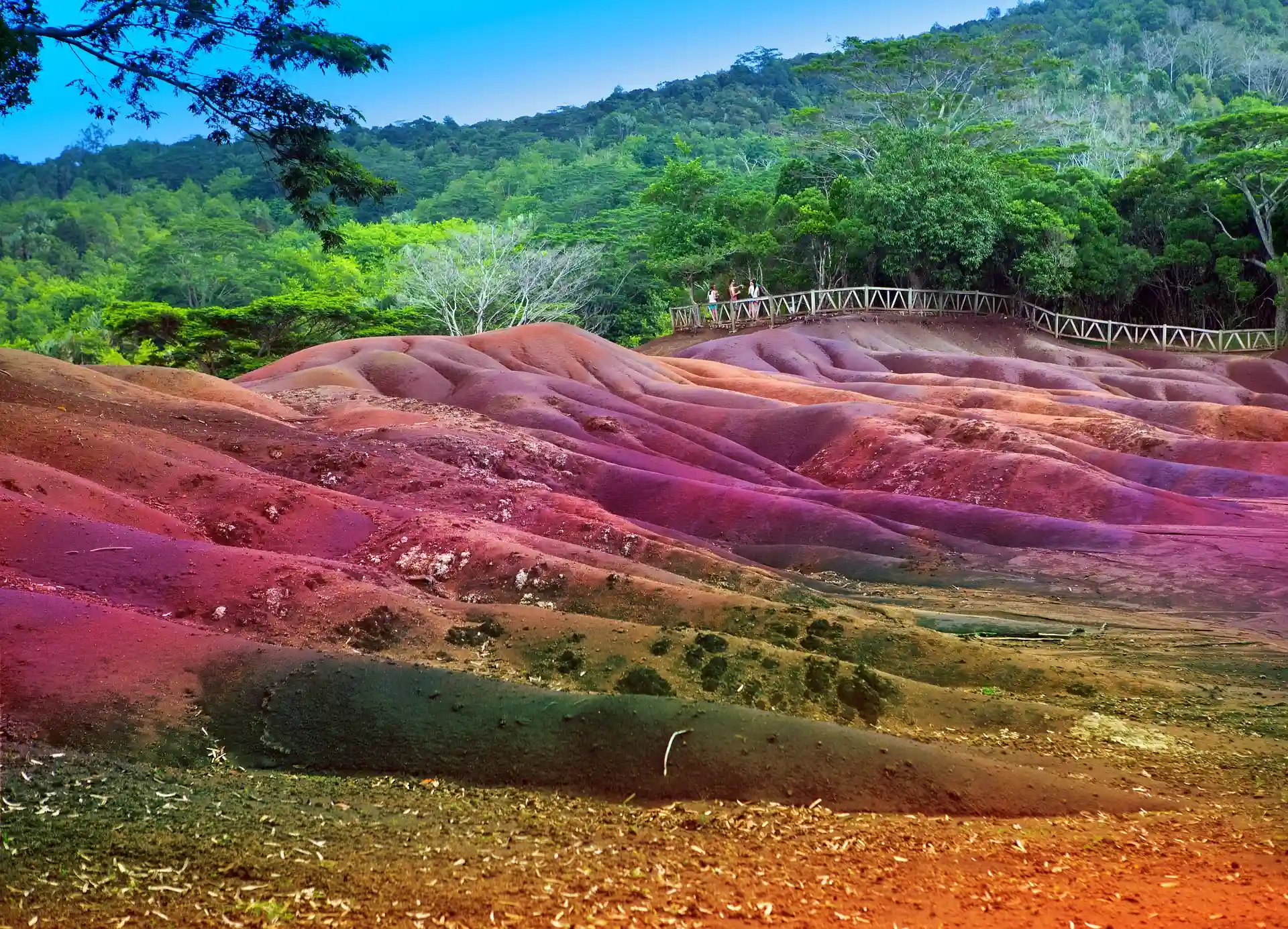 Geological Wonder Unveiled: Venture inland to discover the surreal geological marvel of Chamarel Coloured Earth. This phenomenon, characterized by sand dunes in distinct colors, creates a surreal panorama that captivates the imagination.
The Unique Colors and Science Behind Them: The colors of Chamarel Coloured Earth aren't just random; they tell a geological story. Take a guided tour to understand the science behind the unique colors and witness firsthand the natural wonder that makes Chamarel a must-visit inland destination.
Visitor Experience and Activities: Chamarel Coloured Earth isn't just a sightseeing stop; it's an immersive experience. Explore the surrounding park, take in the panoramic views, and engage in activities that bring you closer to the geological wonders of Mauritius.
8. Chamarel Waterfalls – Largest Waterfall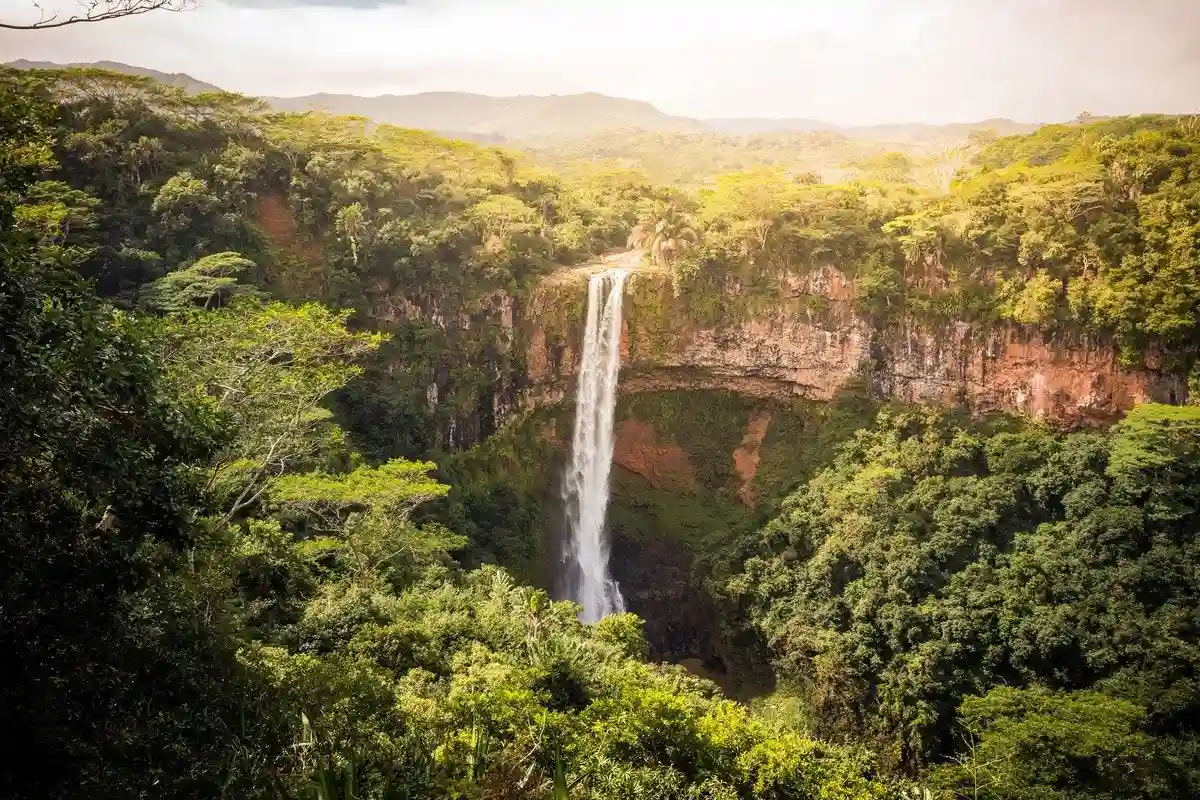 Majestic Natural Spectacle: Adjacent to the Coloured Earth, the Chamarel Waterfalls stand as a majestic natural spectacle, plunging from a considerable height and providing a breathtaking backdrop.
Largest Waterfall on the Island: Chamarel Waterfalls aren't just any falls; they're the largest on the island. The sheer force and beauty of the falls make them a captivating sight, whether viewed from observation points or experienced up close through hiking trails.
Accessibility and Recommended Viewing Spots: Accessibility to the falls is complemented by well-maintained trails. Discover the recommended viewing spots that allow you to fully appreciate the raw power and beauty of Mauritius' inland landscapes.
9. Flic En Flac Beach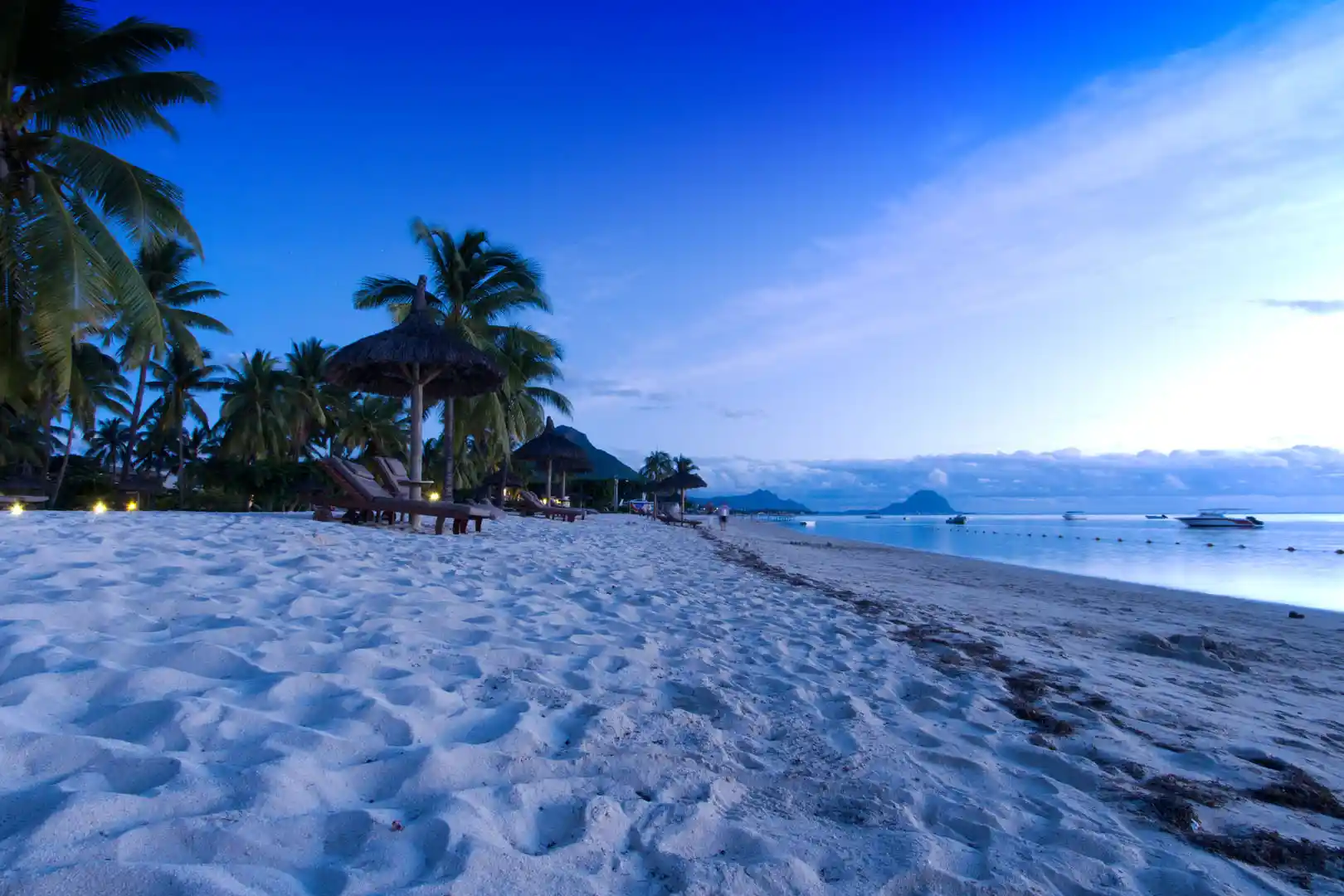 West Coast Charmer: Flic En Flac Beach, situated on the west coast, combines the allure of a sandy shoreline with the vibrancy of local life.
Water Sports and Beachside Relaxation: Known for its stunning sunsets, Flic En Flac Beach is not just a place for tan lines but an all-encompassing experience. Engage in water sports during the day, from snorkeling to windsurfing, and as the sun dips below the horizon, relish in the calming atmosphere for a serene beachside evening.
Sunset Views and Evening Activities: Flic En Flac Beach isn't just about daytime adventures; it's a canvas for capturing stunning sunsets. As evening descends, explore the local scene, indulge in beachside dining, and discover the array of activities that make Flic En Flac Beach a versatile destination.
10. Sir Seewoosagur Ramgoolam Botanical Garden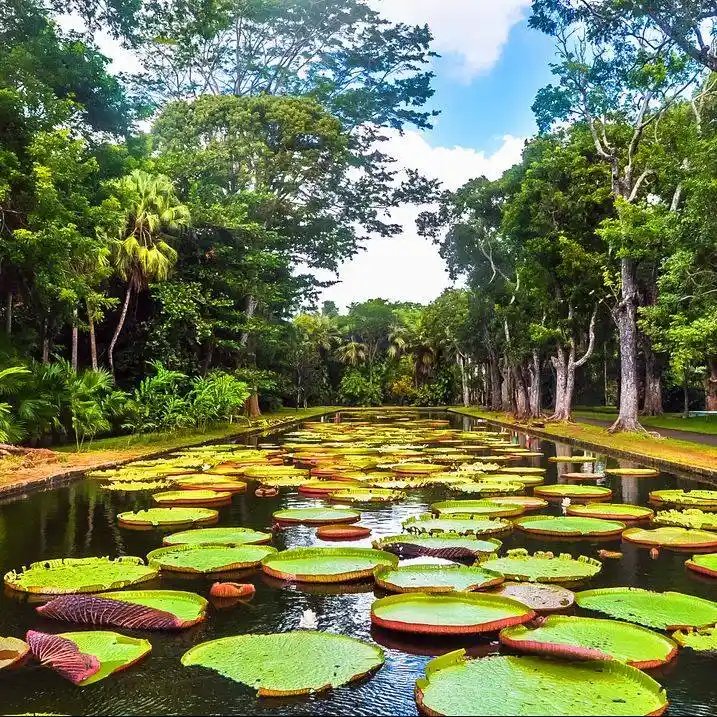 Lush Oasis of Tranquility: For a change of scenery, step into the lush oasis of Sir Seewoosagur Ramgoolam Botanical Garden. This expansive garden showcases Mauritius' diverse flora in a tranquil setting.
Rare Flora and Fauna: Stroll through well-maintained paths and encounter rare plant species, including the iconic giant water lilies. The botanical garden is a haven for nature enthusiasts, providing an opportunity to witness the island's unique flora and fauna.
Relaxing Walks and Points of Interest: Beyond tan lines, the botanical garden offers an escape into nature. Enjoy relaxing walks, explore points of interest, and immerse yourself in the tranquility that Sir Seewoosagur Ramgoolam Botanical Garden provides.
Conclusion
In conclusion, Mauritius unfolds as a tapestry of experiences for those seeking the best places to have tan lines and fun times under the sun. From the lively beaches of Trou Aux Biches to the serene shores of Pointe d'Esny, the luxurious offerings of Constance Belle Mare Plage to the natural wonders of Chamarel, each destination adds a unique flavor to your Mauritian adventure. So, pack your bags, book your tour package, and get ready to create sun-kissed memories in this tropical paradise.
FAQs and Travel Tips
Frequently Asked Questions
Q1: Is Mauritius a safe travel destination?
Mauritius is generally considered safe for travelers. It has a low crime rate, and locals are known for their friendliness. However, like any destination, it's advisable to take common-sense precautions and be aware of your surroundings.
Q2: What is the best time to visit Mauritius?
The best time to visit Mauritius is during the dry season, from May to December, when the weather is pleasant and ideal for outdoor activities. However, if you're a fan of water sports, the months of November to April offer warmer waters.
Q3: Are there visa requirements for visiting Mauritius?
Visa requirements depend on your nationality. Many countries, including the USA, benefit from visa-free access for short stays. It's essential to check the specific requirements based on your citizenship before planning your trip.
Q4: What currency is used in Mauritius?
The official currency of Mauritius is the Mauritian Rupee (MUR). It's advisable to exchange some currency upon arrival, and credit cards are widely accepted in tourist areas.
Q5: How is the transportation system in Mauritius?
Mauritius has a well-developed transportation system. Taxis, buses, and rental cars are available for getting around. Many tourists also opt for organized tours to explore the various attractions.
Travel Tips
Currency Exchange:

Exchange some currency upon arrival for small expenses.
Use credit cards for larger transactions, but inform your bank of your travel dates to avoid any issues.

Local Etiquette:

Mauritians are known for their hospitality; it's customary to greet people with a friendly "Bonjour" (Good morning).
Respect local customs, especially when visiting religious sites.

Weather Preparedness:

Pack sunscreen, a hat, and sunglasses to protect yourself from the strong tropical sun.
Insect repellent can be handy, especially if you plan on exploring nature reserves.

Language:

English is widely spoken, but learning a few basic French or Creole phrases can enhance your experience and interactions with locals.

Transportation Planning:

Consider renting a car for more flexibility in exploring the island.
Pre-book transportation for airport transfers to avoid last-minute hassles.

Health Precautions:

Mauritius is a malaria-free destination, but it's advisable to consult a healthcare professional for travel health advice before your trip.
Learning Tips
Mauritius offers not only a visual feast but also a cultural and educational experience. Here are some learning tips to enrich your visit:
Cultural Exploration:

Immerse yourself in the local culture by attending traditional dance performances and festivals.
Visit local markets to experience the vibrant colors and flavors of Mauritius.

Historical Insights:

Explore historical sites such as Aapravasi Ghat, a UNESCO World Heritage site, to learn about the island's history.
Visit museums like the Blue Penny Museum to delve into the cultural and historical heritage of Mauritius.

Nature and Wildlife:

Discover the unique flora and fauna of Mauritius by exploring botanical gardens and nature reserves.
Take guided tours to learn about conservation efforts and the island's biodiversity.

Culinary Adventures:

Dive into the local cuisine to understand the fusion of flavors influenced by Indian, Chinese, African, and European cultures.
Attend cooking classes to learn how to prepare authentic Mauritian dishes.

Language Immersion:

Engage with locals to practice the official languages, English and French.
Learn some Creole phrases to communicate with a broader audience.