The best time for scuba diving in Playa del Carmen is during the dry season, which spans from November to April. During this period, the visibility underwater is at its prime, allowing you to witness the vibrant marine life and intricate coral formations in all their glory. The water temperature is also more comfortable during these months, making your diving experience even more enjoyable.
One of the most famous sites for scuba diving in Playa del Carmen is the Mesoamerican Barrier Reef System, the second-largest coral reef system in the world. This natural wonder is home to a staggering variety of marine species, including parrotfish, angelfish, moray eels, and the occasional encounter with nurse sharks. For those seeking underwater photography opportunities, this reef is a treasure trove of colorful and fascinating subjects.
If you're new to scuba diving, Playa del Carmen offers a plethora of dive schools and instructors who can introduce you to this exhilarating activity. You can start with introductory dives and gradually work your way up to more challenging and adventurous dives as you gain experience and confidence. Remember to always follow the guidelines and safety instructions provided by your dive instructor, and you'll be on your way to discovering the wonders of the deep blue sea.
Swim with Whale Sharks: A Gentle Giant's Encounter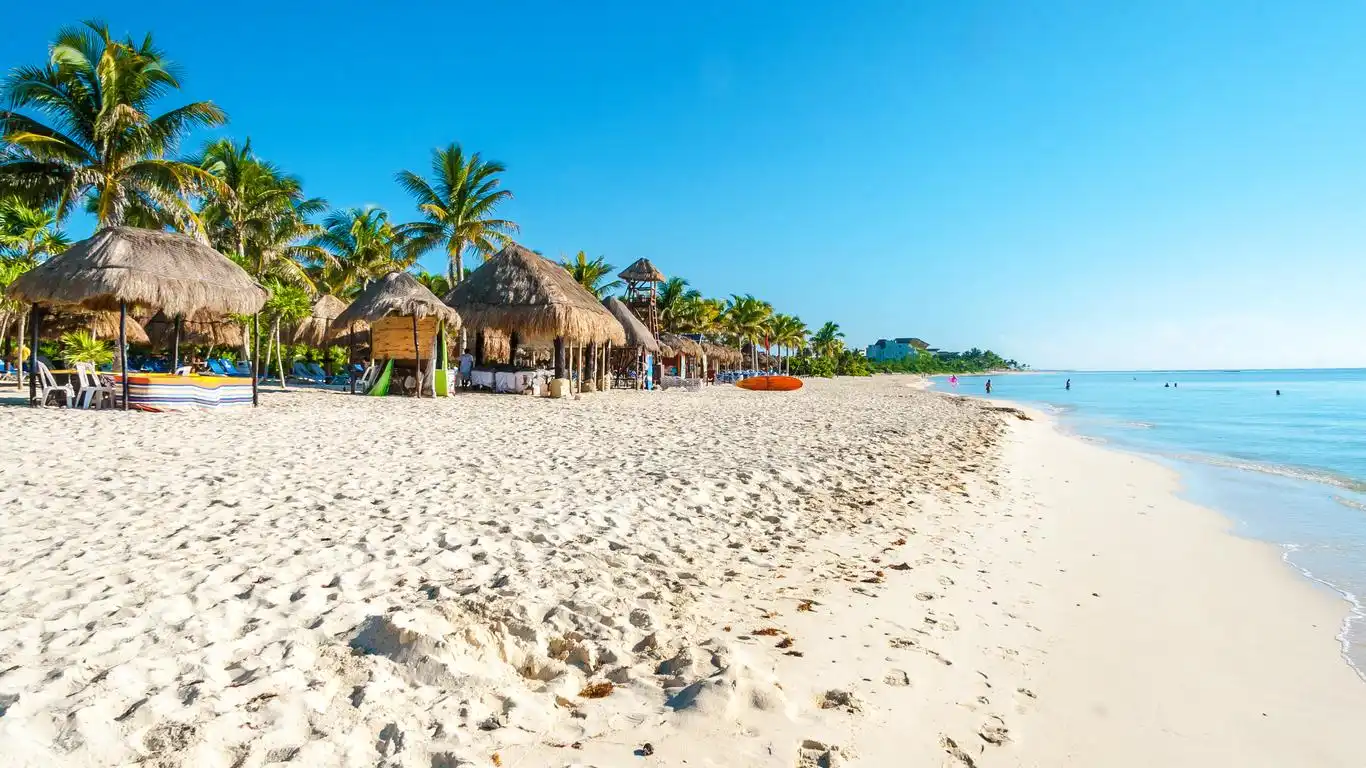 From May to September, Playa del Carmen becomes a playground for the giants of the sea: whale sharks. These peaceful creatures, which can reach lengths of up to 40 feet, gracefully glide through the crystal-clear waters surrounding the island. The incredible part of this adventure is that humans are not on their menu, making it a safe and awe-inspiring experience to swim alongside these magnificent beings.
Whale shark tours are a popular activity during this season. They typically start early in the morning to maximize your chances of encountering these gentle giants. The tours provide snorkeling gear and experienced guides who know where to find the whale sharks. As you slip into the water, you'll be mesmerized by the sheer size and grace of these creatures. Swimming alongside them is a humbling experience and a fantastic opportunity for underwater photography.
It's important to note that there are regulations in place to protect the whale sharks and their natural habitat. These regulations include maintaining a safe distance, not touching the animals, and not using sunscreen or other chemicals that may harm them. Responsible eco-tourism ensures that future generations can also enjoy this remarkable adventure.
Visit Xcaret Park: A Jungle Oasis of Aquatic Wonders
Xcaret Park is a mesmerizing world of aquatic wonders nestled in the heart of the jungle. This amusement park offers a unique experience for nature lovers and adventure seekers alike. The park features an underground river teeming with rare and colorful fish and corals, which you can explore by floating down its crystal-clear waters. It's a journey through a hidden world that feels like something out of a fantasy novel.
One of the highlights of Xcaret Park is the grand aquarium, where you can learn about eco-archeology and marine life. This is a fantastic opportunity to gain insights into the rich history and diverse marine ecosystems of the region. The aquarium features a stunning array of fish and corals, and you can observe these aquatic creatures up close. It's an educational and awe-inspiring experience for visitors of all ages.
For those who love adventure, Xcaret Park offers other activities like zip-lining and snorkeling in underground rivers. These activities allow you to connect with nature in unique ways, making your visit to the park a truly memorable experience. Don't forget to explore the lush jungle surroundings, where you may spot local wildlife and discover the beauty of the Mexican wilderness.
Take a Catamaran Tour: Sailing the Stunning Coastline
Exploring the stunning coastline of Playa del Carmen is an adventure in itself, and there's no better way to do it than by taking a catamaran tour. As you sail along the clear waters, keep an eye out for playful dolphins, majestic manta rays, and graceful sea turtles. Some catamaran tours even include snorkeling stops, allowing you to get up close and personal with the marine life that calls these waters home.
Catamaran tours are a relaxing and enjoyable way to soak in the coastal beauty of Playa del Carmen. You can choose from various tour options, including those with onboard entertainment, such as music and dancing. Sipping a refreshing drink and feeling the sea breeze on your face while gazing at the breathtaking scenery is a quintessential Caribbean experience.
During your catamaran tour, you'll have the opportunity to snorkel in the clear waters. This is a chance to explore the underwater world and witness the vibrant coral reefs and the colorful marine life that thrives beneath the surface. Make sure to pack your snorkeling gear or check if it's provided as part of the tour.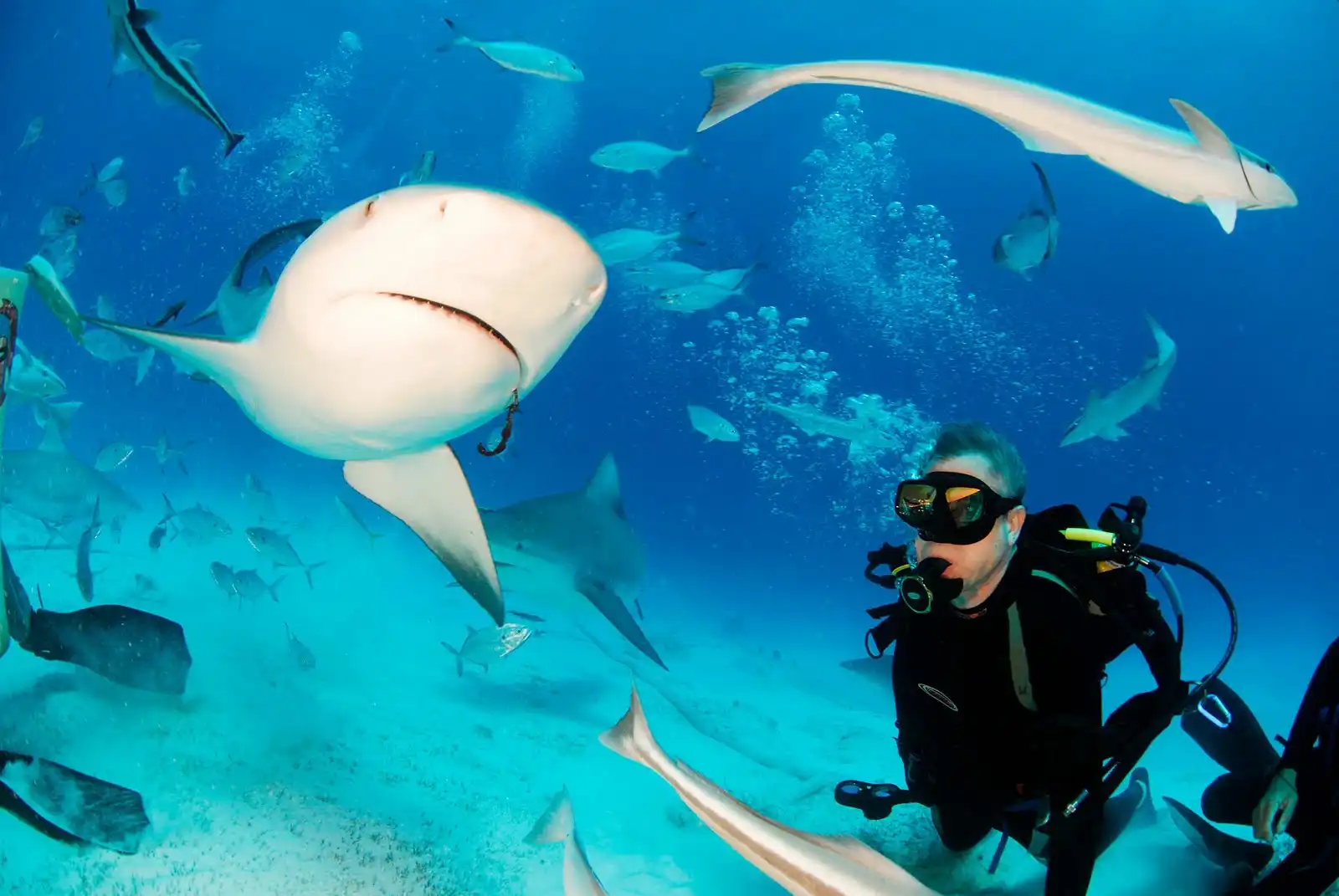 A short ferry ride from Playa del Carmen takes you to Cozumel Island, a tropical paradise waiting to be explored. The crystal-clear waters surrounding the island provide a window into an underwater world like no other. Don't miss the opportunity to embark on a snorkeling tour and delve deeper to analyze the vibrant reefs.
Cozumel is a haven for snorkelers and divers. The island is surrounded by numerous dive sites, each offering its unique charm. The Palancar Reef, for example, is famous for its striking coral formations and abundant marine life. It's an ideal spot for both beginners and experienced divers.
The island itself boasts a relaxed atmosphere, with charming streets, shops, and restaurants. You can explore the local culture and savor delicious Mexican cuisine during your visit. Cozumel also offers opportunities for various water sports, such as paddleboarding and kayaking. Whether you're a beach bum or an adventure enthusiast, Cozumel has something to offer.
Swim with Dolphins: A Magical Connection
Playa del Carmen is renowned for its rich marine life, and the most charismatic residents are the dolphins. These highly intelligent creatures offer a magical encounter that you'll cherish forever. While swimming with them, you'll be amazed as they mimic your movements, creating an unforgettable connection.
There are several eco-parks in Playa del Carmen that provide the opportunity to swim with dolphins in a safe and controlled environment. These encounters are not only thrilling but also educational, as you learn about these incredible marine mammals and their behaviors. Swimming with dolphins is an interactive experience that appeals to visitors of all ages, making it an ideal family adventure.
The dolphins in Playa del Carmen are well-cared for, and their well-being is a top priority. Trained professionals guide you through the experience, ensuring the safety of both the dolphins and the participants. These encounters create lasting memories and are a wonderful way to appreciate the intelligence and playfulness of these magnificent creatures.
Akumal Bay Tour: A Tranquil Escape
Akumal Bay, nestled between Playa del Carmen and Tulum, offers a tranquil escape from the bustling tourist spots. As you sit beneath the shade of swaying palm trees, gazing at the crystal-clear waters stretching out to the horizon, you'll experience a serene and unspoiled side of the Mexican coast.
Akumal is famous for its calm and shallow waters, which are perfect for snorkeling. The bay is home to sea turtles, and you can often spot these gentle creatures as you snorkel in the bay. It's a unique opportunity to swim alongside these ancient mariners and witness them in their natural habitat.
The bay also features a coral reef, which adds to the beauty and biodiversity of the area. Snorkeling equipment is readily available for rent, and you can explore the vibrant underwater world at your own pace. Akumal is a hidden gem, less crowded than some of the more popular tourist spots, making it an ideal destination for those seeking a peaceful and nature-oriented adventure.
Scuba Diving with Bull Sharks: Thrill-Seeker's Paradise
For the ultimate thrill-seekers, scuba diving with bull sharks in Playa del Carmen is an exhilarating adventure. This unique experience allows you to get up close and personal with these powerful predators, providing an adrenaline rush like no other. However, it's important to note that this activity is not for the faint of heart and is best suited for experienced divers.
Playa del Carmen offers a rare opportunity to witness bull sharks in their natural habitat. These apex predators are known for their strength and agility, and encountering them underwater is an awe-inspiring experience. Diving with bull sharks takes you into the depths of the ocean, where you can observe these magnificent creatures up close.
If you're an experienced diver, consider joining a reputable dive center that offers bull shark diving experiences. It's crucial to follow all safety protocols and guidelines provided by the adventure center to ensure a safe and unforgettable experience. These dives are usually conducted by certified dive masters, and they'll ensure that you have the necessary skills and knowledge to enjoy this adventure to the fullest.
Conclusion
Playa del Carmen is a treasure trove of adventure, with experiences that cater to all tastes and preferences. Whether you're seeking a serene connection with marine life, an adrenaline rush, or a cultural journey, Playa del Carmen has it all. The blend of natural beauty, vibrant marine ecosystems, and thrilling activities makes it a must-visit destination for any traveler.
From scuba diving in the world-renowned coral reefs to swimming alongside gentle giants like whale sharks, every adventure in Playa del Carmen leaves a lasting impression. Exploring the underwater world, discovering hidden jungle oases, and experiencing the magic of swimming with dolphins are just a few of the remarkable experiences you can enjoy in this Mexican paradise. So, fasten your seatbelt and get ready for an unforgettable journey of adventure in Playa del Carmen.
Remember to plan your adventures well, choose reputable tour operators, and follow eco-friendly and responsible tourism practices to ensure the beauty of Playa del Carmen's natural wonders remains intact for generations to come.
Enjoy your Playa del Carmen adventure and create memories that will last a lifetime!
FAQs
When is the best time to go scuba diving in Playa del Carmen? The best time for scuba diving in Playa del Carmen is during the dry season, from November to April, when visibility is at its best.
Are there age restrictions for swimming with whale sharks? Yes, there are age restrictions, and it's typically not recommended for children under 10. Always check with tour providers for specific guidelines.
What is the cost of visiting Xcaret Park? The cost of visiting Xcaret Park varies depending on the package you choose. Prices typically range from $100 to $200 per person.
Can I go scuba diving with bull sharks as a beginner? Scuba diving with bull sharks is not recommended for beginners. You should have significant diving experience before attempting this adventure.
Is Akumal Bay a crowded tourist destination? Akumal Bay is relatively less crowded than some of the more popular tourist spots in the region, making it a peaceful escape for travelers.
Safety First: When embarking on any adventure, prioritize safety. Ensure you're equipped with the necessary safety gear and follow the instructions provided by your guides. For scuba diving, always dive with a certified instructor or dive master.
Responsible Tourism: Be mindful of the environment and local communities. Follow eco-friendly practices, such as not touching or disturbing marine life, and disposing of waste properly. Support local businesses and respect the culture and traditions of the region.
Health Precautions: Stay hydrated and use sunscreen to protect yourself from the sun. In addition, stay informed about any health advisories or vaccination requirements before your trip.
Reservations: For popular activities, such as swimming with whale sharks and dolphins, it's advisable to make reservations in advance to secure your spot. These experiences can fill up quickly, especially during peak tourist seasons.
Budget Planning: Before your trip, plan your budget accordingly. Activities in Playa del Carmen can vary in cost, so it's essential to have a clear understanding of your expenses and set a budget that suits your preferences.
Local Cuisine: Don't miss the opportunity to savor the local cuisine. Try traditional Mexican dishes, street food, and seafood specialties. Exploring the culinary scene is an adventure in itself.
Language: While English is widely spoken in the tourist areas of Playa del Carmen, knowing some basic Spanish phrases can enhance your experience and interactions with the locals.
Pack Essentials: Depending on the activities you plan to participate in, pack essentials like swimwear, comfortable clothing, a hat, sunglasses, and a reusable water bottle to stay hydrated.
Travel Insurance: Consider purchasing travel insurance that covers unexpected cancellations or emergencies during your trip. It's always better to be prepared for unforeseen situations.