Located in Oceania, Fiji is an island getaway renowned for its crystal waters, lush rainforests, and impressive beaches. The little nation east of Australia and north of New Zealand boasts a fantastic view of the Pacific Ocean and a comfy sub-tropical climate. This makes it a beloved destination for vacationers and honeymooning couples.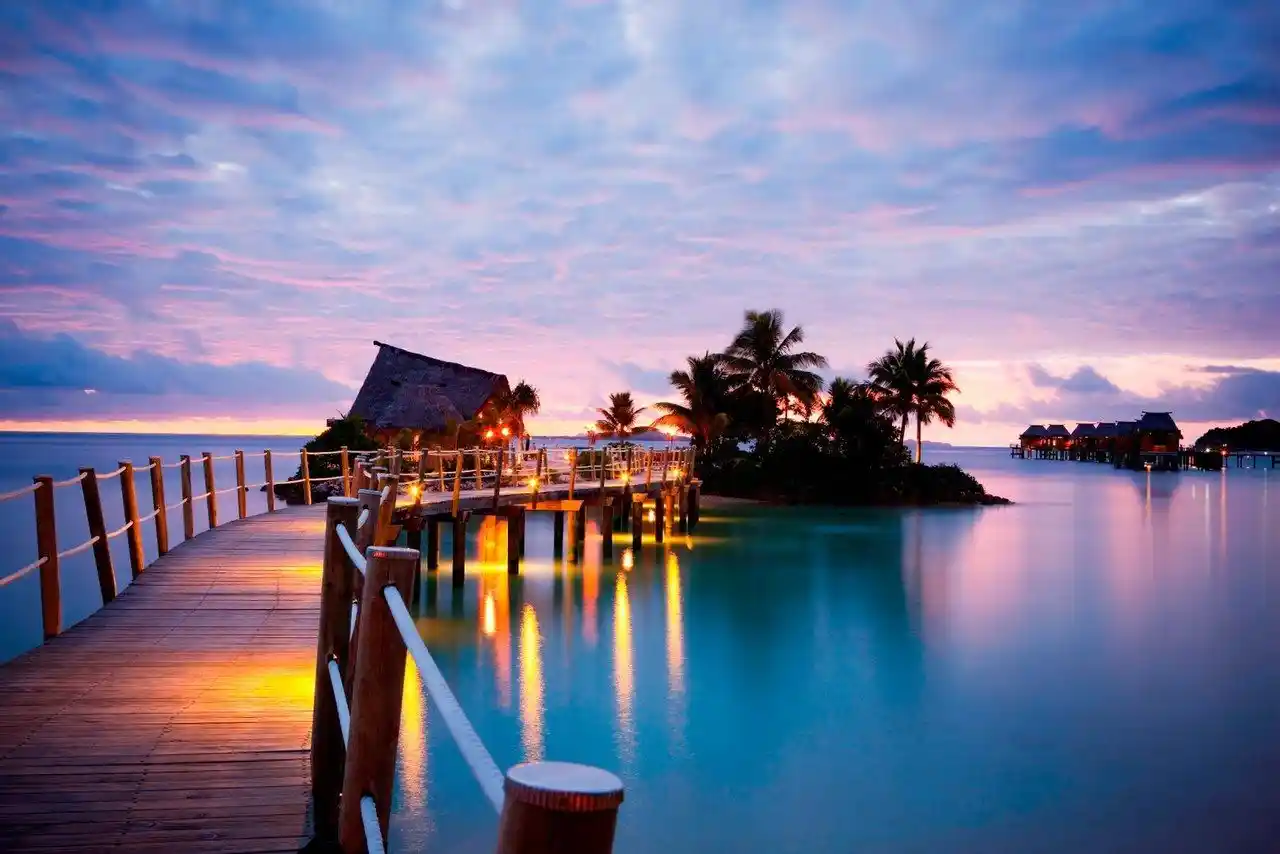 If you and your partner are looking for a place to visit on your next couple's holiday, Fiji may be the one. You can do various fun and relaxing things together to make a memorable trip. To help you plan, here's your guide to a romantic Fijian vacation you'll never forget.
1. Book In One Of Their Many Resorts
As an island tourist destination, Fiji provides an array of resorts and hotels, so feel free to make reservations before you start your romantic Fiji getaway. Some have guest quarters on the shore, while others add a sense of thrill or serenity (your choice) by having overwater lodging. There's a place for everyone and their preferences. So, if you'd rather have quiet, peaceful accommodation, consider staying in an adults-only resort. Such options offer various amenities designed for a couple's enjoyment while away from the eyes and noise of children.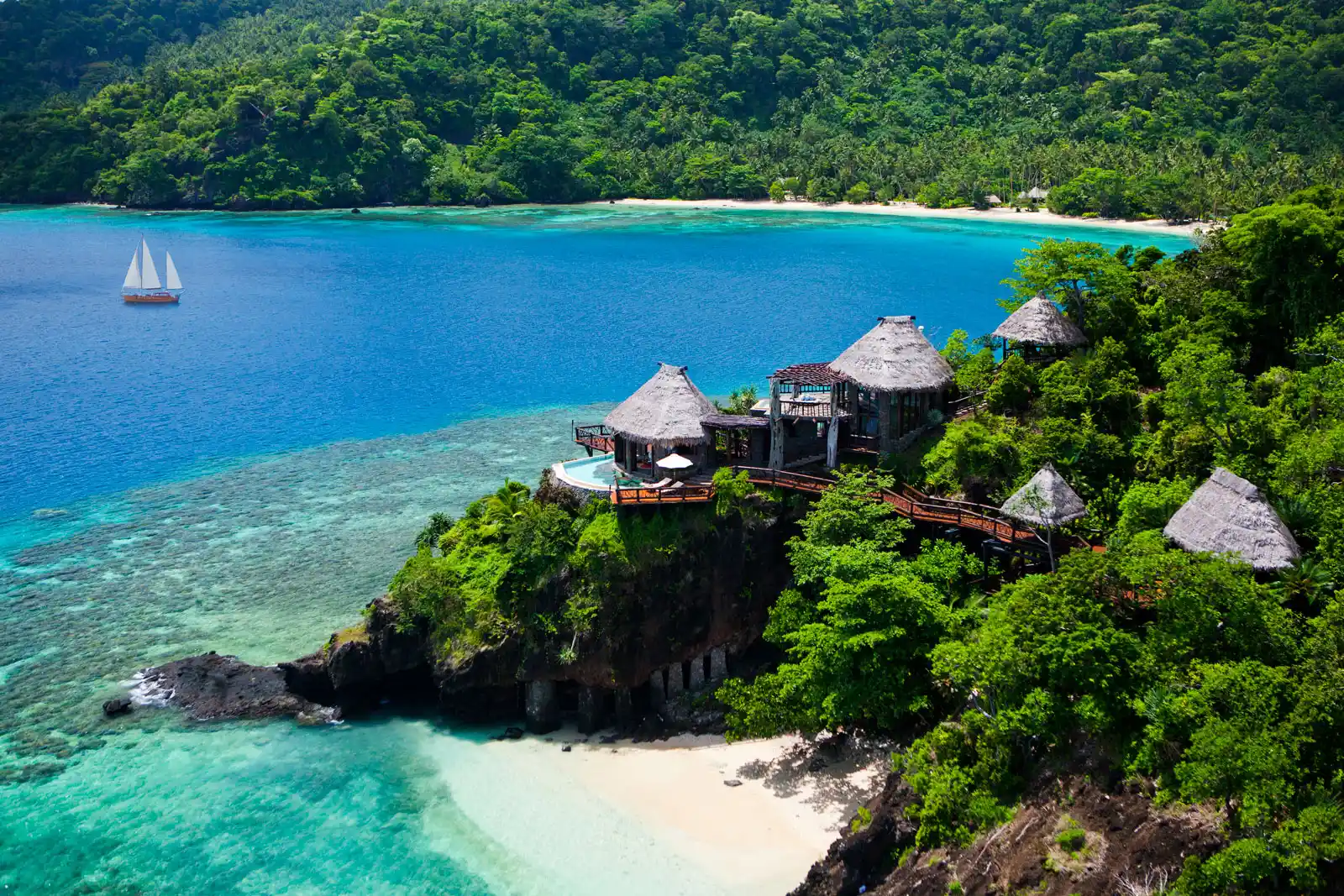 Fiji's resorts come in all shapes and sizes, catering to different preferences and budgets. Whether you're looking for an intimate boutique resort or a larger, more lively establishment, you'll find a perfect fit. Many of these resorts offer all-inclusive packages that make planning your romantic getaway a breeze.
2. Hop On A Cruise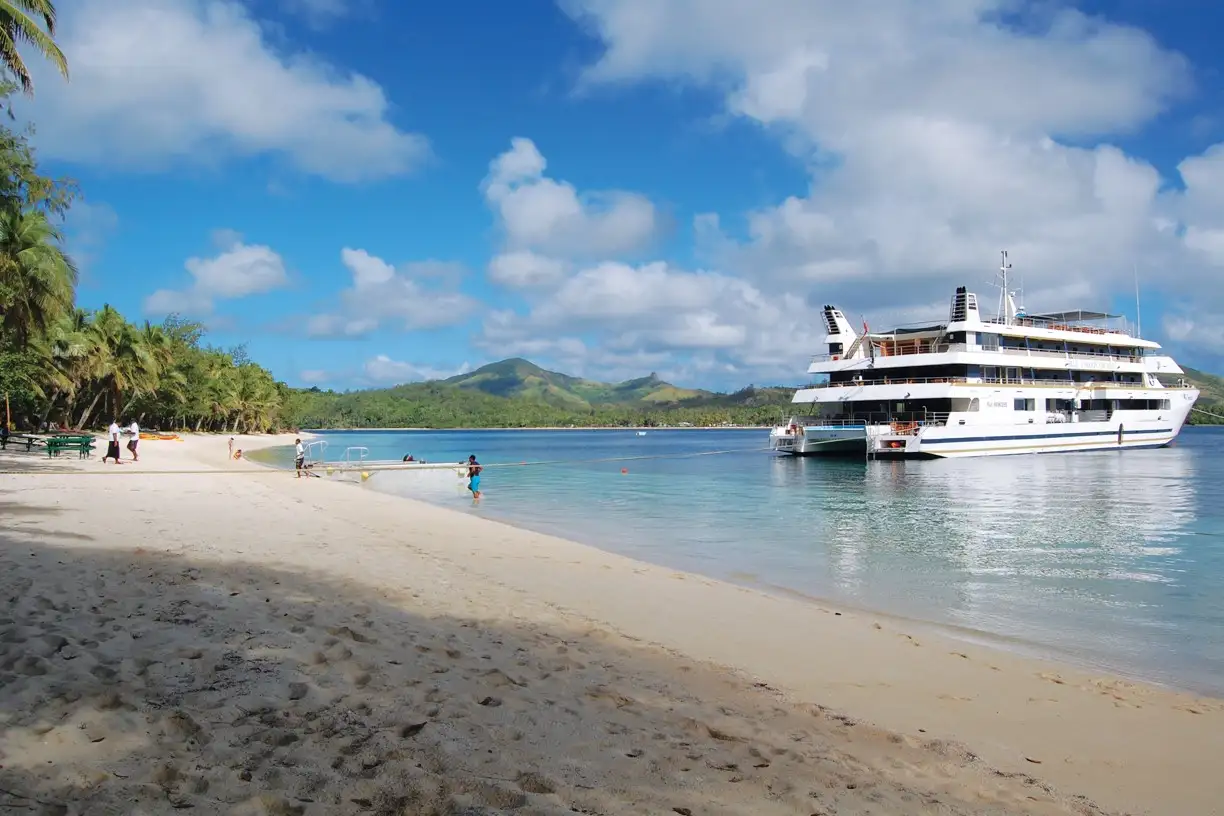 One of the most romantic experiences in the archipelago is hopping on a sunset cruise. Fiji, though small, offers a wide range of exciting cruise tours to explore every corner of the sea. Imagine holding hands with your partner as the breeze caresses your skin and the ocean's salty scent fills the air. Witness the setting sun casting vibrant red and orange hues upon the serene turquoise waters, providing the perfect setting to share intimate moments.
These cruises are not just about the destination; they're about the journey. Many cruises offer amenities like live music, cocktails, and a delicious dinner paired with the signature Fijian cocktail, the Mai Tai. They're a terrific opportunity to see the country's incredible coastlines, and it's a memory that'll surely last forever.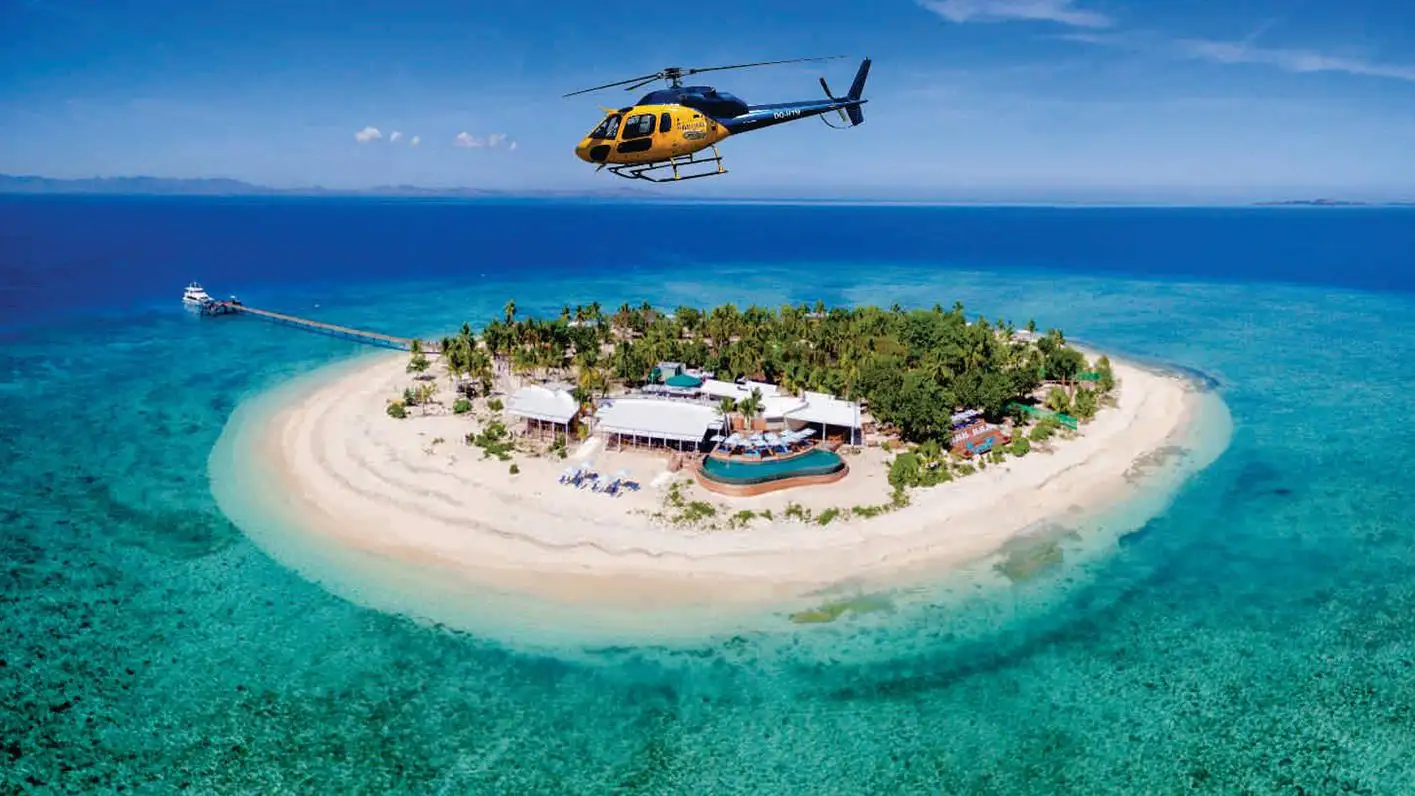 If heights don't scare you, try taking a helicopter tour. This thrilling experience offers aerial views of Fiji's archipelago, leaving you and your better half in awe. The panoramic views are amazing, from lush green mountains and crystal-clear lagoons to stunning white-sand beaches and sprawling coral reefs.
Helicopter tours often include a landing on a secluded island where you can enjoy a private picnic. This luxurious adventure adds an exhilarating twist to your romantic getaway and offers unforgettable memories. It's a chance to see Fiji from a perspective that few get to experience.
4. Dive Into The Turquoise Sea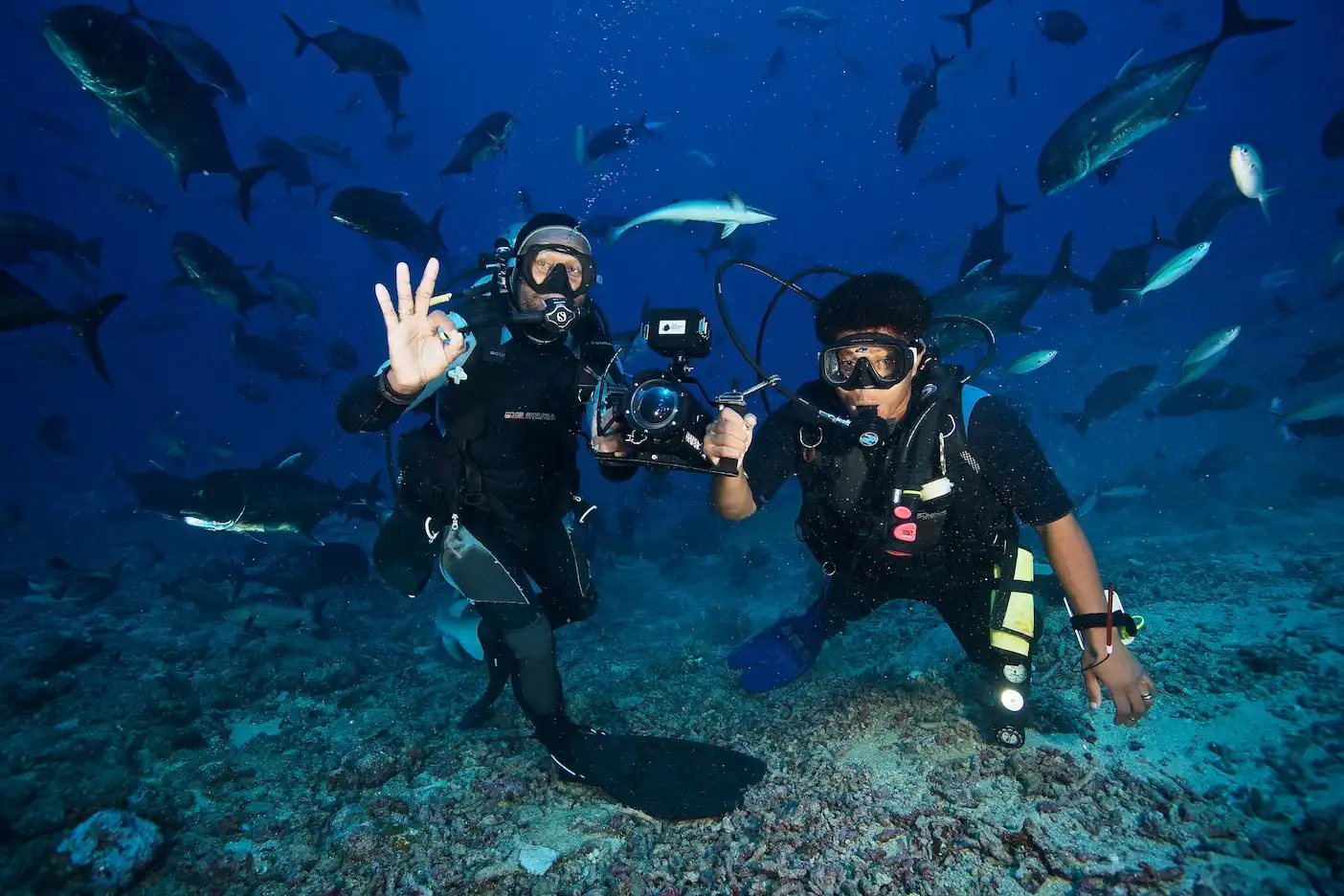 The crystal clear, turquoise waters of Fiji reveal an underwater spectacle, inviting you and your partner to delve into its vibrant marine life. The archipelago, known as the 'Soft Coral Capital of the World,' is a perfect place for divers and snorkelers.
Diving in Fiji is like entering another world. You'll swim alongside colorful tropical fish, discover exotic coral reefs, and maybe even cross paths with a gentle manta ray or sea turtle. Even if you're both novices, dive schools across Fiji offer courses and guided dives. After a day underwater, sharing stories of your marine encounters will be a lovely intimate activity.
5. Relax In A Bure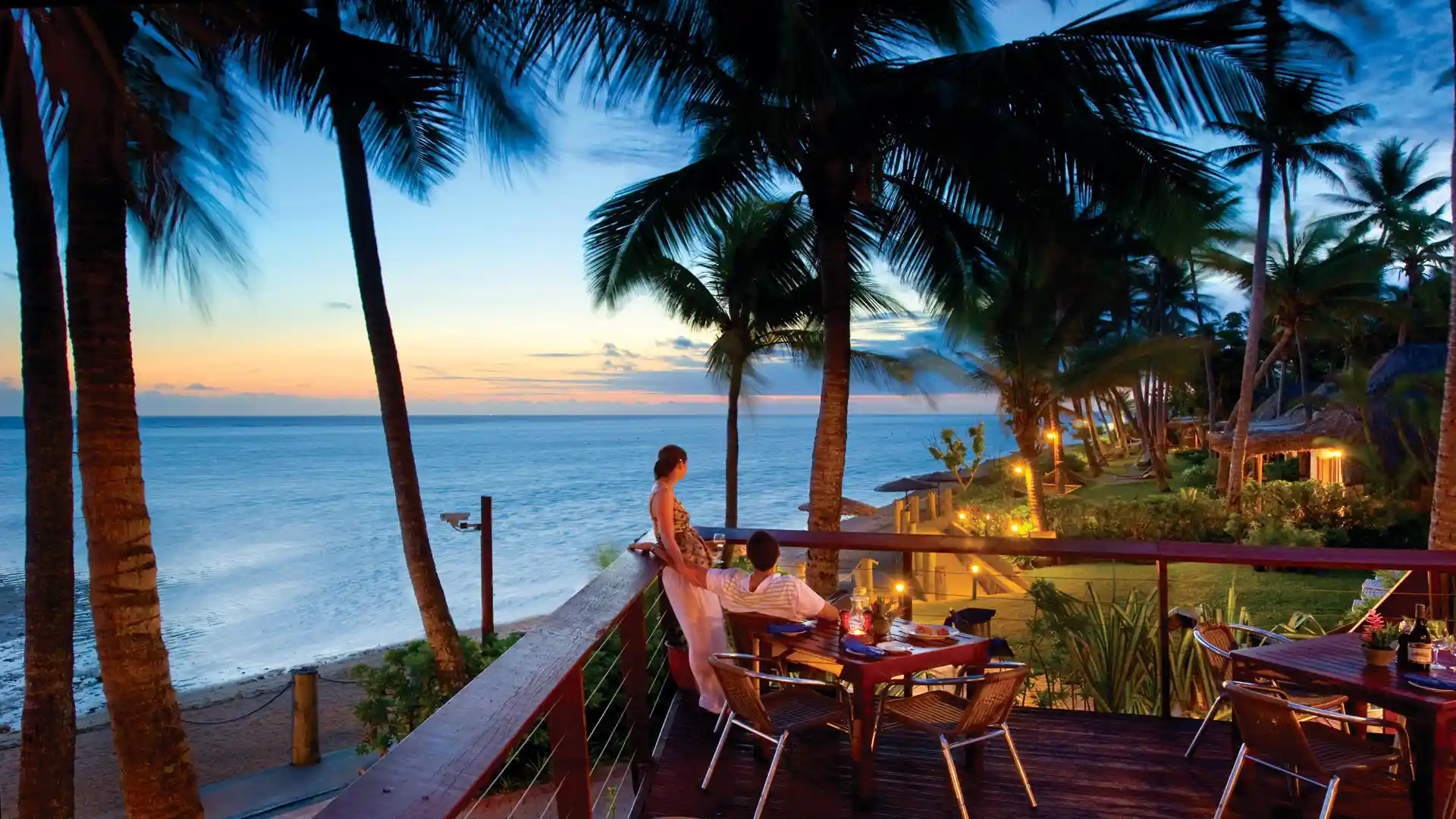 After a morning of exhilarating adventures, you and your partner deserve a break in a bure to cool down. A bure is a traditional Fijian bungalow typically made of wood and straw and is an excellent reminder of the locals' cultural heritage.
Entering a modern beachfront bure, you'll find comfortable hammocks, open-air showers, and private pools for your pleasure. A bure can serve as your little paradisial nook nestled in tropical trees. Lean back side by side and listen to the waves and sea breeze. You might never want to leave your tranquil love nest in your romantic Fiji getaway afterward.
6. Immerse In Cultural Activities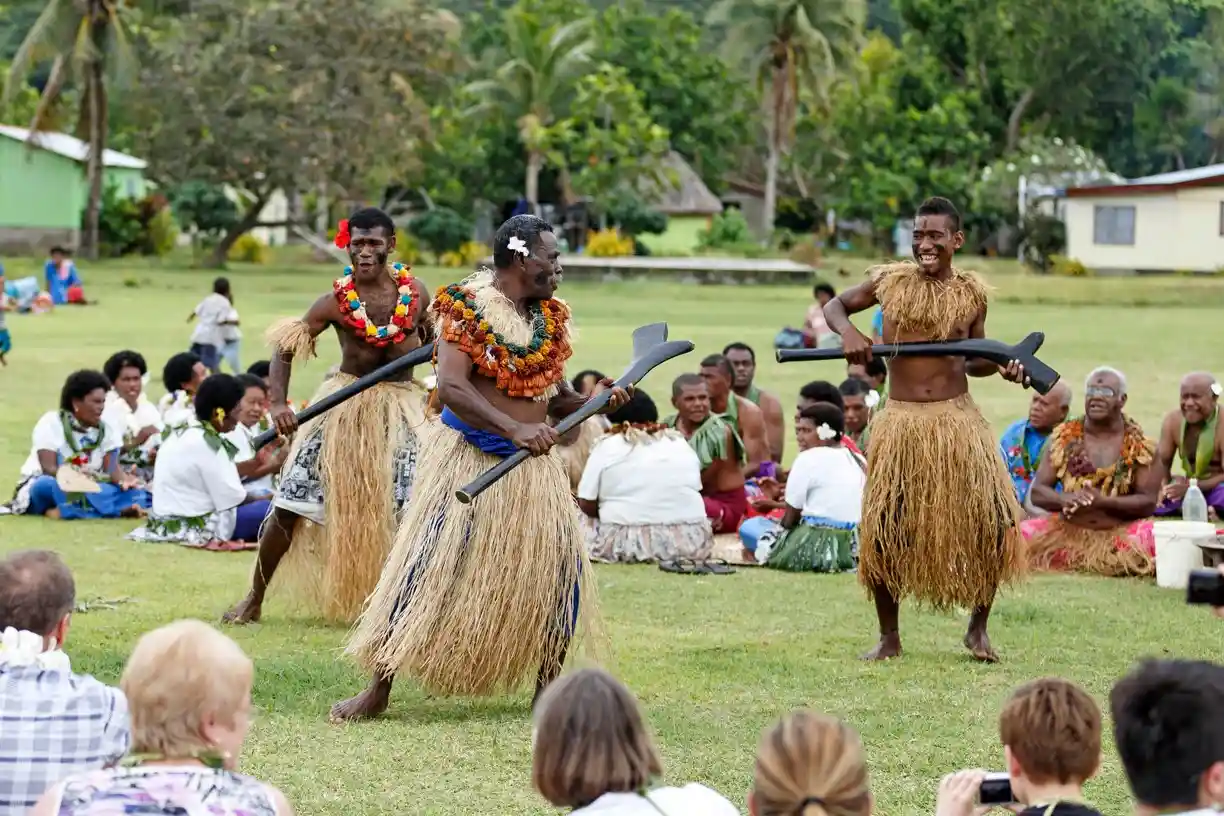 A highlight of Fiji is its locals, who still proudly practice their traditions. Hence, you're bound to experience one of them while touring the island. Among the enriching cultural excursions, you and your partner can visit traditional villages, learn about Fiji's history and mythology, or even participate in interactive workshops.
Accept the invitation to watch a meke dance performance or take a cooking class to learn how to prepare local cuisine. You may even be lucky to participate in a traditional feast called a lovo and eat what you've prepared. Immerse yourself in Fijian culture and learn about the rich traditions of this beautiful island nation. It's a great way to try new things together to strengthen your bond while you're both there.
7. Paddleboard Till Sunset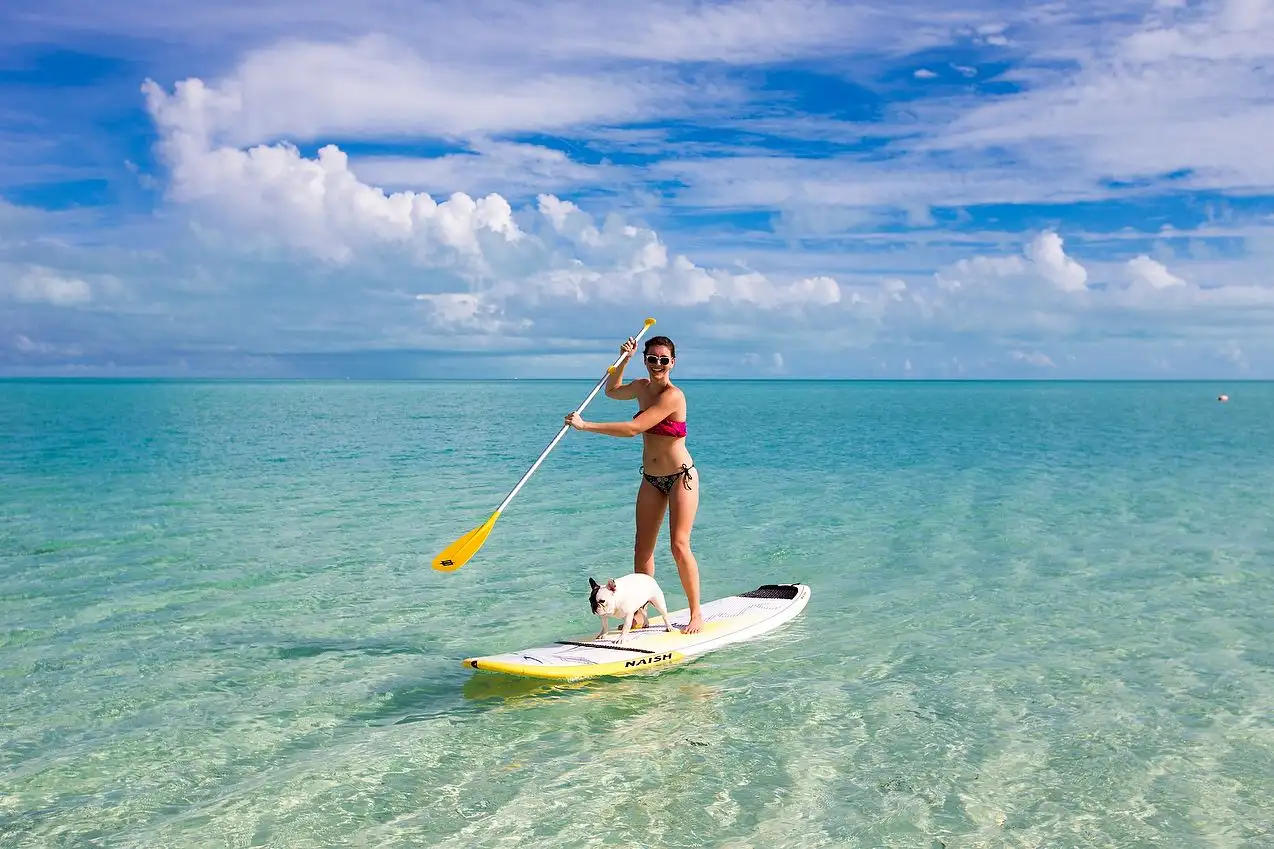 Cap off an adventurous day with a calming paddleboard ride with your partner as the sun sets. Fiji's late afternoon waters are calm on a good day, with only gentle waves rocking little sea crafts.
Paddleboarding is less physically strenuous than surfing or water skiing. So, it's not only a fun experience to balance on a board on the water but a relaxing and romantic activity you can do together as the orange sun slowly dives into the horizon. It's a serene way to connect with nature and with each other.
8. Indulge Yourselves With Spa Treatments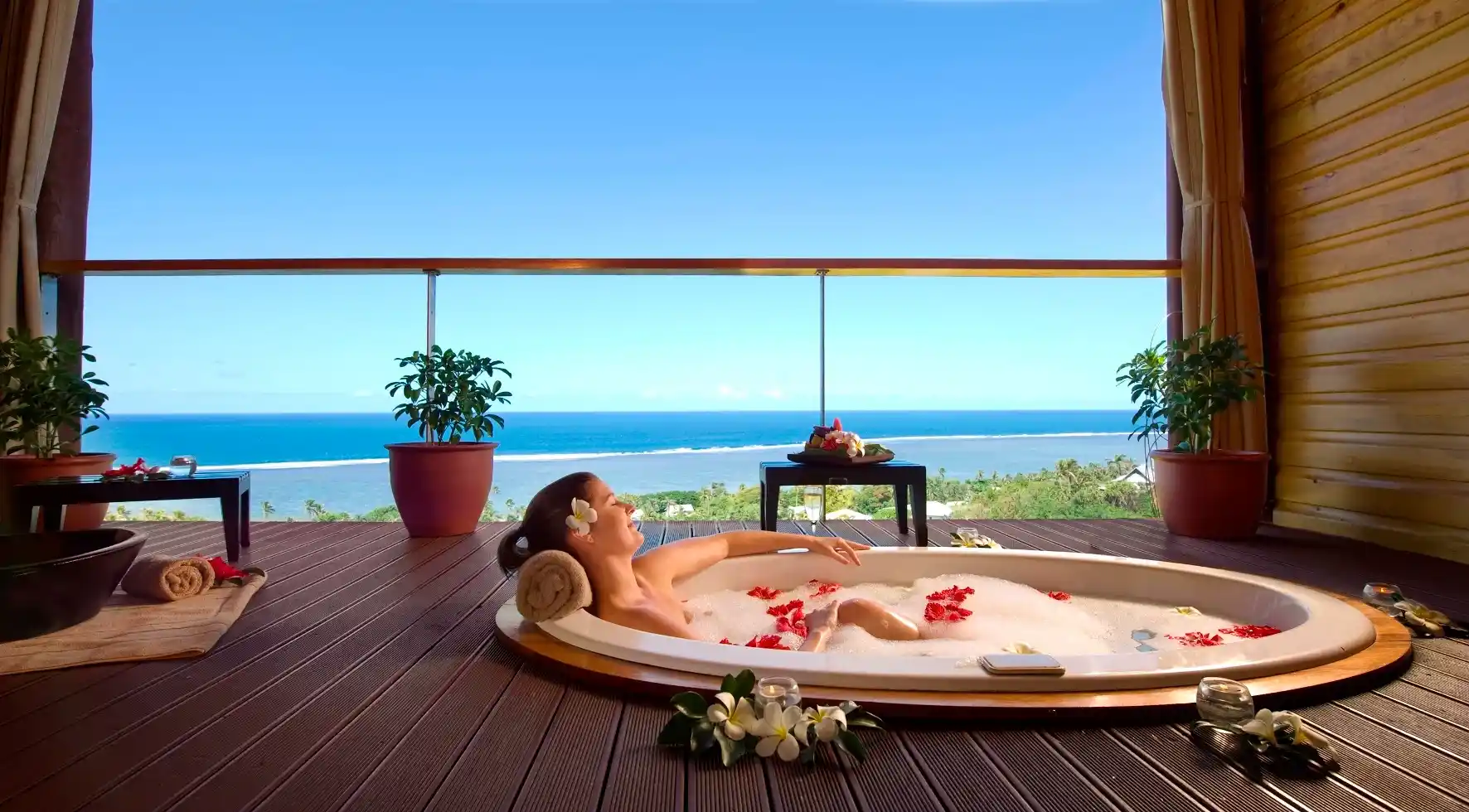 Don't miss the chance to indulge yourselves in the spa areas nearly every island resort features. Fiji hosts several spa treatments ranging from hot springs to mud pools, which couples can enjoy together. Traditional Fijian treatments feature locally sourced ingredients like virgin coconut oil, tropical fruits, and marine elements.
Couples' spa packages, usually offered in private cabanas or outdoor settings overlooking the ocean, create an environment of relaxation and romance. Imagine the soothing sounds of nature while you and your partner receive a Bobo massage, a deep tissue, therapeutic massage passed down through generations in Fiji. After your spa day, you'll feel re-energized and more connected to each other, having shared such a tranquil and intimate experience.
9. Stargaze The Clear Night Sky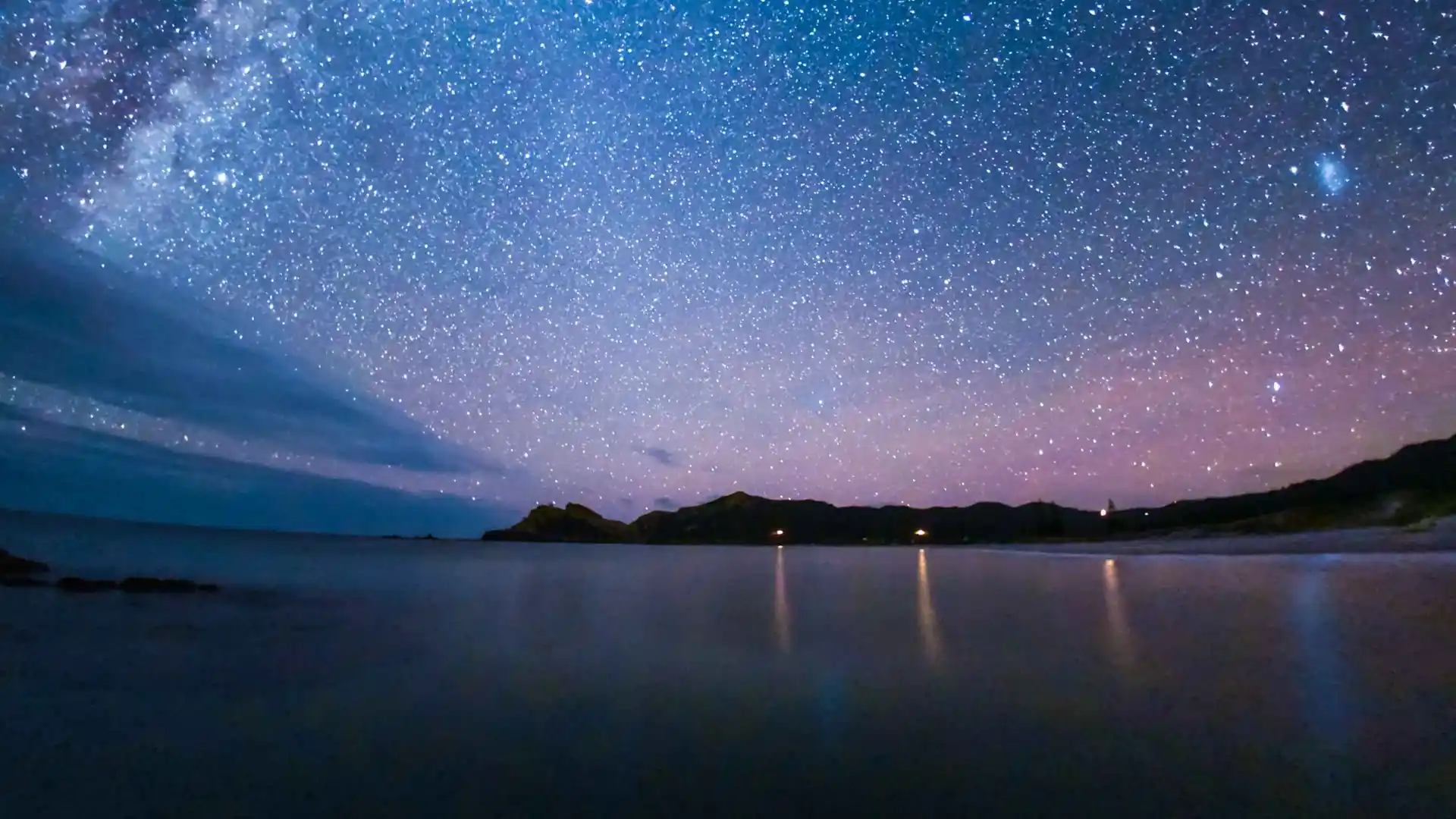 After a relaxing day, what could be better than ending it by unwinding in the tranquility of Fiji's clear and starry night sky? Far away from the city lights, the islands offer an unrivaled opportunity for stargazing. Recline on a beach chair with your partner and watch the stars twinkle in the clear, dark skies.
Spot constellations, shooting stars, and the Milky Way above you. Some resorts even offer telescopes for a closer look at the celestial wonders. Whisper sweet nothings to each other, or share stories under the starlit sky, making the night an unforgettable romantic experience. It's a chance to connect with the universe and with each other.
Fiji is an excellent destination for solo travelers, families, and couples, whether you're on your honeymoon or just looking for a romantic getaway. Each of these experiences in Fiji offers unique opportunities for you and your partner to create more shared memories. Experience the archipelago's spectacular views, clear waters, and hospitable locals. Start planning your romantic Fiji getaway today!
Frequently Asked Questions
Q1: What is the best time to visit Fiji for a romantic getaway?
A1: The best time to visit Fiji for a romantic getaway is during the dry season, which falls between May and October. During this period, you can expect pleasant weather with lower humidity and less rainfall, making it ideal for outdoor activities and beach lounging.
Q2: Are there any adults-only resorts in Fiji?
A2: Yes, Fiji offers a variety of adults-only resorts that provide a serene and romantic atmosphere for couples. These resorts cater specifically to adults and often offer amenities such as private pools, couples' spa treatments, and secluded dining options.
Q3: Is Fiji a budget-friendly destination for couples?
A3: Fiji can accommodate a range of budgets, from luxury resorts to more budget-friendly accommodations. While some resorts may be on the higher end, there are also mid-range and budget options available, making it possible to plan a romantic getaway to Fiji without breaking the bank.
Q4: What water activities can couples enjoy in Fiji?
A4: Couples can enjoy a wide range of water activities in Fiji, including snorkeling, scuba diving, paddleboarding, and sunset cruises. Fiji's crystal-clear waters and vibrant marine life offer plenty of opportunities for aquatic adventures.
Q5: Are there any cultural experiences for couples in Fiji?
A5: Yes, Fiji offers several cultural experiences for couples, such as visiting traditional villages, participating in meke dance performances, and learning about the local history and traditions. These experiences provide a deeper connection to Fiji's rich culture.
Q6: Do I need a visa to visit Fiji?
A6: It depends on your nationality. Many visitors to Fiji can enter the country for tourism purposes without a visa for stays of up to 4 months. However, it's essential to check Fiji's visa requirements and entry conditions based on your citizenship before traveling.
Q7: Can I find vegetarian and vegan dining options in Fiji?
A7: Yes, Fiji offers a variety of dining options, including vegetarian and vegan choices. Many resorts and restaurants in Fiji cater to dietary preferences, ensuring that all guests can enjoy their meals.
Q8: What should I pack for a romantic getaway to Fiji?
A8: When packing for Fiji, consider bringing lightweight and breathable clothing, swimwear, sunscreen, insect repellent, a reusable water bottle, and comfortable walking shoes for exploring. Don't forget to pack any specific items you may need for activities like snorkeling or hiking.
Q9: Are there any health precautions to take before traveling to Fiji?
A9: It's advisable to consult with a healthcare professional or travel clinic before your trip to Fiji. They can provide guidance on vaccinations and health precautions based on your travel plans. It's also essential to have travel insurance that covers medical emergencies.
Q10: How can I book a romantic getaway to Fiji?
A10: You can book your romantic getaway to Fiji through travel agencies, online travel platforms, or by directly contacting the resort or accommodation of your choice. Consider using reputable travel websites and reading reviews to ensure a smooth booking process.