Blue Flag is a prestigious classification of beaches and marinas that pass a qualification of stringent criteria within safety, environment, accessibility, and education. It is a voluntary organization that aims to bring awareness about our marine environment and thus connect governmental institutions with the environment, biodiversity, and ecosystems.
Based on the above criteria, the Blue Flag beaches are considered the most pristine and cleanest in the world. Currently, the organization rates about 4,000 beaches and marinas worldwide within fifty countries.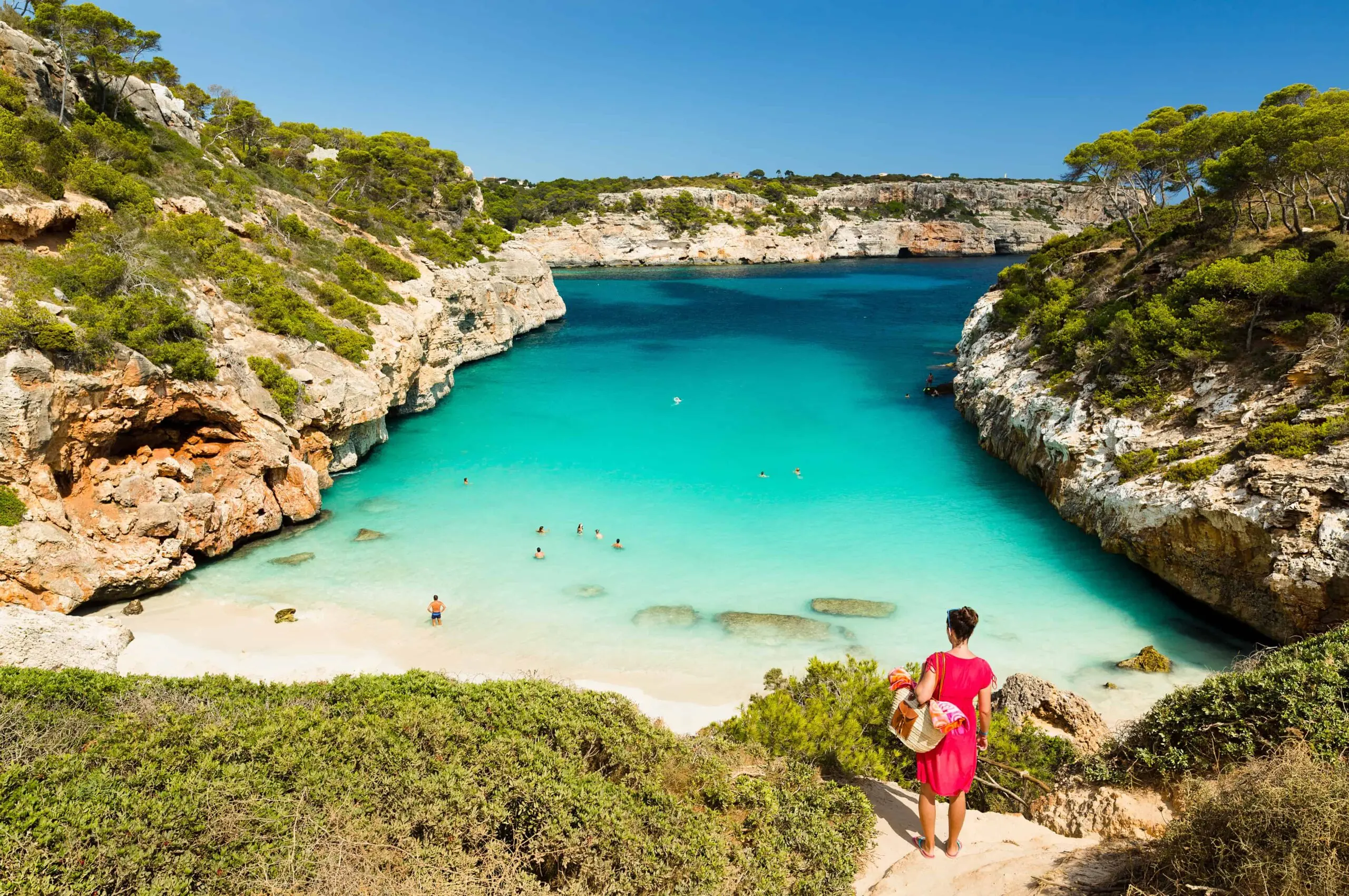 As of 2021, Spain is the country with the most Blue Flag beaches (621), followed by Greece (581), Turkey (531), and Italy (427). This makes the Mediterranean Sea the giant mecca of pristine beaches worldwide.
Based on these numbers, it is no wonder that exactly these travel destinations are the most popular in all of Europe amongst sun-hungering Brits, Scandinavians, and even Americans.
Beach Vacation Near Blue Flag beaches in Mallorca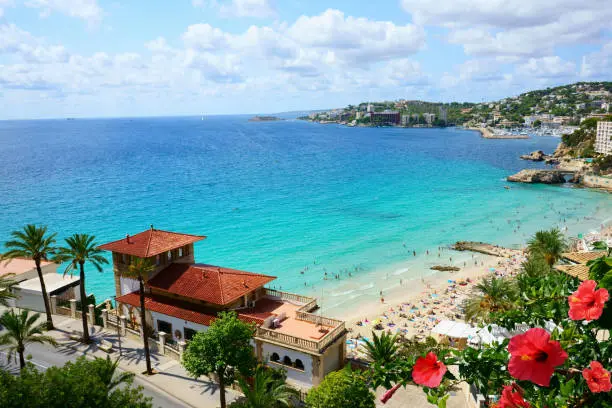 Mallorca, the most oversized island of the four Balearic Islands, has been prized with 21 Blue Flag beaches. Mallorca comprises more than 50 km of beachline out of a total of 840 km shoreline and more than 260 registered beaches, so it is no wonder that more than 13 million tourists visit this island each year for a beach vacation.
In this article, you'll get familiar with 5 of the most popular Blue Flag beach resorts and their resorts in Mallorca.
1. Cala Major
Cala Major is a small urban beach of just 200 meters in length and 80 meters in depth that enjoys a privileged location on the outskirts of Palma, the capital of Mallorca.
The resort of Cala Major is intended for adults, as most hotels in the area welcome an "adults only" audience in return for affluent amenities and a great location directly on the beach. The Nixe Palace and the Marivent hotels are sought in Cala Major.
Staying in Cala Major gives you easy access to the big city, its bars, shopping streets, and major tourist attractions. If you are staying in Palma city, you can easily reach Cala Major beach by bus, which takes about 10 minutes.
2. Cala Millor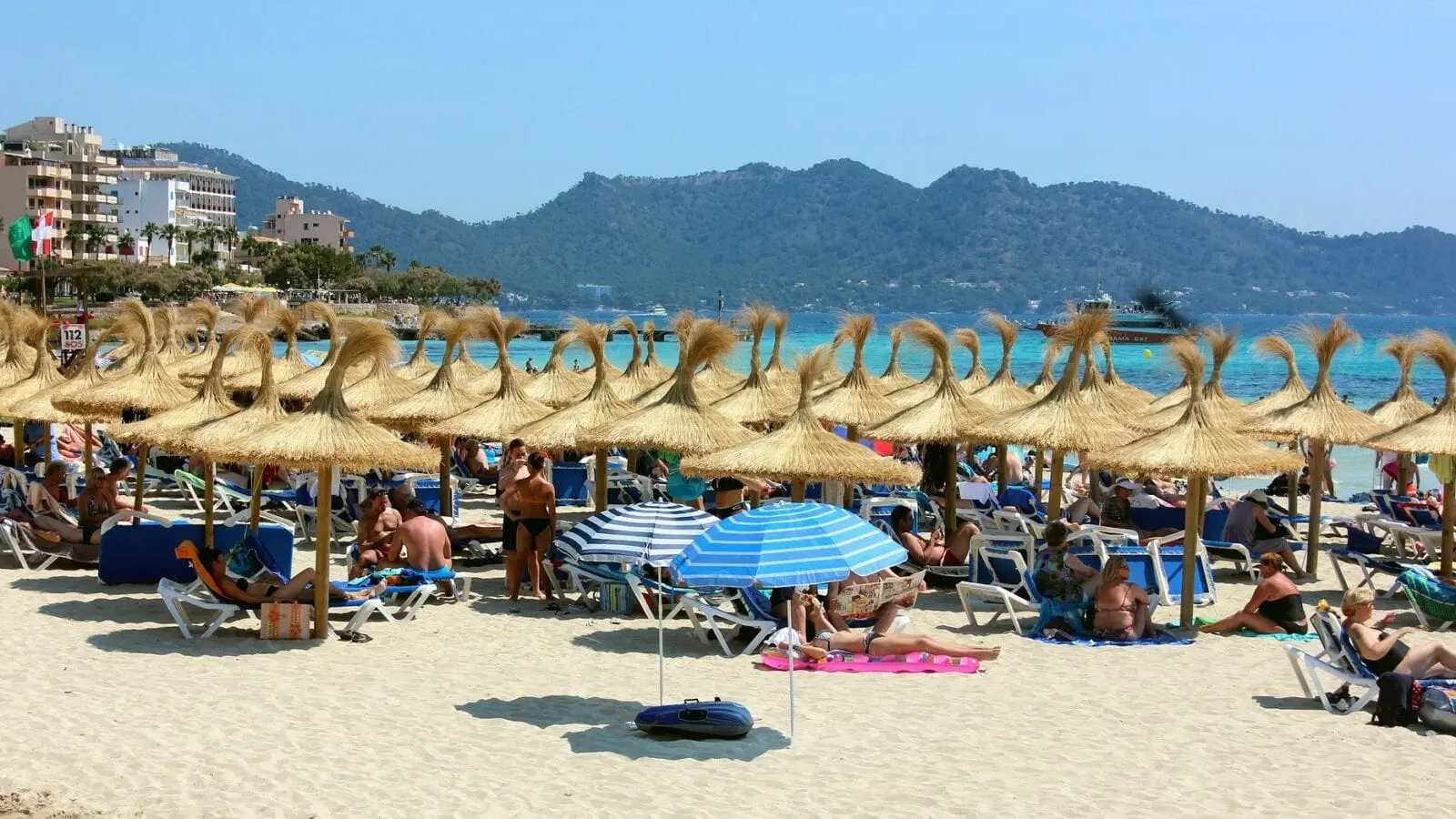 Cala Millor beach certainly lives up to its name as Millor means "most beautiful." It is the largest beach on the east coast of Mallorca, measuring 1,800 meters in length and 80 meters in depth.
The resort of Cala Millor was developed in the 1970s after the big tourism boom on the island in the 60s. The area quickly grew to become a favorite amongst tourists, and just a few years later, the neighboring resorts of Cala Bona, Sa Coma, and Illot were born to cater to tourists.
Cala Millor is one of the Beach Resorts in Mallorca with a bit of everything, a versatile travel destination suitable for couples and families. You will find many stores, bars, and leisure activities to indulge in. Most hotels in Cala Millor are situated just behind the beachfront, allowing stunning views of the sea.
3. Platja de Muro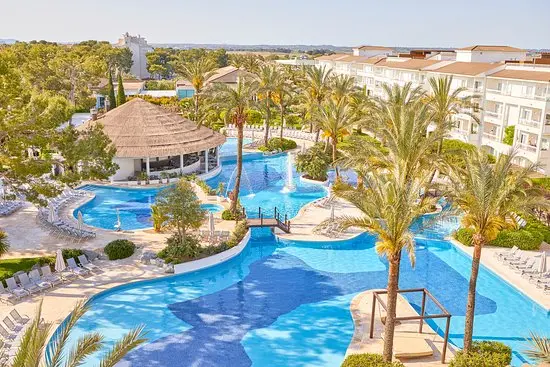 Platja de Muro is by far beach resorts in Mallorca; it is long and deep, and the water is shallow and crystal clear. Platja de Muro beach is smoke-free and offers hammocks, parasols, boat rental service, jetties, a swimming circuit, and a number of marine activities.
Platja de Muro is located in the wide bay of Alcúdia, a stretch of more than 14 kilometers, which also includes the resorts of Port de Alcúdia, Ca'n Picafort, and Son Serra de Marina.
Suppose you want even more things to do in the area. In that case, you can head to Port de Alcudia and the old town of Alcudia, where you'll find the HidroPArk water park, the medieval town walls, a variety of local eateries and shops, and, last but not least, the great Alcudia local market happening every Tuesday and Sunday.
Platja de Muro is a resort that started growing throughout the 80s and still growing each year with new modern hotels and family-friendly facilities. You will find a wide array of shops, bars, restaurants, and tour operators in Platja de Muro, making it one of the most touristic resorts on the island.
4. Platja de Palma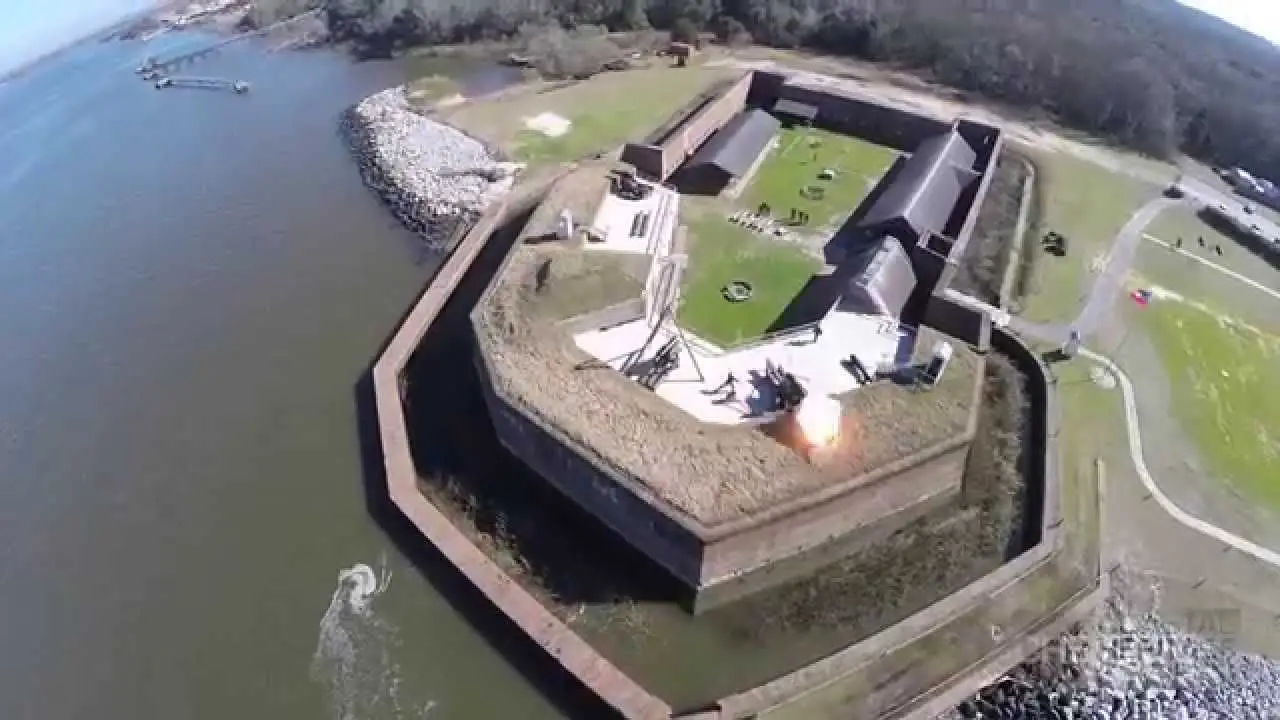 Platja de Palma is a charming beach resorts in Mallorca that belongs to the capital of Palma and is located just 4 kilometers from the historic urban center of the city. The beach has an incredible length of 4,600 meters and a depth of 50 meters, making it one of Spain's most extensive Blue Flag beaches.
The resort Platja de Palma is trendy amongst British and German tourists; hence you will find a range of bars and eateries directly aimed at these audiences.
Along with all the fun watersports you can do in Platja de Palma, you can also visit Palma city for a day of sightseeing and shopping. Palma city is historical and fascinating, and its vibrant street scene makes it one of Europe's most popular capitals to visit. There are so many things to do and see in Palma, for example, the beautiful cathedral of La Seu, the Almudaina Palace, the Bellver castle, and the Arabian Baths.
Many hotels in Platja de Palma offer direct access to the beach, a place you should consider if you want to combine a beach and a big city.
5. Cala Mondrago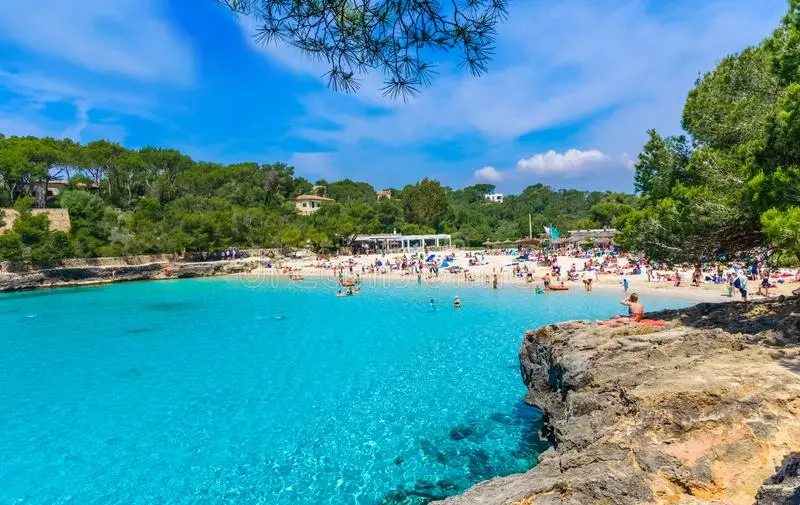 The last of the five best Blue Flag beaches in Mallorca is Cala Mondragó, also known as Sa Font de n'Alis. The beach is an integrated part of the Mondragó natural park in the municipality of Santanyí in the southeastern part of Mallorca. With the location between pine woods, rocks, and untouched nature, the setting is perfect for disconnecting from everything in your daily life altogether; work, emails, phone calls, and the hustle and bustle. Here live only serenity.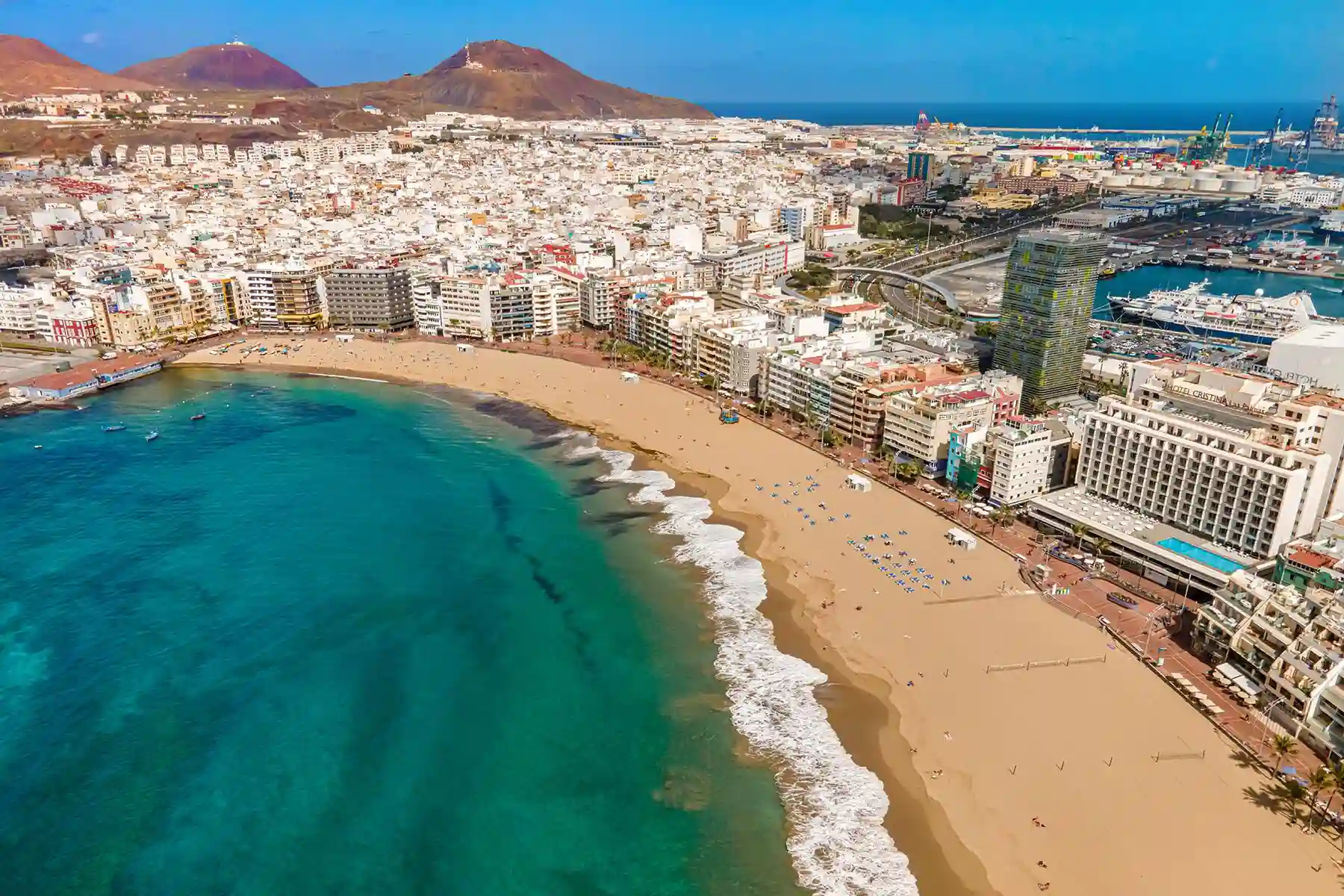 Mondragó is relatively easy to get to by car or public bus. If you arrive by car, you will find a big parking lot about a 10-minute walk from the park itself. The public bus will take you almost straight to the park entrance.
The Spanish island of Mallorca is renowned for its stunning natural beauty, and its Blue Flag beaches are some of the best in the world. With crystal-clear water and pristine golden sand, these beaches are the perfect place to relax and soak up the Mediterranean sun.
But Blue Flag beaches offer more than just stunning scenery. These beaches are also environmentally-friendly, with strict regulations in place to ensure they are clean and well-maintained. This makes them the perfect place to enjoy a safe and responsible vacation.
Travel Tips for Exploring Blue Flag Beach Resorts in Mallorca
When planning your trip to Mallorca to explore these fantastic Blue Flag beach resorts, consider the following travel tips to make the most of your vacation:
1. Plan Ahead
Book Accommodation in Advance: Mallorca is a popular tourist destination, especially during the peak summer season. It's advisable to book your accommodation well in advance to secure the best options.
2. Pack Essentials
Sun Protection: Don't forget to pack sunscreen, hats, and sunglasses. The Mediterranean sun can be intense, and it's crucial to protect your skin.
3. Explore Local Cuisine
Try Local Dishes: Mallorcan cuisine is diverse and delicious. Make sure to try some local dishes, such as paella, ensaimada (a sweet pastry), and sobrasada (a spreadable sausage).
4. Respect the Environment
Follow Beach Rules: Blue Flag beaches have strict regulations to protect the environment. Respect these rules by disposing of trash properly and avoiding any activities that may harm the ecosystem.
5. Learn Basic Spanish Phrases
Communication: While many locals in tourist areas speak English, learning a few basic Spanish phrases can enhance your travel experience and help you connect with the local culture.
Other Tourist Attractions in Mallorca
While Mallorca's Blue Flag beaches are a major draw, the island offers a plethora of other tourist attractions to explore during your visit:
1. Historic Palma de Mallorca
Palma Cathedral (La Seu): This stunning Gothic cathedral is a must-visit. Its architecture and history are captivating.
Bellver Castle: Perched on a hill, this circular castle offers panoramic views of Palma and its bay.
2. Serra de Tramuntana
Scenic Drives: Take a drive through the picturesque Serra de Tramuntana mountains, a UNESCO World Heritage site. The views are breathtaking.
Hiking Trails: If you're an outdoor enthusiast, consider hiking one of the many trails in this mountain range.
3. Caves of Drach
Underground Adventure: Explore the Caves of Drach (Cuevas del Drach), a stunning network of caves with underground lakes and unique rock formations.
4. Valldemossa
Charming Village: Valldemossa is a picturesque village known for its cobblestone streets, historic buildings, and the former monastery where Chopin once stayed.
5. Alcudia
Historic Old Town: Visit the historic old town of Alcudia, surrounded by medieval walls. It's a great place to stroll and soak in the atmosphere.
6. Local Markets
Artisan Markets: Don't miss the opportunity to explore local markets. The Alcudia Market and Inca Market are well-known for their handicrafts and local products.
7. Water Activities
Water Sports: Apart from swimming and sunbathing, Mallorca offers various water activities, including snorkeling, scuba diving, and boat tours.
8. Festivals and Events
Local Celebrations: Check if there are any local festivals or events happening during your visit. Mallorca's fiestas are known for their lively atmosphere.
9. Wine Tasting
Mallorcan Wine: Explore the island's vineyards and indulge in some wine tasting. Mallorca produces some excellent wines.
Conclusion
Mallorca's Blue Flag beach resorts offer a perfect blend of natural beauty and tourist amenities. While you enjoy the pristine beaches, remember to explore the island's rich culture, history, and natural wonders. With proper planning and an adventurous spirit, your vacation in Mallorca is sure to be a memorable one.
FAQs
What is the significance of the Blue Flag classification for beaches?

The Blue Flag classification signifies that a beach meets stringent criteria for safety, environmental sustainability, accessibility, and education, making it one of the cleanest and safest in the world.

How many Blue Flag beaches are there in Spain?

As of 2021, Spain boasts the most Blue Flag beaches in the world, with 621 beaches earning this prestigious classification.

Are the Blue Flag beaches in Mallorca suitable for families?

Yes, many of the Blue Flag beaches in Mallorca are family-friendly, offering a range of amenities and activities for both children and adults.

What can visitors do in addition to enjoying the beaches in Mallorca?

Besides the beautiful beaches, Mallorca offers a rich cultural experience, with historic sites, shopping streets, and vibrant cities like Palma to explore.

How can I ensure a responsible and eco-friendly beach vacation in Mallorca?

To have an eco-friendly beach vacation in Mallorca, respect local regulations, dispose of waste properly, and support businesses that promote sustainability and responsible tourism.