San Diego is the coastal gem of California, boasting two types of pristine beaches: ocean and bay beaches. There's something enchanting about watching the ocean's sunset and sunrise from your San Diego beachfront hotel room. While prices may spike during the holiday season, the luxury and amenities of these hotels make the investment worthwhile. In this article, we'll explore the top San Diego hotels on the beach that promise a truly unforgettable experience for your adventurous trip to this vibrant city.
1. Hotel del Coronado, Curio Collection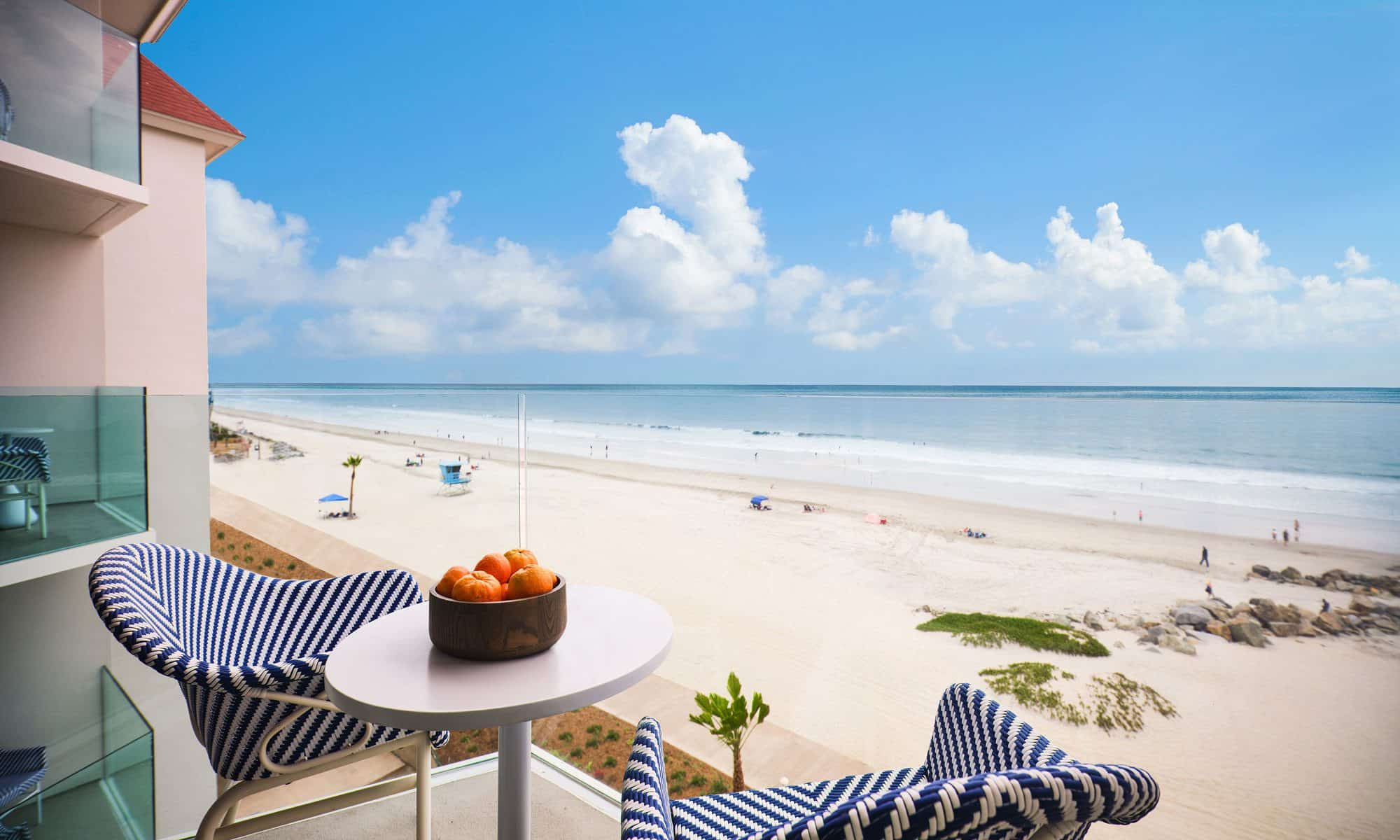 Hotel del Coronado is a historic icon in San Diego. It's renowned for its distinctive red roof, which has become a symbol of the city. This beachfront hotel caters to a diverse clientele, including Hollywood celebrities, dignitaries, and even royalty. Located on the stunning Coronado Island, the hotel offers an exceptional experience for visitors.
For those seeking luxurious accommodation, the hotel's rooms are available for around $374 per night. The jewel in the crown is the open pool, accessible to guests all day. Moreover, the Hotel del Coronado provides direct access to the picturesque mica sand beach of Coronado. The combination of its historical charm and oceanfront location makes it a popular choice for those wanting an unforgettable experience.
2. Tower 23 Hotel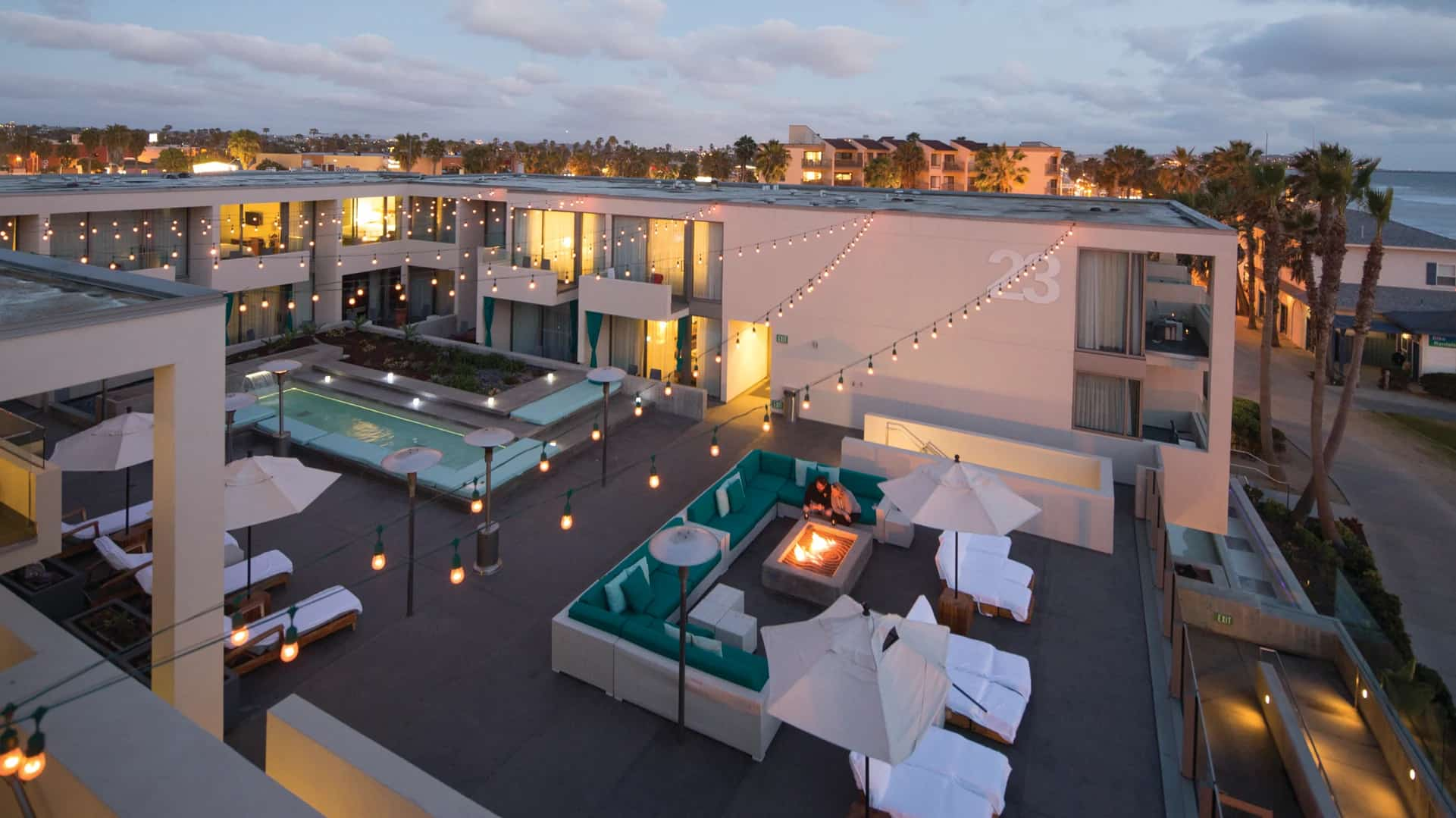 Tower 23 Hotel is a distinctive, luxury boutique hotel located on the beach. Its name is derived from the nearby lifeguard tower 23, which serves as a symbol of its vibrant beachfront location. The hotel's architecture is a tribute to the beach environment, with a modern and sleek design.
What sets Tower 23 apart is its ideal location. It's the perfect base for exploring San Diego's best travel destinations, including Balboa Park, North Park, and the lively atmosphere of Pacific Beach. You can book oceanfront suites and rooms with balconies, each exhibiting fresh and contemporary design schemes.
3. Pacific Terrace Hotel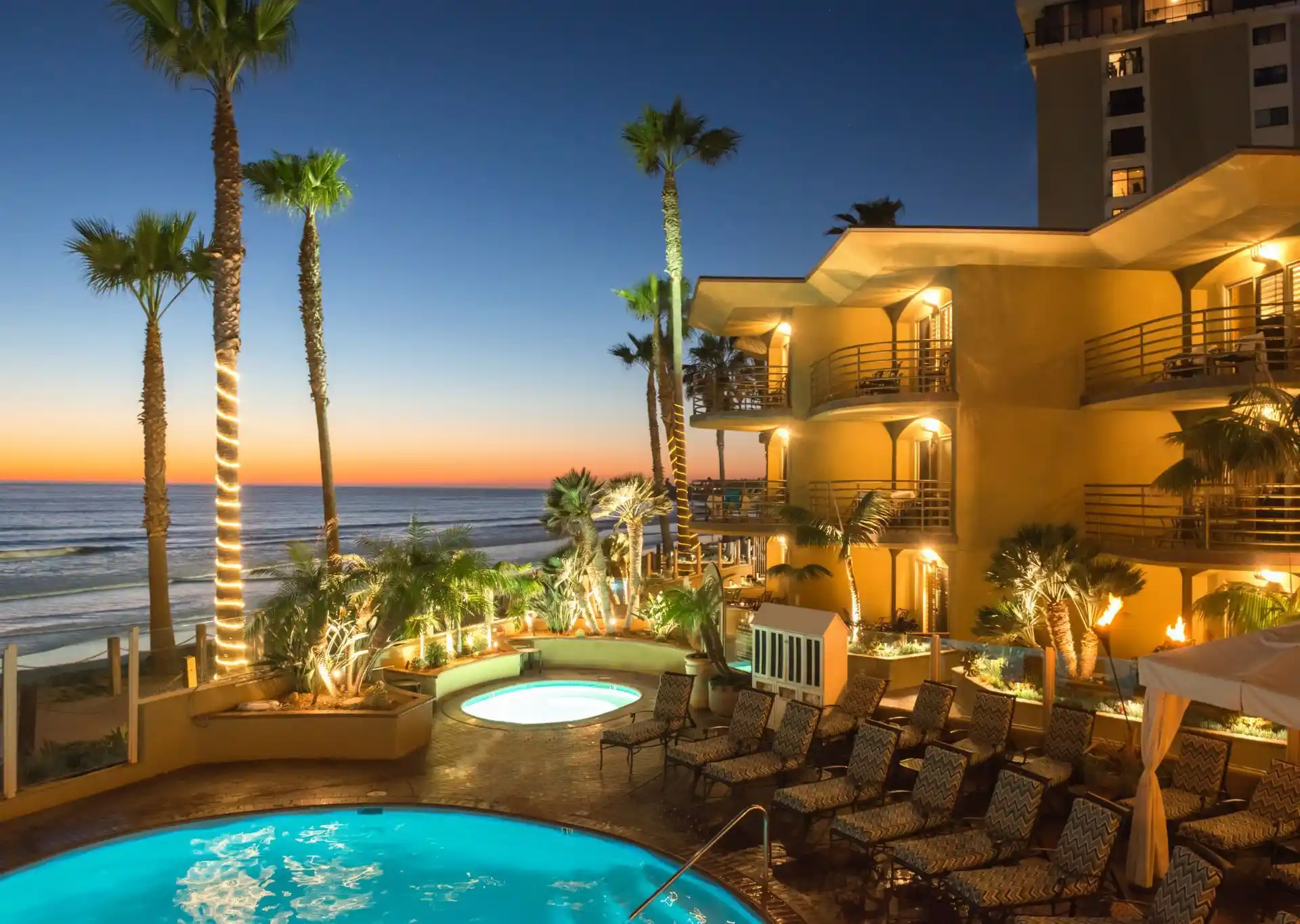 Pacific Terrace Hotel offers a cool and relaxing beachfront experience in San Diego. This hotel provides a unique opportunity to unwind on your balcony while gazing at the sparkling Pacific Ocean. The hotel's dedication to ensuring guests have a memorable stay is evident in the amenities they offer.
For families, there are plenty of options for entertainment, such as toys, boogie boards, bikes, and shovels. Prices vary, with standard non-view rooms available for around $504, and view rooms priced up to $615 per person for a one-night stay. Whether you're traveling with family or as a couple, Pacific Terrace Hotel provides a serene and picturesque backdrop for your stay.
4. Beach Village at Del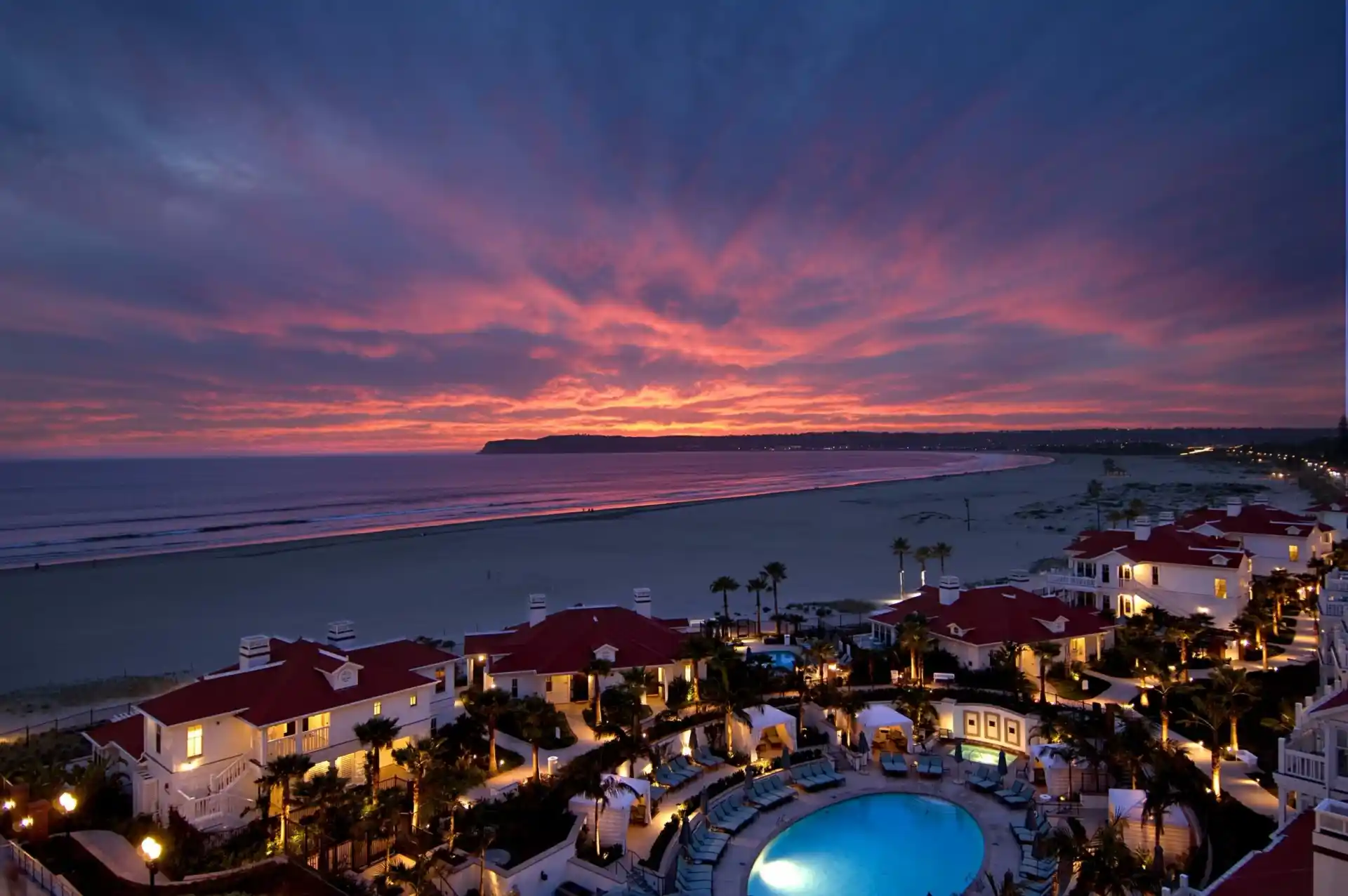 Beach Village at Del is a true gem among beachfront hotels. This phenomenal hotel provides an opportunity for a luxurious beach experience, perfect for families. The hotel boasts fully functional designer rooms, cottages, and suites, making it suitable for multigenerational travel.
What sets Beach Village at Del apart is its generous amenities. Guests have access to early morning Yoga classes, two beach chairs with an umbrella, surf lessons, and a beachside boardwalk. This hotel's commitment to providing a memorable experience ensures that every guest leaves with unforgettable memories of their time on the beach.
5. La Valencia Hotel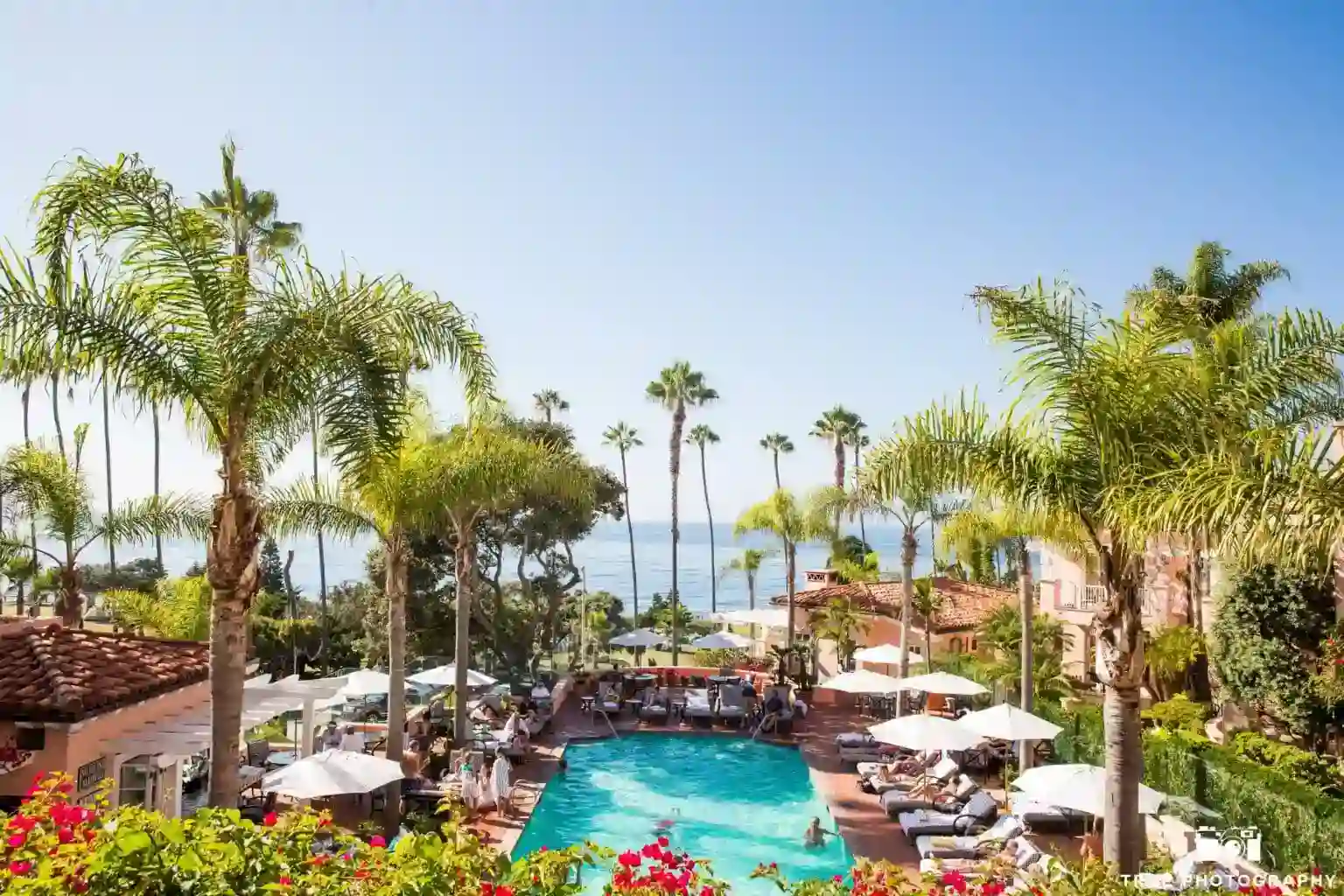 La Valencia Hotel is a glamorous beachfront hotel with a rich history dating back to 1926. This hotel stands out with its unique Mediterranean-style architecture, dramatic coastal views, and a history filled with Hollywood endorsements.
What's truly astonishing about this hotel is its signature pink exterior and Spanish-tilted tower. These elements provide a panoramic view for visitors and have been captivating guests for 95 years. Prices for rooms at La Valencia Hotel start at $459 per night. This historical gem is a testament to the elegance and charm of San Diego's beachfront hotels.
6. Grande Colonial La Jolla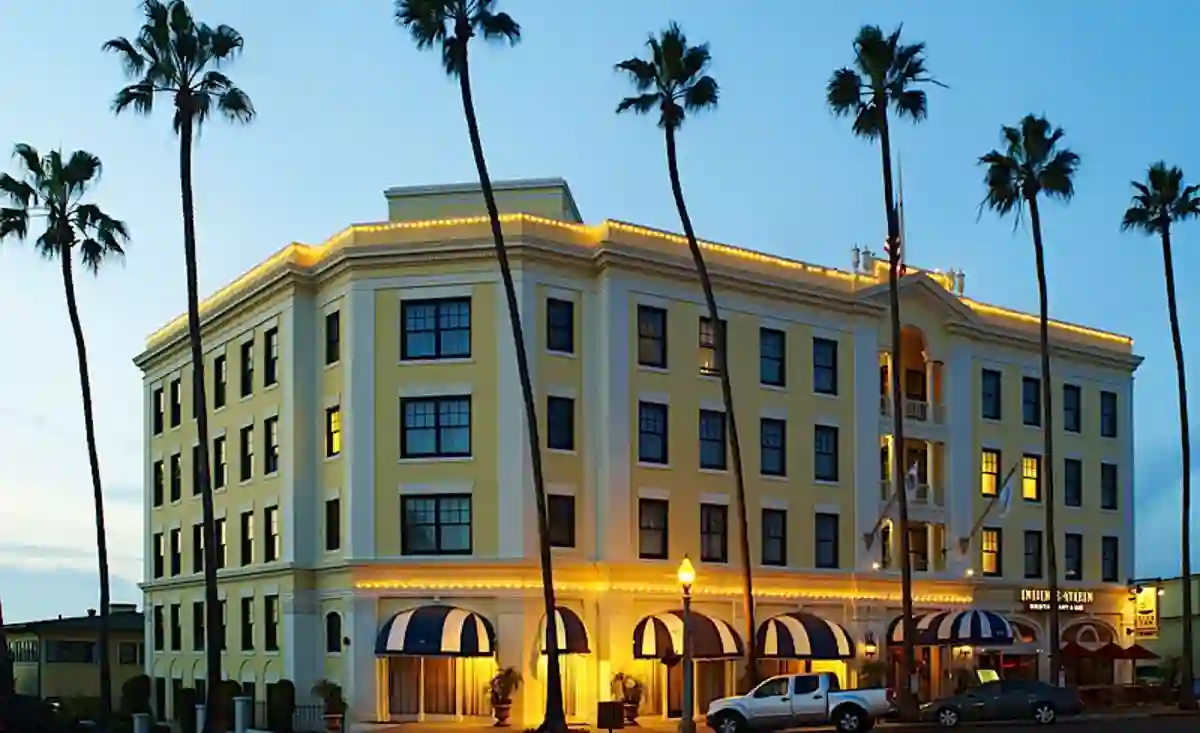 Grande Colonial La Jolla is one of the best beachfront hotels in San Diego, known for providing exceptional accommodation for both extended families and those seeking a quieter vacation spot. The hotel comprises around 99 rooms, some of which are spacious enough to accommodate up to 8 guests.
The Grande Colonial offers a range of amenities, including complimentary use of beach towels, umbrellas, chairs, beachfront food services, and beach barbecues. Whether you're looking for relaxation or adventure, this hotel caters to a diverse range of preferences.
7. Pantai Inn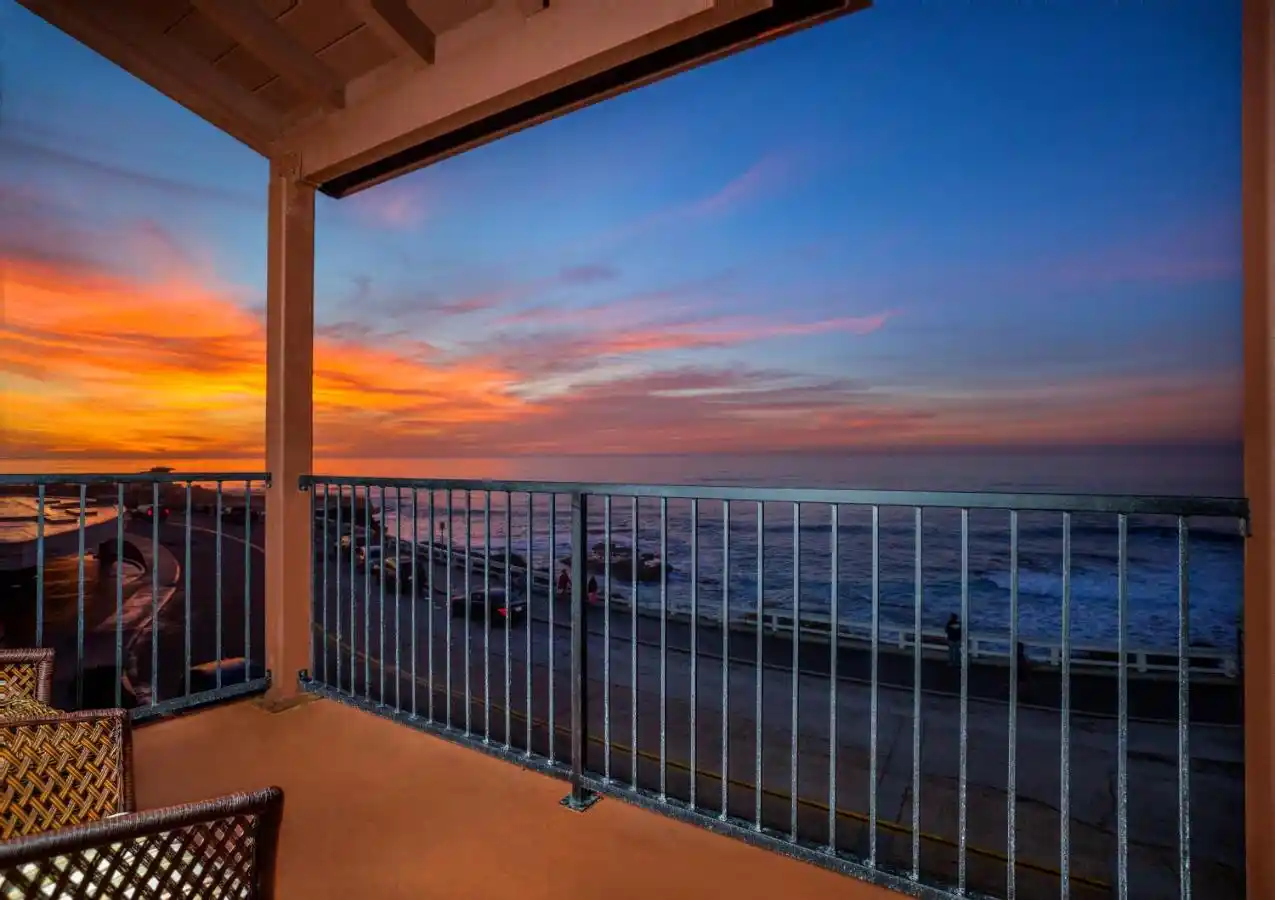 Pantai Inn is an incredible beachfront hotel that stands out for offering five distinct types of rooms for guests. These include classic suites, partial ocean-view suites, partial ocean-view studios, ocean-view suites, and ocean-view studios. Each suite is equipped with a living room and full kitchen facilities, making it more suitable for couples and families.
Pantai Inn's location is ideal for exploring the vibrant neighborhood, with attractions like Ellen Browning Scripps Park, Mission Bay Aquatic Park, Qualcomm Stadium, and more. The combination of its distinctive rooms and prime location ensures a memorable stay for guests.
8. Paradise Point Resort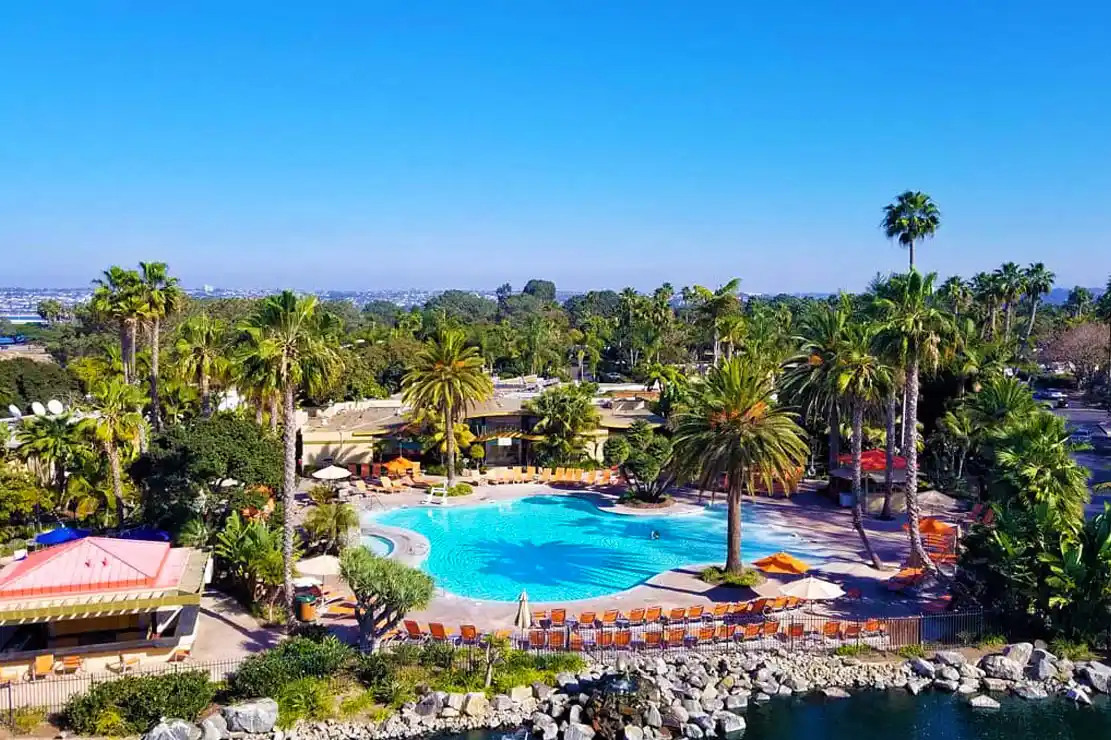 Paradise Point Resort is a sprawling resort in San Diego, known for its bungalow-style guestrooms surrounded by lush tropical gardens and tranquil lagoons. This resort offers a wealth of dining options, with five venues to choose from, as well as five swimming pools and endless recreational opportunities.
One of the unique features of Paradise Point is the availability of special packages that include island activities like jet ski adventures and bayfront bike rides. What's more, the resort offers rooms at affordable prices, starting from $270 per night.
9. Catamaran Resort Hotel Loews Coronado Bay Resort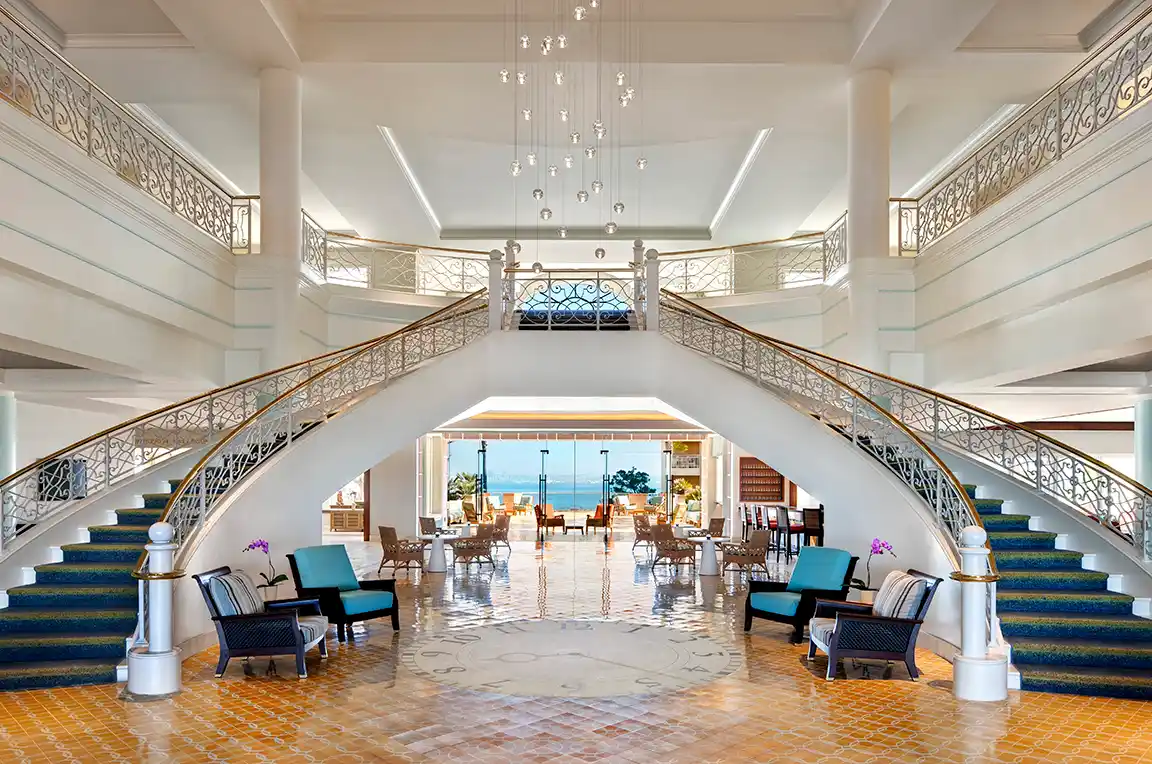 Catamaran Resort Hotel Loews Coronado Bay Resort is a beachfront hotel that offers 440 rooms and around 40 suites, each with beachfront private balconies. What sets this resort apart is its entertainment value. Guests can enjoy breathtaking views of the Pacific Ocean, as well as pools, lush grounds, and Coronado Bay.
Loews Coronado Bay Resort offers a range of signature amenities, including on-demand movies, makeup mirrors, room service, wake-up calls, a 55-inch flat-screen smart TV, and free Wi-Fi. Guests should be aware of the check-in time at 4 PM, and late check-outs will incur a 50% additional charge from the daily rate.
10. Bahia Resort Hotel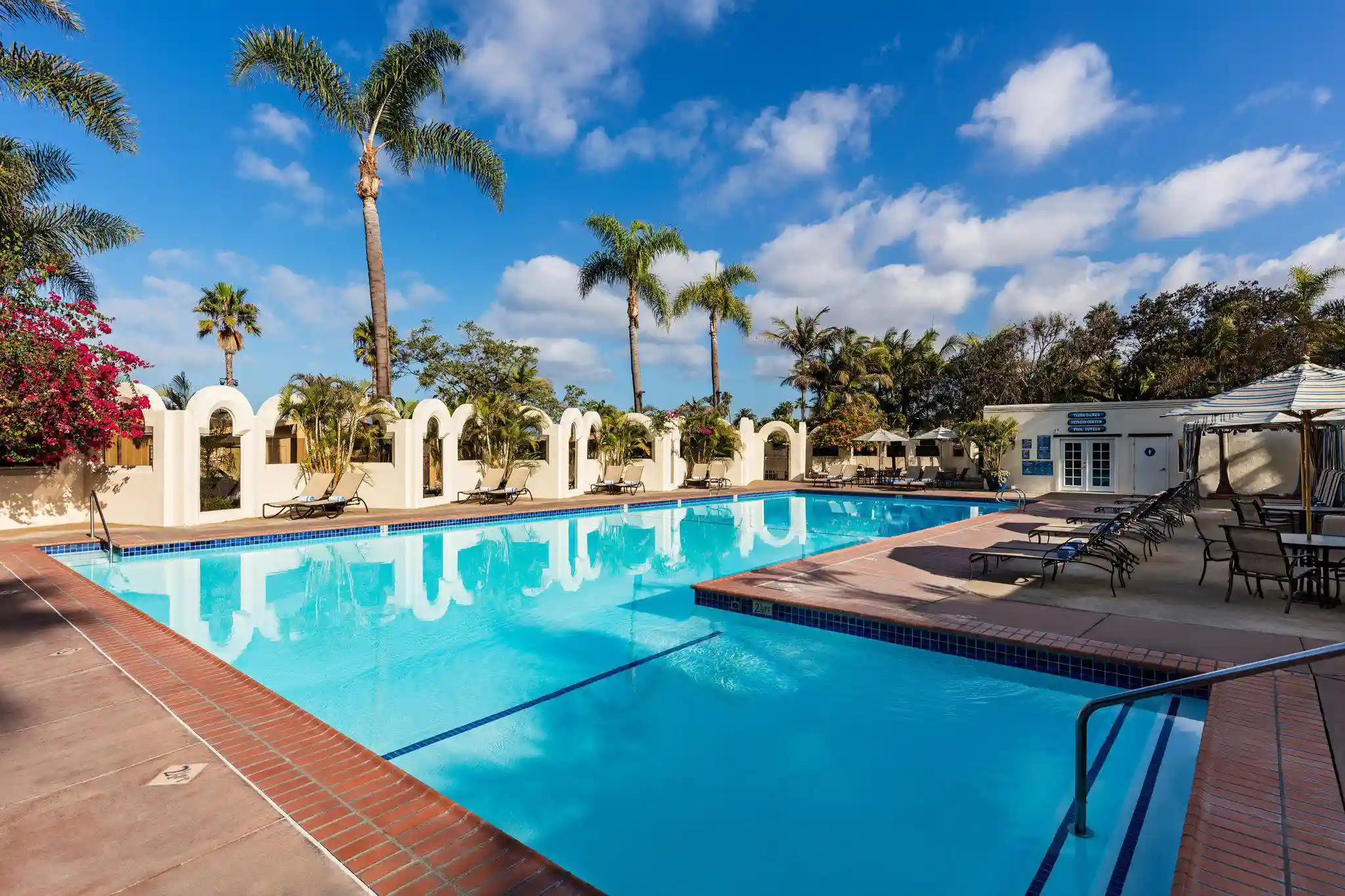 Bahia Resort Hotel is the ideal destination for family accommodation, offering a peaceful escape from the hustle and bustle of everyday life. This hotel provides a wealth of activities, such as taking a cruise on Mission Bay, playing tennis, or simply lounging on the sandy beach.
The most popular activities at Bahia Resort Hotel include indulging in water sports like kayaking, stand-up paddleboarding, and jet skiing. This beachfront hotel offers a haven of relaxation and adventure for families looking to make the most of their time on the beach.
11. The Dana on Mission Bay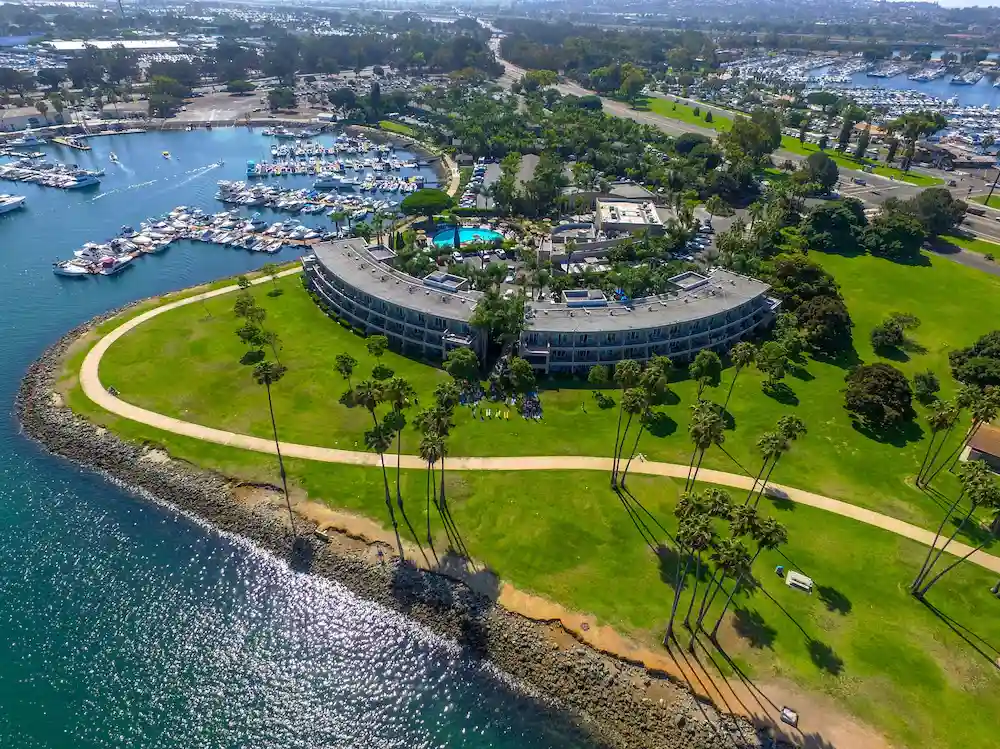 The Dana on Mission Bay is conveniently situated within walking distance of several beautiful beaches. If you're visiting San Diego with an extended family, you can opt for the view junior suite for $259. What's particularly appealing about The Dana is its reasonable prices, with standard rooms starting at just $130.
The hotel offers a tranquil setting, with a friendly ambiance and a variety of amenities that make it suitable for families and couples alike. Whether you're seeking a peaceful escape or a family adventure, The Dana on Mission Bay has something to offer everyone.
12. Alila Marea Resort Encinitas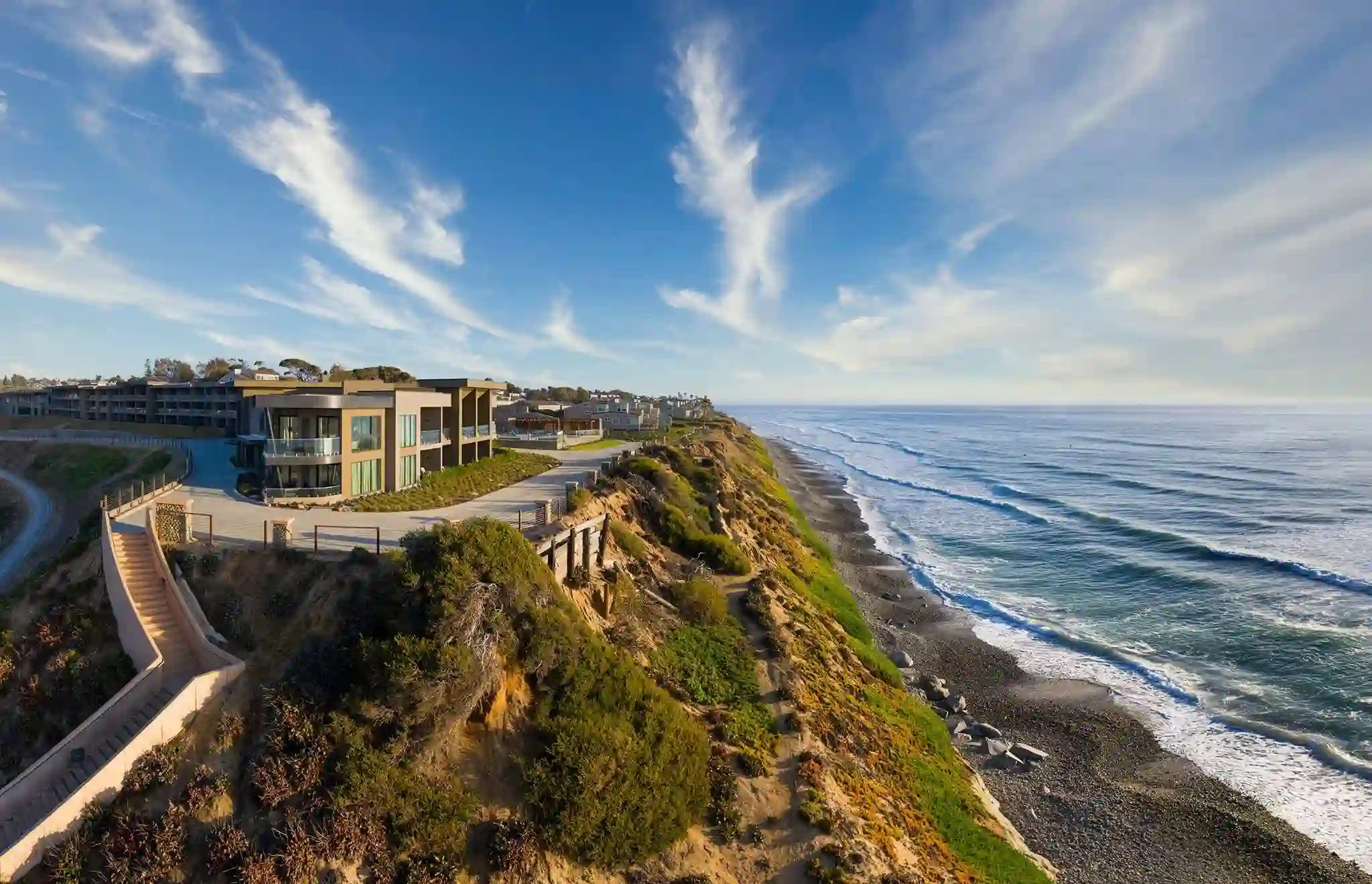 Alila Marea Resort Encinitas is one of the best beachfront hotels in San Diego, making it the top choice for couples and families who prefer having their own transportation. The resort is located in a quieter area, providing complete ocean views. Alila Marea comprises 130 rooms with clean lines and a range of amenities, with prices starting at $408 per night.
This beachfront retreat offers a serene environment where guests can immerse themselves in the beauty of the ocean. The clean, contemporary design of the rooms complements the natural surroundings, making it a perfect choice for a tranquil beachside escape.
Each of these top San Diego beachfront hotels offers a unique experience, combining the beauty of the ocean with their own special features and amenities. Whether you're looking for luxurious accommodation, a family-friendly escape, or a tranquil beachfront retreat, San Diego has the perfect beachfront hotel for you. Enjoy the sun, sand, and surf as you explore the magnificent coastal city of San Diego.
FAQs
Q1: Are these beachfront hotels in San Diego affordable? A1: While some of the beachfront hotels in San Diego can be on the higher end, there are options to suit various budgets. Some hotels offer standard rooms at reasonable rates, making beachfront experiences accessible to a broader range of travelers.
Q2: Do these hotels have family-friendly amenities? A2: Yes, many of these beachfront hotels are well-equipped to cater to families. They offer amenities such as surf lessons, boogie boards, and even early morning Yoga classes. Plus, there are often activities for kids, making them ideal for family vacations.
Q3: Is it necessary to book in advance for these beachfront hotels? A3: It's advisable to book in advance, especially during the holiday season when these hotels tend to be in high demand. Booking early ensures you secure your preferred dates and rooms.
Q4: Are these hotels suitable for couples seeking a romantic getaway? A4: Absolutely. Many of these hotels offer romantic ocean-view suites and private balconies, making them perfect for couples looking for a romantic escape. The serene beach settings create a romantic atmosphere.
Travel Tips
Book in Advance: To secure your preferred dates and room types, it's a good idea to book your beachfront hotel well in advance, especially during peak holiday seasons.
Check for Special Packages: Some beachfront hotels offer special packages that include activities and amenities, so be sure to inquire about any deals that can enhance your stay.
Pack Beach Essentials: Don't forget to pack your beach essentials, such as sunscreen, hats, sunglasses, and beachwear, to fully enjoy the beach experience.
Explore Nearby Attractions: Many of these beachfront hotels are conveniently located near popular San Diego attractions. Take the time to explore the local area and make the most of your trip.
Respect the Environment: While enjoying the beach, be mindful of the environment. Dispose of trash responsibly and follow local guidelines for beach conservation.