Alaska, the Last Frontier, is a land of breathtaking natural beauty, from vast mountain ranges to awe-inspiring glaciers, diverse flora and fauna, and crystal-clear lakes. It's a place where adventure knows no bounds, where you can experience the thrill of dog sledding, go whale watching, and conquer whitewater rapids. In this comprehensive guide, we'll take you on a journey to discover Alaska in the best possible way, making your trip more thrilling and adventurous.
Map of Alaska – Where is Alaska Located?
Alaska is not just a place; it's an experience. Before we dive into the exciting destinations, let's get our bearings and understand where this magnificent state is located on the map.
Museum of the North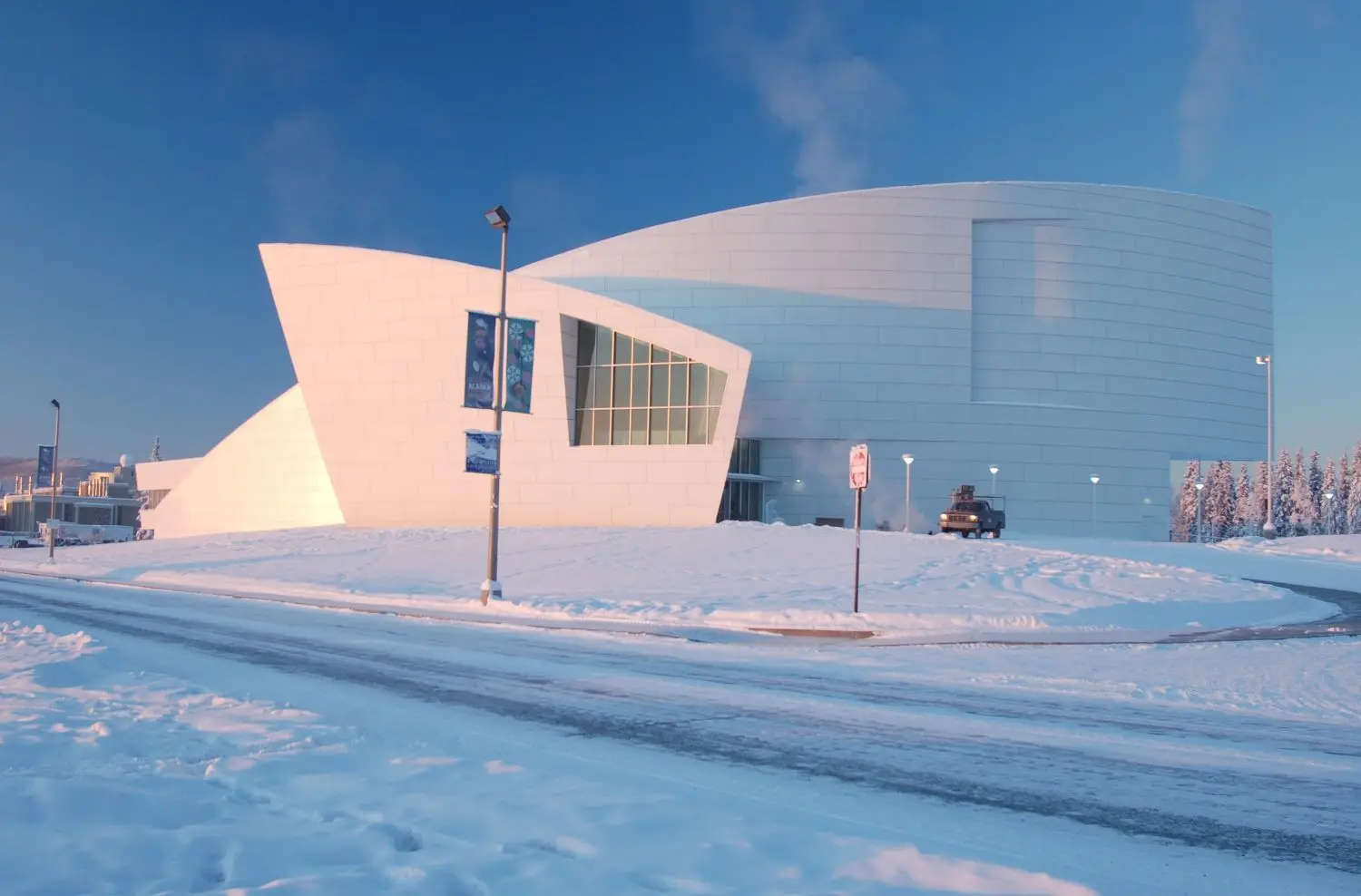 The Museum of the North is a treasure trove of Alaska's wildlife, culture, and history. Explore the iconic architecture and immerse yourself in art galleries showcasing everything from ancient Inuit ivory carvings to contemporary sculptures and paintings.
White Pass & Yukon Route Railroad
Step back in time as you journey on the White Pass & Yukon Route Railroad, originally built in 1898 during the Klondike Gold Rush. Traverse curving tracks, waterfalls, forests, and mountains while taking in breathtaking natural scenery.
Denali National Park and Preserve

Denali National Park covers six million acres of pristine wilderness, offering outdoor enthusiasts a playground of lakes, rivers, and forests. Experience the park from a bird's eye view on a helicopter tour or opt for hiking and camping among towering trees.
Juneau Whale Watch

Juneau is a haven for whale lovers, with humpback whales gracing its waters during the summer for krill feasts. Embark on a private cabin cruise to witness these majestic marine mammals, along with sea lions, bald eagles, and more.
Hubbard Glacier

The Hubbard Glacier is a colossal icy giant, stretching over six miles and featuring towering ice faces that can reach up to 400 feet in height. Witnessing this natural wonder on a cruise is a mesmerizing experience.
Anchorage Market

For family-friendly fun, visit the Anchorage Market, open for five months a year from mid-May to mid-September. Explore the Diamond Center Mall, shop for local crafts, savor delicious cuisine, and enjoy live entertainment.
Seuss House

The Seuss House is a quirky and mysterious structure standing tall amidst the Alaskan wilderness. This 185-foot tower piques curiosity, leaving visitors wondering how it was constructed amidst the dense forest and rushing river.
Kenai Beach

Kenai Beach is famous for its massive Kenai River salmon runs. Anglers can cast their lines and await the prized catch, while golf enthusiasts can hit the greens or enjoy a peaceful tea time with their families.
Kennicott Ghost Town

Step back in time in Kennicott, a less crowded town that once thrived due to copper mining during the Gold Rush. Explore abandoned shops, salons, schools, and post offices that harken back to a bygone era.
Tongass National Forest

Tongass National Forest, the largest in the United States, spans 16.7 million acres and offers enchanting trails for strolling amidst breathtaking vistas. Experience the thrill of a sled dog ride on glaciers and learn about fisheries management.
Great Kobuk Sand Dunes

The Great Kobuk Sand Dunes, stretching over 30 miles, resemble a slice of the Sahara in the Arctic Circle. These ancient sand dunes bear the footprints of wolves, foxes, moose, and bears, showcasing the resilience of life in the tundra.
Chicken Stock Festivals

The Chicken Stock Festival is not just about music; it's a weekend filled with diverse activities. Witness helicopters dropping 1,500 marshmallows onto an enthusiastic crowd during the festival's climax.
Glacier Bay National Park and Preserve

Explore the vast wilderness of Glacier Bay National Park and Preserve, spanning 3.3 million acres. Cruise ships are a popular way to experience the park, where one-fifth of the wildlife consists of marine animals like seals, sea otters, and humpback whales.
Jewell Garden

Jewell Garden in Skagway is a vibrant oasis with beautiful landscapes. Enjoy tea service with ingredients sourced locally, and don't miss the open-air glassblowing studio for a unique experience.
Sea Crab Fishermen's Tour

Experience the thrill of the sea with the Sea Crab Fishermen's Tour, made famous by the Discovery Channel series Deadliest Catch. Get a taste of life as a fisherman and brave the frigid waters of the north.
Aurora Express Bed and Breakfast

Stay at the Aurora Express Bed and Breakfast, where historic railroad carriages from World War II have been transformed into unique accommodations. Step back in time while enjoying modern comforts.
World's Largest Chocolate Waterfall

Anchorage boasts the world's largest chocolate waterfall, a 20-foot wonder that's a must-visit. Witness thousands of pounds of chocolate cascading through mixing systems, creating a mesmerizing spectacle.
Petroglyph Beach

Discover ancient history at Petroglyph Beach, where stones bear petroglyphs dating back 8,000 years. These enigmatic carvings reveal the presence of early human settlements in the area.
Husky Homestead

Experience the frozen tundra of Alaska with traditional sled dogs. Visit Husky Homestead, founded by a four-time Iditarod Trail Sled Dog Race winner, and gain a deeper understanding of Alaskan huskies' cultural significance.
Sealaska Heritage Institute

The Sealaska Heritage Institute is dedicated to preserving the art, history, culture, and folklore of Alaska's indigenous people. Explore centuries-old artifacts and hunting tools, gaining insight into the rich heritage of the region.
With this comprehensive guide, you're ready to embark on an unforgettable journey of discovering Alaska's natural wonders, cultural treasures, and adventure opportunities. Alaska, the Last Frontier, awaits your exploration.
---
FAQs
1. When is the best time to visit Alaska?
The best time to visit Alaska is during the summer months, from May to September, when the weather is milder, and outdoor activities are in full swing.
2. Are there opportunities for wildlife viewing in Alaska?
Absolutely! Alaska is renowned for its wildlife, including bears, eagles, whales, and more. Many national parks and tours offer excellent wildlife viewing opportunities.
3. What should I pack for a trip to Alaska?
Pack layers of clothing, waterproof gear, hiking boots, and essentials like bug spray and sunscreen. Be prepared for changing weather conditions.
4. Can I see the Northern Lights in Alaska?
Yes, Alaska is one of the best places to witness the Northern Lights, especially during the winter months in the northern regions.
5. Are there options for solo travelers in Alaska?
Yes, Alaska offers plenty of activities and tours suitable for solo travelers. You can join group tours or explore independently.
Plan your Alaskan adventure, and get ready for a journey of a lifetime!