San Diego, often called "America's Finest City," is a picturesque destination known for its beautiful beaches, charming neighborhoods, and a delightful blend of urban sophistication and laid-back coastal vibes. For couples looking to rekindle their romance or embark on a passionate getaway, San Diego offers a seductive array of romantic hotels. From luxurious resorts to intimate boutique inns, this city has something to offer every couple's unique taste. In this article, we'll explore seven of the most romantic hotels in San Diego, where you can truly feel the love.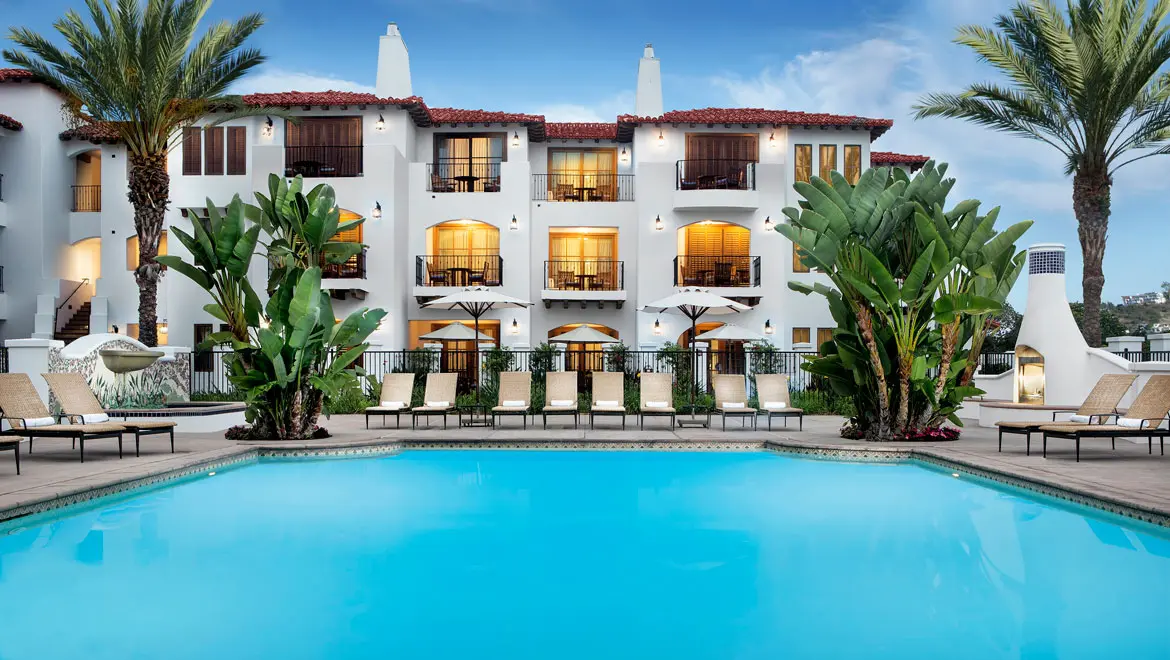 Nestled on a sprawling 400-acre estate, the Omni La Costa Resort and Spa is a paradise for couples seeking a blend of luxury and relaxation. With its stunning appearance and abundance of services, it may be the only place you ever need to visit in San Diego. As you step into the resort, you'll be greeted by picturesque strolling paths that wind between manicured gardens, lovely white stucco buildings, and glittering fountains, creating a whimsical atmosphere akin to Alice in Wonderland.
Highlights:
Bigger rooms: The guest rooms of this spa are airy and large, offering a sense of space and comfort. They feature marble-tiled bathrooms and flat-screen TVs, ensuring a lavish experience.
Six Pools: This spa offers many sunning options, including six swimming pools with waterslides for those looking to add a touch of fun to their romantic getaway.
2. Estancia La Jolla Hotel and Spa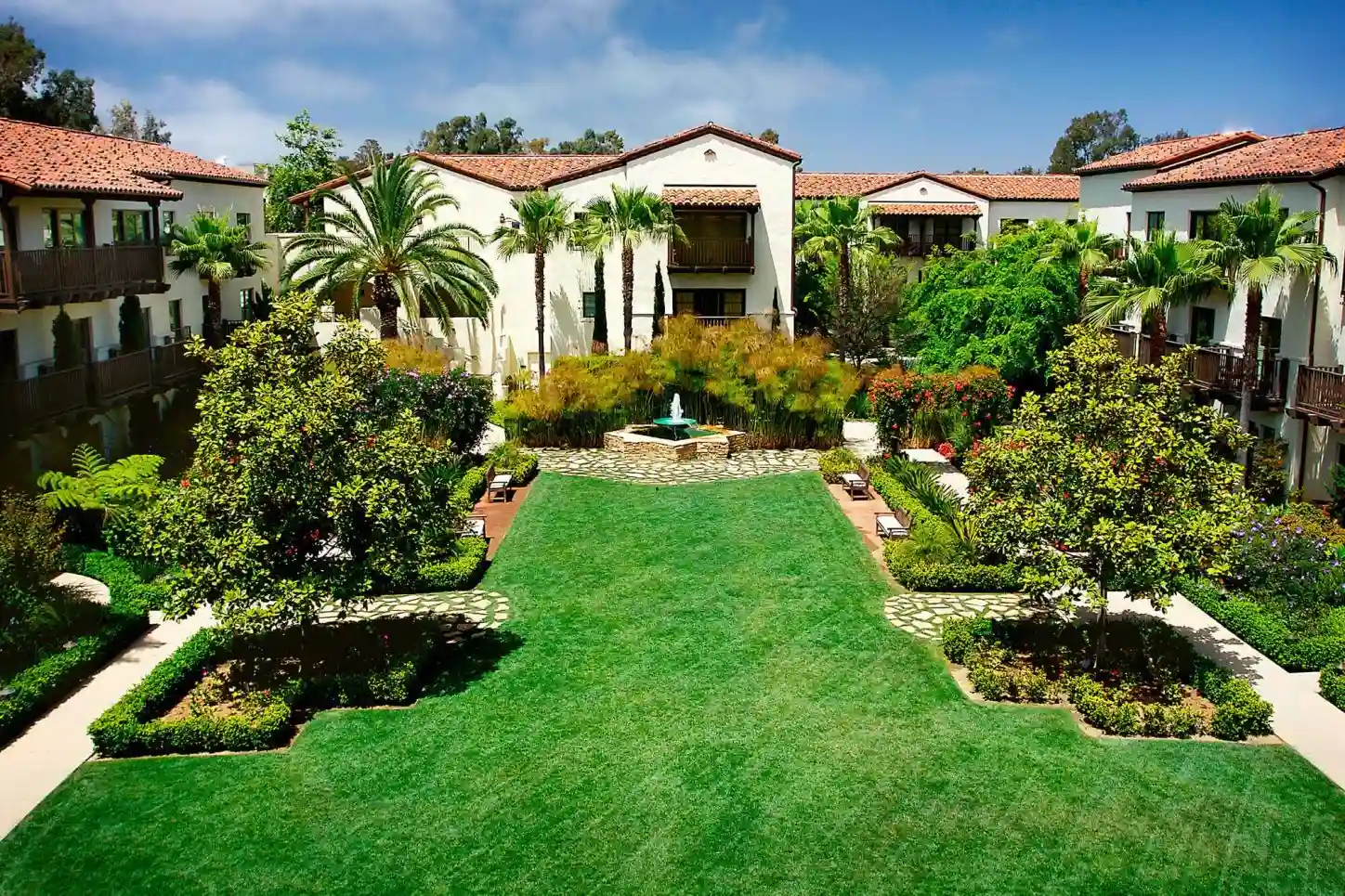 Estancia La Jolla Hotel and Spa is a hidden gem that exudes charm and romance. As you enter this beautiful hotel, it feels like stumbling into a private vacation with its quiet and shaded courtyards, Rancho-style architecture, and lush, flowering gardens. The interior design of the rooms is an aesthetic delight, characterized by light colors such as eggshell, cream, and terracotta, creating a warm and inviting atmosphere.
Highlights:
Beach Access but Be Careful: Estancia La Jolla sits on a bluff above the Pacific, and directly below is Black's Beach. This stunning stretch of sand is not only beautiful but also one of the most popular nudist beaches in America, adding a unique touch to your romantic escapade.
Baja-inspired dining: The resort's on-site restaurant features plenty of alfresco seating and offers a menu rooted in California coastal cuisine with a heavy Mexican influence. It often hosts live music to enhance your dining experience.
3. Hotel Marisol Coronado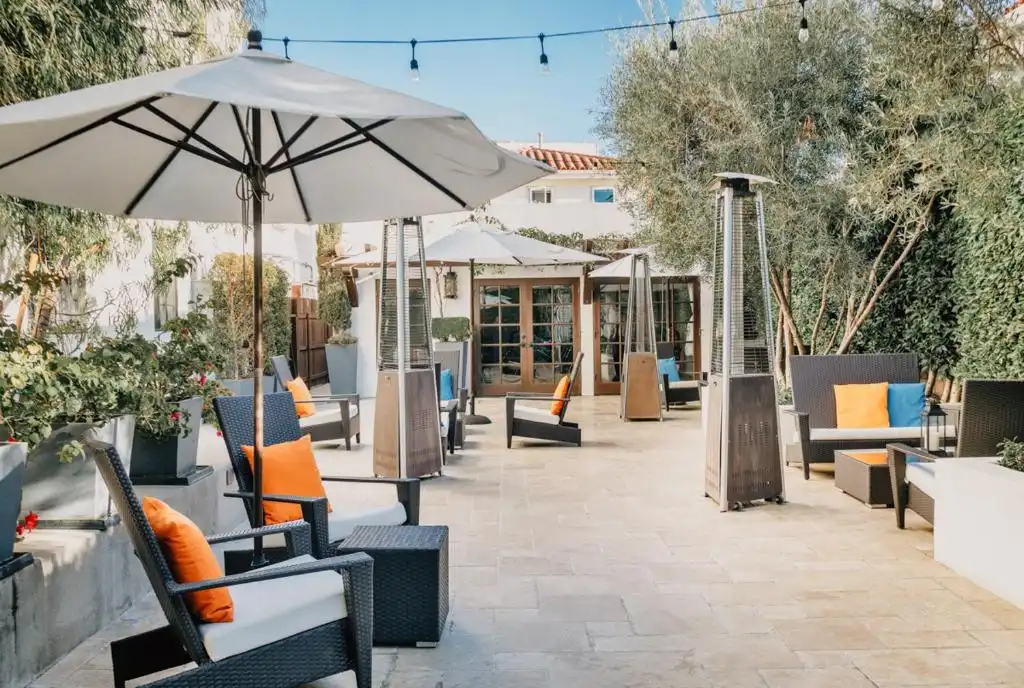 Coronado Island is known for its charm and pristine beauty, and Hotel Marisol Coronado is the epitome of a romantic boutique hotel. The hotel boasts luxurious, romantically-themed rooms that provide visitors with several conveniences. The experience here is intimate and personalized, making it an ideal choice for couples.
Free bicycle rentals are available for you and your spouse, allowing you to explore the charming Coronado Island at your own pace. The hotel is conveniently located close to Coronado Beach and numerous neighborhood shops and eateries, providing you with the perfect setting for exploring the region and spending quality time with your significant other.
4. Stay at Pineapple Hotel Z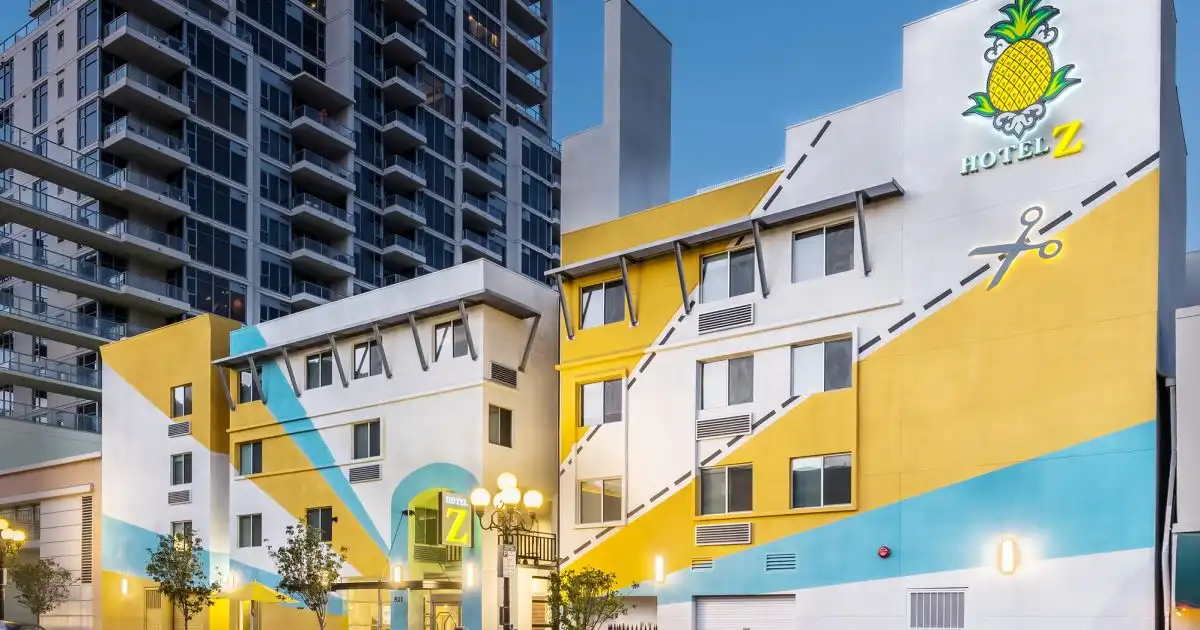 Located in the heart of San Diego's vibrant Gaslamp Quarter, Hotel Z is a delightful choice for couples who want to immerse themselves in the city's nightlife. This romantic hotel is known for its colorful and artsy atmosphere, making it a unique and fun place to stay.
You and your better half can engage in various activities within the hotel, including swimming, leisurely walks, bicycle rides, and even snorkeling. What's more, Hotel Z is pet-friendly, so you can bring your beloved pets along for the adventure, making it a perfect choice for pet-loving couples.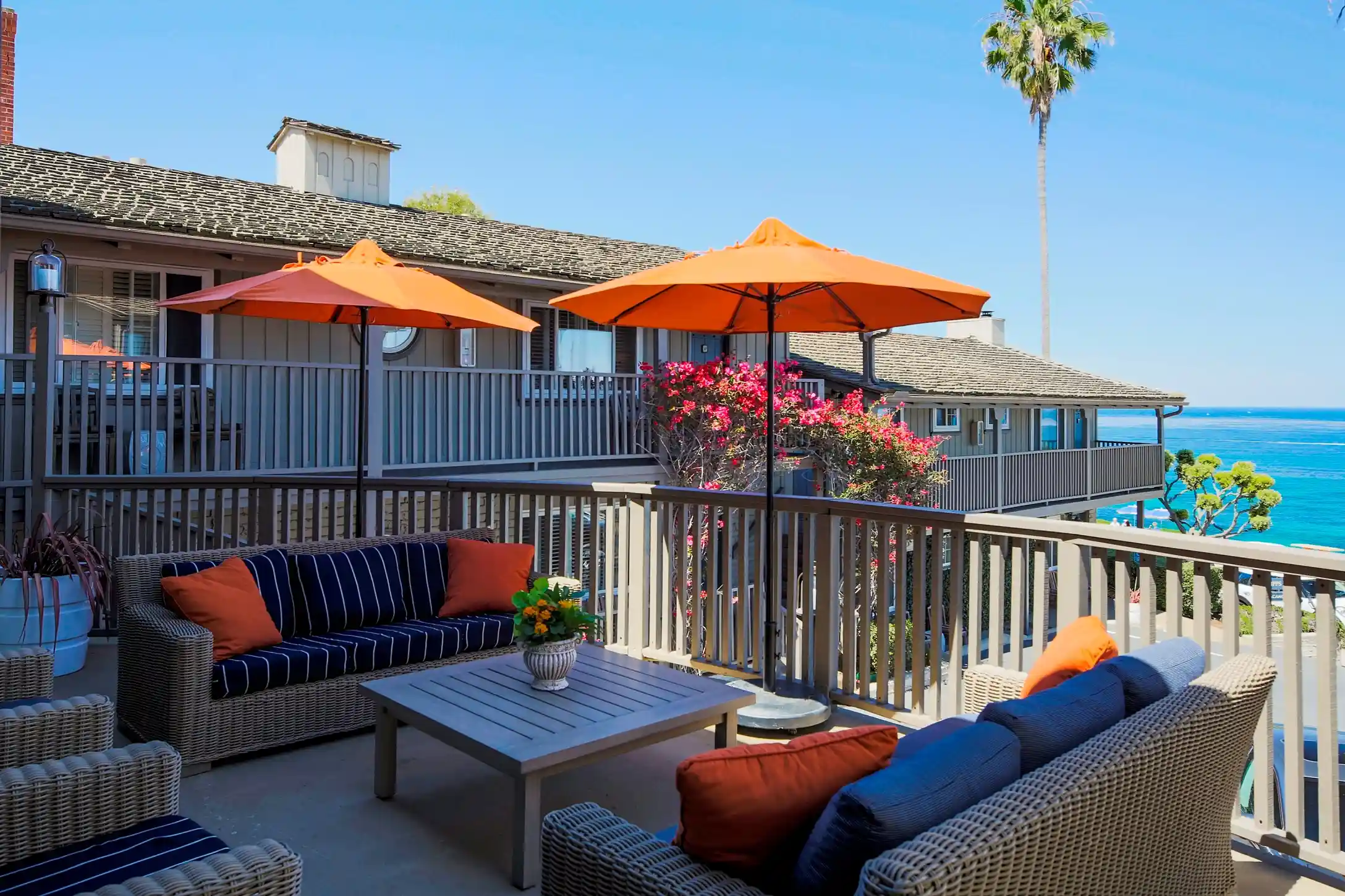 Scripps Inn offers a chance to bask in the luxurious charm of La Jolla during your romantic trip to San Diego. This lovely inn provides a more personalized experience than many well-known hotels, giving you a sense of exclusivity.
The inn is conveniently located just across from the seashore, offering breathtaking views of the Pacific Ocean. Additionally, numerous local shops and attractions like La Jolla Cove are easily accessible on foot, allowing you to explore the beauty of this coastal gem at your own pace.
6. Crown City Inn Coronado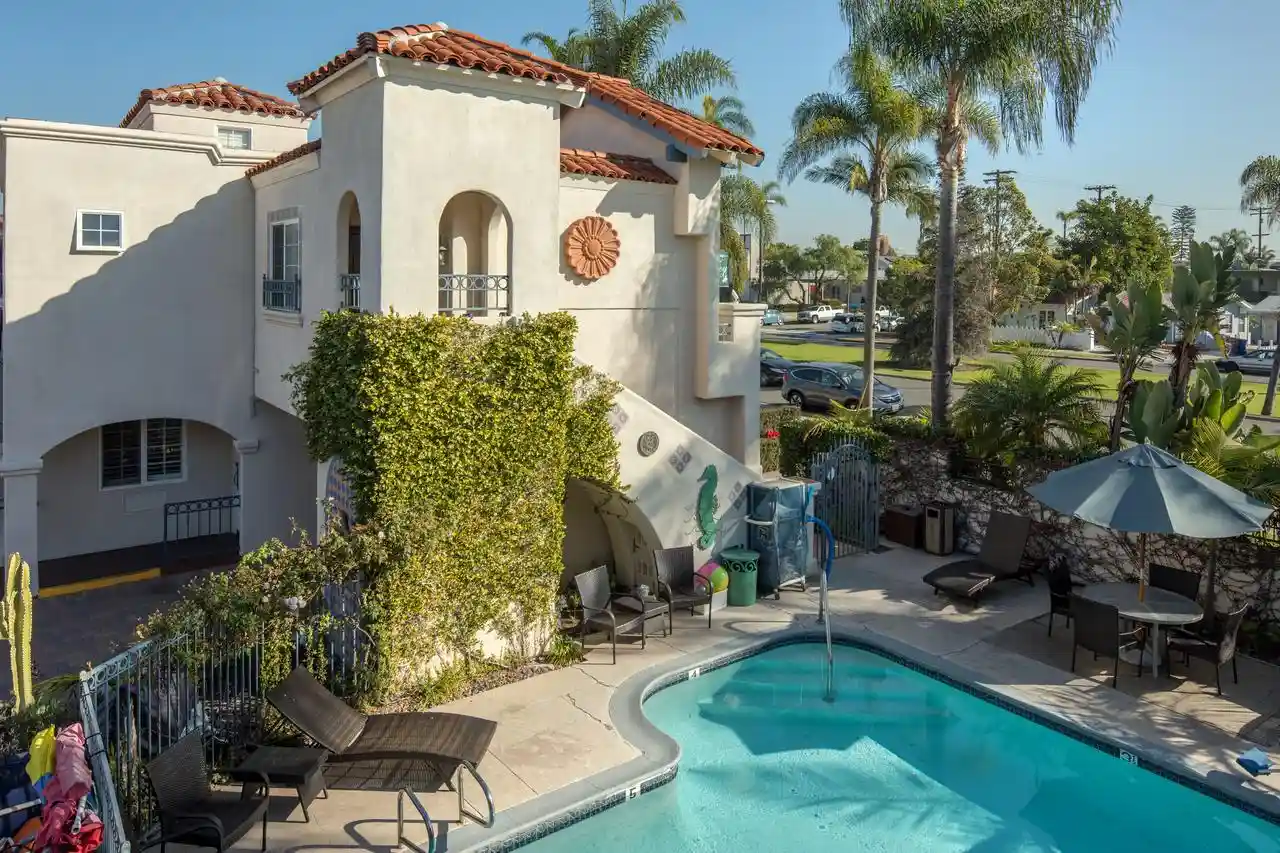 Coronado Island is renowned for its idyllic setting, and the Crown City Inn Coronado perfectly complements the island's traditional charm. You and your spouse can look forward to enjoying a meal at the hotel's on-site restaurant, Crown Bistro, which serves meals for breakfast, lunch, and dinner.
Bicycle rentals are also offered at no charge by the hotel, providing couples with a convenient way to explore the nearby areas. In addition to its excellent location, the hotel boasts a stunning on-site pool, and being just a short walk from the beach, it's the perfect place to unwind and enjoy the sun and surf. Moreover, the hotel is pet-friendly, allowing your furry friends to join in the adventure.
7. Hotel Del Coronado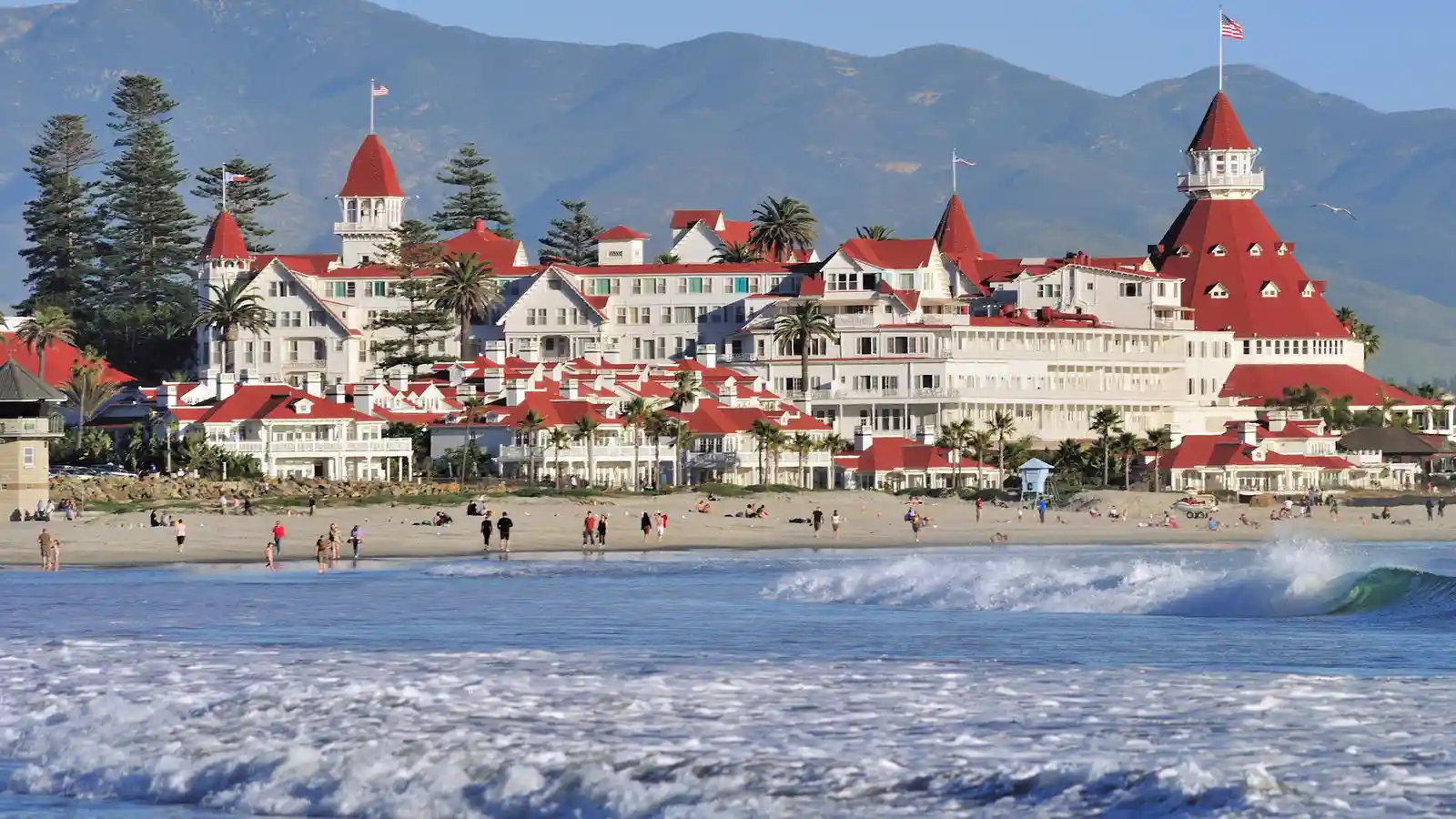 Hotel Del Coronado, also known as "The Del," is one of the most beautiful, historical, and romantic hotels in San Diego. This iconic hotel is located near Coronado Beach, providing breathtaking views from the balcony of your room.
You can take a leisurely stroll on the sandy shores of Coronado Beach, admiring the hotel's iconic red and white buildings and creating lasting memories with your significant other. The hotel offers a variety of amenities, including on-site dining, so you can savor delicious meals without leaving the premises. In addition, you and your partner can explore the countless on-site shops in the hotel and enjoy romantic walks along the stunning beach.
Final Thoughts
San Diego, with its picturesque landscapes and romantic getaways, is an ideal destination for couples seeking to create lasting memories. Each of these seven romantic hotels offers a unique experience, from luxury and relaxation to beachfront charm and vibrant city life. So, if you're planning to spend your vacation with your significant other in San Diego, consider one of these delightful hotels. They are filled with soothing environments, allowing you to stay together and spend quality time as a couple. With amenities such as swimming pools, spacious rooms, marbled bathrooms, Wi-Fi, and TVs, these hotels have everything you need to make your romantic getaway a memorable one.
1. What are the best times to visit San Diego for a romantic getaway?
The best times to visit San Diego for a romantic getaway are during the spring and fall months, when the weather is pleasant, and the crowds are thinner. Avoid the peak summer months if you prefer a quieter experience.
2. Are these hotels suitable for honeymoons?
Yes, many of these hotels are perfect for honeymooners. They offer romantic settings, luxurious amenities, and special packages to make your honeymoon memorable.
3. Do these hotels offer special packages for couples?
Most of these hotels offer special romance packages that may include champagne, spa treatments, and romantic dinners. Be sure to check with each hotel for specific details.
4. Are pets allowed at these hotels?
Some of these hotels are pet-friendly, such as Hotel Z and Crown City Inn Coronado. Be sure to check the hotel's pet policy before bringing your furry friends.
5. How far are these hotels from major attractions in San Diego?
The distance from these hotels to major attractions varies. However, most are conveniently located near popular tourist spots and offer easy access to explore the city.
Travel Tips
1. Plan Ahead
When booking a romantic getaway, it's essential to plan ahead. Make reservations at your chosen hotel well in advance to secure your preferred dates and room type.
2. Check for Special Packages
Many romantic hotels offer special packages for couples. Look for deals that include amenities like champagne, spa treatments, or romantic dinners to enhance your experience.
3. Research Nearby Attractions
Before your trip, research the nearby attractions and activities you'd like to explore. This will help you make the most of your time in San Diego.
4. Consider the Season
The best time to visit San Diego for a romantic getaway is during the spring or fall when the weather is mild, and the crowds are thinner. Summer can be busy, so plan accordingly.
If you plan to spend time at the beach, make sure to pack essentials like sunscreen, swimsuits, and beach towels. Some hotels may provide beach equipment, so check with your accommodation.