Are you seeking an extraordinary adventure that will take your breath away? Look no further, as we explore 12 unusual places on Earth that promise to leave you in awe. From surreal salt flats to eerie lakes and enchanted forests, these destinations are a testament to the remarkable diversity and beauty of our planet. So, pack your bags and get ready for an unforgettable journey to these unique and breathtaking locations.
1. Salar De Uyuni – Explore the White Salt Bed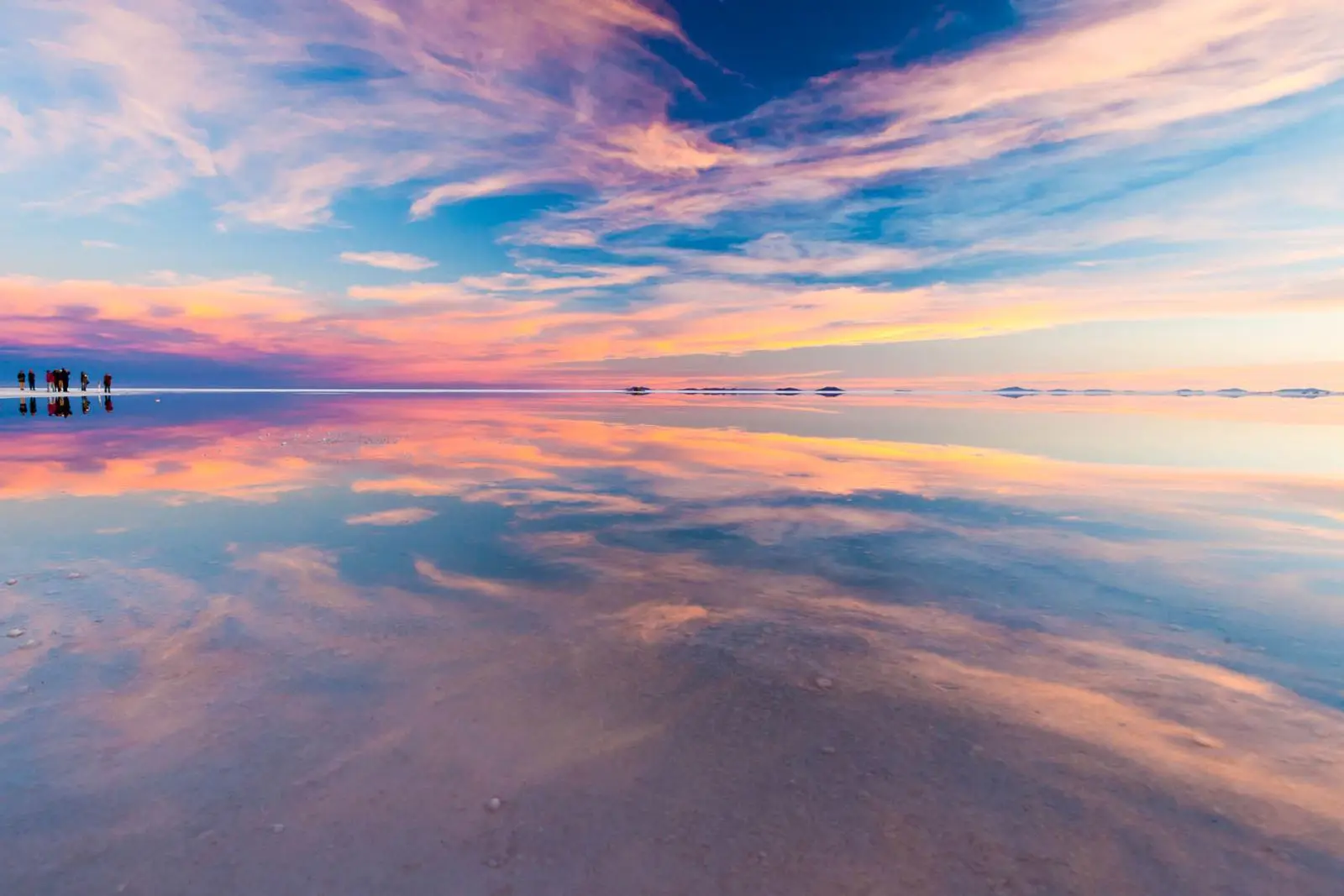 Salar De Uyuni, located in the Potosi and Oruro departments, is one of the most unusual places in the world. This vast salt flat is considered one of the strangest places on Earth. When the winter rains arrive, the salt flat is transformed into the world's largest mirror, creating a breathtaking spectacle. Visitors can enjoy the surreal view of central Inchausti Island, cactus islands, and rock formations. Pink flamingos add to the charm of this strange landscape, making it a must-visit destination.
Best Time to Visit: July and October
Salar De Uyuni is a geological wonder, spanning over 10,000 square kilometers. The salt crust, which covers a pool of brine, creates a mirror effect that reflects the sky, clouds, and distant mountains. Visitors often feel like they are walking on a vast, endless sea of glass.
2. Lake Natron – The Scariest Lake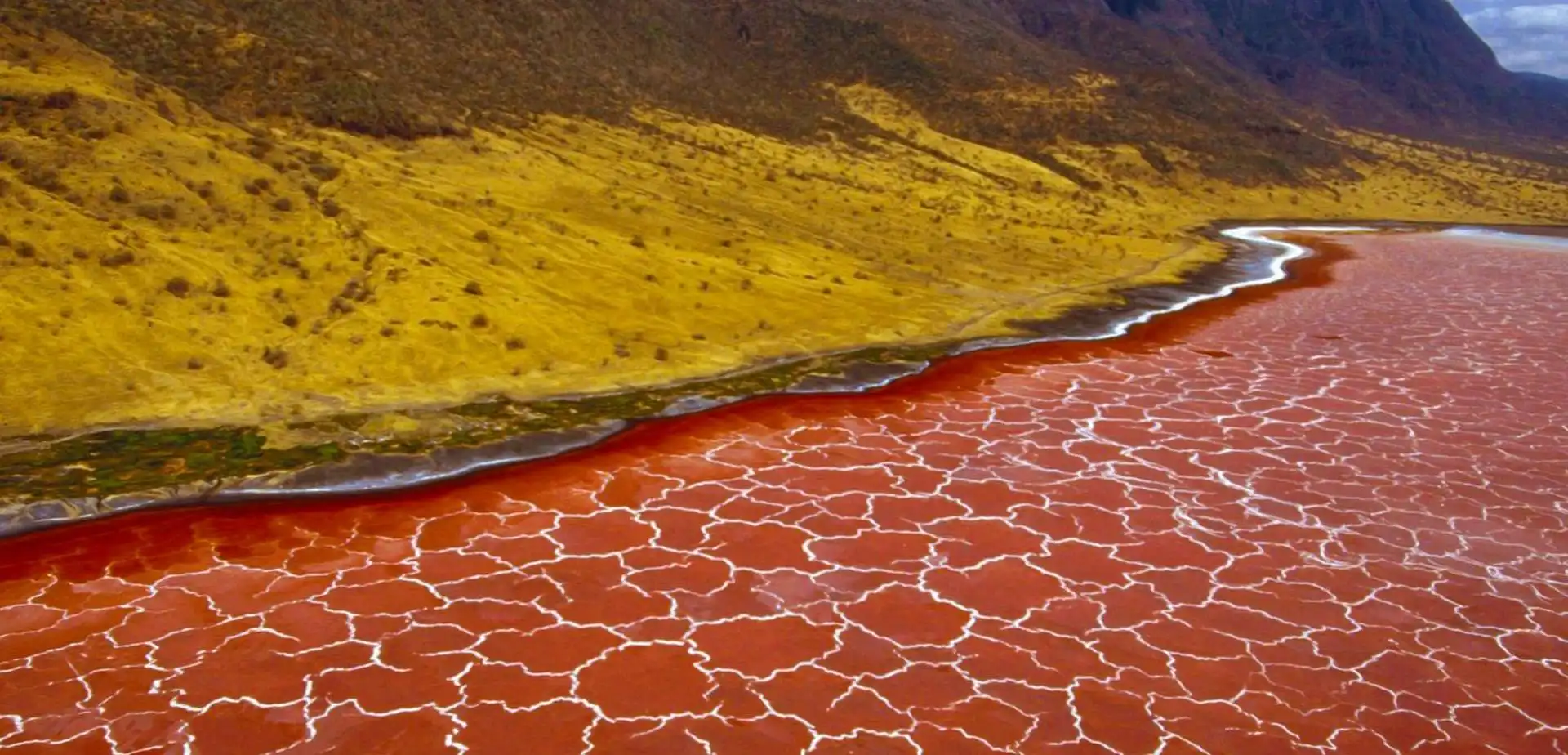 Lake Natron is an otherworldly destination known for its terrifying and eerie views. What sets this lake apart is its ability to turn animals that perish within its waters into calcified statues, a result of the high sodium bicarbonate content. As a result, the lake appears red, especially during the summer months. If you seek adventure in the most unusual and eerie places, Lake Natron is an absolute must for your bucket list.
Best Time to Visit: June to August Location: Tanzania
Lake Natron's distinctive red color is a result of the microorganisms that thrive in its highly alkaline waters. These microorganisms produce pigments that give the lake its unique hue. The surrounding landscape is equally surreal, with petrified trees and bizarre rock formations.
3. Die Rakotzbrück – The Nature's Own Ring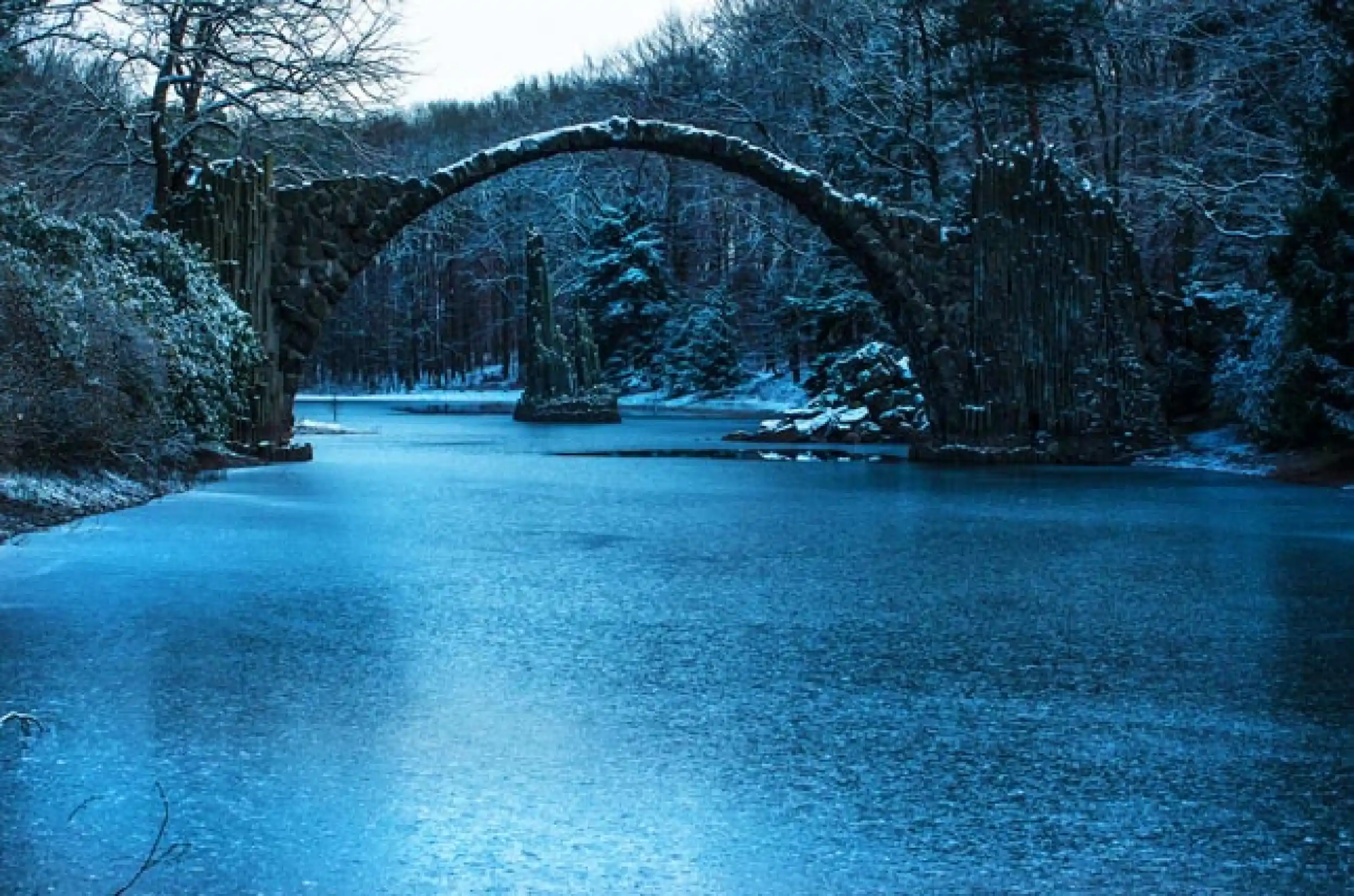 Dia Rakotzbruck, also known as the "Devil's Bridge," is another peculiar place on Earth, renowned for its natural stone circle that offers a mesmerizing view to visitors. Constructed in the 19th century, this unusual bridge is famously known as the "Devil's Bridge." Its design emphasizes aesthetics and artistry over utility, creating an enchanting atmosphere.
Best Time to Visit: May to September Location: Gablenz, Germany
The construction of Dia Rakotzbruck was inspired by the idea of creating a perfect stone circle that would be reflected in the water, forming a complete ring. The bridge's design and the surrounding landscape are so captivating that it's often considered a work of art rather than a mere structure.
4. Spotted Lake Khiluk, Puddles of Water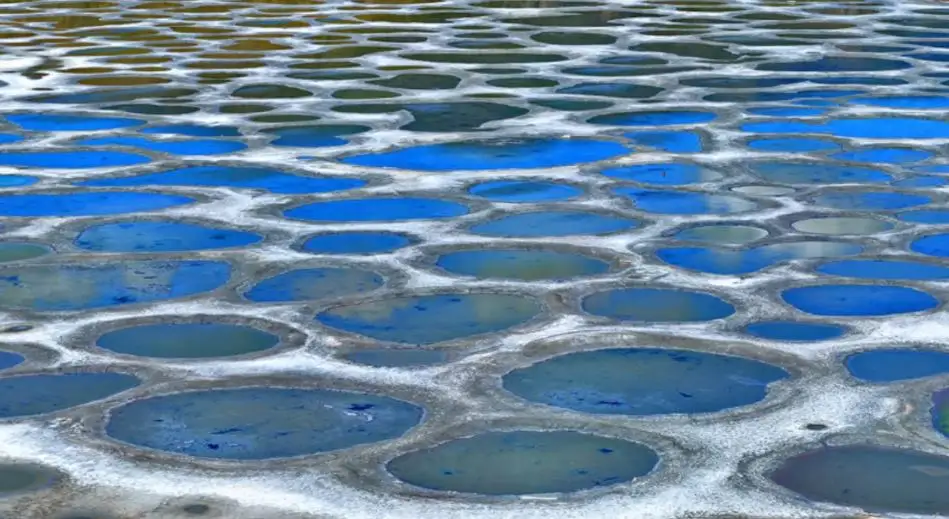 Spotted Lake is one of the most bizarre places on Earth. Dotted with 365 separate pools in mosaic-like patterns, this lake contains thousands of different chemicals and is said to possess healing properties. While the myth of its healing abilities remains unproven, there's no denying the surreal and otherworldly feeling that this place evokes.
Location: Northwest of Osoyoos, British Columbia Best Time to Visit: April to October
The unique patterns and colors of the pools in Spotted Lake are a result of the varying mineral concentrations in each pool. These natural variations give the lake its distinct appearance, making it a sight to behold.
5. The Giant's Causeway, Northern Ireland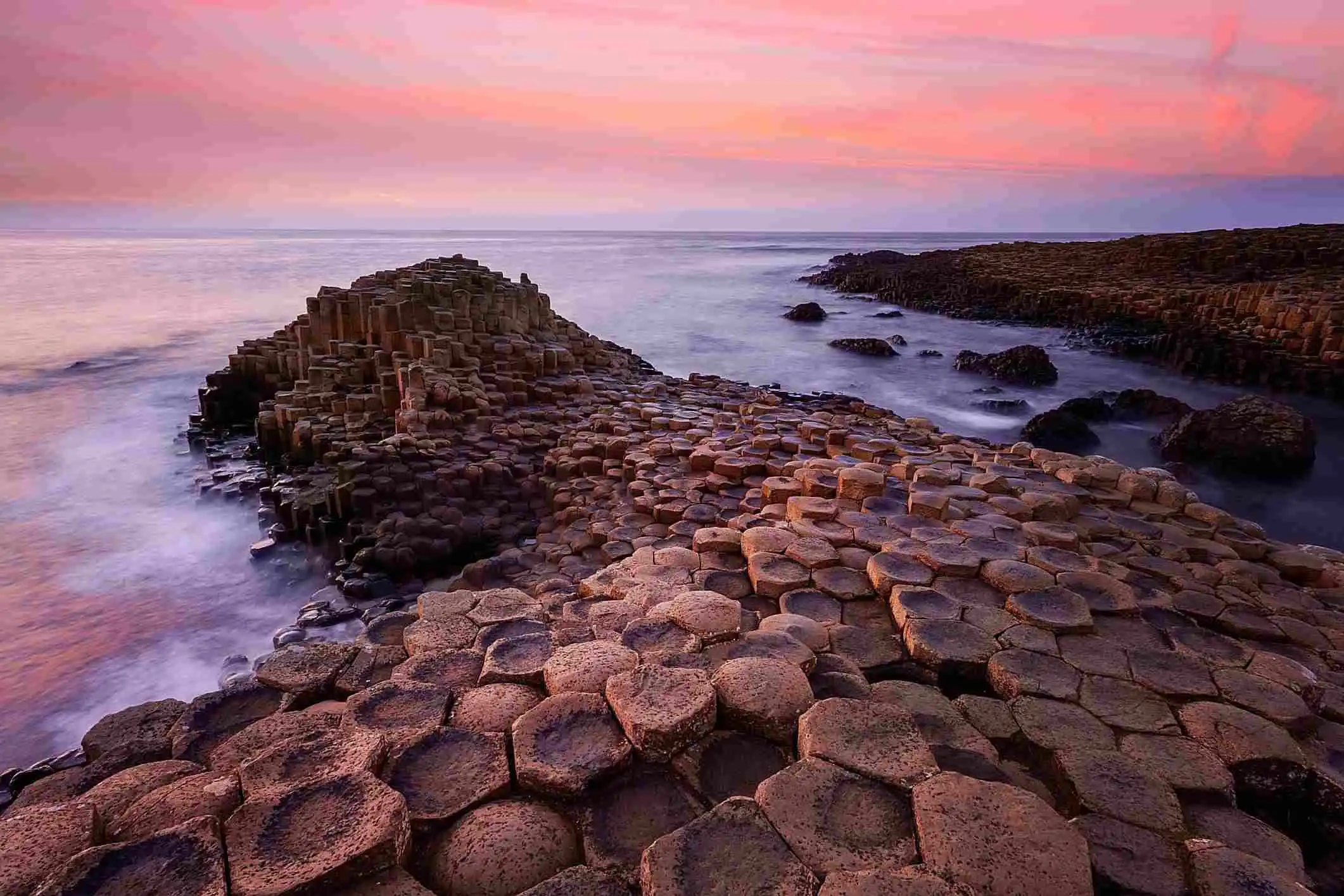 The Giant's Causeway is a unique and enigmatic UNESCO World Heritage site in Northern Ireland. Approximately 60 million years ago, a massive volcanic eruption led to the formation of 37,000 polygon columns as the molten basalt cooled. Local legend suggests a different origin for these columns, adding to the mystery. For those in search of the most unusual places on Earth, the Giant's Causeway is a captivating destination.
The unique geological formation of the Giant's Causeway has given rise to various myths and legends. According to one story, it was built by an Irish giant named Finn McCool. The columns are the result of the giants tearing up the causeway to challenge their Scottish rivals.
6. Slope Point – Windy Spot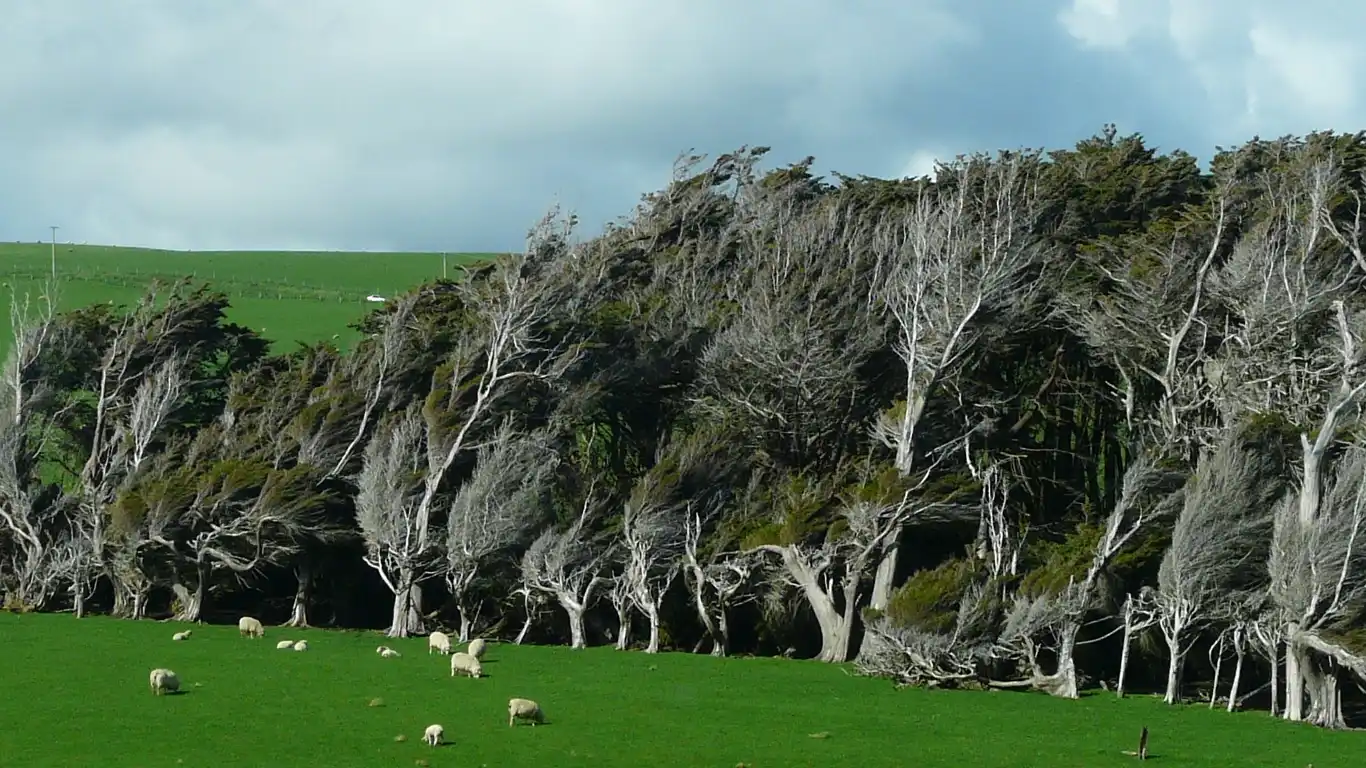 Slope Point is one of the most intriguing and attractive places to visit globally, known for its steep terrain and trees that endure the intense Antarctic winds. The weather at Slope Point remains windy and stormy throughout the year, so be sure to pack warm clothing. This unusual place offers stunning views of rugged cliffs battered by strong winds and is famous for sheep farming.
Best Time to Visit: December to February Location: New Zealand
Slope Point is located at the southernmost tip of New Zealand's South Island. The harsh climate and strong winds have sculpted the trees into unique, wind-blown shapes. The landscape is both beautiful and surreal.
7. Dead Vlei, The Beautiful Yet Dead Forest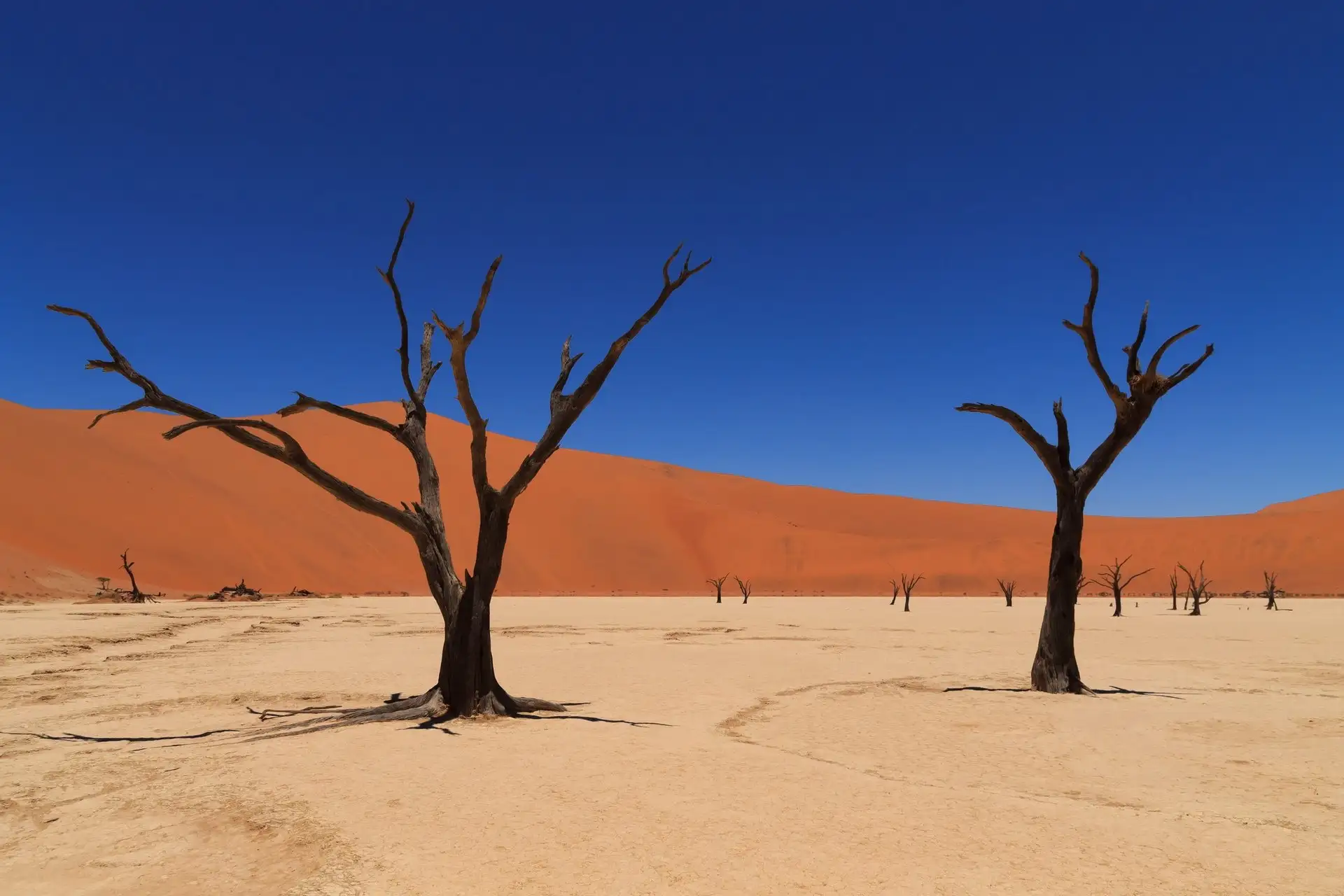 For those seeking the weirdest and eeriest places to visit, Dead Vlei belongs on your bucket list. It's famous for its sun-blackened dead forest, blanketed in white clay, and a dried oasis. Visitors should come prepared with essential supplies like water, food, and blankets, as this place is also home to rust-orange giant dunes, known as the world's tallest dunes.
Dead Vlei, which translates to "Dead Marsh," is a stark contrast to the surrounding Namib Desert. The dead trees, clay pan, and towering dunes create an eerie and beautiful scene.
8. Underwater Park – Fun Below the Water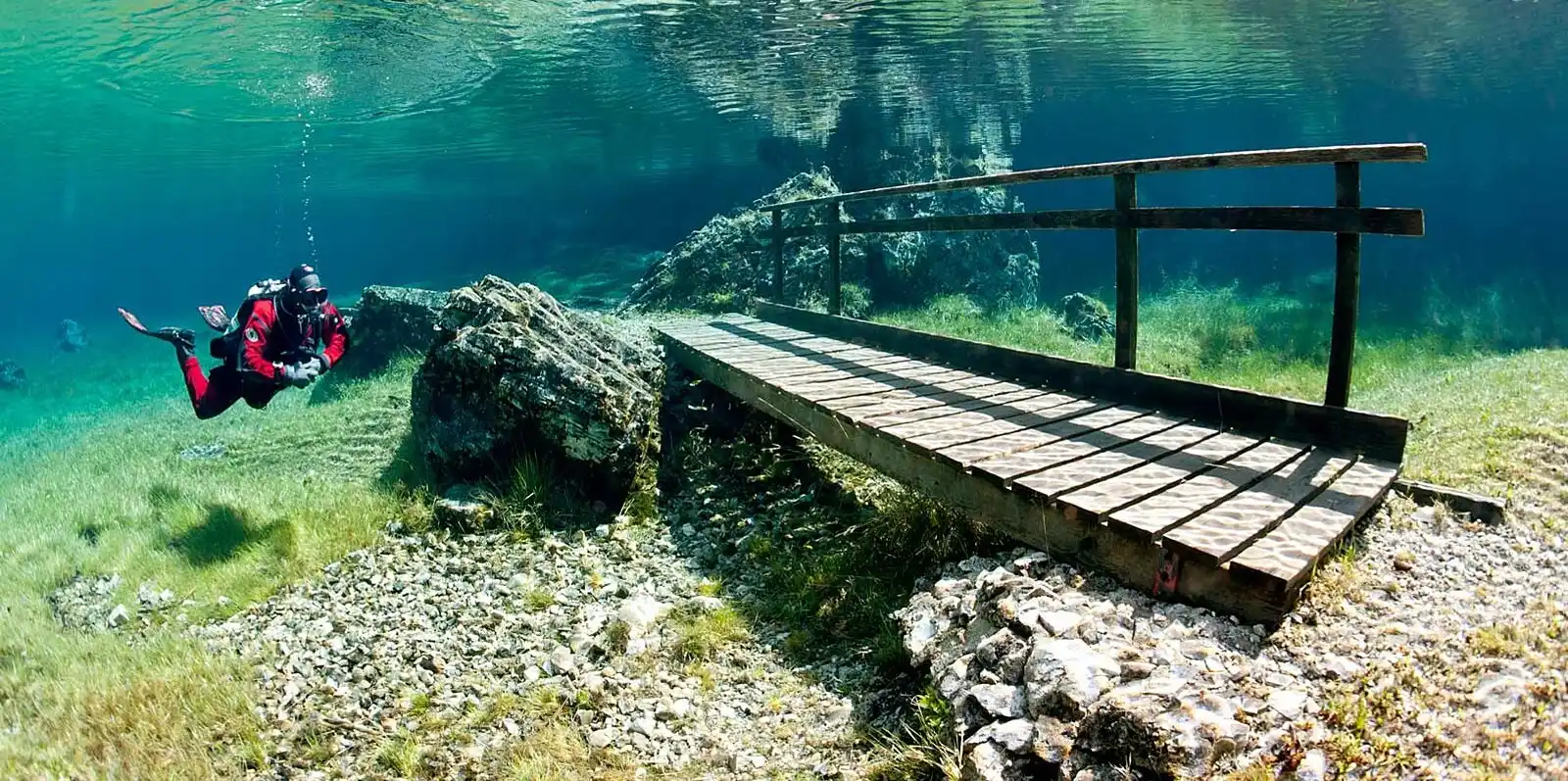 The world-famous underwater park can be found in Green Lake in Tragoess, Austria. This astonishing underwater park is one of the most unusual places to explore on Earth. The park provides a captivating underwater experience during the spring season, drawing scuba divers from across Europe. It's renowned for its rare natural phenomenon and the remarkable sights it offers beneath the surface.
Best Time to Visit: April to May Location: Austria
Green Lake is known for its dramatic transformation each year. During the spring thaw, the park is submerged underwater, creating an enchanting underwater landscape. Divers can explore the submerged park benches, trails, and trees.
9. Eternal Flame Falls, Nature's Unique Phenomena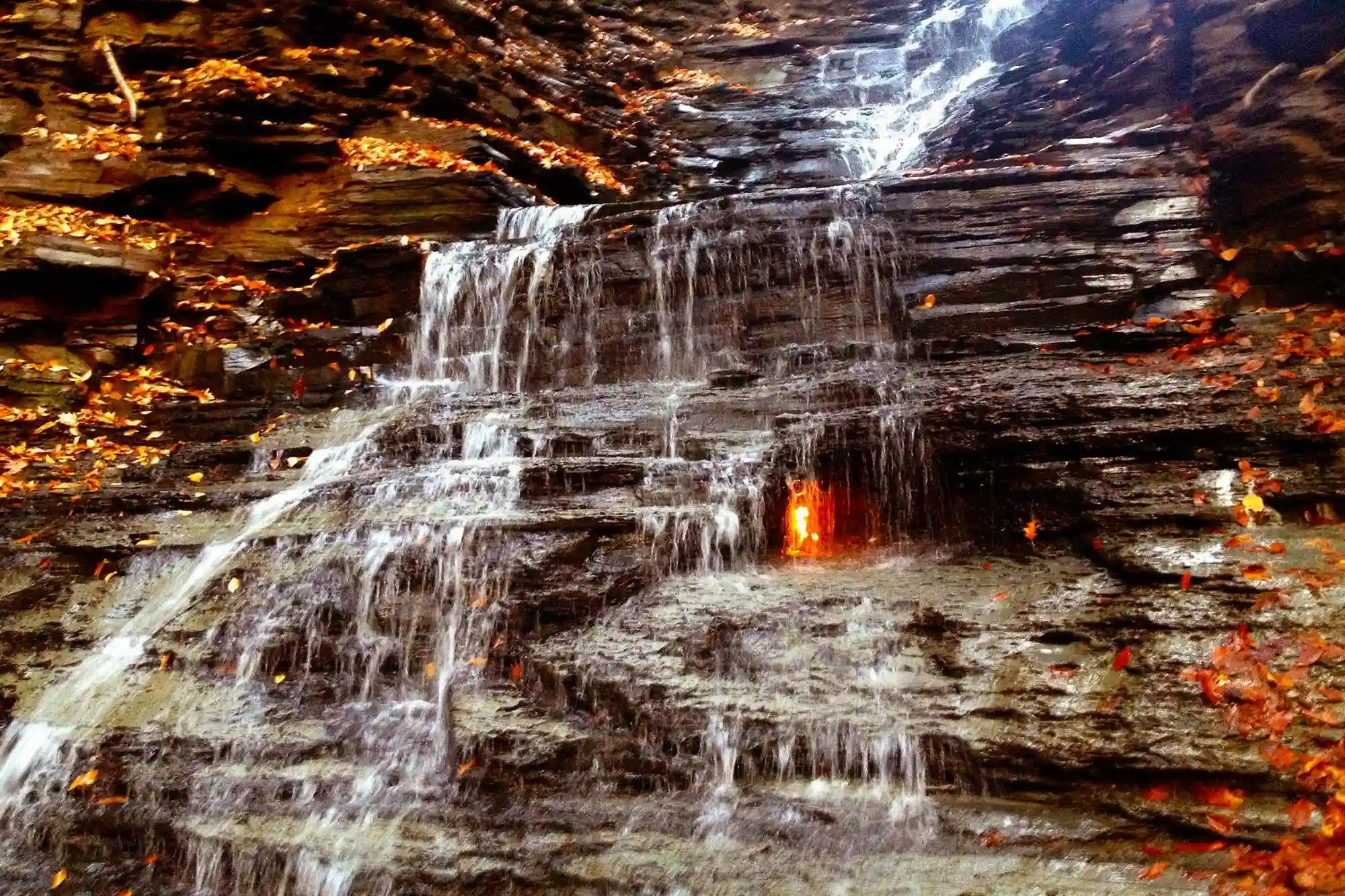 Eternal Flame Falls is one of the weirdest and most extraordinary places to visit on Earth. Situated within Shale Creek Preserve, a part of Chestnut Ridge Park in Western New York, this place is truly one of a kind. What sets it apart is a small feature at the base of the waterfall that emits a flame due to natural gases. This captivating sight is visible year-round, creating a beautiful and soothing ambiance.
Best Time to Visit: April to October Location: New York, USA
The natural gas responsible for the eternal flame is emitted through cracks in the rock behind the waterfall. The flame can vary in size, but it's a consistent and captivating feature that has made this waterfall a unique and mystical destination.
10. Tunnel of Love, Walk Amidst the Greenery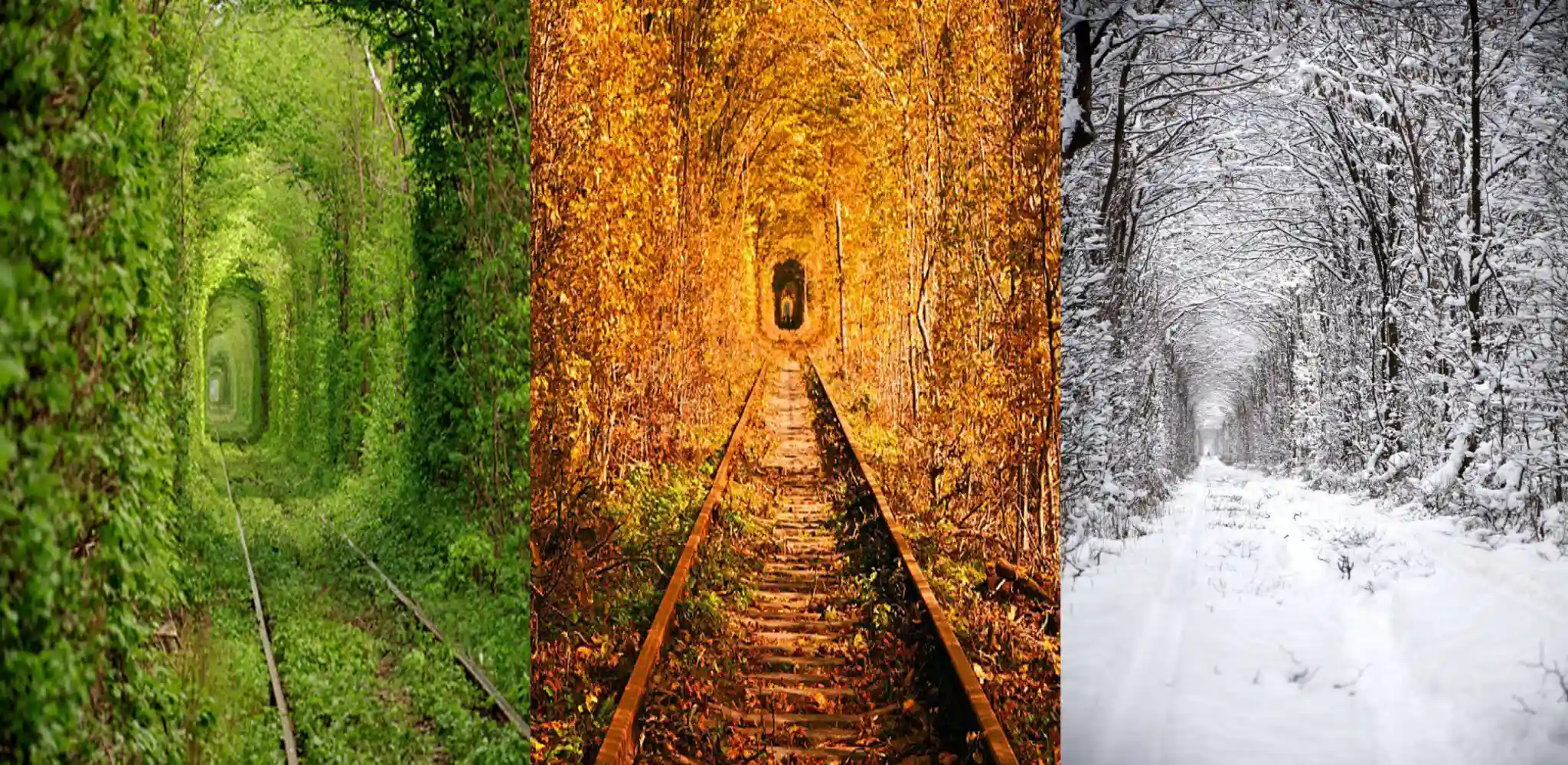 For couples and nature enthusiasts, the Tunnel of Love is an enchanting destination that should not be missed. This place exudes a fairy-tale-like charm, making it a perfect spot for romantic getaways. It's famous for its unique attractions, including Disneyland, ensuring that your visit will be filled with fun and entertainment.
Best Time to Visit: May Location: Ukraine
The Tunnel of Love is a natural tunnel formed by trees and shrubs that have grown around a functioning railway track. It's a place of undeniable charm and beauty, often visited by couples seeking a romantic stroll.
11. The Silfra Rift, Experience the Two Continents Underwater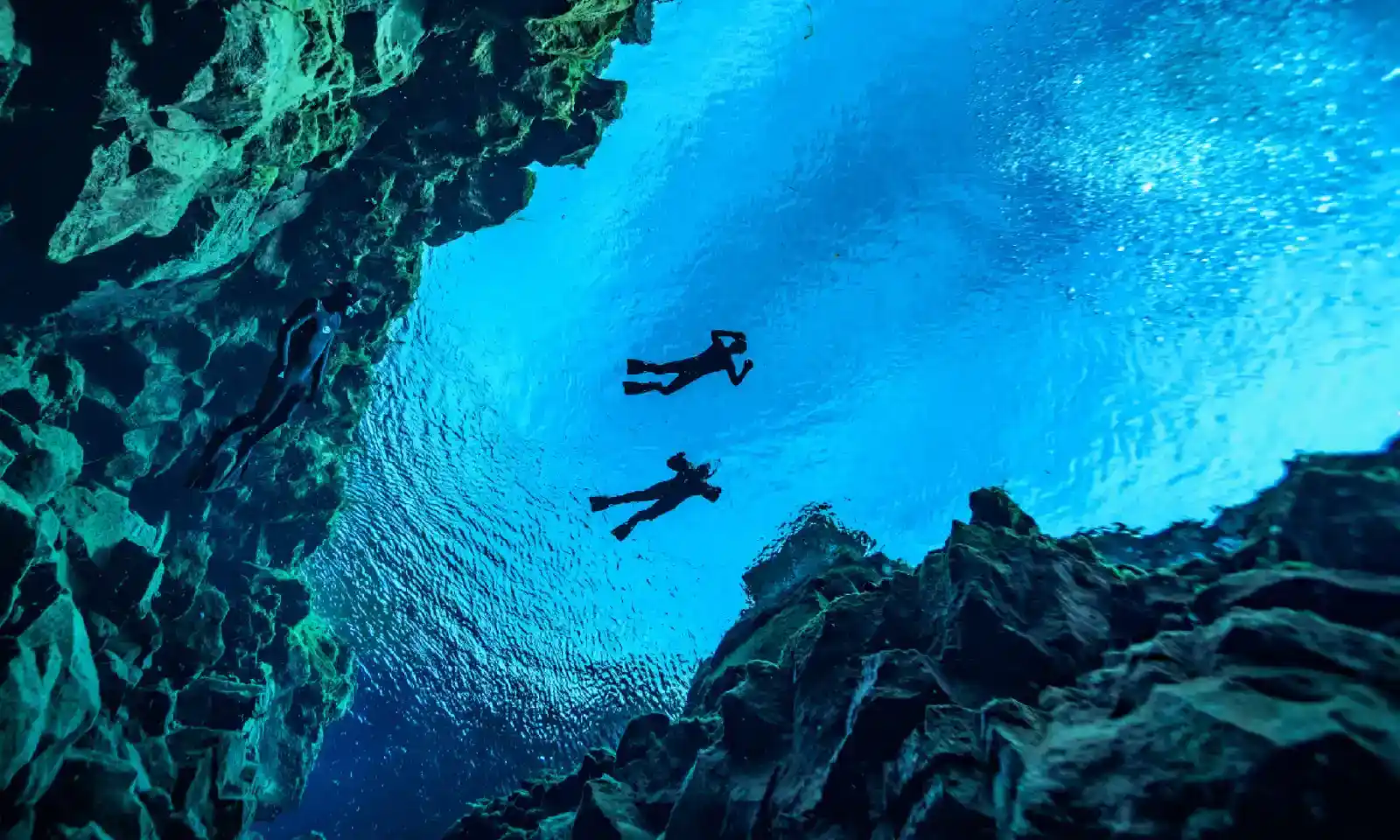 The Silfra Rift is one of the most unusual and obscure places globally, as it separates two tectonic plates and continents: the Eurasian and North American plates. Covering an area of approximately 600 by 200 meters, this place is famous for snorkeling and offers a remarkable experience in Iceland's pristine waters.
Best Time to Visit: June to August Location: Iceland
The Silfra Rift is unique because it provides the opportunity to swim and snorkel between two continents. The water is incredibly clear, allowing for visibility of up to 100 meters. The experience of floating in the Silfra Rift is truly otherworldly.
12. Cano Cristales, The River of 5 Colors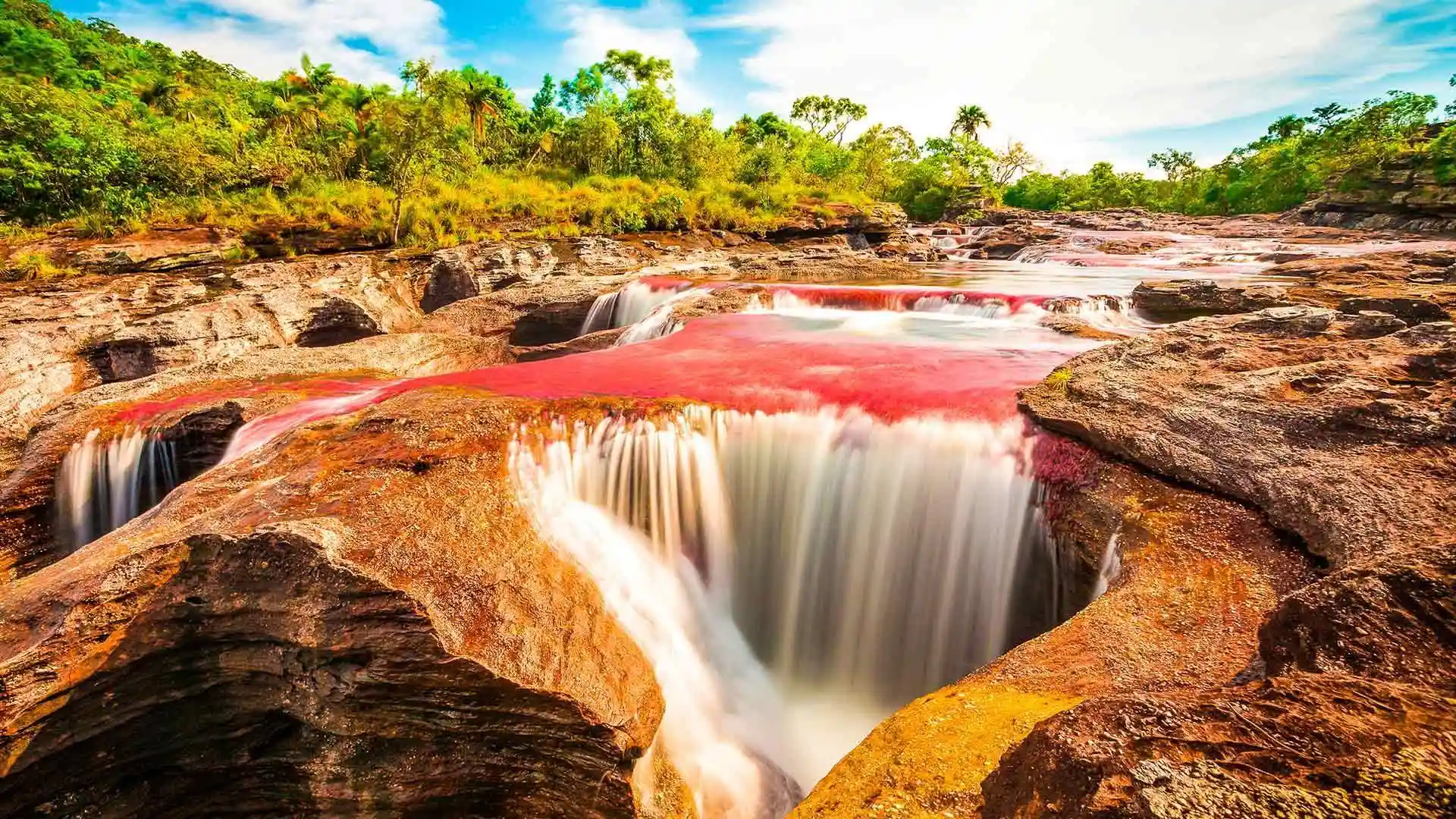 Cano Cristales is an unusual place to visit on Earth, renowned for its distinctive species of plants that turn the river red. This river, also known as the River of Five Colors, is one of the most captivating and unique rivers worldwide. Its vibrant and ever-changing water colors make it an absolute must-see destination.
Best Time to Visit: May to November Location: Colombia
Cano Cristales is often called the "Liquid Rainbow" due to its vibrant colors. The unique shades are created by a combination of algae, water, and sunlight. Visitors can witness the river's transformation as it shifts from red to yellow, green, and even blue during different times of the year.
FAQs About Unusual Places to Visit on Earth
Traveling to unusual places can be an exciting but perplexing experience. To help you better understand and plan your journey, we've gathered some frequently asked questions about these remarkable destinations.
1. Are these places safe to visit?
Most of the places mentioned are generally safe for tourists. However, it's crucial to research the specific destination and follow local guidelines and recommendations. Always stay informed about the local conditions and be prepared for any challenges that may arise during your travels.
2. Can I visit these places year-round?
The best time to visit these places varies depending on the location and weather conditions. We've provided the optimal times to visit each place in the descriptions above. It's advisable to plan your trip accordingly to make the most of your visit.
3. How do I get to these unusual destinations?
Getting to these places often involves a combination of air travel, road trips, and sometimes even hiking. Research the nearest airports, accommodations, and transportation options before embarking on your adventure.
4. What should I pack for these trips?
Packing essentials depend on the location and time of year. In general, make sure to bring appropriate clothing, including warm layers, comfortable shoes for walking or hiking, and any necessary supplies like water and snacks. Check the specific requirements for each destination and pack accordingly.
Many of these unusual places offer guided tours for visitors. These tours can provide valuable insights into the history, geology, and culture of the region. Check with local tour operators to see if guided tours are available and consider booking one for a more enriching experience.
6. Are there accommodations near these destinations?
Accommodations vary from place to place. Some locations have nearby hotels and lodges, while others may require camping or staying in nearby towns. Plan your accommodations in advance to ensure a comfortable stay during your visit.
7. Can I bring children to these destinations?
While some of these unusual places are family-friendly, others may not be suitable for young children due to the terrain or remote locations. Check the individual descriptions to determine if a destination is suitable for family travel.
Travel Tips for Exploring Unusual Places
1. Research Thoroughly
Before embarking on your journey, research each destination extensively. Learn about the best time to visit, local customs, and any permits or fees required.
2. Pack Wisely
Pack according to the specific needs of the destination. Be prepared for diverse weather conditions and terrain. Ensure you have essential items like a first-aid kit, insect repellent, and appropriate clothing.
3. Respect the Environment
When visiting these unique places, remember to respect the environment. Follow leave-no-trace principles, take only photographs, and leave nothing behind. Help preserve these remarkable locations for future generations.
4. Stay Informed
Stay updated on local news and any developments that may affect your travel plans. Knowing about weather conditions, road closures, or any local advisories can help ensure a safe and enjoyable trip.
5. Follow Local Guidelines
Obey all local guidelines, whether they relate to safety, wildlife protection, or cultural preservation. This will help you have a positive impact on the destination and the local community.
6. Consider Guided Tours
If you're unsure about exploring these places on your own, consider booking a guided tour. Experienced guides can provide valuable insights and enhance your overall experience.
7. Capture Memories
Bring a good camera or smartphone to capture the breathtaking scenery. These unique places offer fantastic photo opportunities, so make sure to document your journey.