Discover the 10 top attractions in Yosemite National Park and immerse yourself in the breathtaking beauty of this natural wonderland. From iconic landmarks to awe-inspiring vistas, this comprehensive guide will take you on an unforgettable journey through Yosemite's finest destinations.
Introduction
Welcome to Yosemite National Park, a place of sheer natural beauty and grandeur! Yosemite, located in California's Sierra Nevada mountains, is a sanctuary for nature enthusiasts and adventurers alike. Spanning over 1,100 square miles, this iconic park offers a diverse range of attractions that captivate millions of visitors every year. In this article, we'll explore the 10 top attractions that make Yosemite an unrivaled destination for outdoor enthusiasts and travelers seeking an unforgettable experience in the lap of nature.
10 Top Attractions in Yosemite National Park
1. Yosemite Falls: Witness the Grace of Nature's Cascade
Yosemite Falls is one of the most majestic waterfalls in the world. With a total drop of 2,425 feet, it consists of three sections – Upper Falls, Middle Cascades, and Lower Falls. The sheer power and beauty of this cascade will leave you in awe. Don't miss the chance to hike the Yosemite Falls Trail for a closer encounter with this natural wonder.
2. Half Dome: An Iconic Granite Monolith
Rising nearly 5,000 feet above the valley floor, Half Dome is an iconic symbol of Yosemite. This granite monolith presents an exhilarating challenge for skilled climbers who wish to reach its summit. For a less strenuous experience, venture to Glacier Point for a stunning view of Half Dome and the surrounding landscape.
3. El Capitan: A Climber's Paradise
El Capitan is a vertical rock formation that stands proudly in Yosemite Valley. Renowned as a mecca for rock climbers, this 3,000-foot monolith offers daring challenges for experienced climbers. Even if you're not a climber, observing climbers conquer El Capitan is an inspiring sight.
4. Vernal and Nevada Falls: Nature's Staircase
These two stunning waterfalls are accessible via the Mist Trail, a popular hiking route in Yosemite. Vernal Fall cascades 317 feet, while Nevada Fall drops dramatically at 594 feet. The Mist Trail rewards hikers with refreshing sprays and awe-inspiring views along the way.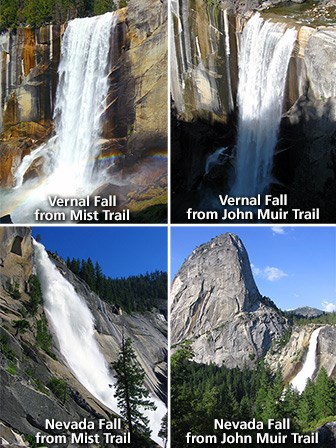 5. Glacier Point: A Panoramic Vista
For a breathtaking panoramic view of Yosemite Valley, Glacier Point is the place to be. Accessible by car or hiking, this vantage point showcases iconic landmarks like Half Dome, Yosemite Falls, and the high country's snow-capped peaks.
6. Tunnel View: Nature's Masterpiece
Tunnel View is a must-visit spot for first-time visitors to Yosemite. As you emerge from the Wawona Tunnel, you'll be greeted by a magnificent vista of El Capitan, Half Dome, and Bridalveil Fall. This breathtaking view has inspired countless artists and photographers.
7. Mariposa Grove of Giant Sequoias: Ancient Giants
Step into a world of giants at Mariposa Grove, home to some of the largest and oldest living trees on Earth – the giant sequoias. The Grizzly Giant and the California Tunnel Tree are among the highlights of this awe-inspiring forest.
8. Tuolumne Meadows: A High Sierra Gem
Escape the crowds and venture into the serene wilderness of Tuolumne Meadows. This high-elevation subalpine meadow is perfect for hiking, picnicking, and immersing yourself in the beauty of Yosemite's alpine landscape.
9. Cathedral Lakes: Alpine Serenity
For a peaceful and picturesque escape, hike to Cathedral Lakes. These pristine alpine lakes reflect the surrounding granite peaks, creating a stunning tableau that will leave you rejuvenated.
10. Mist Trail: A Journey to Remember
Experience the beauty of Yosemite up close and personal on the Mist Trail. This scenic hike takes you past Vernal and Nevada Falls, treating you to refreshing mists and breathtaking views. Be prepared to be amazed at every turn.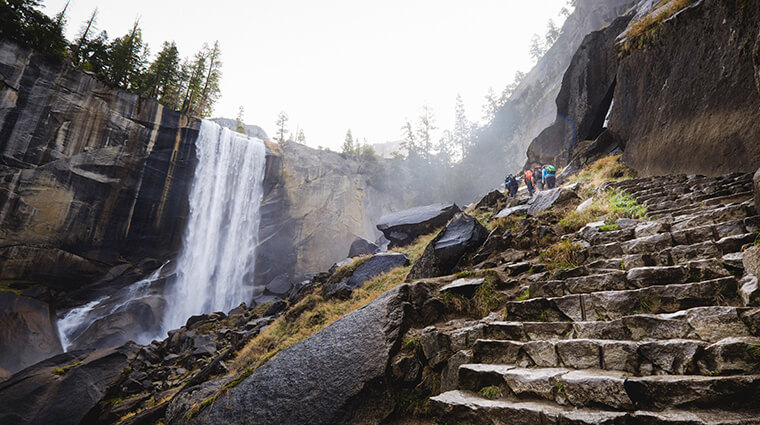 Is Yosemite National Park open year-round?Yes, Yosemite National Park is open year-round, offering a different experience in each season. However, some high-elevation areas may be inaccessible during winter due to snowfall.
Are reservations required to enter Yosemite National Park?As of the latest update, reservations are required to enter Yosemite National Park to manage visitor capacity and preserve the natural beauty of the park. Make sure to check the official website for the latest reservation policies.
What are the best times to visit Yosemite National Park?Spring and fall are generally considered the best times to visit Yosemite. During spring, the waterfalls are at their peak, and in the fall, you can witness stunning foliage. However, each season offers unique experiences.
Are pets allowed in Yosemite National Park?Yes, pets are allowed in Yosemite, but there are certain restrictions. They must be on a leash at all times and are not allowed on hiking trails, shuttle buses, and most meadows.
Is it safe to encounter wildlife in Yosemite?While Yosemite is home to diverse wildlife, it's essential to keep a safe distance and never feed the animals. Respect their space and observe them from a distance to ensure your safety and the animals' well-being.
Can I camp in Yosemite National Park?Yes, camping is allowed in Yosemite. The park offers several campgrounds, but they fill up quickly, so it's advisable to make reservations well in advance.
Conclusion
Yosemite National Park is an enchanting realm of natural wonders that beckons adventurers, nature enthusiasts, and explorers from all walks of life. With its awe-inspiring landscapes, majestic waterfalls, and ancient sequoia groves, Yosemite is a testament to the beauty and power of Mother Nature. Whether you embark on challenging hikes, capture mesmerizing sunsets, or simply breathe in the pure air, Yosemite will leave an indelible mark on your heart. So, pack your bags, embrace the spirit of adventure, and discover the 10 top attractions in Yosemite National Park that will fill your soul with joy and wonder.