Kausani is a picturesque hill station nestled in the state of Uttarakhand, India. Known as "The Land of Tea Gardens," this enchanting destination offers breathtaking views of the Himalayan peaks and lush green tea plantations. With its pleasant climate, rich history, and diverse attractions, Kausani attracts nature lovers, adventure enthusiasts, and tea connoisseurs from all around the world.
Introduction
Nestled in the lap of the Himalayas, Kausani is a hidden gem that showcases the true beauty of nature. This charming hill station is located at an altitude of 1,890 meters and offers a serene escape from the hustle and bustle of city life. Whether you're seeking tranquility, natural beauty, or a glimpse into India's rich history, Kausani has something to offer for everyone.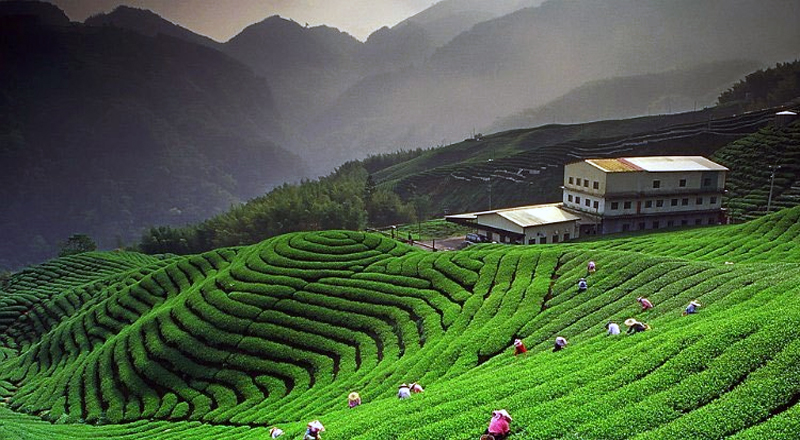 Overview of Kausani
Kausani is a small town in the Bageshwar district of Uttarakhand. It is renowned for its panoramic views of the snow-capped Himalayan peaks, including Nanda Devi, Trishul, and Panchachuli. The town is surrounded by dense pine forests and terraced fields, adding to its scenic charm. Kausani is also famous for its tea gardens, which produce some of the finest teas in India.
The History of Kausani
Kausani has a fascinating history that dates back to ancient times. It is believed that the town was once a part of the ancient Katyuri dynasty and served as a center for learning and meditation. Famous poet Sumitranandan Pant, who was captivated by the beauty of Kausani, referred to it as the "Switzerland of India" due to its striking resemblance to the Swiss landscape.
Tea Gardens in Kausani
One of the main highlights of Kausani is its tea gardens. Spread across vast stretches of land, these tea plantations offer a mesmerizing sight with their neatly manicured bushes and the aroma of fresh tea leaves. Visitors can take a guided tour of the tea gardens, learn about the tea-making process, and even indulge in tea tasting sessions. The tea produced here is known for its unique flavor and quality.
Climate and Weather in Kausani
Kausani enjoys a pleasant climate throughout the year, making it an ideal destination for a relaxing getaway. Summers are mild, with temperatures ranging between 15°C and 25°C, while winters can get chilly, with temperatures dropping to 0°C. The monsoon season brings refreshing showers, adding to the natural beauty of the region.
Flora and Fauna in Kausani
Kausani is blessed with rich biodiversity, boasting a variety of flora and fauna. The forests surrounding the town are home to numerous species of birds, making it a paradise for birdwatchers. Commonly spotted avian species include Himalayan griffon, black-headed jay, and white-throated laughing thrush. The region is also inhabited by animals like leopards, barking deer, and langurs.
Attractions in Kausani
Kausani offers a plethora of attractions that cater to different interests. Baijnath Temple, an ancient 12th-century temple dedicated to Lord Shiva, is a must-visit for history buffs and spirituality seekers. Anasakti Ashram, where Mahatma Gandhi stayed for a few days and wrote his commentary on Anasakti Yoga, provides a peaceful retreat for meditation and introspection.
For those seeking adventure, trekking to Pinnath or exploring the Bageshwar district's caves are highly recommended. The Rudradhari Falls and Caves, located a short distance from Kausani, offer a captivating natural spectacle and an opportunity to explore hidden caves.
Adventure Activities in Kausani
Kausani offers an array of thrilling adventure activities for adrenaline junkies. Trekking enthusiasts can embark on treks to places like Adi Kailash, Kafni Glacier, and Sunderdhunga Valley, which provide stunning views of the surrounding mountains and valleys. Paragliding, rappelling, and rock climbing are other popular activities that allow visitors to experience the thrill of being in the mountains.
Local Cuisine in Kausani
Exploring the local cuisine is an essential part of any travel experience, and Kausani doesn't disappoint in this regard. The region is known for its delicious Kumaoni cuisine, which includes dishes like Bal Mithai (a sweet made from khoya and sugar), Bhang ki Chutney (a chutney made from hemp seeds), and Aloo ke Gutke (spicy fried potatoes). Don't forget to savor a cup of freshly brewed Kausani tea during your visit.
Best Time to Visit Kausani
Kausani is a year-round destination, but the best time to visit is during the summer months of April to June when the weather is pleasant, and the views of the Himalayan peaks are clear. Winter enthusiasts can plan a visit between November and February to witness the snow-capped mountains and enjoy a cozy retreat.
Accommodation Options in Kausani
Kausani offers a range of accommodation options to suit different budgets and preferences. From luxury resorts with stunning mountain views to cozy guesthouses nestled amidst nature, there's something for every traveler. Some popular choices include the Himalayan Eco Lodge, Chevron Mountain Villa, and Heritage Resort.
How to Reach Kausani
Reaching Kausani is relatively easy, with various transportation options available. The nearest airport is Pantnagar Airport, approximately 162 kilometers away, while Kathgodam Railway Station is the nearest railhead, located around 142 kilometers from Kausani. From there, one can hire a taxi or take a local bus to reach the hill station.
Shopping in Kausani
Kausani offers a unique shopping experience for travelers looking to take home souvenirs. The town is known for its local handicrafts, including woolen shawls, hand-knitted sweaters, and handmade candles. You can also purchase freshly harvested tea leaves and locally produced honey, which make for excellent gifts or personal keepsakes.
Tips for Visiting Kausani
Dress in layers as the weather can change quickly in the mountains.
Carry sunscreen, sunglasses, and a hat to protect yourself from the sun.
Stay hydrated and carry a water bottle during your outings.
Respect the local culture and traditions while visiting temples and religious sites.
Follow eco-friendly practices and dispose of waste responsibly.
Conclusion
Kausani truly lives up to its reputation as "The Land of Tea Gardens." From its awe-inspiring Himalayan vistas to its captivating tea plantations and rich cultural heritage, this hill station has a charm that leaves visitors spellbound. Whether you seek solace in nature, adventure in the mountains, or a rejuvenating escape, Kausani offers an unforgettable experience for all.
FAQs
1. Is Kausani suitable for a family vacation? Absolutely! Kausani is an ideal destination for a family vacation. The serene surroundings, pleasant weather, and various attractions make it a great place to create lasting memories with your loved ones.
2. Are there any trekking routes suitable for beginners in Kausani? Yes, Kausani offers several trekking routes suitable for beginners. The trek to Rudradhari Falls and Caves is relatively easy and rewards trekkers with beautiful views.
3. Can I visit Kausani during the monsoon season? Yes, you can visit Kausani during the monsoon season. However, be prepared for occasional rainfall, and some trekking routes may be closed due to safety concerns.
4. Are there any adventure sports facilities in Kausani? Yes, Kausani offers adventure sports facilities like paragliding, rappelling, and rock climbing for thrill-seekers. Make sure to check with local operators for availability and safety guidelines.
5. Can I buy tea from the tea gardens in Kausani? Yes, you can buy tea directly from the tea gardens in Kausani. The tea produced here is renowned for its quality and flavor, making it a perfect souvenir or a treat for yourself.