Beaver Bay Campground, situated on the eastern shores of Yale Reservoir in Washington State, is a hidden gem for nature enthusiasts and camping aficionados. This picturesque destination offers a wealth of natural beauty, from serene waters to lush forests. Whether you're an RV camper or prefer traditional tent camping, Beaver Bay Campground has something to offer everyone.
Check the Availability
Before embarking on your journey to Beaver Bay Campground, it's crucial to check the availability of campsite reservations. Given its popularity, securing your spot in advance is highly recommended.
Check Availability
Beaver Bay Campground offers various types of sites to cater to different preferences:
Drive In

Drive your car or RV directly to your chosen site, offering convenience and easy access.

Walk In

Park your vehicle in a designated lot and enjoy a short walk to your campsite.

Boat In

For those seeking a unique experience, several sites are accessible by boat.
What are the site types in Beaver Bay?
Tent Sites

RV Sites

Standard Sites

These versatile sites accommodate both RV and tent campers.

Group Sites
Facilities: Features That Are Available for Campers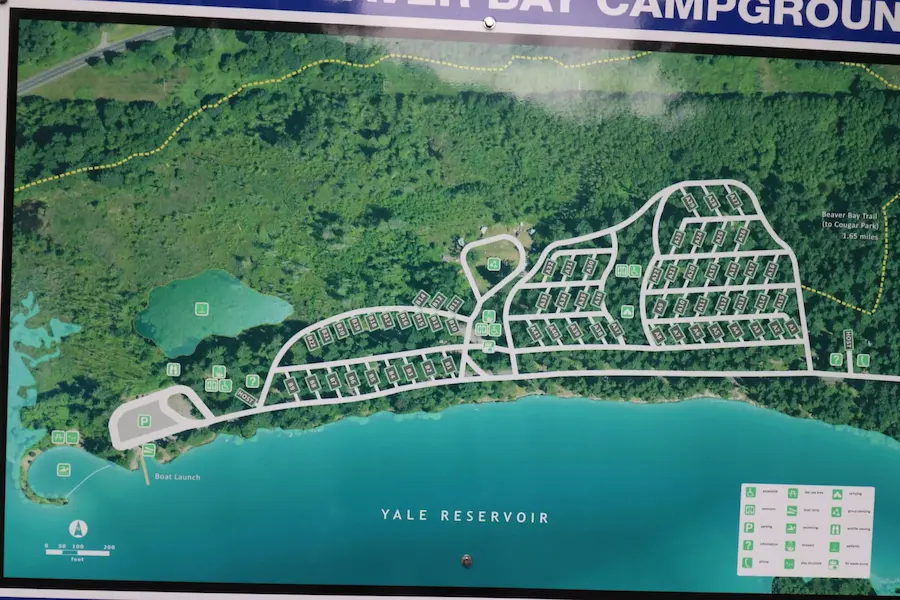 Beaver Bay Campground provides an array of facilities to enhance your camping experience:
Reservable Sites

Reserve your preferred campsite in advance to ensure a stress-free arrival.

Showers

Enjoy access to clean and refreshing shower facilities during your stay.

Drinking Water

Stay hydrated with readily available, potable water sources.

Electric Hookups

RV campers can take advantage of electric hookups, providing convenience and comfort.

ADA Access

Facilities are designed to be accessible to campers with disabilities.

Trash Disposal

Conveniently dispose of waste in designated areas, contributing to a clean environment.

Picnic Tables

Pets

For those traveling with furry companions, Beaver Bay Campground is pet-friendly.

Campfires

Create memorable moments around a campfire at designated fire pits.

Firewood Available

Purchase firewood on-site, making it easy to enjoy the warmth and ambiance of a campfire.

Phone Service

Stay connected with mobile phone service available in the area.

Toilets

Access clean and well-maintained restrooms throughout the campground.

Alcohol

Be aware of the campground's alcohol policies and regulations.

Sanitary Dump

Convenient options are provided for the disposal of waste.

Water Hookups

RV campers can utilize water hookups for added convenience.

Sewer Hookups

Convenient sewer hookups are available for RV campers.
Check the Weather
Before setting out on your journey to Beaver Bay Campground, it's essential to check the weather forecast. Ensuring sunny or clear conditions is crucial to make the most of your camping adventure.
Budget for Your Stay
The cost of your stay at Beaver Bay Campground may vary depending on the travel agent or booking platform you choose. It's advisable to research and compare rates to find the best option for your budget. The cheapest rate offered by PacifiCorp typically ranges from $5 to $21 per night. For detailed pricing information, you can visit the PacifiCorp website.
Travel Tips to Follow Before You Visit Beaver Bay Campground
To make your camping experience at Beaver Bay Campground truly memorable, consider these travel tips:
Bringing a good book along with you can enhance your camping adventure. During moments of relaxation, you can delve into exciting literary journeys. Here are some book suggestions to consider:
"Found: A Life in Mountain Rescue" by Bree Loewen
"The Stranger in the Woods: The Last True Hermit" by Michael Finkel
"The Last Neanderthal" by Claire Cameron
"Woolly: The Story about Extinct Creatures" by Ben Mezrich
"All Over the Place: Adventures in Travel, True Love, and Petty Theft" by Geraldine DeRuiter
"Beartown" by Fredrik Backman
"Rants from the Hill" by Michael P. Branch
"Astrophysics for People in a Hurry" by Neil deGrasse Tyson
"Once in a Blue Moon Lodge" by Lorna Landvik
"The Marsh King's Daughter" by Karen Dionne

Browse the Web for Hiking Trails and Activities
Beaver Bay Campground offers numerous adventure-filled activities to keep you engaged during your stay. Consider the following:
Meditation: Calm Your Mind and Relax
Explore Your Mind with Journaling
Improve Your Typing Skills and Develop a New Skill While Enjoying Beaver Bay Campground
Try Creating New Things Using Whittling
Start Writing a Book
Start Recording a Podcast
Share Your Travel Adventure on YouTube
Birding: Observe and Identify Local Birds
Play Cards
Learn About Trees and Nature

Bring Your Camera and a Tripod to Capture Memories
Don't forget to pack a camera to capture the breathtaking moments and natural beauty of Beaver Bay Campground. Recording your experiences through photographs and videos allows you to relive your adventure long after your trip.
FAQs
As you prepare for your journey to Beaver Bay Campground, it's natural to have questions. Here are some frequently asked questions to help you plan your trip:
Q: Is Beaver Bay Campground suitable for families?

A: Yes, Beaver Bay Campground is a family-friendly destination with a range of activities for all ages.

Q: Can I bring my pets to Beaver Bay Campground?

A: Yes, pets are welcome at Beaver Bay Campground, but make sure to follow the designated pet policies.

Q: Are campfires allowed at the campground?

A: Yes, campfires are allowed in designated fire pits. Please follow campground guidelines and fire safety rules.

Q: Is Wi-Fi available at Beaver Bay Campground?
Q: Are there restaurants or stores nearby for supplies?

A: While there are limited dining options nearby, it's advisable to bring your supplies and groceries.

Q: What are the check-in and check-out times at the campground?

A: Check-in time is typically in the early afternoon, and check-out is in the late morning. It's recommended to confirm specific times when making a reservation.
Travel Tips
To make your Beaver Bay Campground experience even more enjoyable, consider these additional travel tips:
Stay Hydrated: It's important to drink plenty of water, especially during outdoor activities. Ensure you have a refillable water bottle with you.
Pack Light: When preparing for your trip, consider minimalist packing. Only bring what you truly need to avoid overloading your vehicle.
Respect Nature: Be mindful of the environment and wildlife. Avoid leaving trash behind and maintain a respectful distance from local flora and fauna.
Check for Park Alerts: Before your trip, check for any park alerts or updates to ensure a smooth and informed visit.
Prepare for the Weather: Washington State weather can be unpredictable. Pack clothing layers to adapt to changing conditions.
Connect with Fellow Campers: Beaver Bay Campground often hosts a friendly and sociable community of campers. Engage with your neighbors and share experiences.
Emergency Contact Information: It's always wise to have a list of emergency contact numbers and medical information on hand.
Navigation Tools: Bring a map, compass, or GPS device, as cell phone reception may be limited in the area.
Leave No Trace: Follow the principles of "Leave No Trace" camping, which means leaving nature as you found it.