Las Vegas, a city often referred to as "Sin City," is a glittering gem in the heart of the Nevada desert. It's a place where entertainment knows no bounds, and your options for an unforgettable time are virtually limitless. From world-class shows and casinos to fine dining and incredible shopping, Las Vegas offers a whirlwind of experiences. In this Las Vegas travel guide, we will delve into the top 5 things to do in the city, plus provide you with some essential safety tips to ensure your visit is both enjoyable and secure.
1. Visit Madame Tussaud's Wax Museum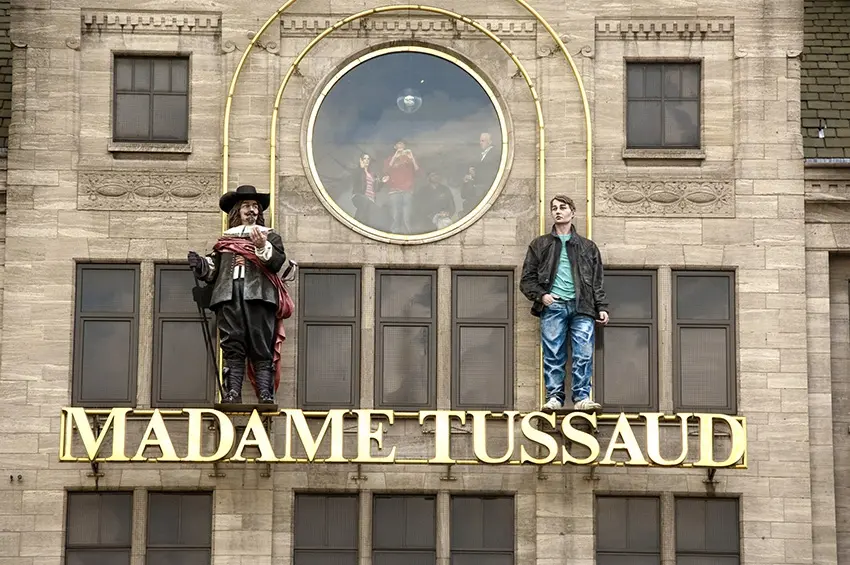 Madame Tussauds Las Vegas is a remarkable wax museum situated in the heart of the Las Vegas Strip, within The Venetian Las Vegas casino resort in Paradise, Nevada. It opened its doors to the public in 1999, marking its status as the first Madame Tussauds wax museum in the United States.
Iconic Wax Figures: As you step inside Madame Tussauds Las Vegas, you'll be greeted by over 100 iconic wax figurines, meticulously crafted to resemble some of the world's most celebrated celebrities. From Beyoncé to Elvis Presley, Jackie Chan to Will Smith, Britney Spears to Taylor Swift, and even Drake, these lifelike figures are sure to leave you in awe. You can get up close and personal, take photos, and create lasting memories with your favorite stars.
Flexible Timings: Madame Tussauds Las Vegas offers convenient visiting hours, welcoming guests daily from 10 a.m. to 8 p.m. You have the freedom to explore at your own pace, and the last entry is allowed at 7:45 p.m. Furthermore, the museum is committed to accessibility, ensuring that visitors with wheelchairs are accommodated with ease. Caregivers and service animals are also warmly received, ensuring an inclusive experience for all.
Interactive Experiences: Beyond admiring these exquisite wax figures, you can immerse yourself in interactive experiences. For example, you can "ride" a wrecking ball like Miley Cyrus, create a music video alongside Drake's figurine, or just hang out with the one and only Snoop Dogg. Madame Tussauds Las Vegas promises a fusion of entertainment and celebrity encounters, making it a must-visit attraction for visitors of all ages.
2. Visit Red Rock Canyon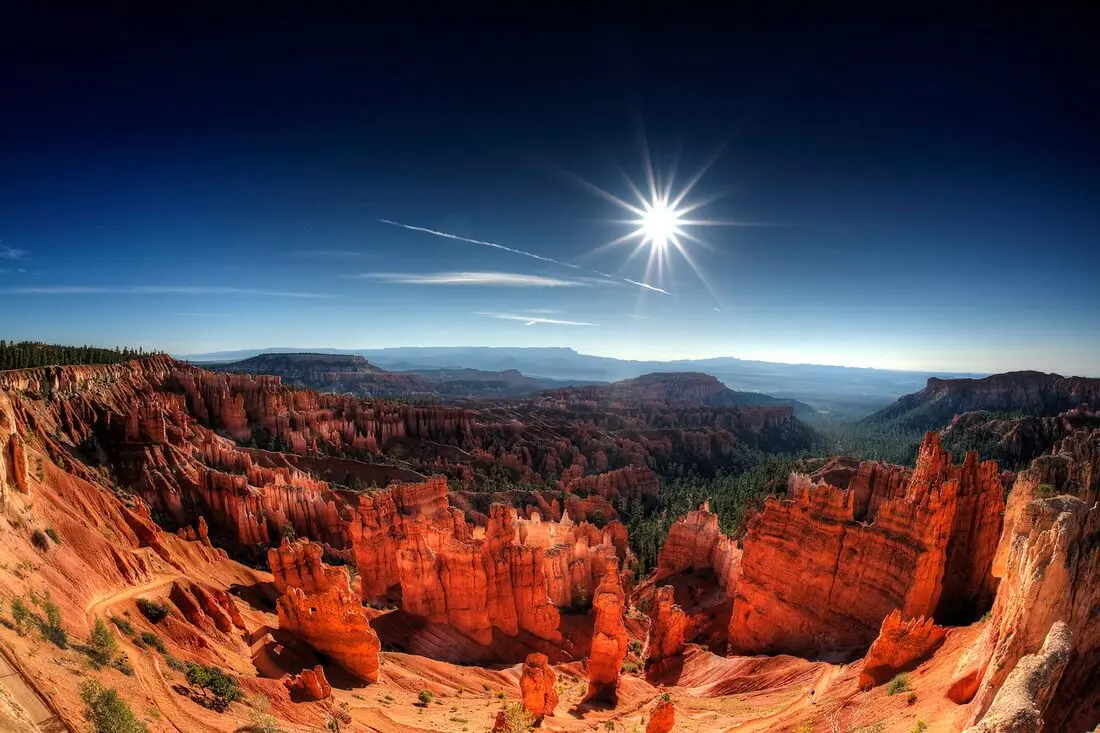 While Las Vegas is famous for its bustling Strip, it's important to take a break from the city's dazzling lights and discover the natural beauty that lies just a short drive away.
Scenic Beauty: Red Rock Canyon National Conservation Area is a tranquil and picturesque escape from the city's hustle and bustle. Here, you can immerse yourself in nature's wonders, surrounded by stunning red cliffs and peaceful gorges. The area offers a range of hiking trails, rock formations, and opportunities for bird watching, ensuring you can experience both relaxation and physical activity.
Ideal Visiting Months: To make the most of your visit, consider planning your trip in April and May. During these months, daytime temperatures range from the high 60s to the mid-70s, creating an ideal climate for outdoor exploration. By avoiding the scorching summer heat, you can fully appreciate the natural beauty of Red Rock Canyon.
3. Climb The Eiffel Tower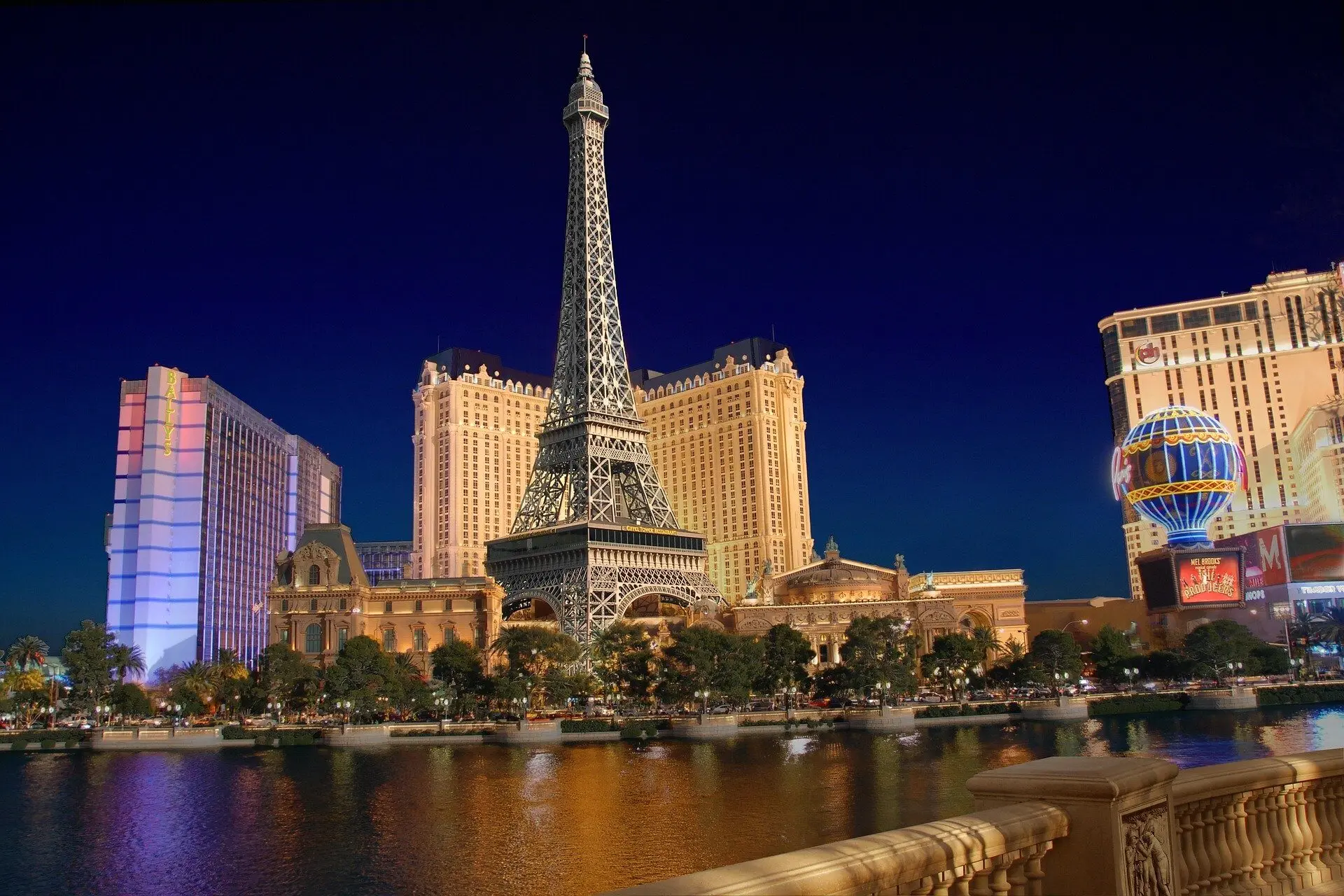 If you've never had the chance to visit the iconic Eiffel Tower in Paris, don't despair. Las Vegas offers its own version of this famous landmark.
Spectacular Views: The Eiffel Tower in Las Vegas is a breathtaking half-size replica of the original, providing a 360-degree view of the city. From this vantage point, you can take in the stunning sight of the nearby Bellagio fountains from 46 floors above the ground. Additionally, you'll be treated to the mesmerizing glow of the Las Vegas Strip's resort lights. The tower is open for visits during both the day and night, allowing you to choose the perfect time to experience this breathtaking panorama.
4. Indulge In The Fremont Street Experience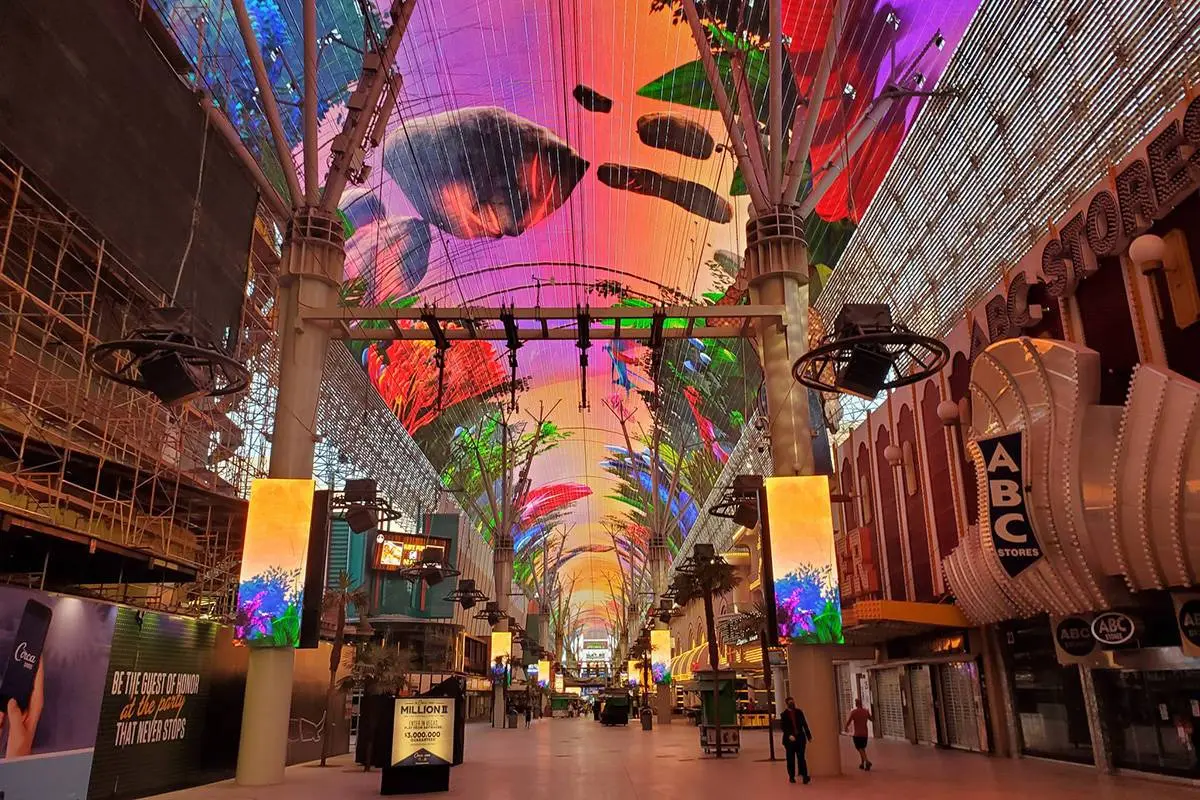 Before the world-famous Las Vegas Strip came into existence, there was Fremont Street. Steeped in history, it's a vibrant part of the city that deserves your attention.
Vibrant Entertainment: The Fremont Street Experience is a hub of activity and excitement, rivaling the Strip itself. This pedestrian zone stretches for six blocks between Las Vegas Boulevard and 8th Street, creating a lively atmosphere with live music, street performers, and delectable street food. What's more, you'll find a selection of renowned casinos in the area, including Golden Gate Hotel & Casino, Four Queens, Golden Nugget, The D Las Vegas, and the latest addition, Circa Las Vegas.
Iconic Landmarks: As you explore Fremont Street, you can't miss Vegas Vic, a 40-foot-tall neon cowboy that has been a fixture here since 1951. Don't forget to capture a photo with this historic figure as a keepsake of your visit. Thrill-seekers will want to experience Slotzilla, an 11-story high slot machine zipline that sends adventurers soaring across five blocks at speeds of up to 40 miles per hour. Tickets are available for approximately $69 per person.
Culinary Delights: If you're in the mood for a memorable meal, Fremont Street offers a range of upscale steakhouses and a unique dining experience at the Heart Attack Grill. The latter lives up to its name, serving up high-calorie and indulgent dishes that are sure to make a lasting impression.
5. Watch The Bellagio Fountain Show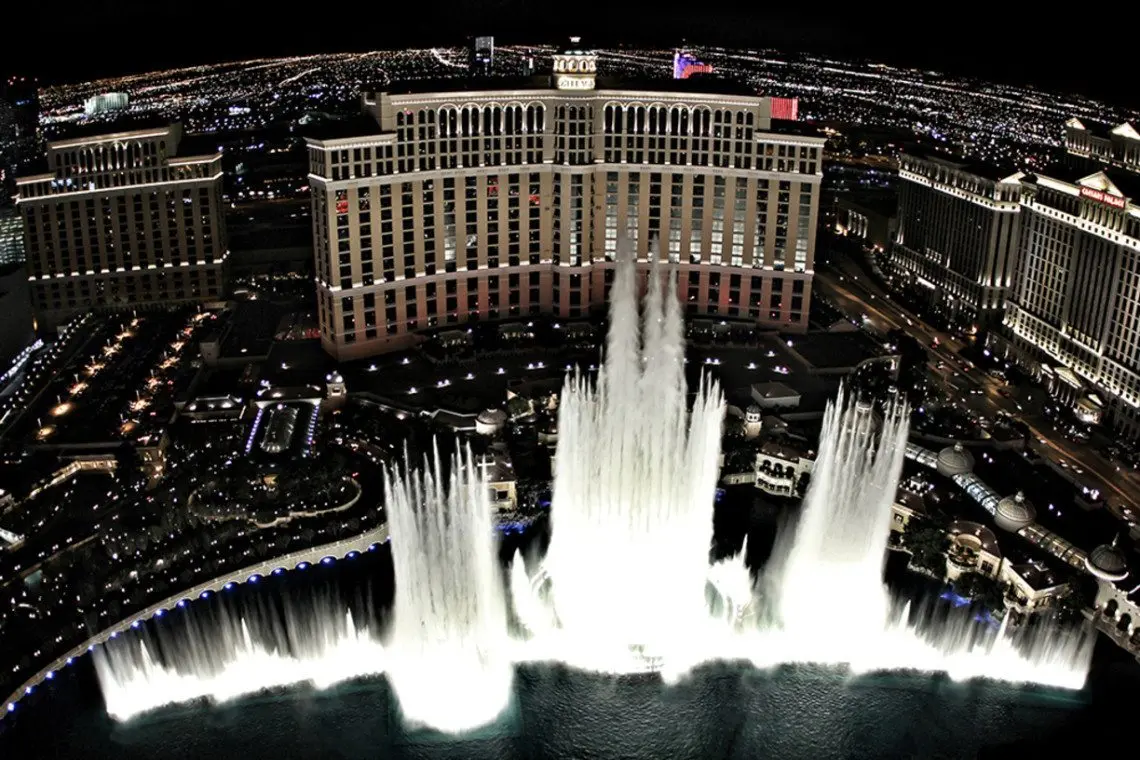 The Bellagio Fountain Show is an iconic attraction in front of the Bellagio Hotel that you must experience during your Las Vegas visit.
Spectacular Showtimes: The fountain show is a mesmerizing display of synchronized water fountains set to music and lights. To fully appreciate the grandeur, it's best to catch the show at night when the city is bathed in lights. The fountain show runs every 30 minutes from 3:00 PM to 6:30 PM and then switches to a 15-minute interval from 7:00 PM to midnight on weekdays.
Free Entertainment: The best part is that the Bellagio Fountain Show is entirely free of charge. Find a comfortable spot with a clear view, and enjoy the spectacle while taking in the stunning Las Vegas skyline.
3 Bonus Safety Tips To Protect Yourself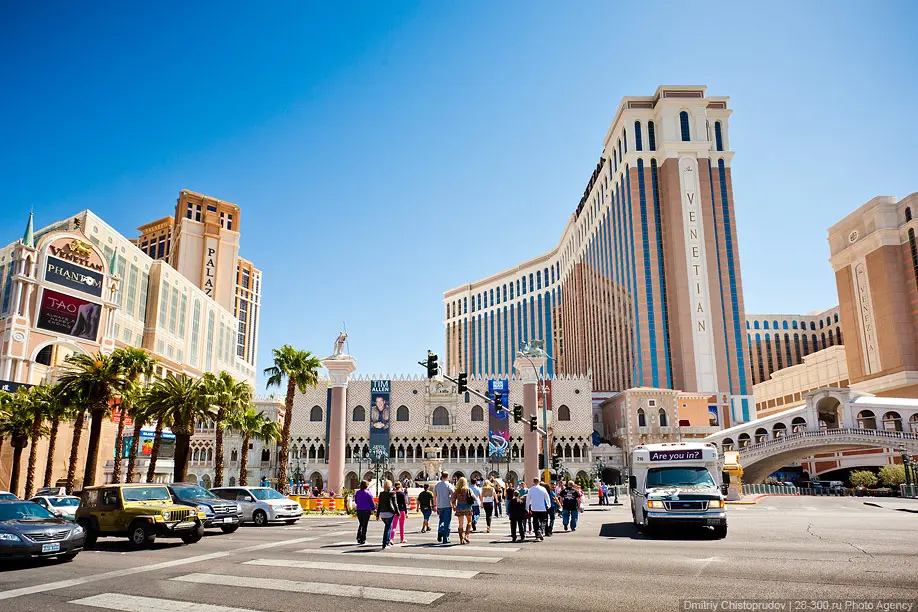 While Las Vegas is undoubtedly an exciting destination, it's essential to prioritize your safety during your trip. Here are three vital safety tips to ensure a worry-free visit.
1) Pack Food And Water: If you plan to explore areas outside the city, particularly on road trips, be prepared for stretches where you might not encounter any other people for miles. To avoid the inconvenience of being stranded without provisions, make sure you pack sufficient food and water to sustain you during your journey.
2) Look After Your Personal Belongings: It's easy to get caught up in the excitement of Las Vegas and lose track of your personal belongings. However, theft and pickpocketing incidents can occur, especially in crowded areas. Always keep a close eye on your possessions and ensure they are stored securely. In case you misplace your phone or wallet, consider using a mobile phone tracker app, such as XNSPY, to efficiently locate your lost items.
3) Beware Of Scammers And Gambling Addicts: While exploring Las Vegas, you may find yourself in situations where individuals may try to scam you or borrow money with extravagant promises of returns. Exercise caution and avoid lending money to strangers. If you notice suspicious online transactions or unauthorized gambling charges, report them to your bank and relevant authorities to prevent fraud.
Let's Make Your Next Trip To Las Vegas Unforgettable
These five must-visit places in Las Vegas will undoubtedly enhance your experience in this vibrant city. Each offers a unique facet of Las Vegas, ensuring your trip is memorable and filled with exciting activities. To make your journey even more enjoyable, follow the provided safety tips to stay prepared and safeguard your belongings. With this Las Vegas travel guide, you're well-equipped to have an unforgettable adventure in this extraordinary destination.
FAQs (Frequently Asked Questions)
Q1: Is Madame Tussauds Las Vegas suitable for all ages? A1: Yes, Madame Tussauds Las Vegas offers an enjoyable experience for visitors of all ages. The lifelike wax figures and interactive exhibits cater to a wide range of interests.
Q2: What is the best time to visit Red Rock Canyon? A2: The best time to visit Red Rock Canyon is during April and May when the weather is mild, and you can comfortably explore the natural beauty without enduring the scorching summer heat.
Q3: Are there height or age restrictions for climbing the Eiffel Tower in Las Vegas? A3: No, there are no height or age restrictions for climbing the Eiffel Tower in Las Vegas. It's a family-friendly attraction that welcomes visitors of all ages.
Q4: Is the Fremont Street Experience free to enter? A4: Yes, the Fremont Street Experience is free to enter, and you can enjoy the live music, street performers, and dazzling lights without any admission fees.
Q5: How often does the Bellagio Fountain Show run during the week? A5: The Bellagio Fountain Show runs every 30 minutes from 3:00 PM to 6:30 PM and switches to a 15-minute interval from 7:00 PM to midnight on weekdays.
Travel Tips
Currency: Las Vegas operates with the United States Dollar (USD), and it's advisable to carry some cash for convenience, but credit cards are widely accepted.
Transportation: Consider using ride-sharing services, taxis, or the Las Vegas Monorail to get around the city, as traffic on the Strip can be heavy.
Weather: Check the weather forecast for your visit and pack accordingly. Summers can be scorching, so bring sunscreen and stay hydrated.
Reservations: For popular shows, restaurants, and attractions, it's recommended to make reservations in advance to secure your spot.
Entertainment Passes: If you plan to see several shows or visit multiple attractions, explore entertainment passes to save on admission fees.
Tipping: Tipping is customary in Las Vegas. Generally, tipping 15-20% of the bill is standard for restaurants, bars, and taxis.