Bolivia, the only landlocked country in South America, is a hidden gem waiting to be explored. This diverse nation is home to an array of natural wonders, rich cultural heritage, and historical treasures. Whether you're an adventurer seeking mountain hikes or someone looking to soak in the beauty of pristine lakes, Bolivia has something for everyone. It's also an ideal destination for budget-conscious travelers. Let's embark on a journey to discover the 10 best places to visit in Bolivia that are sure to leave you in awe.
1. La Paz
Bolivia's Unique Dual Capitals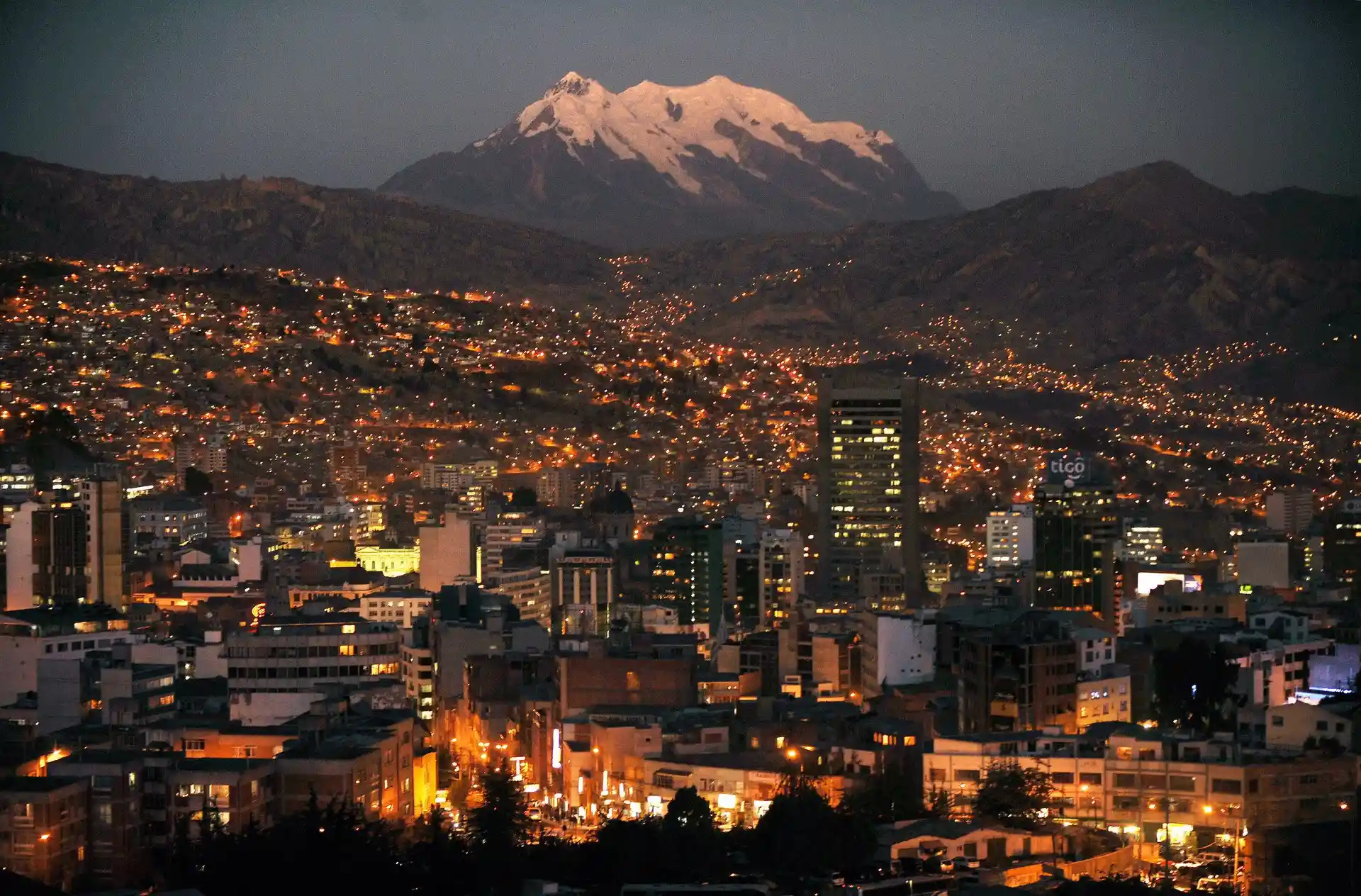 Bolivia boasts two distinct capitals – one for administration, La Paz, and the other, Sucre, as the constitutional capital. La Paz holds the distinction of being the highest capital city globally, perched at an elevation of approximately 3,650 meters. Nestled between the majestic Andes Mountains, La Paz is a city characterized by its unique markets and traditional culture. When you glimpse it from an airplane, it appears as a deep slash on the earth, a truly breathtaking sight.
La Paz is a city where the collision of the ancient and the modern is evident. Its indigenous roots are deeply embedded in the local culture, reflected in the colorful markets, where you can find everything from handcrafted textiles to exotic foods. Visit the famous Witches' Market, where you'll encounter stalls selling everything from medicinal herbs to llama fetuses, believed to bring good luck.
The city's unique topography makes it a perfect place for adventurers. You can take a ride on the world's longest cable car system, "Mi Teleférico," which offers breathtaking panoramic views of the city and the surrounding mountains. Moreover, the Moon Valley (Valle de la Luna) is a geological wonder, with its bizarre lunar landscape that's worth exploring.
2. Salar De Uyuni
The World's Largest Salt Flat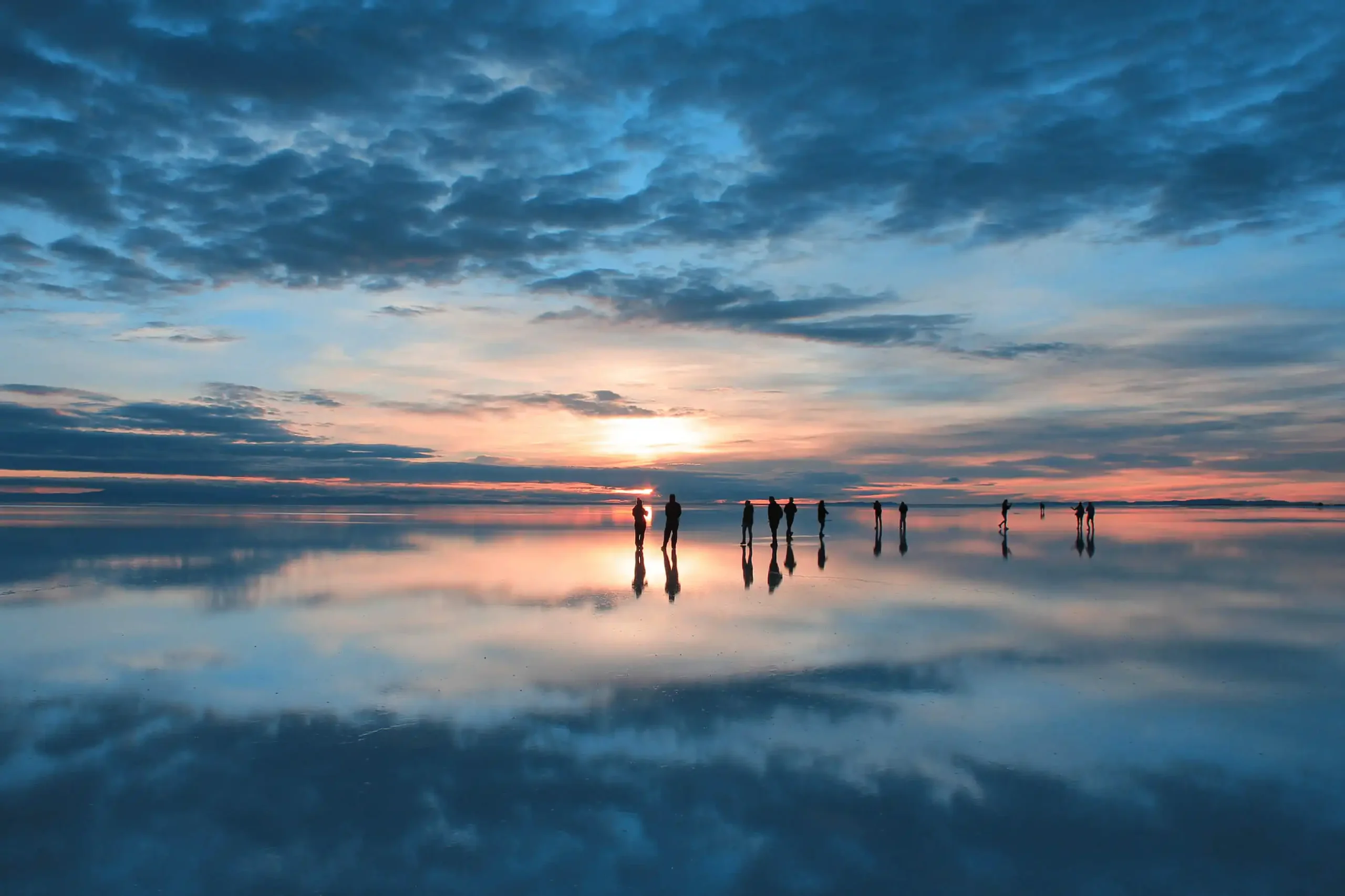 Salar De Uyuni is a remarkable natural wonder located in the Andes Mountains, and it happens to be one of the largest salt flats globally. Covering an area of around 4,050 square miles, this expansive salt flat provides an extraordinary reflective canvas, so smooth that you can see your own image reflected on the ground.
In the rainy seasons, the flat's surface is covered with a thin layer of blue waters, creating a mesmerizing mirror effect. During the dry season, the salt creates a white landscape as far as the eye can see. Salar De Uyuni is not just a visual spectacle; it is also a significant source of lithium and salt, which powers electric cars, smartphones, and laptops.
Salar De Uyuni is also a popular destination for stargazing. Due to its high elevation and remote location, it offers clear, unpolluted skies that are perfect for witnessing the splendor of the night sky.
3. Oruro
A Carnival Extravaganza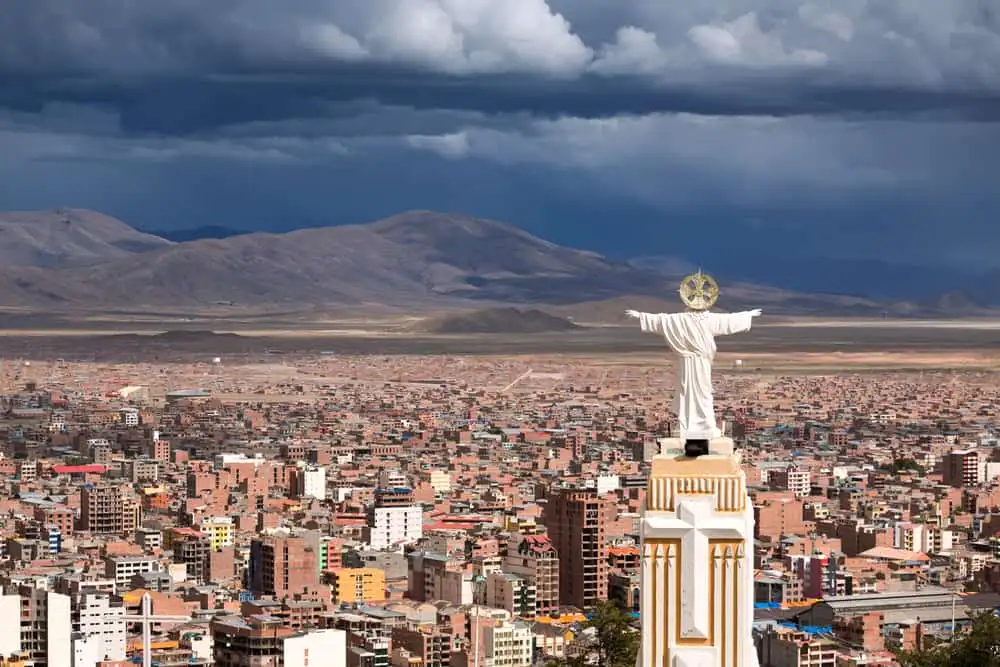 Oruro, the largest town in Bolivia, is strategically located halfway between La Paz and Sucre. The highlight of this town is undoubtedly its vibrant carnival festival. During this season, Oruro comes alive with a riot of color and lavish costumes. Thousands of dancers and musicians take to the streets, performing synchronized ethnic dances that leave spectators in awe.
The carnival, often called the "Carnaval de Oruro," is a UNESCO Masterpiece of the Oral and Intangible Heritage of Humanity. It combines Catholic and indigenous traditions, and the main attraction is the elaborate dance parade, featuring thousands of participants dressed in intricate costumes and masks. The festival is a captivating display of Bolivian culture and folklore.
Oruro is also home to spectacular museums that narrate the rich history of the region. While here, don't forget to visit the artisanal street, a hub for costume creation, and perhaps take a piece of Oruro's carnival magic back home with you.
4. Tiwanaku
A Glimpse into Pre-Columbian History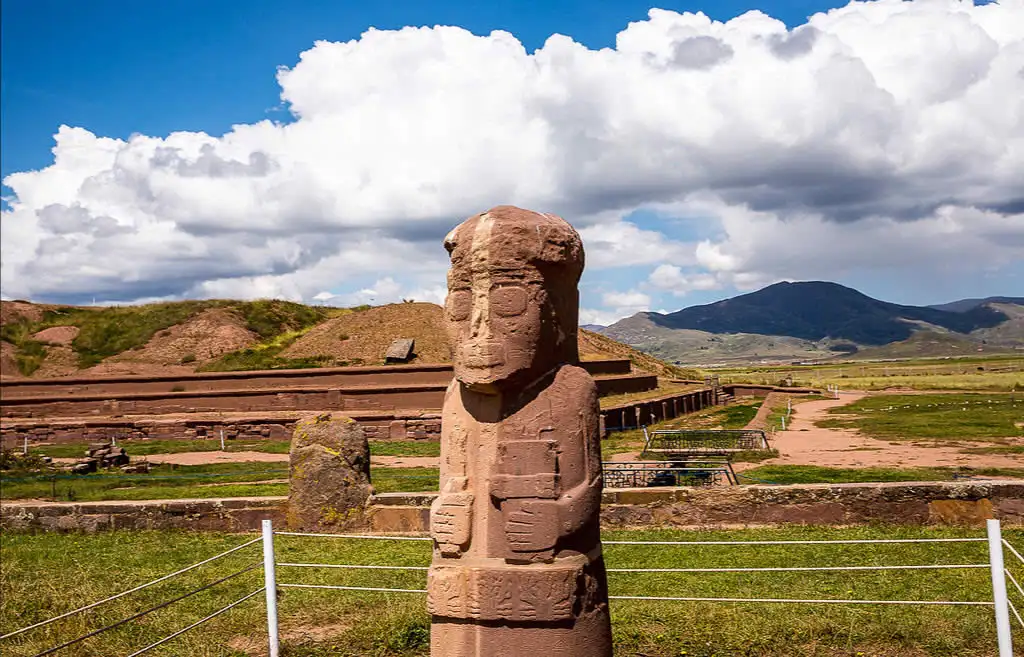 Located approximately 70 kilometers from the capital city of La Paz, Tiwanaku is a pre-Columbian archaeological site that predates the Inca civilization, dating back to before their arrival in 1438. After extensive excavation by archaeologists, it was estimated that the city was once inhabited by around 20,000 people.
The archaeological site of Tiwanaku offers a fascinating glimpse into the advanced civilization that once thrived here. The city is surrounded by an enclosing wall and features several impressive structures, including the Akapana pyramid, the Gate of the Sun, and intricately carved stone heads.
One of the most famous artifacts from Tiwanaku is the mysterious "Gate of the Sun," which is adorned with intricate carvings and is believed to have served as a calendar or ceremonial monument.
5. Potosi
City of Riches and Colonial Architecture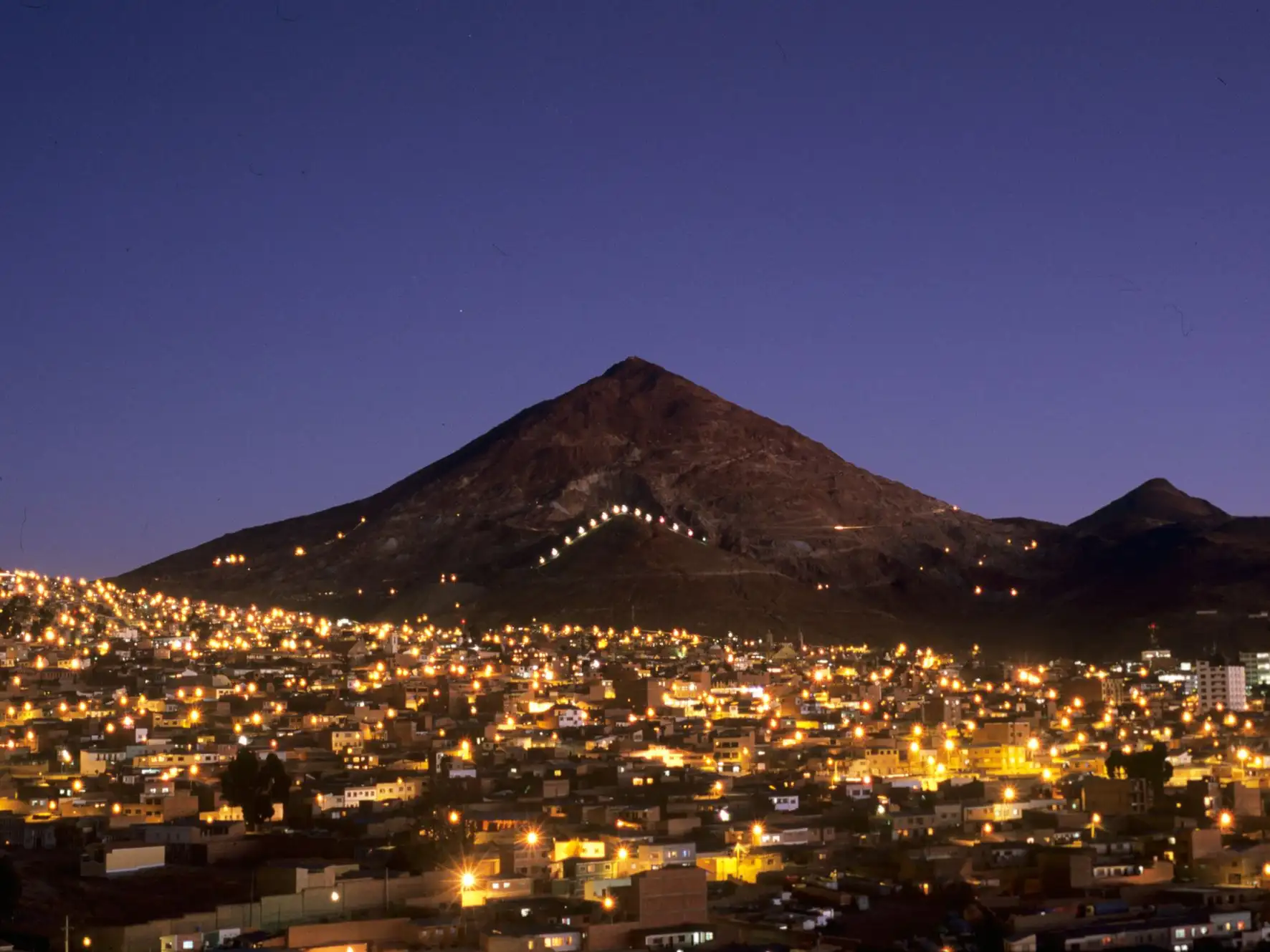 Potosi is renowned as one of the wealthiest cities in the world. It served as the capital of Bolivia during the colonial period and was aptly nicknamed the "City of Silver." When the Spanish arrived in 1545, they believed they had discovered silver, but rigorous testing revealed it was, in fact, gold. The Spanish relentlessly mined the city to exploit its mineral wealth, sending vast quantities of precious metals back to Spain.
Today, Potosi is celebrated for its colonial architecture and offers tours of its famous mines, giving visitors a glimpse into its storied past.
The city's historic center is a UNESCO World Heritage Site, and walking its cobblestone streets is like taking a step back in time. Explore the Royal Mint (Casa de la Moneda), where the Spanish processed the silver and admire the grand colonial churches, such as the San Francisco Church.
6. Sucre
The White City of Bolivia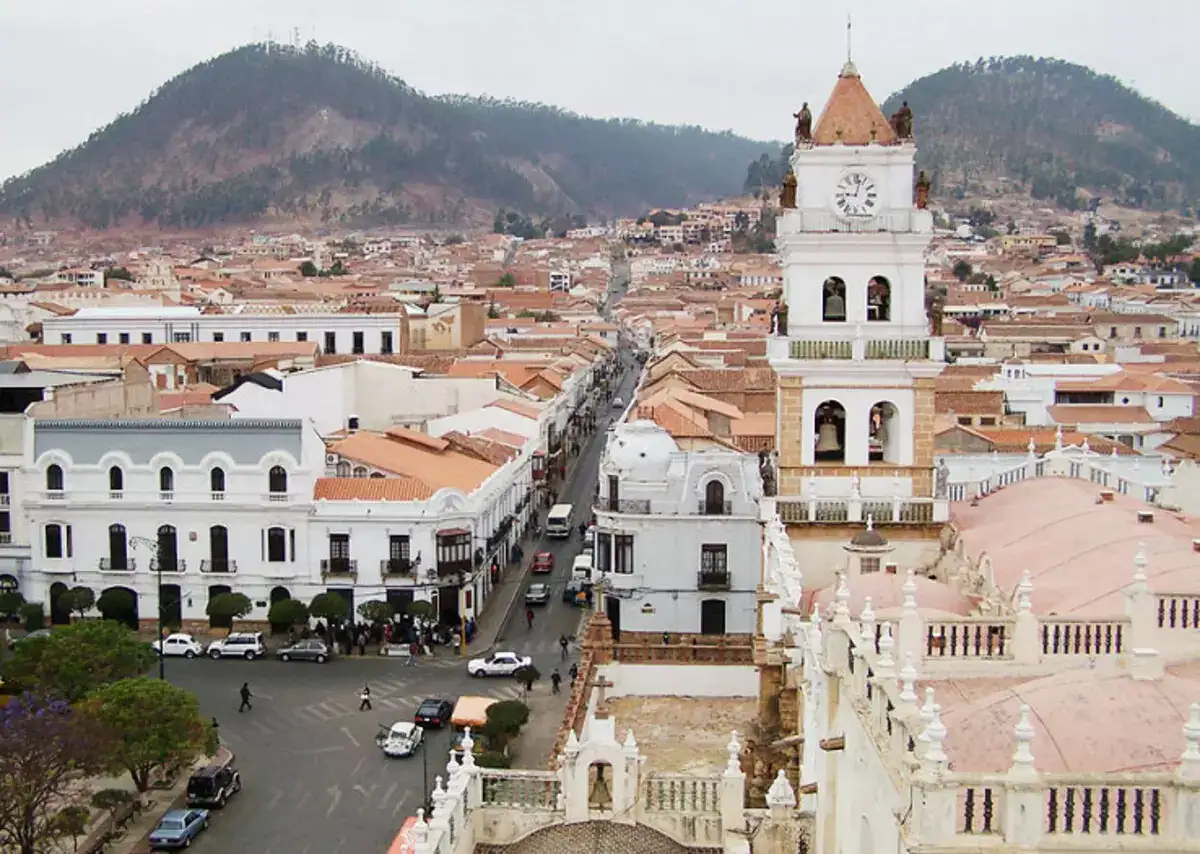 Sucre, the constitutional capital of Bolivia, is affectionately known as the "White City" and stands as a testament to its grandeur. The city is renowned for its pristine white-themed architecture, immaculately preserved and truly a sight to behold. Many of Bolivia's elite call Sucre home, and its status is on par with Potosi, another illustrious Bolivian city.
Visiting Sucre promises never a dull moment, with its stunning buildings, local museums, the allure of the seven waterfalls, and the captivating volcanic craters that surround it. One of the most iconic sites is the Convento de San Felipe de Neri, a former convent with a stunning white façade and lush courtyards.
Sucre also boasts a rich culinary scene, with opportunities to savor traditional Bolivian dishes and international cuisine in its charming restaurants and cafes.
7. Sorata
A Hiker's Paradise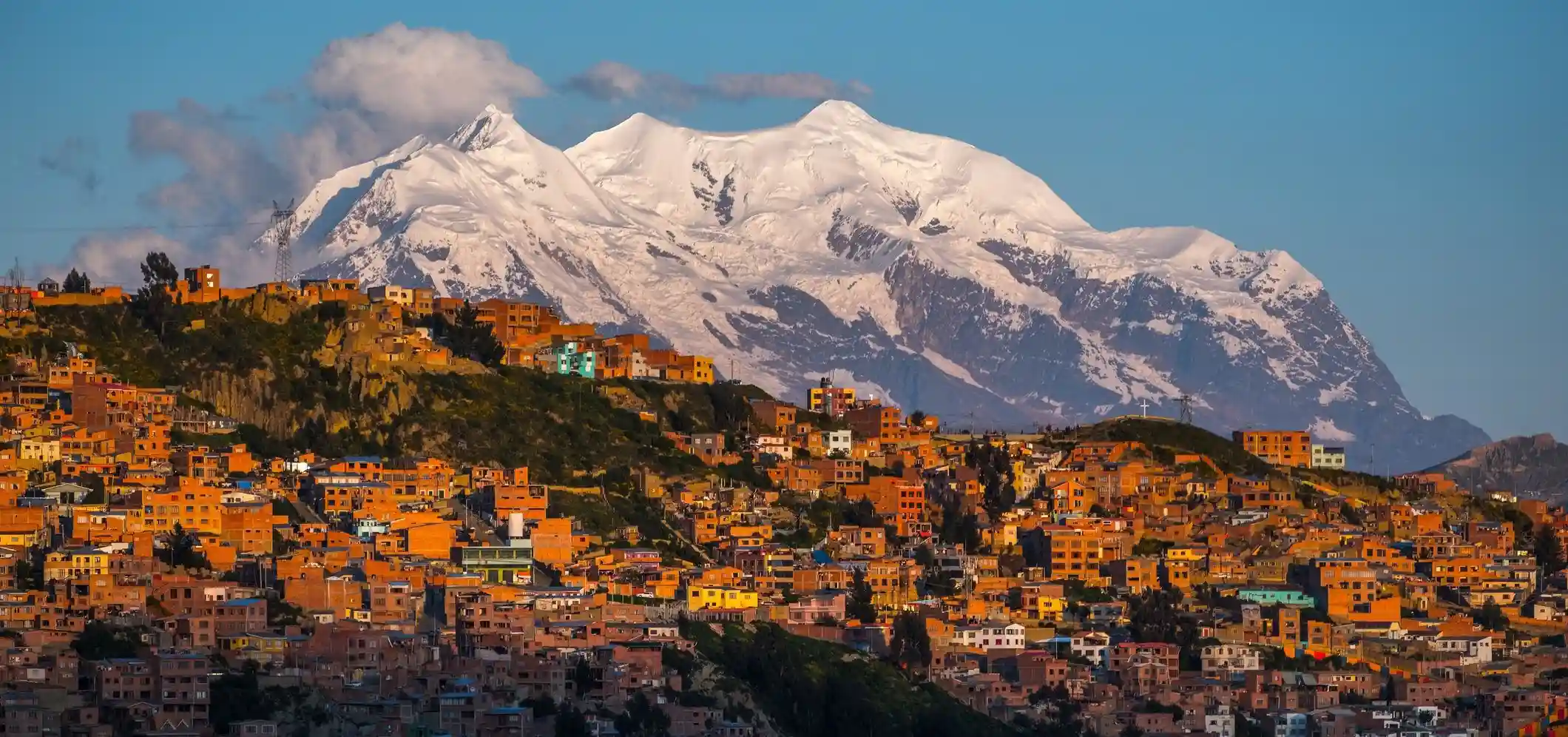 Sorata is a hiker's dream destination in Bolivia. Nestled between La Paz and Lake Titicaca, it boasts around six peaks, all towering above 20,000 feet. This scenic town also features some of the widest granite slopes in the Cordillera.
Sorata serves as a base camp for hikers exploring the Andes mountains. The town's rugged beauty and stunning natural landscapes make it an ideal destination for outdoor enthusiasts. Some of the popular treks in the area include hiking to the village of San Pedro and ascending to Mount Illampu.
Sorata's pleasant climate and serene atmosphere create the perfect setting for those seeking solitude in the midst of nature.
8. Copacabana
Lakeside Beauty on Lake Titicaca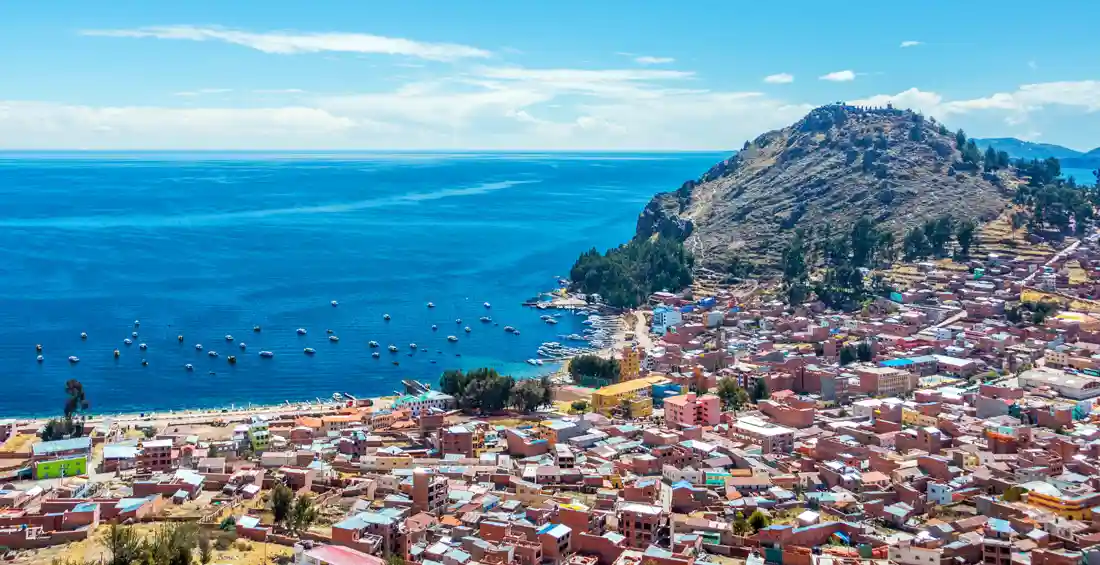 Copacabana is a charming town situated on the shores of Lake Titicaca. Its signature features include the iconic red-roofed houses and a calendar filled with religious festivals. The town is also home to sacred Incan archaeological sites.
While wandering through Copacabana, you'll encounter colonial and Incan ruins, each with a unique story to tell. For those who love hiking, ascending the local hills offers spectacular panoramic views. Copacabana's pleasant climate, characterized by fresh air, moderate temperatures, and balanced humidity, makes it a perfect destination for a Bolivian getaway.
One of the most famous attractions in Copacabana is the Basilica of Our Lady of Copacabana, a beautiful church known for its religious significance and stunning architecture.
9. Rurrenabaque
A Paradise for Adventure Seekers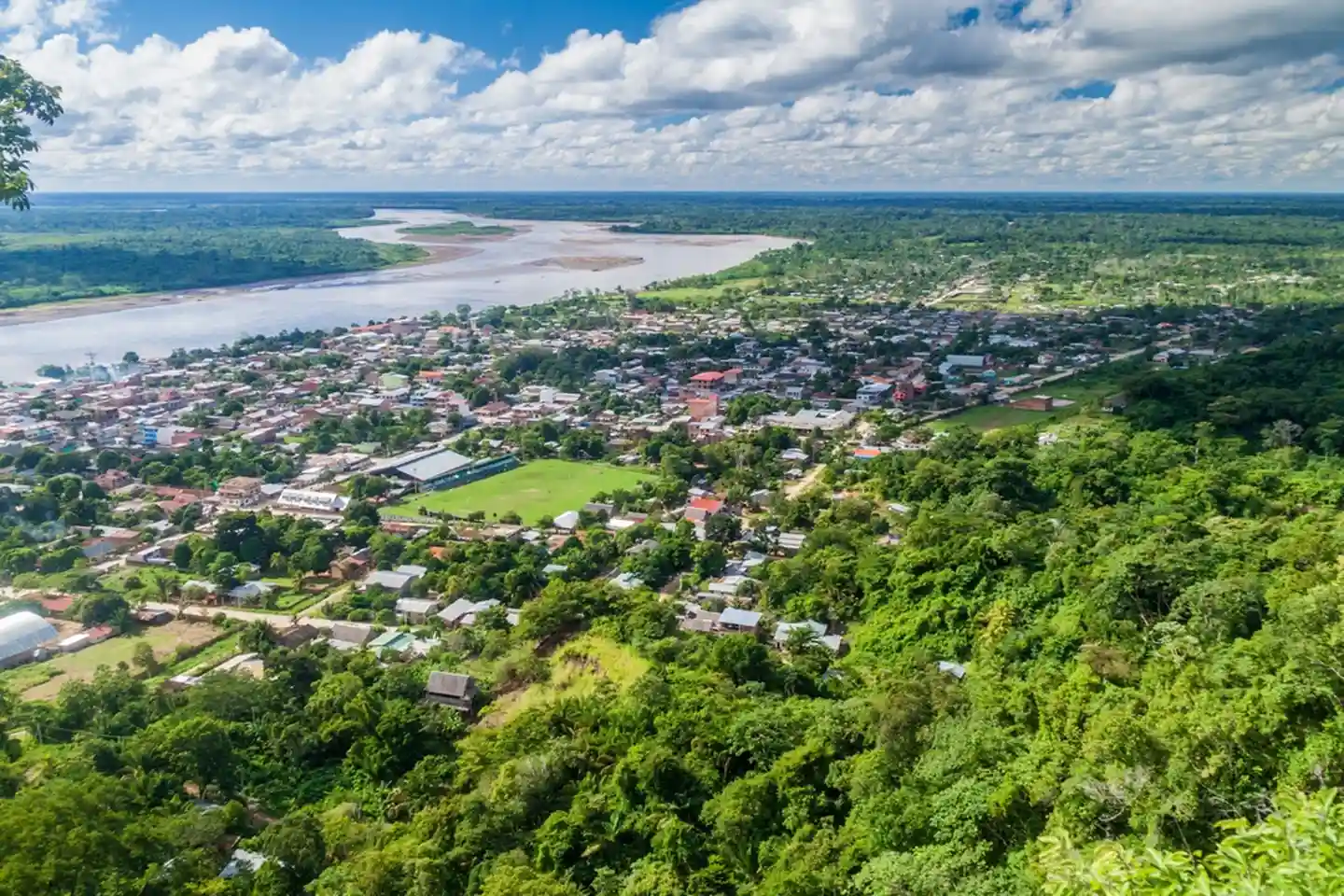 Rurrenabaque is an extraordinary town in Bolivia, often referred to as a paradise for tourists. It ranks among the best places to visit in Bolivia due to its abundance of adventure activities. Positioned on the banks of the Rio Beni, Rurrenabaque offers water sports enthusiasts a thrilling experience.
Visitors can navigate the river through lush jungles and explore the expansive pampas, known for their fertile grasslands. Rurrenabaque is a place where nature lovers and adventure seekers can revel in the beauty of Bolivia's wild side.
One of the highlights of Rurrenabaque is the opportunity to embark on an Amazon jungle adventure. You can take guided tours into the Madidi National Park, a biodiverse wonderland filled with exotic wildlife, including monkeys, jaguars, and vibrant bird species.
10. Coroico
Golden Hills and Mountain Biking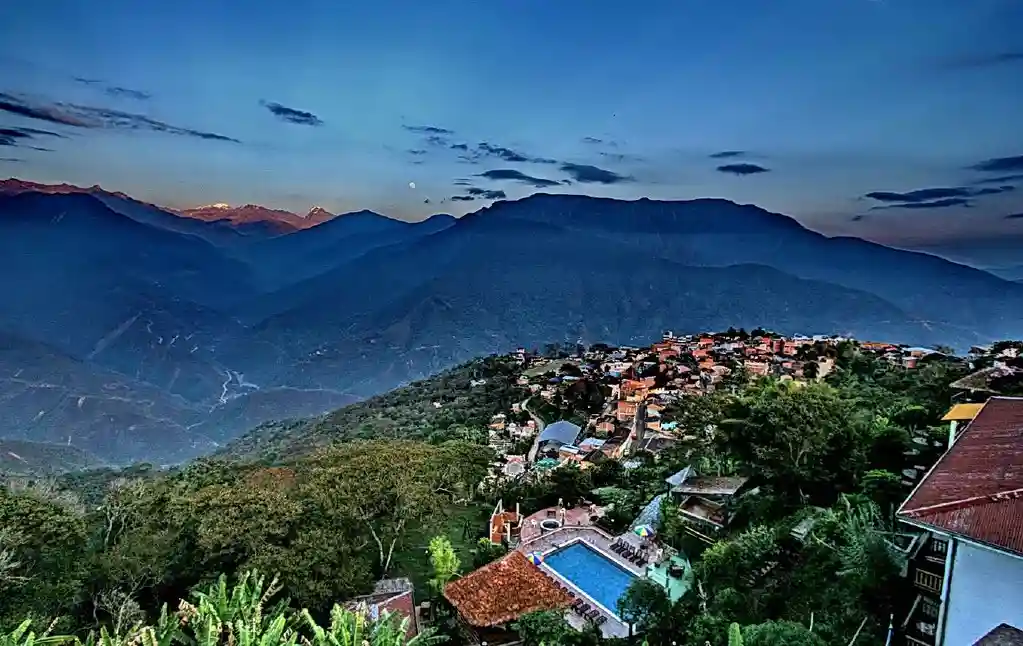 The word "Coroico" derives its etymology from "golden hills." Situated en route to La Paz, Coroico is the ideal place to pause and take in the surroundings. What sets Coroico apart is its lower elevation compared to the neighboring regions, ensuring a more temperate climate.
As you journey through Coroico, the terrain transitions into Andean hills, providing a picturesque backdrop. For those who fancy mountain biking in Bolivia, Coroico offers excellent trails and adventures in this breathtaking setting.
Coroico is a haven for outdoor enthusiasts, and activities like zip-lining, trekking, and exploring coffee plantations are on the menu. You can also visit the nearby Yungas, a region famous for its lush greenery and stunning waterfalls.
Conclusion
Bolivia's best places to visit offer a chance to learn and grow through adventurous experiences. Cities like La Paz and Potosi are steeped in colonial ruins and Incan history, providing an enriching exposure to the region's past and culture. On the other hand, destinations like Rurrenabaque and Salar De Uyuni combine water with lush greenery and jungle, making them perfect for navigation and a variety of water sports.
Don't miss the opportunity to explore this extraordinary South American nation, where every corner reveals a new adventure, a rich history, and breathtaking beauty.
FAQs About Bolivia Travel
1. Do I need a visa to visit Bolivia?
As of the latest information available, citizens of many countries can enter Bolivia for short stays without a visa. However, the specific requirements and duration of stay allowed may vary depending on your nationality. It's important to check with the Bolivian embassy or consulate in your country to verify the most up-to-date visa requirements.
2. What's the best time to visit Bolivia?
The best time to visit Bolivia largely depends on your interests and the regions you plan to explore. The dry season, from May to October, is generally considered the best time for most activities, with pleasant weather and clear skies. However, if you're interested in the Salar De Uyuni's mirror effect, you should visit during the rainy season, from December to March. Be sure to research the weather for your specific destinations.
3. Is it safe to travel in Bolivia?
Bolivia is a safe destination for travelers, but like any other place, it's essential to take precautions. While violent crime is relatively low, petty theft and pickpocketing can occur in crowded areas. It's recommended to stay alert and keep your belongings secure, especially in tourist areas. Additionally, certain regions may require additional precautions, so it's wise to check the latest travel advisories before your trip.
4. What vaccines do I need for Bolivia?
Bolivia doesn't require any specific vaccines for entry, but there are recommended vaccinations for travelers. These may include routine vaccinations, hepatitis A, and typhoid. Depending on your travel plans and the regions you'll visit, you may also need vaccinations for diseases like yellow fever. It's essential to consult your healthcare provider or a travel clinic well in advance to determine the necessary vaccinations.
5. What's the local currency, and are credit cards widely accepted?
The official currency of Bolivia is the Bolivian Boliviano (BOB). While credit cards are accepted in larger cities and tourist areas, it's advisable to carry cash, especially in rural or remote locations. ATMs are widely available, but it's essential to notify your bank of your travel plans to avoid any issues with card usage.
Travel Tips for Bolivia
Altitude Considerations: Many parts of Bolivia, including La Paz and Potosi, are situated at high altitudes. Travelers may experience altitude sickness, so it's advisable to acclimatize gradually, stay hydrated, and consult a doctor if necessary.
Learn Some Basic Spanish: While English may be spoken in tourist areas, having some knowledge of Spanish can enhance your travel experience and help you communicate with locals.
Local Cuisine: Don't miss the opportunity to sample Bolivian dishes such as salteñas (savory pastries), llama meat, and traditional soups. Explore local markets for authentic culinary experiences.
Pack Layers: Bolivia's climate can vary dramatically, so packing layers is crucial. Be prepared for both hot days and chilly nights, especially in higher-altitude regions.
Respect Local Customs: Bolivians are proud of their cultural heritage. When visiting churches and indigenous communities, it's essential to dress modestly and ask for permission when taking photos.
Stay Hydrated: Due to the high altitude and arid climate in some regions, it's important to drink plenty of water to avoid dehydration.