If you're seeking an off-the-beaten-path destination for your next adventure, Una should be at the top of your list. Nestled in the heart of India, this quaint town offers a unique blend of natural beauty, cultural heritage, and tranquility that will leave you enchanted. In this detailed article, we'll take you on a virtual journey through the top 5 places to visit in Una. So, pack your bags, and let's explore the hidden treasures of this charming town.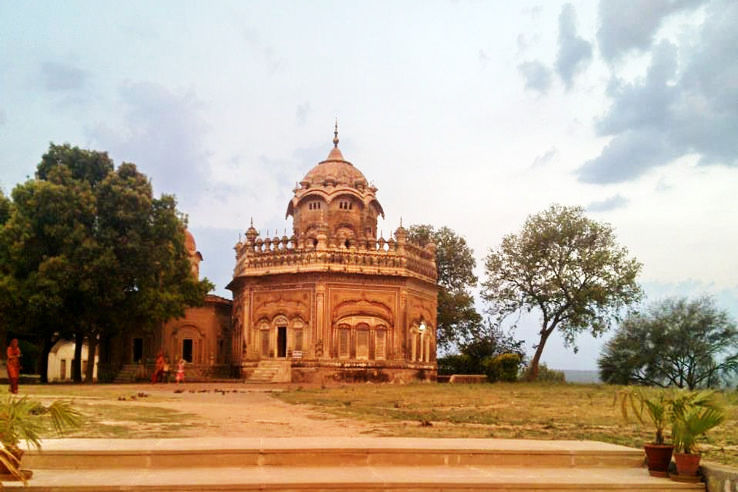 Our journey begins with a visit to the renowned Chintpurni Temple. This sacred shrine is dedicated to Goddess Chintpurni, and it's not just a place of worship; it's a spiritual haven where devotees seek solace and blessings.
Chintpurni Temple is nestled amidst the Shivalik range of the Himalayas, surrounded by lush greenery. The temple's serene ambiance and the melodious chants that fill the air will transport you to a different realm. Devotees from far and wide visit this temple to seek the blessings of Goddess Chintpurni, who is believed to fulfill the wishes of her devotees. The main idol is adorned with flowers and colorful fabrics, creating a visually captivating sight.
After paying your respects, take a moment to soak in the tranquility of the temple complex. You'll find beautifully landscaped gardens, clean pathways, and seating areas where you can reflect and meditate. Don't forget to try the Prasad (sacramental food) offered at the temple; it's a delightful treat.
Dera Baba Barbhag Singh: Where Serenity Meets Nature
If you're in search of tranquility amidst nature's beauty, Dera Baba Barbhag Singh is the place to be. Located just a short drive away from Una town, this serene spot offers a peaceful escape from the hustle and bustle of daily life.
As you approach Dera Baba Barbhag Singh, you'll be greeted by the soothing sounds of the Swan River, which meanders through the area. This river is not just a source of scenic beauty but also a place where you can sit by the bank and meditate. The clear waters and lush greenery create a calming atmosphere that's perfect for introspection.
For the more adventurous souls, there are nature trails that lead you deeper into the forested areas. These trails are ideal for hiking and birdwatching. Keep your eyes peeled for the vibrant birdlife that calls this place home.
Kila Baba Bedi Ji: A Historical Marvel
History enthusiasts, get ready to be captivated by Kila Baba Bedi Ji. This historical marvel narrates tales of bygone eras. The fort's intricate architecture and the echoes of history that resonate within its walls will transport you back in time.
Kila Baba Bedi Ji is a testimony to the architectural brilliance of the past. The fort is perched on a hill, offering panoramic views of the surrounding countryside. The moment you set foot inside, you'll be greeted by grand courtyards, ornate arches, and ancient artifacts that tell stories of valor and culture.
Exploring the fort's nooks and crannies, you'll discover hidden chambers, underground passages, and vantage points that were strategically designed for defense. Don't forget to bring your camera along to capture the grandeur of this place, as every corner of Kila Baba Bedi Ji is a photographic delight.
Dharamshala: The Hill Station Retreat
As we move on to Dharamshala, you'll discover the allure of this picturesque hill station. Nestled in the Kangra Valley, Dharamshala is famous for its Tibetan culture, lush tea gardens, and the residence of His Holiness the Dalai Lama.
Dharamshala is divided into two parts: Lower Dharamshala and Upper Dharamshala (McLeod Ganj). Lower Dharamshala is where you'll find bustling markets, hotels, and the famous cricket stadium. Upper Dharamshala, on the other hand, is a haven for those seeking spiritual solace. Here, you can visit the Namgyal Monastery, the residence of the Dalai Lama, and immerse yourself in the teachings of Tibetan Buddhism.
While in Dharamshala, take a stroll through the charming streets, savor a cup of tea at one of the many tea stalls, and soak in the mesmerizing views of the Dhauladhar mountain range. The tranquil atmosphere and the cool mountain breeze make Dharamshala a perfect retreat for nature lovers and spiritual seekers alike.
Pong Dam: A Birdwatcher's Paradise
Nature lovers and birdwatching enthusiasts will find their paradise at Pong Dam. This wildlife sanctuary and reservoir are home to a plethora of avian species. Grab your binoculars and venture into the wetlands to witness migratory birds in their natural habitat. It's an experience that will leave you in awe of the beauty of the avian world.
Pong Dam, also known as Maharana Pratap Sagar, is a man-made reservoir created on the Beas River. It spans across three districts: Kangra, Una, and Bilaspur. The serene waters of the dam provide a perfect setting for a day of boating, picnicking, or simply unwinding by the lakeside.
The real charm of Pong Dam, however, lies in its role as a birdwatcher's paradise. During the winter months, the dam becomes a temporary home to numerous migratory birds, including bar-headed geese, black-necked cranes, and waterfowl. Birdwatchers flock here to witness these beautiful creatures in their natural habitat.
FAQs about Una
1. What is the best time to visit Una?
The best time to visit Una is during the spring and autumn months, from March to June and September to November. The weather is pleasant, making it ideal for exploring the town and its attractions.
2. How do I reach Una?
Una is well-connected by road and rail. You can reach Una by taking a train to Una Railway Station or by hiring a taxi or bus from nearby cities like Chandigarh or Dharamshala.
3. Is Una safe for solo travelers?
Yes, Una is generally considered safe for solo travelers. The town has a peaceful atmosphere, and the locals are friendly and welcoming. However, it's always a good practice to take basic safety precautions.
4. Are there accommodation options in Una?
Una offers a range of accommodation options, from budget-friendly guesthouses to comfortable hotels. You can choose according to your preference and budget.
5. What are the local delicacies to try in Una?
Una is known for its delicious Himachali cuisine. Don't miss trying dishes like Chana Madra, Dham, and Babru, which are local specialties. Also, indulge in some fresh Himachali apples during your stay.
In conclusion, Una is a hidden gem that promises a unique blend of spirituality, history, nature, and culture. Whether you're a solo traveler, a history buff, a nature enthusiast, or a spiritual seeker, Una has something special in store for you. So, when you're planning your next getaway, remember to include Una in your travel itinerary. It's a place where the past meets the present, and nature's beauty unfolds at every turn. Experience the magic of Una for yourself, and you won't be disappointed.