Umag, the first Croatian city that welcomes visitors entering Istria from the north, is a captivating Mediterranean town renowned for its perfect harmony between the beauty of its 45 kilometers of coastline and the numerous attractions of its hinterland.
Unveiling Umag's Rich History
Origins on an Island
Umag's history dates back to ancient times when it was originally situated on an island. Encircled by sturdy walls, remnants of which can still be explored today, the city exudes an aura of antiquity. The City Museum, housed within one of these guard towers, offers a captivating journey through Umag's storied past, providing insights into the lives of its earliest inhabitants.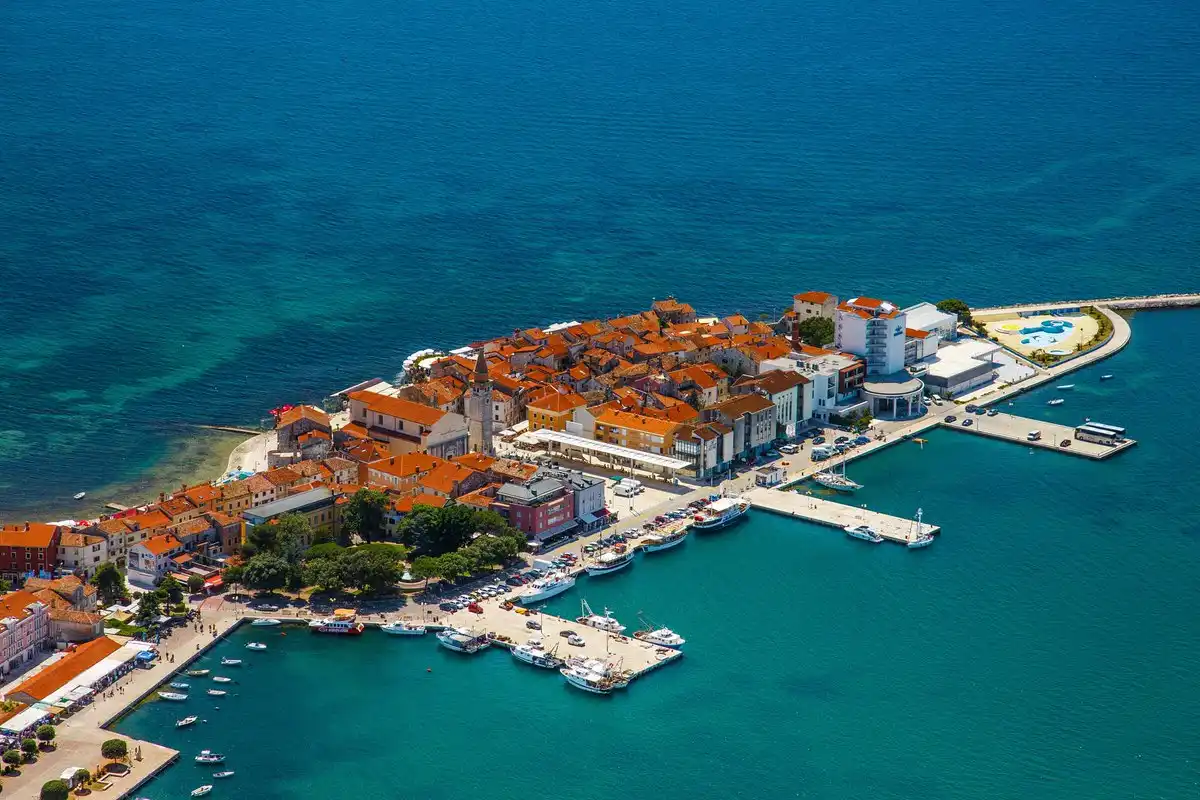 Venetian Influence
As you meander through Umag's medieval alleys, a distinct Venetian ambiance permeates the air. The echoes of Venetian nobility who once strolled these same cobbled streets resonate with each step. The pièce de résistance of this Venetian connection is the magnificent Cathedral, an architectural gem that graces the main square with its grandeur, offering a visual feast for history enthusiasts and architecture aficionados alike.
The Two Faces of Umag: Beaches and Hinterland
Sant'Andrea Beach on the Red Island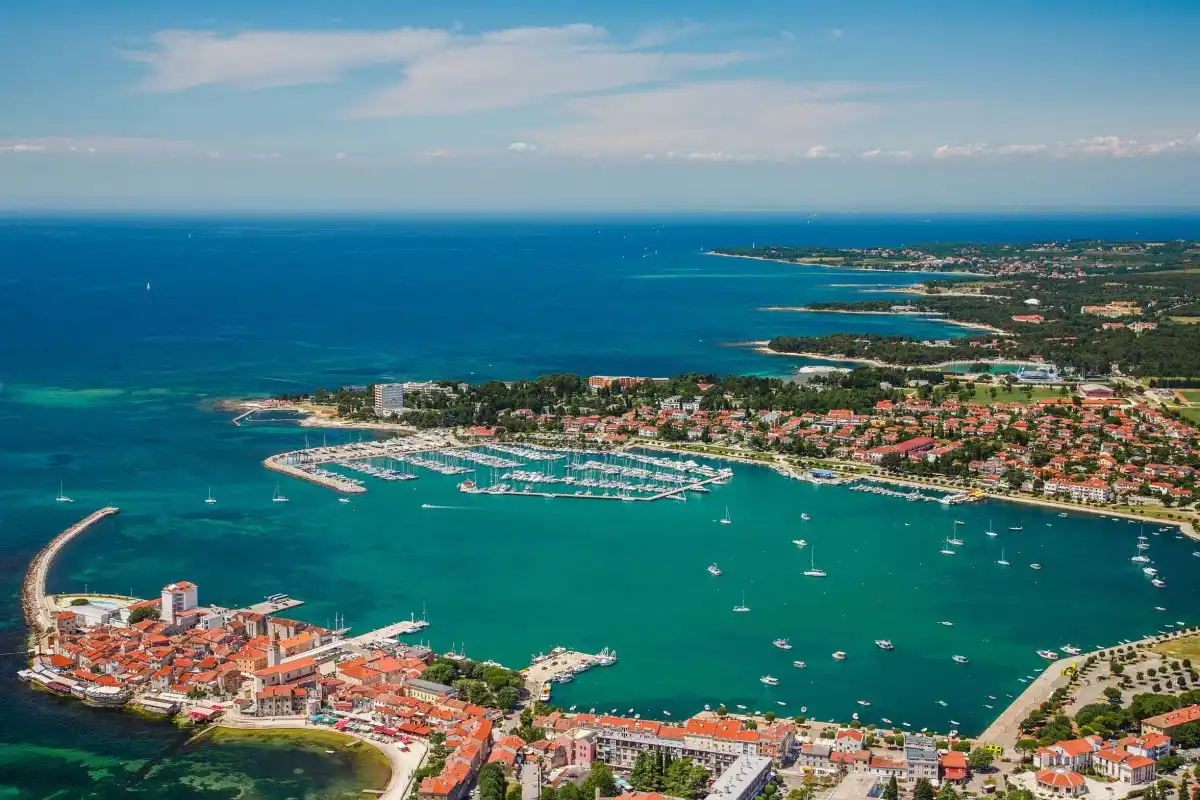 Umag's southern shoreline boasts ten magnificent beaches, each a testament to nature's artistry. Among these, the beach of Sant'Andrea, nestled on the Red Island, stands as a crown jewel. Its waters, crystalline and inviting, beckon visitors to immerse themselves in the embrace of the Adriatic. For those seeking a liberating experience, a designated nudist area awaits, providing a sense of freedom amidst nature's bounty.
Punta and Katoro: Animated Beach Life
For those who relish vibrant beachfront experiences, Punta and the beaches of Katoro promise an atmosphere brimming with life and activity. Laughter and the joyful shouts of children blend with the rhythmic lapping of waves. It's a symphony of vitality that invigorates the senses. Fitness enthusiasts find their haven here, engaging in a multitude of sports activities along the coast, their energies harmonizing with the pulse of the sea.
Savudrija: The Adventurous Lighthouse Experience
A short journey from Umag leads to Savudrija, an enchanting locale where history and adventure converge. Here, one can explore the first lighthouse ever erected on the Adriatic coast. The towering structure, weathered by time and kissed by the sea breeze, emanates a sense of romance and a spirit of exploration. It's an experience that transcends the ordinary, leaving an indelible mark on the traveler's soul.
Architectural Marvels and Cultural Gems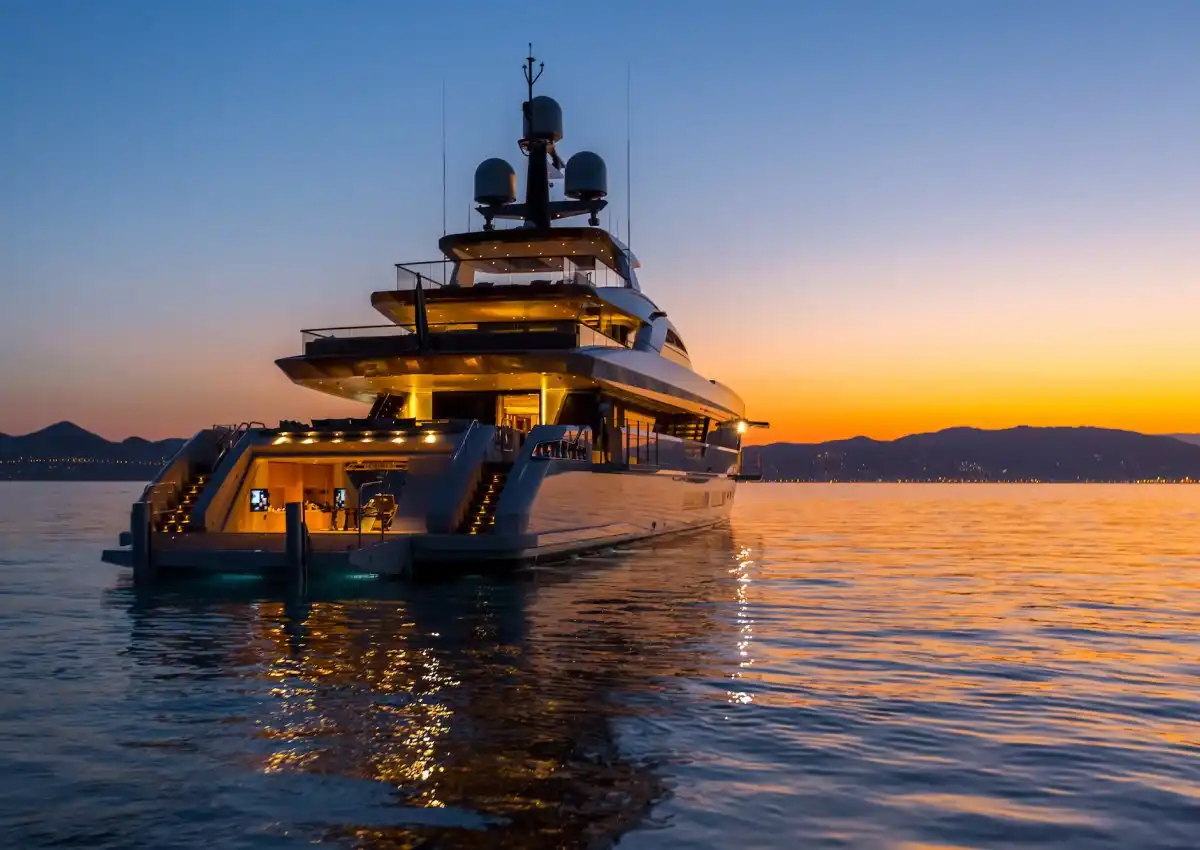 Roman Nobility's Influence
Umag wears its history like a regal garment, proudly displaying the influence of Roman nobles who, captivated by its charm, chose it as their summer retreat. Their legacy endures in the form of opulent touches that grace the historic Venetian houses at the heart of Umag. As you stroll through the streets, you can't help but feel the weight of centuries, each building whispering tales of opulence and refinement.
Architectural Treasures
Every corner of Umag is a canvas painted with fragments of antiquity. Ancient walls, weathered but still standing tall, bear witness to the passage of time. Beautiful churches, resplendent in Baroque and Renaissance splendor, punctuate the cityscape, their spires reaching towards the heavens. They are living testaments to the artisans who, centuries ago, poured their souls into creating these architectural masterpieces.
Agritourism in the Hinterland
In the embrace of Umag's hilly hinterland lie cozy agritourism establishments, where time seems to slow down, allowing visitors to savor the rich tapestry of tradition and flavor. Here, amidst rustic charm, you can indulge in traditional dishes prepared with love and expertise. It's a culinary journey that transcends mere sustenance, offering a taste of the very essence of Istria.
10th Century Movable Bridge and City Walls
Umag's architectural tapestry is woven with threads of innovation and resilience. The partially preserved city walls, adorned with a fascinating movable bridge dating back to the 10th century, stand as a testament to human ingenuity. These structures not only protected the city in times of old but also now serve as portals to a bygone era, inviting travelers to step back in time and imagine the bustling life that once thrived within these walls.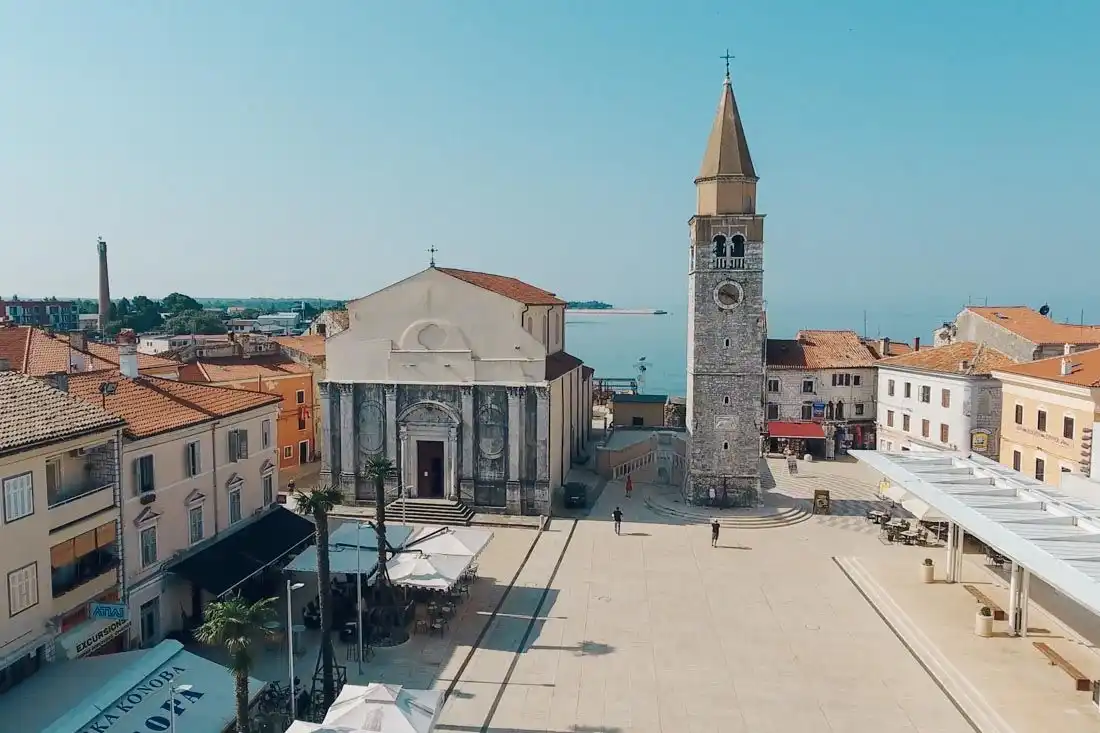 The Heart of Umag: Cathedral Square
At the heart of Umag lies a square steeped in history and spirituality. Dominated by the Cathedral of the Assumption of Mary and St. Peregrine, this space resonates with a palpable sense of reverence. The cathedral's facade, a harmonious marriage of modern and ancient elements, serves as a visual metaphor for Umag itself—a city that cherishes its heritage while embracing the present. The bell tower, standing tall at 33 meters, cradles a statue of a winged lion, a symbol of strength and resilience that once adorned the town hall before it succumbed to the ravages of fire.
Church of St. Roch: A Testament to Faith and Artistry
For lovers of cultural landmarks, the 16th-century Church of St. Roch beckons with open arms. Its interior, adorned with a breathtaking frescoed ceiling, transports visitors to a realm where art and faith intertwine. Each brushstroke, each color, tells a story of devotion and creativity, leaving an indelible impression on those fortunate enough to behold its splendor.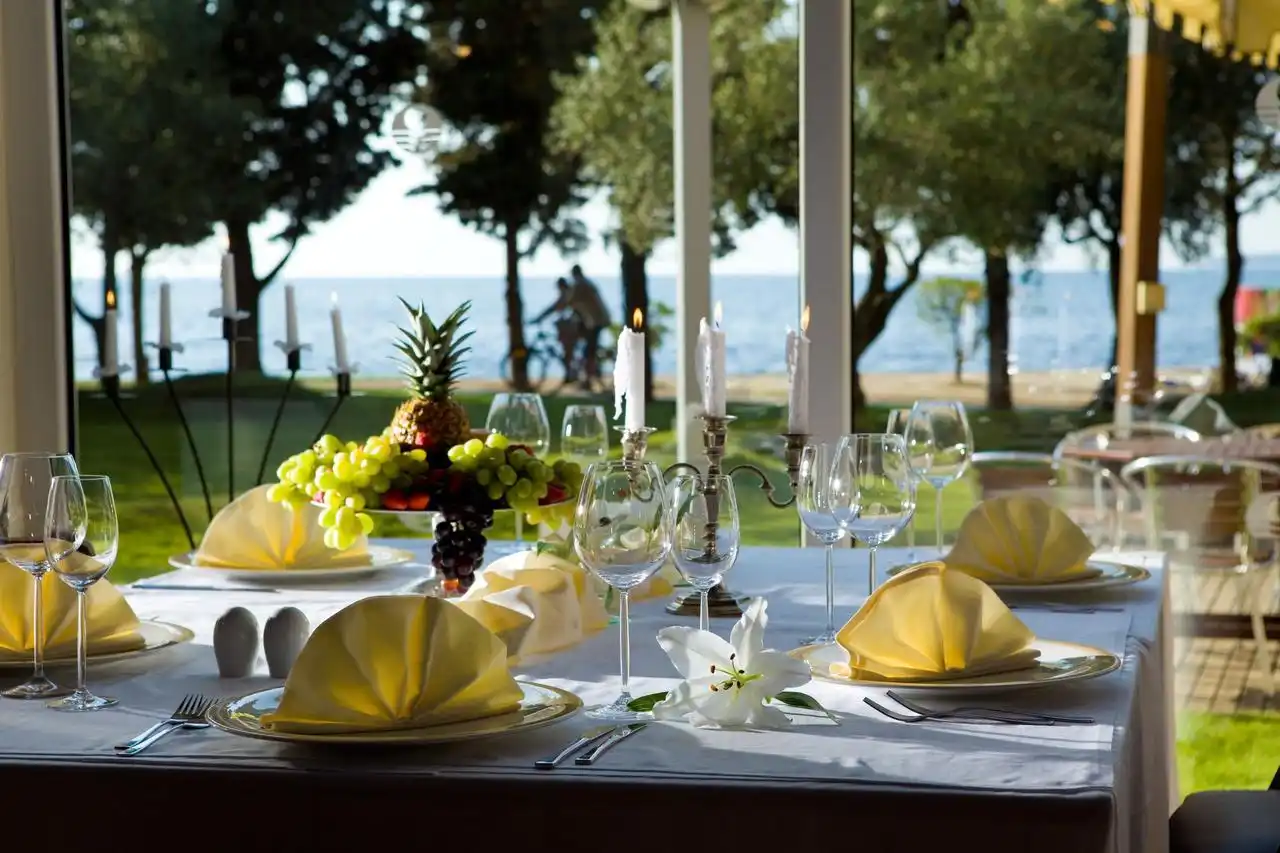 Umag City Museum: A Journey Through Time
History enthusiasts find solace within the walls of the Umag City Museum, where artifacts and ancient crafts, spanning centuries, lay bare the evolution of this coastal gem. From Roman relics to glimpses of medieval life, the museum serves as a bridge between eras, allowing visitors to traverse time and gain a deeper understanding of the city's enduring spirit.
Marin Gallery: Where Art Comes to Life
For art aficionados, Umag offers the Marin Gallery, a sanctuary nestled within the city walls. Here, the spirit of creativity thrives, with numerous exhibitions gracing its hallowed halls throughout the year. From contemporary masterpieces to avant-garde installations, the gallery is a testament to Umag's vibrant arts scene, inviting visitors to partake in a visual feast that transcends boundaries.
The Umag tourist train is no mere mode of transportation—it's an experience unto itself. Operating without the constraints of rails, it winds its way through Umag's picturesque landscape, offering passengers an unparalleled view of nature's grandeur. As the train meanders along its route, it invites both young and old to revel in the beauty that surrounds them, providing ample opportunities to capture memories that will be cherished for generations to come.
Savoring Umag: A Gastronomic Journey
Seafood Extravaganza: A Culinary Ode to the Adriatic
To truly understand a place, one must partake in its culinary heritage. In Umag, this journey begins with a celebration of seafood, a cornerstone of the region's gastronomic identity. From succulent grilled fish to delicately seasoned shellfish, each dish is a testament to the bounty of the Adriatic. The flavors are fresh, the aromas intoxicating, and every bite is a symphony of taste that pays homage to the sea that cradles this coastal paradise.
Charming Coastal Eateries: Where Tradition Meets Taste
For those seeking an authentic experience, Umag offers a delightful alternative to renowned restaurants. Along the coast, a myriad of charming eateries beckon, each exuding its own unique charm. Here, you'll find humble establishments where tradition reigns supreme. The menus are curated with care, featuring dishes crafted from locally sourced ingredients. As you savor each bite, you're not just indulging in a meal—you're partaking in a tradition that has been passed down through generations, a culinary heritage that speaks to the soul of Istria.
Is Umag easily accessible for travelers?

Yes, Umag is conveniently reached from the north of Istria. Visitors can enter the city without hassle, making it an accessible destination for tourists.

What are some must-see attractions in Umag's hinterland?

Some of the must-see attractions in Umag's hinterland include cozy agritourism establishments, where visitors can savor traditional dishes, and the partially preserved city walls with a movable bridge dating back to the 10th century.

How can I explore Umag's rich history?

To delve into Umag's history, one can visit the City Museum housed within a guard tower, stroll through the medieval alleys, and admire the stunning Cathedral located in the main square.

Are there any unique cultural landmarks in Umag?

Yes, Umag boasts several unique cultural landmarks, including the 16th-century Church of St. Roch with its beautiful frescoed ceiling, and the Marin Gallery, which hosts numerous art exhibitions throughout the year.

What is the significance of the Umag tourist train?

The Umag tourist train is a unique attraction that offers a scenic journey through Umag's natural beauty. Operating without rails, it provides an opportunity to capture memorable photographs of the picturesque landscapes.